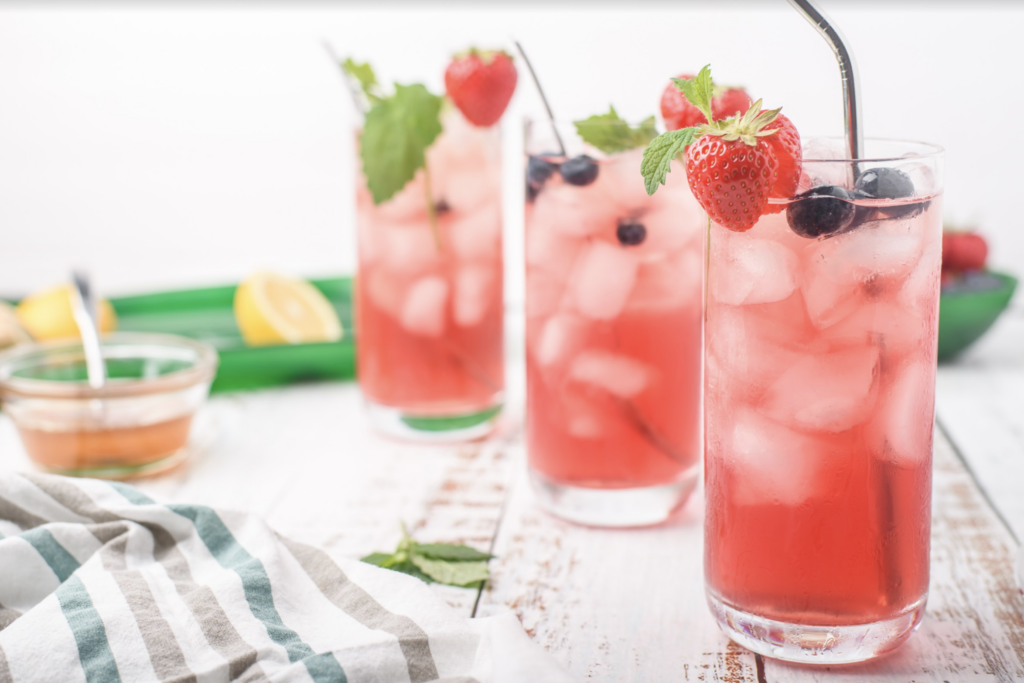 This tasty, refreshing and easy to make ginger mint berry iced tea is perfect for your next family barbecue or any get together this summer!
Summer is always an exciting, fun time of grilling out and days at the beach with the family. However, this year's pandemic has made many of us wonder if those carefree summer gatherings would even be possible. What would summer be if we couldn't enjoy the sunshine with our favorite people? Luckily, new guidelines have come out that say small social gatherings are totally permissible. So, while social distancing rules still are in place and caution is always advised, I say fire up that grill, turn on your summer playlist and invite your family over for a much needed summer get together!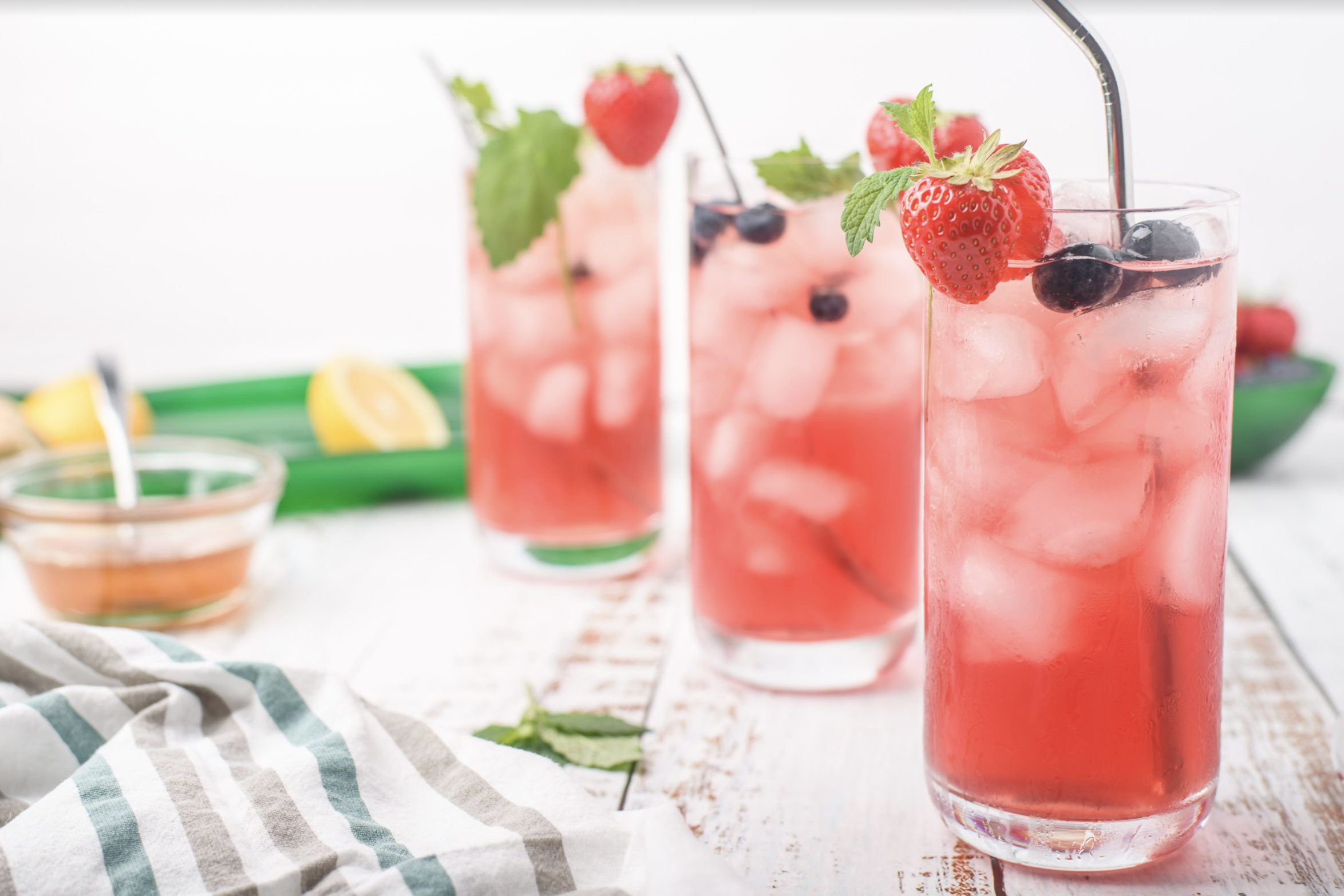 While burgers, hot dogs and potato salad are on the menu at so many barbecues, I believe that it is the little "extras" that really make the meal. Anyone can have a barbecue but what makes a great barbecue, one that people will look forward to and remember, are the personalized touches. One of my favorite ways to take it to the next level is by offering new, delicious drinks. When you are outside in that hot summer sun, you are going to need something refreshing and tasty to help cool off. So why not give your guests something tasty, creative and interesting to try? My new recipe for Ginger Mint Berry Iced Tea is going to be the drink that makes your next barbecue a fantastic one!
Homemade iced tea is actually very easy to make and once you give it a try, you will likely never buy pre-made iced tea ever again!
For this tasty ginger mint berry iced tea, all you need to do is boil the water and pour it over the mint tea bags and fresh smashed ginger root. Add the berries and let the mix steep. This is when all the flavor of those juicy berries will really come out and mix with the tea. While frozen berries will work well, you should be able to find lots of fresh berries in the summer. Strawberries, blueberries, raspberries and blackberries are all in season and will work wonderfully in this recipe.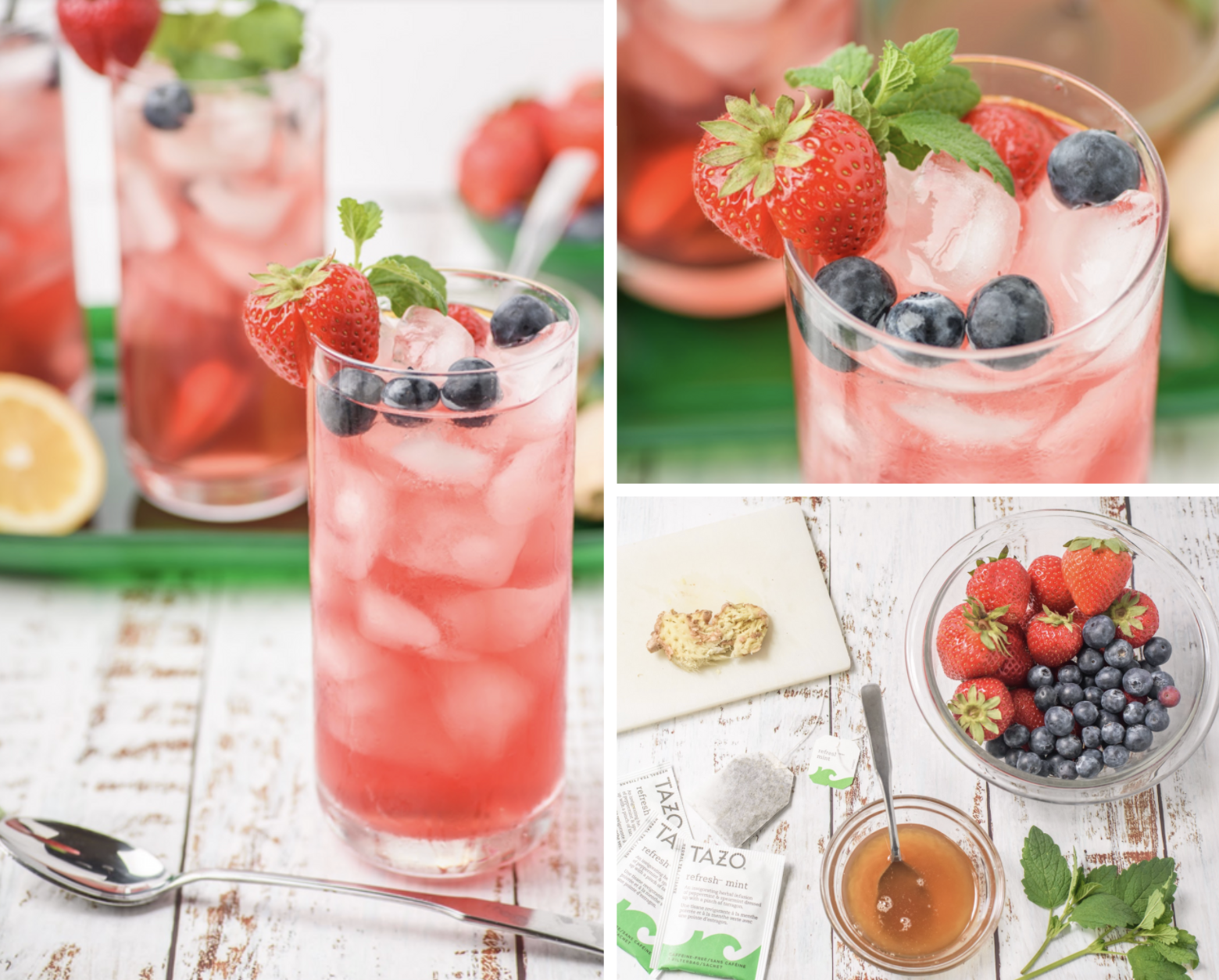 I have found that about 10 minutes of steeping is just enough time to maximize the flavor of the tea without making it too powerful- ginger can get a little spicy if it steeps too long! For a more milder tea, steep for only a few minutes or, if you like it really strong, let the mix sit for up to 15 minutes (that tea will really pack a punch!).
After steeping, the tea is strained and the honey is added in before cooling. Once chilled, the iced tea is ready to serve! Now, don't forget about those extra touches- garnishes are always important! I use fresh mint leaves, lemon slices fresh berries to garnish every glass and let me tell you, they look fantastic! No one will be able to resist picking up a beautiful glass of this iced tea at my next barbecue!
Print
Ginger Mint Berry Iced Tea
---
Description
This tasty, refreshing and easy to make ginger mint berry iced tea is perfect for your next family barbecue or any get together this summer! 
---
4 tea bags of mint tea of choice, I used Tazo Refresh Mint 
2" ginger root, peeled and smashed with a meat mallet
1 ½ cups fresh or frozen berries, divided
8 cups water
4 tablespoons honey
ice
mint sprigs and lemon wedges for garnish
---
Instructions
Boil water in a large pot. Once boiling turn off burner and add tea bags and ginger. Let steep for about 4 minutes. Add 1 cup of berries and steep for 8 to 10 minutes more.

Pour tea through a sieve into a large pitcher or other heat-safe container, mashing the fruit to squeeze out their juices. Discard the solids. Add the honey and stir.

Let cool to room temperature – about 2 hours. Or chill in fridge for about one hour.

Serve over ice and garnish with remaining berries, lemon, and sprig of mint.
Notes
*For the tea I used Tazo Refresh Mint – a peppermint and spearmint blend (certainly any mint tea will work!)
*I prefer frozen berries to fresh in this case, because they will help cool down the tea after brewing and they are then easier to extract their juice into the tea.
*If you don't have a mallet to smash the ginger, you can roughly chop it. Don't worry too much about perfectly peeling it, as you will discard the ginger after brewing.
Keywords: iced tea, mint tea, berry mint tea, giner mint berry tea, berry tea, summer drink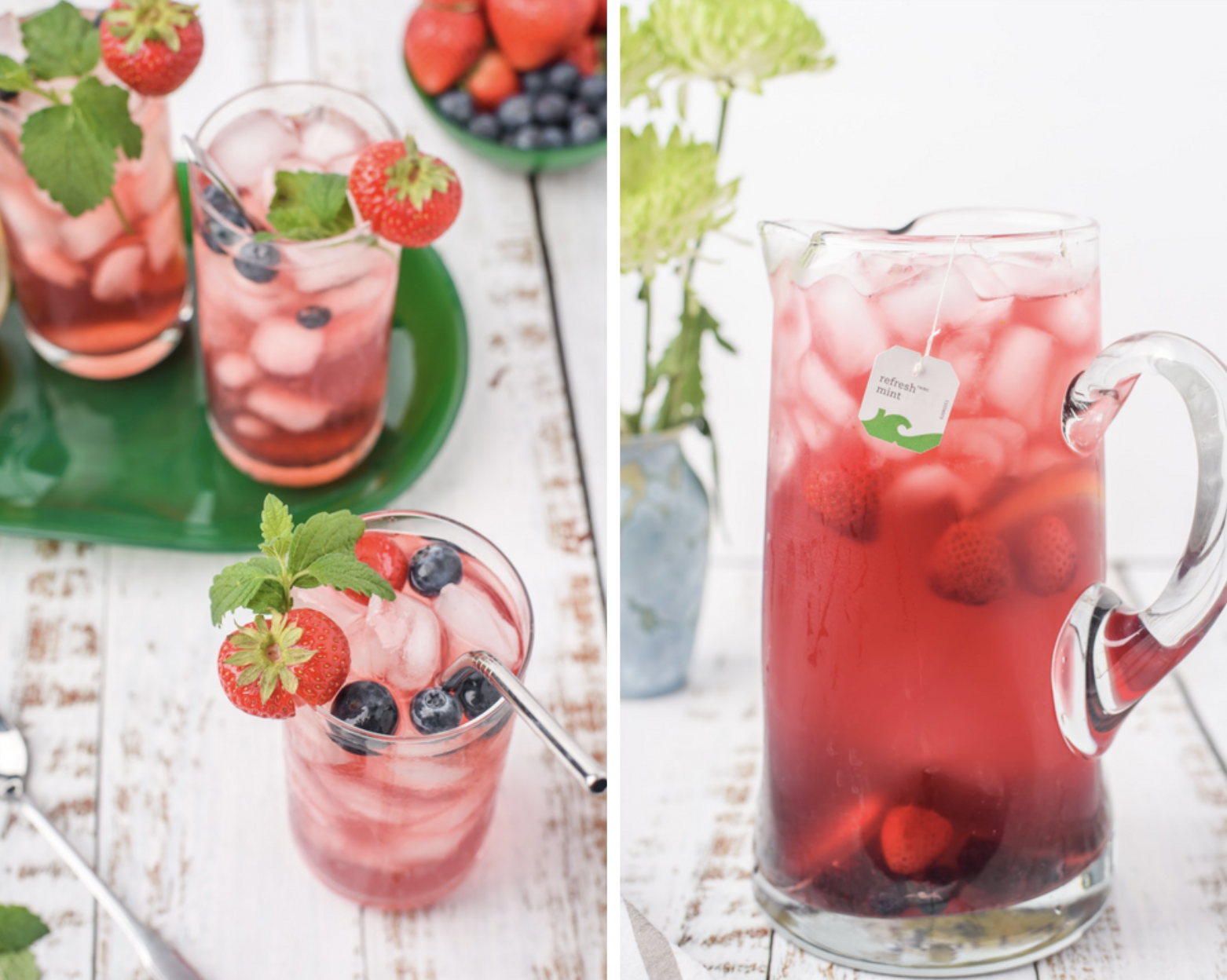 Iced tea is the perfect drink to get creative with. There are lots of flavors that you can try and every one of them will make your next summer gathering unique and delicious. Use this recipe as a guide but try tweaking it a little to suit your preferences. Rather than using mixed berries, try using just cherries to make a cherry ginger mint tea. Swap out the mint tea bags for lemon and you will have a ginger berry lemon iced tea. Skip the ginger (it is a strong taste!) for a tasty, simple, berry mint tea.. the possibilities are endless!
Being apart for so long has made us all long for summer barbecues with the people we love the most and now, the time for those small summer gatherings is finally here! I know an outdoor party is exactly I have been needing! If you feel the same way, start calling a few friends and plan your menu. Be sure to add this tasty drink to your table.
We all need a little something special right now and it is the small, sweet treats like my Ginger Mint Berry Iced Tea that will bring a smile to everyone's face.
Enjoy and stay safe! 🙂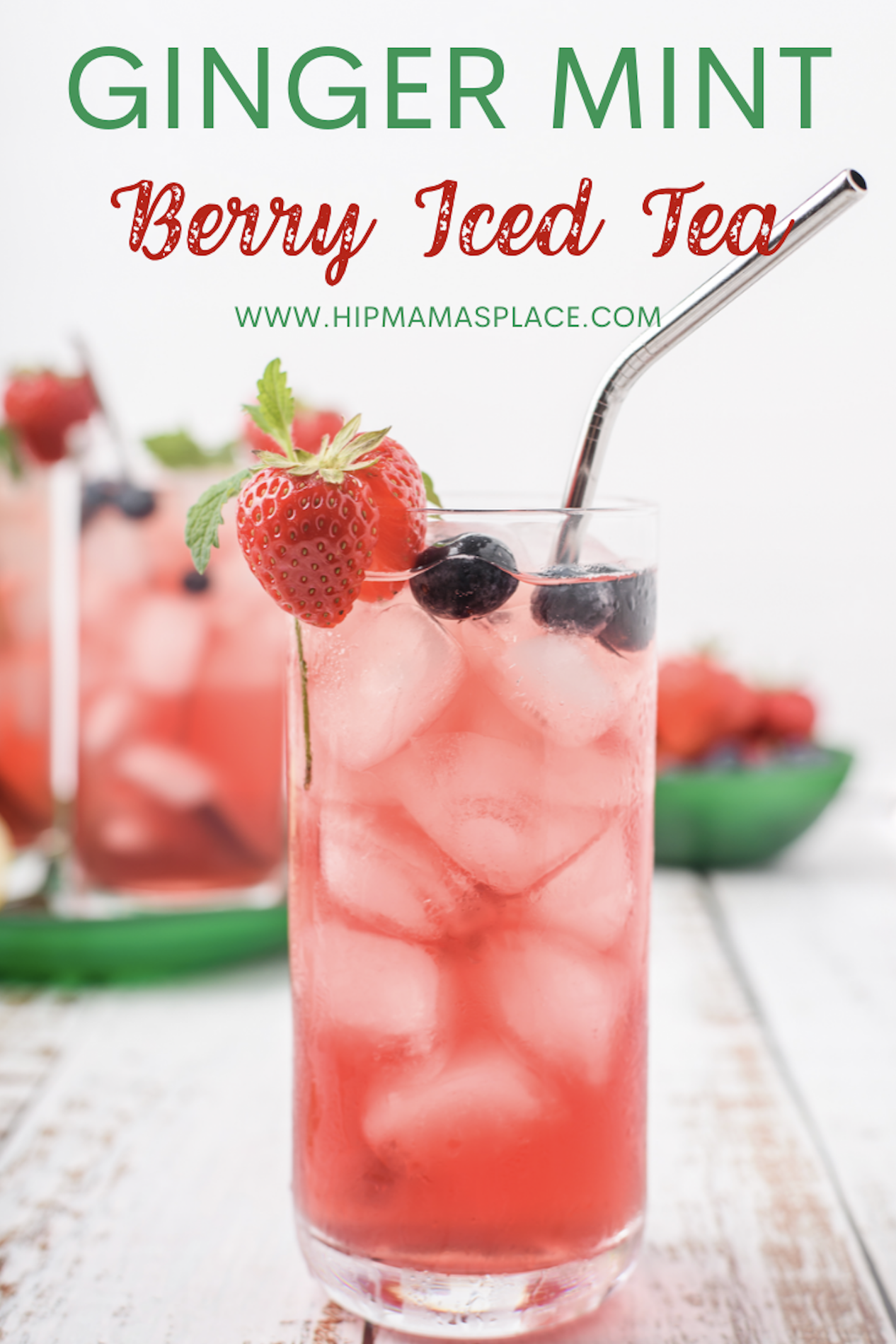 This post may contain affiliate links. Read our Disclosure Policy for more information.
You Might Also Like…