From time to time, I try and find new recipes that are not only healthy, but are truly delicious!
Here's a recipe that our pals at Zemas Madhouse Foods have come up with – a delicious gluten-free recipe for cheesy herb waffles! By combining waffles with savory ingredients like cilantro, parsley, black pepper and onion, these waffles can easily be served at dinner time too.. not just at breakfast! 🙂

GLUTEN-FREE CHEESY HERB WAFFLES

Yields: 10-12 4-inch waffles

Ingredients:
1 package Zemas Gluten-Free Multigrain Pancake & Waffle mix
1 1/3 cup almond milk (or milk of choice)
¼ cup pure maple syrup (or agave nectar)
3 T grapeseed oil (or coconut oil)
1 egg (or egg replacer)
¼ cup chopped cilantro and parsley mixed
½ tsp sea salt
½ tsp black pepper
½ cup chopped onion
½ cup shredded dairy-free cheese (or regular cheese)

Instructions:

Pre-heat waffle maker to medium. Whisk all liquid ingredients together. Add in waffle mix. Add in herbs, spices and cheese. Spray both top and bottom of waffle maker, ladle ¼ cup batter into pan. Cook according to waffle maker directions.

Alternate Cooking Ideas:

Have fun and mix up the herbs and cheese. Great for huevos rancheros, BLT sandwiches, pulled pork or chicken with bbq sauce, eggs benedict and more!
Don't miss out on the latest fab deals, cool freebies, fun giveaways, delicious recipes, DIY inspirations and more! Subscribe to the Hip Mama's Place email newsletter, Hip Mama's Place feed reader, or simply "Like" Hip Mama's Place on Facebook and/or follow Hip Mama's Place on Twitter!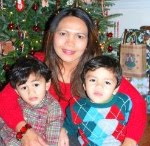 About the Author: Jocelyn Cañasa-Brown is a working mom of two boys and is a recognized blogger and mom influencer in the Washington, DC area. In her spare time, she designs and creates her own handmade jewelry, maintains her jewelry store on Etsy and is an active moms group organizer and leader both online and offline. Hip Mama's Place was nominated for Parents 2011 Best All-Around Mom Blog and named one of the Highest Rated Blogs and Sites on Nickelodeon ParentsConnect for the Washington, DC area. Follow Jocelyn on Twitter, Facebook and Pinterest.