This Easy Gingerbread Cake is wonderfully spiced, delicious and moist. Try it! It could be your family's favorite low key dessert for the holidays!
We can all agree that 2020 has been quite an exhausting year. Between the pandemic, the election and all of the other intense events of the year, we all could use something nice and positive to look forward to. So let's start thinking about the upcoming holidays!
While I always get excited for this time of year, I'm even more elated for the holidays and to celebrate with those I love close by. Hopefully, a little holiday cheer will brighten up a dreary year.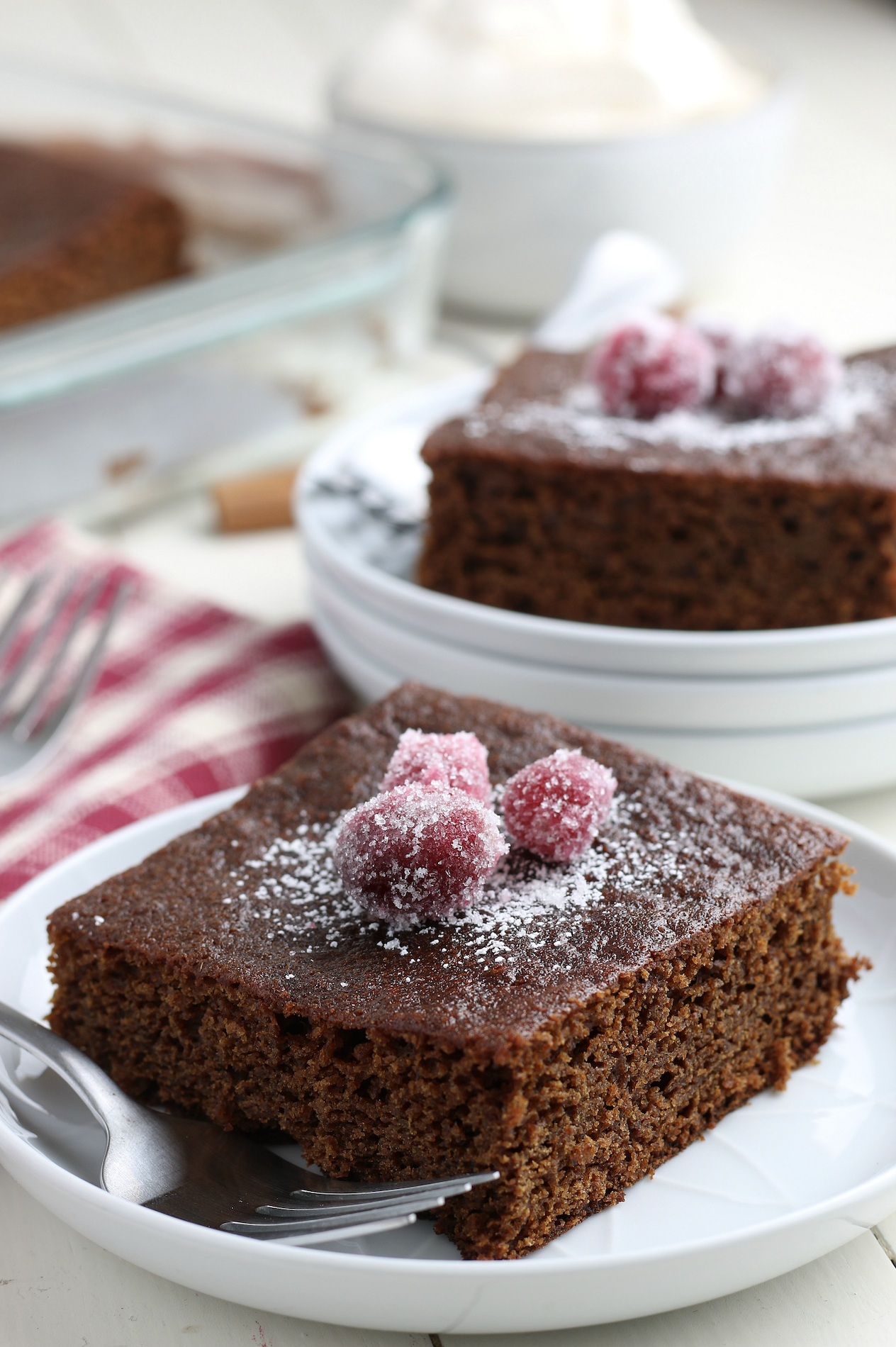 One way I always celebrate the holidays is by baking. I know this is a tradition of many out there. With all the events and gatherings (in a normal year, of course!), you always need to have a few holiday cookies on hand! There are so many recipes that I love to pull out around now to help me get into the spirit of the season. One recipe that I always start with is my favorite and easy gingerbread cake. It is festive, packed with warm, spicy flavors and it is so simple to put together. Anyone can make this delicious gingerbread cake- it's almost foolproof!
HOW TO MAKE EASY GINGERBREAD CAKE
To begin, you need to get out all of your winter baking spices like ginger, cinnamon, nutmeg and cloves. These cozy flavors are what makes gingerbread really stand out. They will also smell fantastic as they bake and will help to put you instantly into the holiday spirit!
In addition to the gingerbread spices, you will need:
flour
baking powder and soda
salt
butter
sugar
molasses
egg
buttermilk
Gather these ingredients together and you will be ready for baking this easy gingerbread cake. I do have one little trick to help with the buttermilk. If you do not have buttermilk on hand, you can make your own! Add 1 tablespoon of lemon juice or white vinegar to your whole milk. Stir the mix and you have the perfect buttermilk substitute! The gingerbread cake will taste fantastic if you use this buttermilk substitution.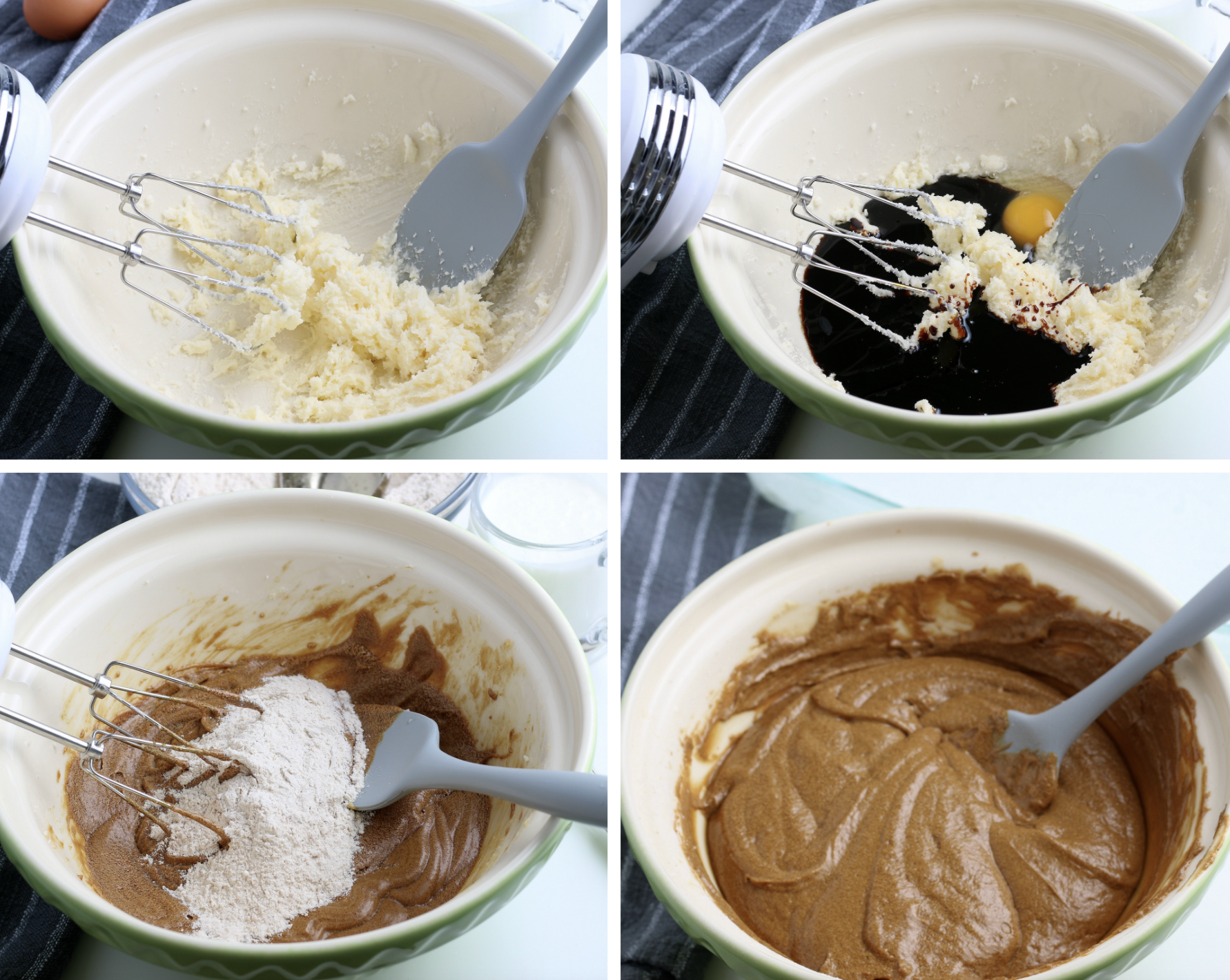 Once you have all of your ingredients, it is time to start baking! As I mentioned, this recipe is very easy to make. The butter and sugar are creamed together until light and fluffy. Then, add the egg and molasses. The dry ingredients are all mixed together and then added to the batter, alternating the dry ingredients with the buttermilk. Once a smooth batter has formed, your baking is almost done!
Pour the batter into a 13×9 inch pan and bake! Once a toothpick comes out cleanly from the center of the cake, it is ready to come out of the oven and to be devoured by you and your family. The smell of warm gingerbread is hard to resist.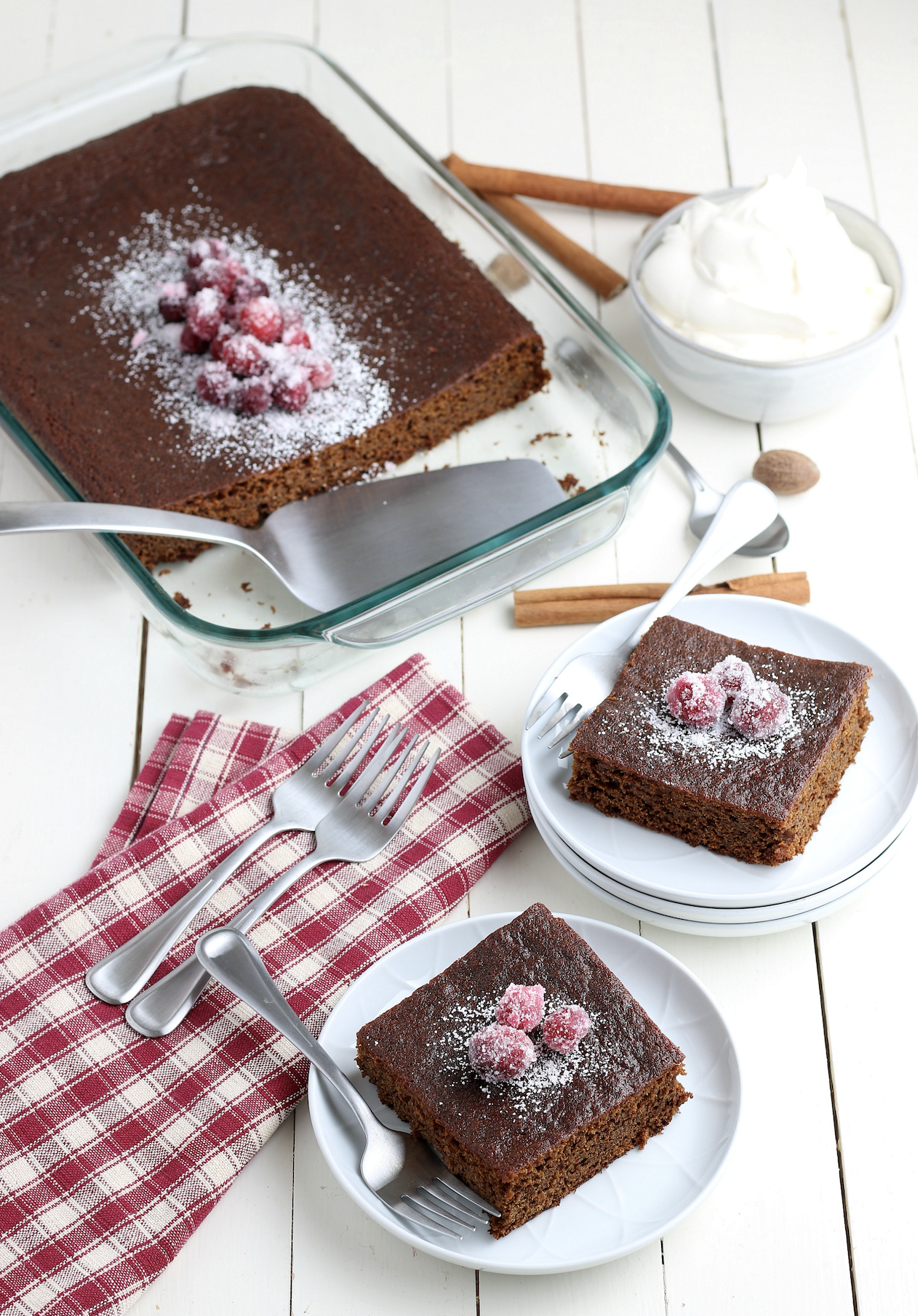 While I love this cake as a large, sheet cake, you can also scoop the batter into two loaf pans and make a gingerbread cake bread. Scoop the batter into paper muffin liners and you have just made gingerbread cupcakes! I recommend topping the gingerbread cake with whipped cream or powdered sugar but a cream cheese frosting will also taste fantastic.
Rather than have a hard, crunchy gingerbread man, why don't you opt to make a gingerbread cake instead? It's the best and low key dessert to bake to get you in the holiday spirit! Great bonus: the delicious smell will fill your home as the tender, soft, flavorful cake bakes to perfection. Some may argue that it is a little early to start celebrating the holiday season but I think you should start celebrating right away!
Divert your attention from all the downfalls of 2020 and focus on something good. No matter what holiday you celebrate this time of year, this gingerbread cake will fit right in to your traditions! So start baking and start with this recipe- you deserve a big slice of homemade cake right about now. Don't we all?
So, what do you think of this EASY Gingerbread Cake recipe? If you ever make it using this recipe, please come back and comment on this post and let me know!
Print
Easy Gingerbread Cake
---
Prep Time:

15 minutes

Cook Time:

45 minutes

Total Time:

1 hour
? 2 cups all-purpose flour

1 teaspoon

baking powder

1 teaspoon

baking soda

½ teaspoon

salt

2 teaspoon

ground ginger

1 teaspoon

ground cinnamon

1 teaspoon

ground nutmeg

½ teaspoon

ground cloves

½ cup

(

1

stick) unsalted butter, softened

½ cup

granulated sugar

1 cup

molasses

1

egg, room temperature

1 cup

buttermilk
whipped cream for serving if desired
powdered sugar, for dusting if desired
---
Instructions
1. Preheat oven to 350 degrees F.
2. Spray 13×9 baking dish with cooking spray and lightly dust with flour.
3. In a medium bowl, whisk together flour, baking powder, baking soda, salt and spices.
4. In a large bowl, cream together the butter and sugar.
5. Beat in egg and molasses.
6. Add dry mixture alternating with buttermilk, beating after each addition and scraping down the sides of the bowl.
7. Spread batter evenly into prepared baking dish.
8. Bake for 40-45 minutes or until toothpick comes out clean.
9. Cool to room temperature or serve warm with whip cream.
10. Store leftovers in airtight container.
You Might Also Like…