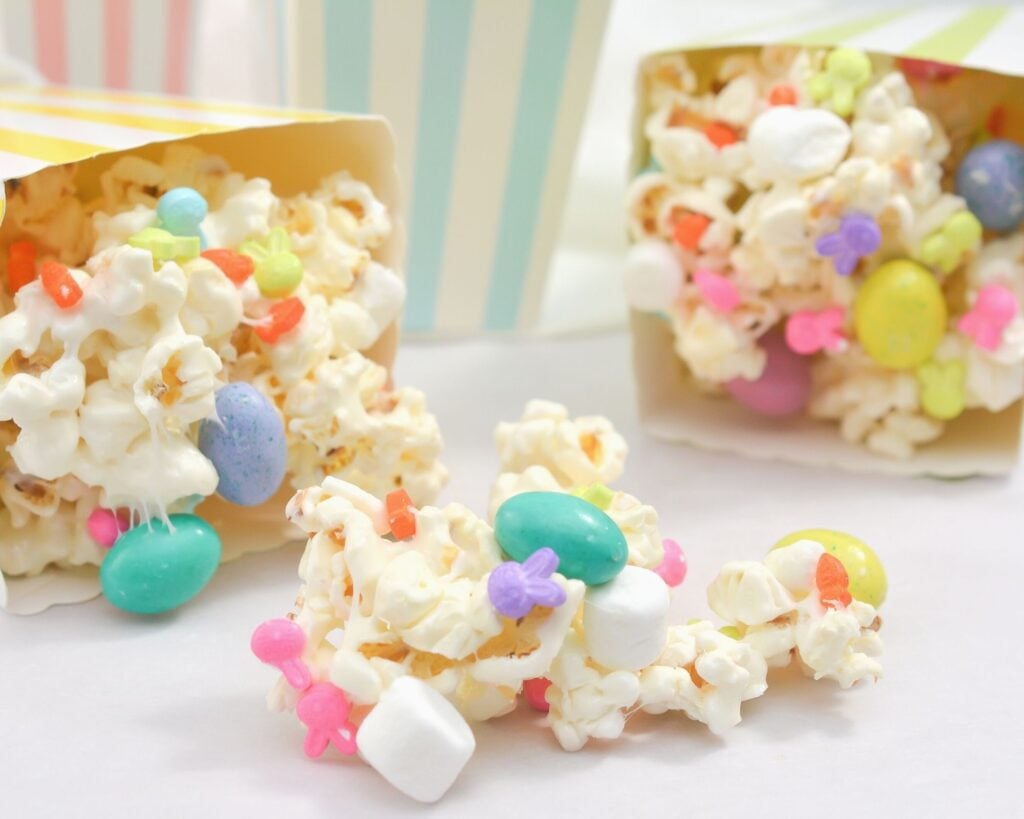 This quick, easy and colorful marshmallow popcorn recipe is sweet, salty, and crunchy perfect for any springtime celebrations!
Are you looking for a new springtime snack? I know exactly what you need- my delicious springtime popcorn. It is as good as classic popcorn but taken to a whole new level. You are going to go crazy for this snack after just one bite! Just a warning, you will probably end up eating it almost every day for the rest of the spring…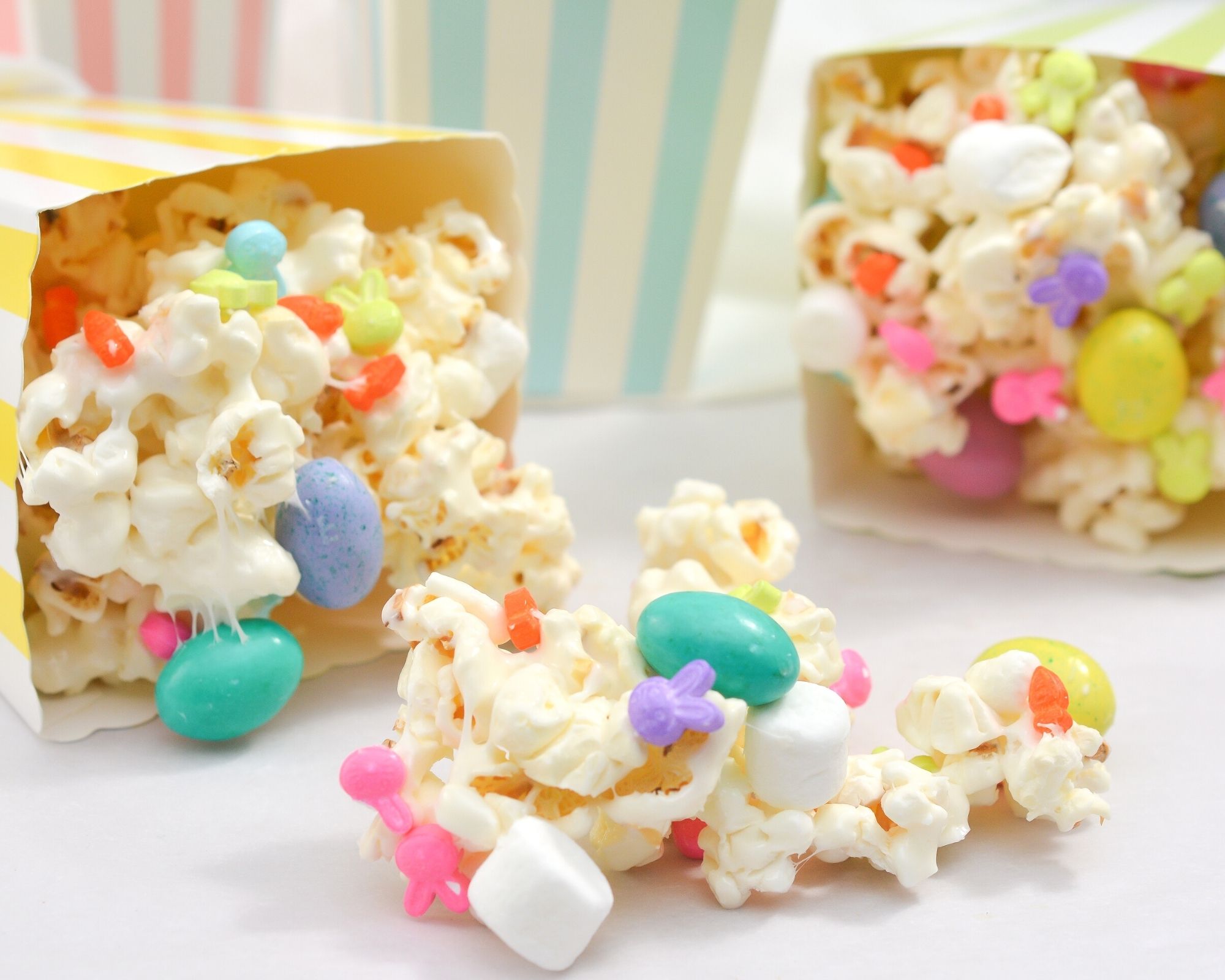 My family absolutely loves popcorn! It's a fave snack in our house and something I love to make since it's quick and easy. Toss some popcorn in the microwave and you have a fresh, salty snack in just seconds. Although every now and then, we like them flavored like my S'mores Caramel Popcorn.
Today, I'm sharing with you an exciting popcorn recipe that's perfect for springtime. I wanted a snack that was both salty, sweet and crunchy. This springtime marshmallow popcorn has it all! But let me stop teasing you and get into the details about how to make this delicious treat so you and your family can enjoy it ASAP!
Ingredients and Tools to Make Springtime Marshmallow Popcorn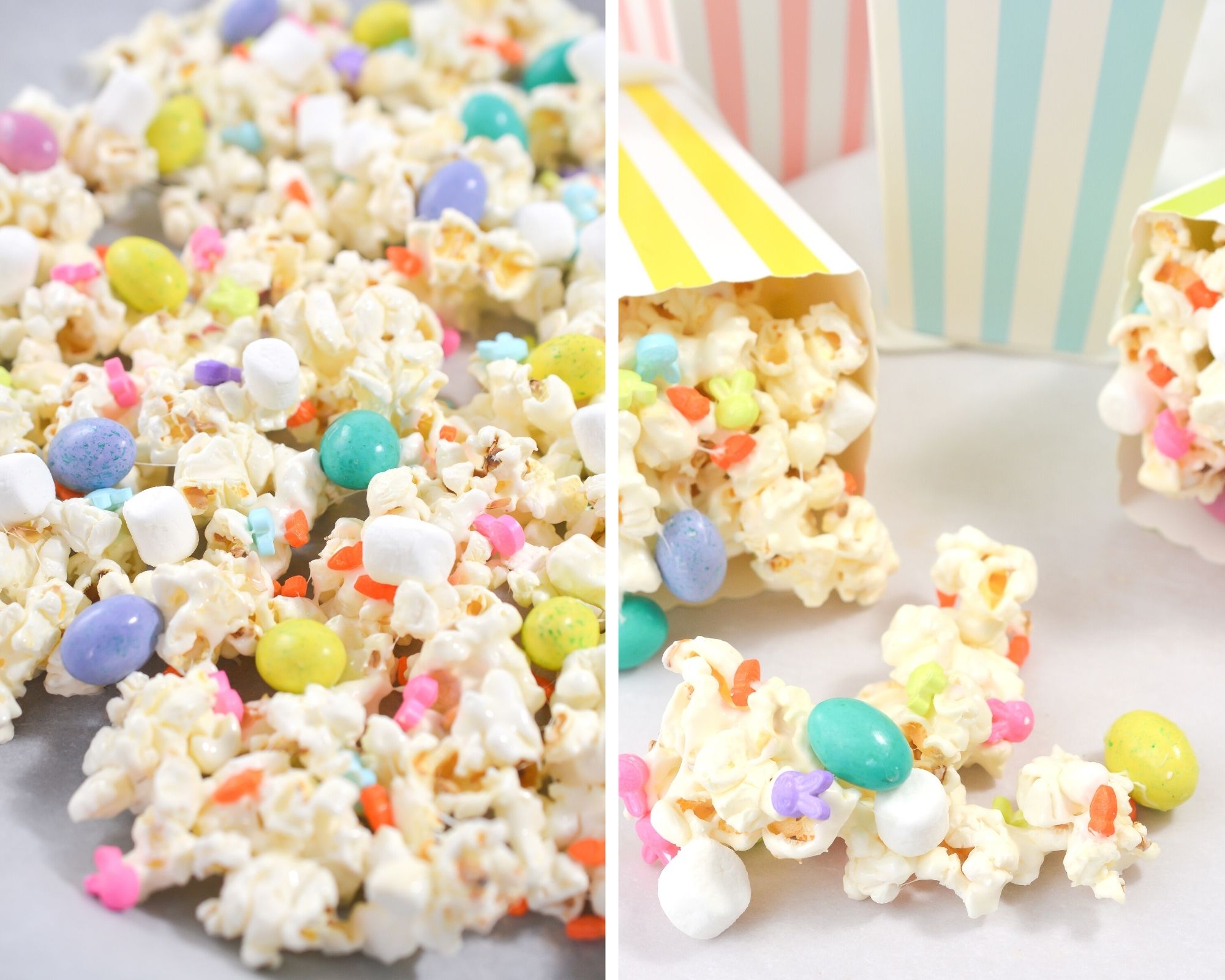 Making regular popcorn is pretty simple so I wanted to keep my "fancy popcorn" simple too. You only need 5 ingredients to make this treat- easy enough!
Here is what you will need:
Any kind of popped popcorn is perfect. Grab that kettle corn or movie style butter popcorn- they will both be great! One regular sized microwave bag of popcorn will make enough for this recipe.
butter– I use salted butter to give the popcorn some extra flavor.
mini marshmallows– Mini marshmallows melt faster than large marshmallows and they are also much better as a garnish. If you only have large marshmallows, use just 8 whole marshmallows in place of two cups of minis.
spring colored sprinkles– Find the prettiest sprinkles possible! Any craft store or grocery store should have spring colored sprinkles at this time of year.
M&M candy eggs– You should be able to find M&M candy eggs around Easter time. I like to stock up on them then! If you can't find the candy eggs, look for spring colored M&M's instead.
Once you have gathered all your ingredients together, it's time to grab all the kitchen tools you will need. A large microwave safe bowl, a big spoon or spatula and a flat baking sheet lined with parchment are all the tools you will need. This popcorn recipe is so easy!
How to Make Marshmallow Popcorn
Simple snacks are best in my opinion. When you want a snack, you usually want it right away! You can make this springtime popcorn in less than ten minutes which means you will be enjoying a festive, salty-sweet snack so soon!
Here's how to make my tasty springtime popcorn recipe: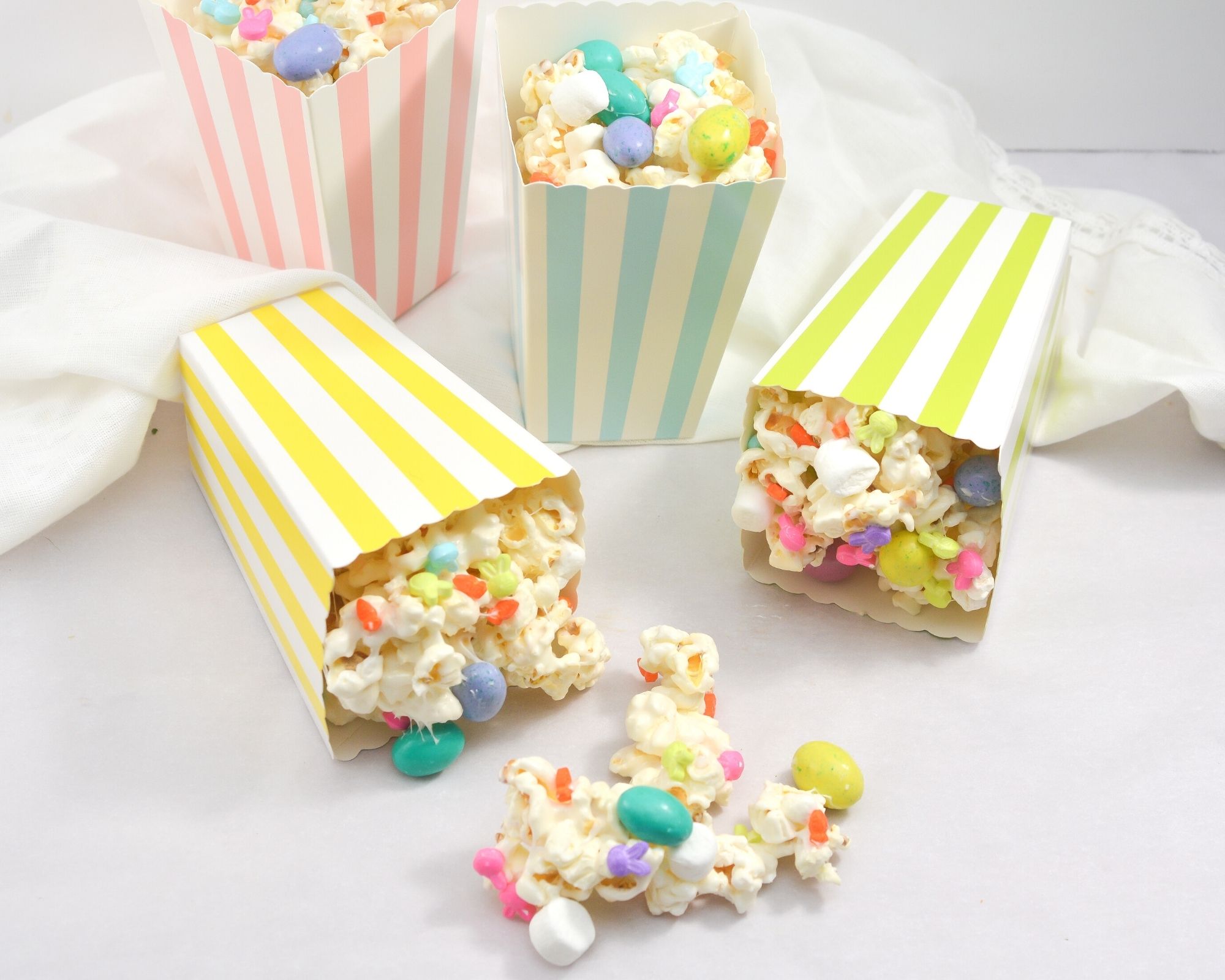 Add the mini marshmallows and butter to a large microwave safe bowl. Microwave for 15 seconds then stir. Repeat this step until the marshmallows and butter are completely melted. You really want to melt slowly so the marshmallows don't burn- 15 seconds at a time is the perfect amount!
Add the popped popcorn to the bowl with the marshmallow butter and immediately toss it in the mix. Stir quickly to really coat the popcorn well before the butter cools.
Pour the marshmallow popcorn onto a parchment lined sheet tray and spread it flat across the tray.
Toss the sprinkles and candy eggs across the popcorn evenly. Try to get sprinkles on every kernel! You do want to move quickly, adding the garnishes while the popcorn is hot and sticky.
Let the popcorn cool and then enjoy!
My springtime popcorn will stay fresh for several days if stored in an airtight container at room temperature. It is the perfect make ahead snack for bridal showers, birthday parties and Easter. Grab some of the cute popcorn containers I used to make the popcorn look even better for your event. This snack is seriously the perfect party centerpiece but also so easy that you can make it any random day. If you prefer, you can also make popcorn balls marshmallow out of this recipe.
So what do you think? Are you craving marshmallow popcorn now? Do you think you'll make this recipe for your next springtime get together? I definitely think you should give it a try! My family loves this marshmallow popcorn and I have used it for several brunch get-togethers already. I guess I should say that I'm a little bit of a marshmallow popcorn addict. I think you will be too. Enjoy!
Print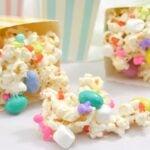 Springtime Marshmallow Popcorn
---
Author:

Prep Time:

20 minutes

Cook Time:

0 minutes

Total Time:

20 minutes

Yield:

8

servings

1

x
8 cups popcorn, popped and cooled
2 tbsp. butter, melted
2 cups mini marshmallows + additional for garnish
spring/pastel colored sprinkles
M & M candy eggs 
---
Instructions
Place the mini marshmallows into a bowl with the butter. Microwave for 15 second intervals until softened and melted completely. 

Add the popcorn to a bowl, and drizzle with the marshmallow mixture. 

Stir the popcorn as best you can, and then spread flat onto a parchment lined baking sheet. 

Sprinkle the popcorn with the sprinkles, candy eggs and additional mini marshmallows while still sticky. 

Let sit to harden before serving, or store in an airtight container. 
LOVE THIS RECIPE? PIN IT HERE!