Recent studies conducted by Cornell University have proven that gardening increases nutritional awareness and may even affect children's vegetable consumption. This statistic, coupled with the fact that kids today spend two hours less on sports and activities per week than they did 20 years ago, makes this free guide to kid-friendly gardening, DIG, PLANT, GROW! not just a fun educational tool, but a necessary one!
I absolutely agree, getting our children outside and making them see the fruits (literally!) of their labor is a great way to teach lifelong valuable lessons and empower them to build a sustainable agricultural future! Of course, some of the more heavy duty gardening tasks like tending to intrusive and dying trees might be beyond their abilities, and even of most adults. Services like those of treeserviceremoval.com might be better suited to the removing of trees that have outstayed their welcome in gardens as it can actually be quite a dangerous undertaking for those without proper expertise to attempt. Knowing what type of soils work best for which plants is important too as you want to be able to grow them in the best environment and have them thrive. For example, knowing what perlite vs vermiculite means can be just as important.
Available in an easy-to use online PDF format, this helpful gardening guide was written by teachers Meredith Hill and Sarah Ohana with help from Ethne Clarke, Editor in Chief of Organic Gardening. I'm so glad to be able to share this free guide to you all, my dear readers, just in time for Summer! You'll never have to run out of ideas to keep your children happy on those long summer days. This free guide will teach your kids new and valuable lessons … while getting them more interested in eating their veggies along the way!
More FREE Summer Activities for Kids!
Don't miss out on the latest fab deals, cool freebies, fun giveaways, delicious recipes, DIY inspirations and more! Subscribe to the Hip Mama's Place email newsletter, Hip Mama's Place feed reader, or simply "Like" Hip Mama's Place on Facebook and/or follow Hip Mama's Place on Twitter!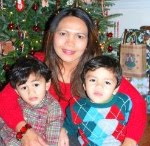 About the Author: Jocelyn Cañasa-Brown is a working mom of two boys and is a recognized blogger and mom influencer in the Washington, DC area. In her spare time, she designs and creates her own handmade jewelry, maintains her jewelry store on Etsy and is an active moms group organizer and leader both online and offline. Hip Mama's Place was nominated for Parents 2011 Best All-Around Mom Blog and named one of the Highest Rated Blogs and Sites on Nickelodeon ParentsConnect for the Washington, DC area. Follow Jocelyn on Twitter, Facebook and Pinterest.