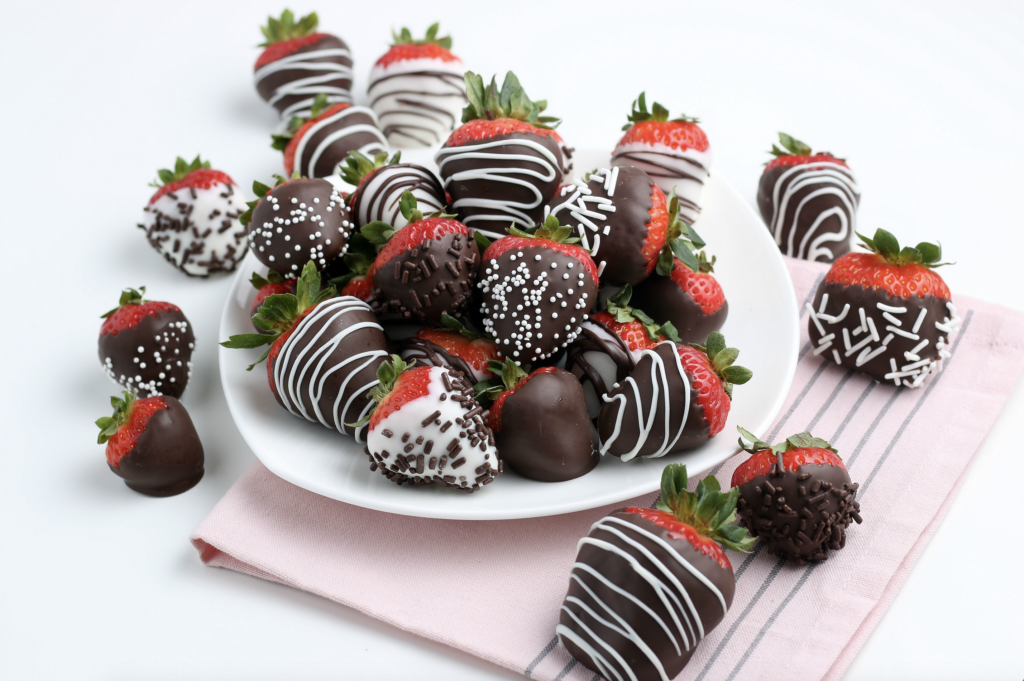 Here's the ultimate guide to making EASY Chocolate Covered Strawberries perfect for Valentine's Day, Galentine's Day, weddings or whenever you need to indulge your sweet tooth!
Valentine's Day is coming up soon and I just can't wait! 🙂
So, I have decided to start celebrating Valentine's Day early this year. I have been busy making homemade sweets, decorations and cards to get into that loving spirit. Last week, I made my Valentine's Day pretzels and my kids' favorite heart shaped cookies. Today, I am whipping up a V-Day classic: chocolate covered strawberries!
Chocolate Covered Strawberries are a Valentine 's Day MUST! You can find them everywhere once February rolls around. But, if you go to buy a few chocolate covered strawberries for those you love, you will find that they can be pretty pricey- sometimes over $1 per strawberry! Luckily, you can easily make your own sweet, chocolatey fruit. I have the perfect recipe for chocolate covered strawberries right here for you.
HOW TO MAKE CHOCOLATE COVERED STRAWBERRIES
To begin, you need about 12 clean, ripe strawberries. Keep the stems on so that you have something to hold while you bite into the juicy berry later on. The stems also add a nice bright green color that looks gorgeous next to the dark chocolate. You will also hold onto the stem later on when you dip the berry.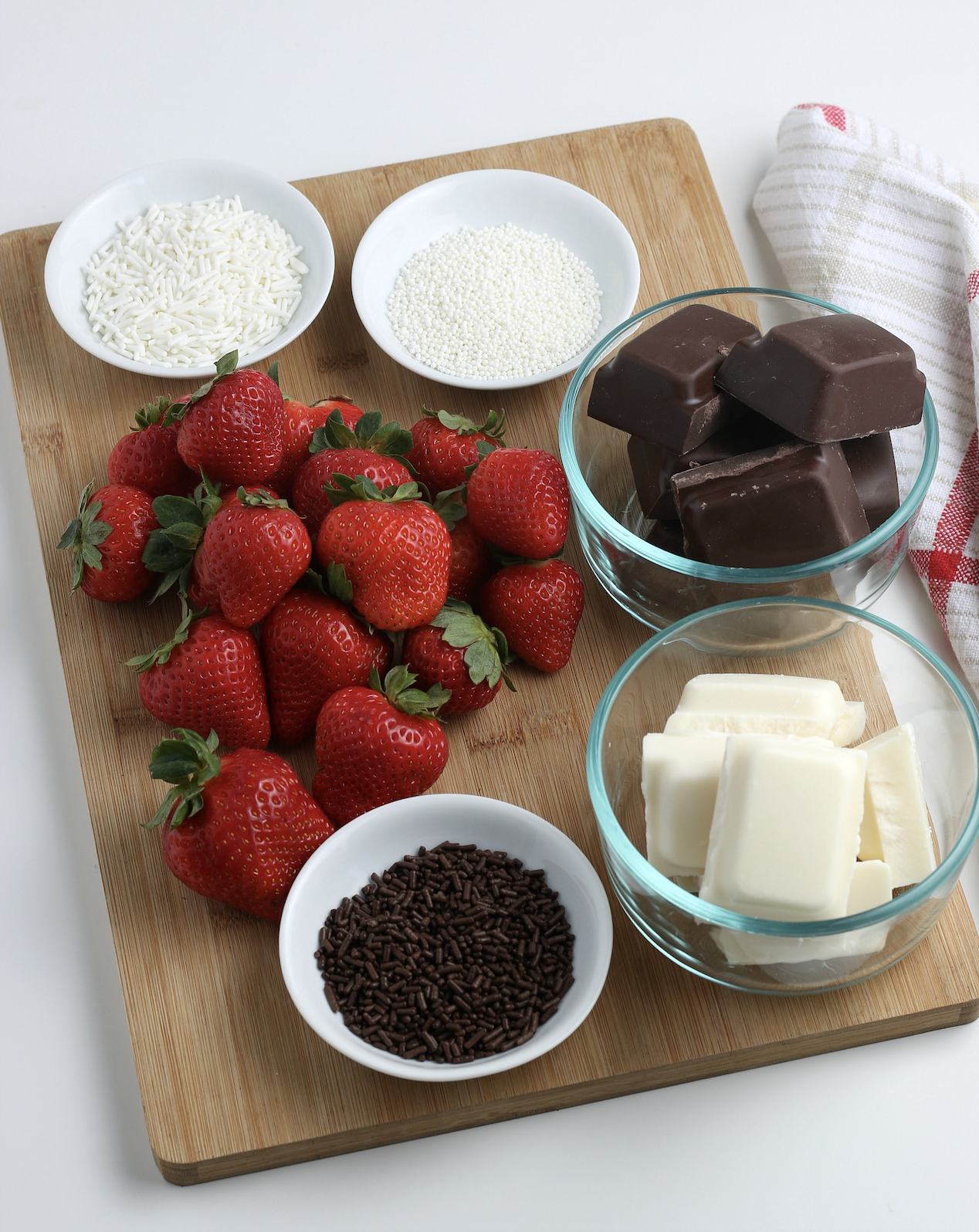 You will also need chocolate almond bark and white chocolate almond bark. Almond bark can be found at almost any candy supply store and also online. It is a little different that regular chocolate and is made with vegetable fats rather than cocoa butter. This really helps when dipping the strawberries since the consistency of the melted bark will be much smoother. It also tastes fantastic and has a rich, creamy flavor.
Melt the chocolate almond bark in the microwave, heating it for just 20-30 seconds then stirring. Melting the almond bark in increments will make sure it doesn't burn. It should only take about a minute to melt the bark completely. Then, you are ready to dip!
Make sure your strawberries are completely dry. Then, hold the strawberry by the stem and dip it into the melted dark chocolate almond bark. I like to dip my strawberries about ¾ of the way up the berry. This way, a little bit of the pretty of the red berry is still showing. Tap the berry on the side of the bowl once or twice to help the excess chocolate drip off. Place the dipped berry on a parchment lines sheet tray and immediately add your sprinkles. I use white and dark chocolate sprinkles for a classic, elegant look but feel free to use any color you'd like. Red and pink would also be great for Valentine's Day!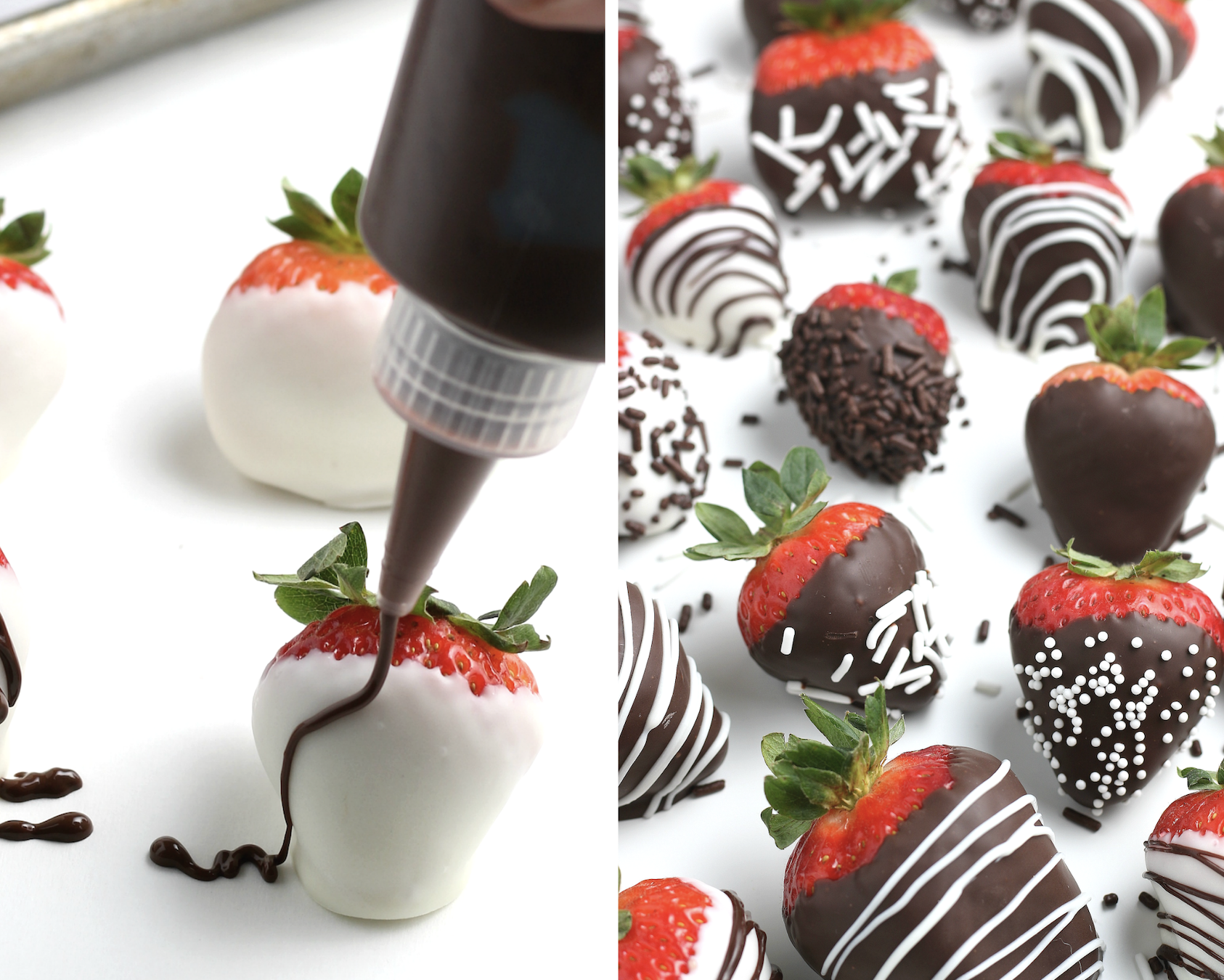 Once all of your strawberries are dipped in the almond bark, drizzle the white chocolate almond bark over the berries to give them a beautiful finishing touch. I like to use a small squeeze bottle to drizzle the white chocolate but you can also use a piping bag or just drip the chocolate from a spoon as you wave it back and forth over the berries. It does not have to be perfect to look fantastic.
Once the melted almond bark dries, your chocolate covered strawberries are ready to eat! Wasn't that easy? Such a perfect Valentine's Day treat that you can make in just a matter of minutes!
I know I will be making (and eating!) these more than once before Valentine's Day. I hope you get to enjoy them too!
Originally published on February 12, 2021. Updated, January 2nd, 2022.
You Might Also Like…