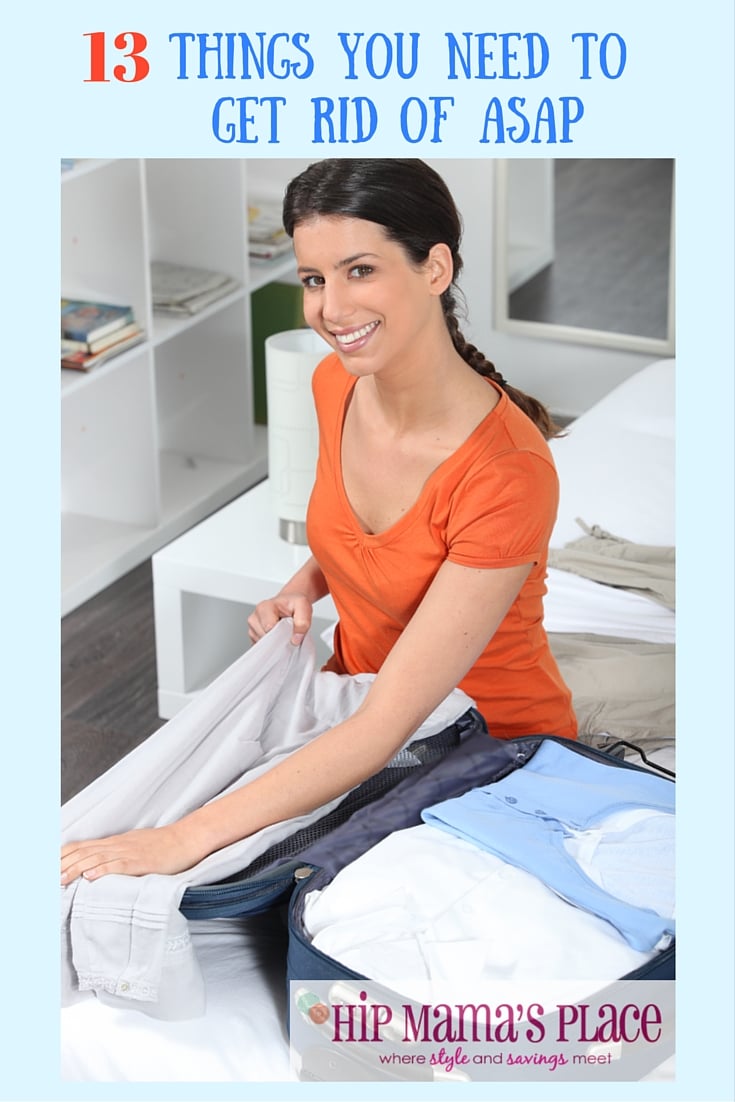 We all have things we hang on to forever and for no real reason. Yes, you may keep the holiday greetings tucked away in a box under your bed, but there are plenty of things that you have no good reason for keeping. Even if you aren't following a decluttering movement or wish to "live small," there are plenty of things that you can easily get rid of with, hopefully little thought.
Here, I'll help you lighten the load, by telling you to just get rid of these 13 things you don't need in your home.. right now.
Old makeup

. Makeup does expire and can be a breeding ground for bacteria, so don't be afraid to toss old makeup in the trash.
Receipts for items that aren't tax deductible or under warranty. Once the return period has come and gone, or you've paid the credit card bill, there's no reason to keep a stack of receipts.

Stuffed animals that aren't currently loved

. Some may have value, so check on Ebay first, but otherwise, you can donate them to a thrift shop, and someone else will add it to their collection (and maybe read this same article later!)
Love letters from previous relationships gone bad. I'm actually surprised by the number of people who keep old mementos from old loves gone bad. Okay, if the person passed away and you were on good terms, you can keep them, but hoping your high school boyfriend looks you up and you fall madly back in love and you can show you saved your old notes – that's just unnecessary and borderline crazy.

Last season's sunscreen and other old lotions

. They change their composition over time, and chances are you've already purchased more.

Old medication and vitamins

. Keeping painkillers and other potentially addictive medication is a huge safety risk, so bring them to your pharmacy for proper disposal. They lose potency, and so if they're expired, or you know you are finished taking them, they need to be gone.

Old Clothes

. Sure, you may keep your preserved wedding dress, but anything else that you have no way you'll ever wear again, has to go. Even somewhat stained clothes can be donated. They'll be recycled or dethreaded to be made into blankets, etc.

Stacks of old magazines

. You can recycle them, or even hand them off to a second hand store. They may come in handy for school projects, but you really don't need them, even if you have 7 kids. Really.
Plastic bags. Do not hoard them! Keep a few for disposing of items, but otherwise, most major grocers recycle them. And, to prevent a cyclical issue, keep reusable shopping bags in your car (or small ones that fit in your purse).
Boxes. I know many people who save boxes from old deliveries "just in case" – whether you're saving in case someone moves or in case you need to ships something, chances are someone else will have them when there's a need. Instead, ship them off for recycling, or use them as a drop box for getting rid of other items at the thrift shop.

Vases and other "gift" items.

When you get flowers and they include vases, or when you get a gift basket and they include a cute wicker box, you do not need to keep them. Have one, or max two, loved ones at home, and the rest can make their way to the thrift store, or, if they're special, to Ebay.
Old food. Now this is something you can and should take care of regularly. Keep a weekly rotation for your fridge and a monthly rotation for your freezer. For your canned and boxed items, take care of those at the change of each season.
Old electronics. Keep a spare charger, but don't save every mouse you've ever had! The same goes for kitchen gadgets as well. If you don't use it, make space – sell it or donate it.
Okay, be honest now… how many of these items are you saying "but I should keep it?" If there are too many, you may have a problem! I'm not licensed in anything, but, I'm just sayin'. 😉
This article is Part 2 of the Hip Mama's Place Spring Cleaning & Organizing Series. Stay tuned for more posts like this coming up in the next few days — to help you welcome Spring and inspire you to have a more clutter-free, organized home!
Meanwhile, if you need more inspiration on getting started with your Spring cleaning and organizing this year, check out the links from my friends below. You'll be sure to find some valuable tips and hacks that you can use!

d