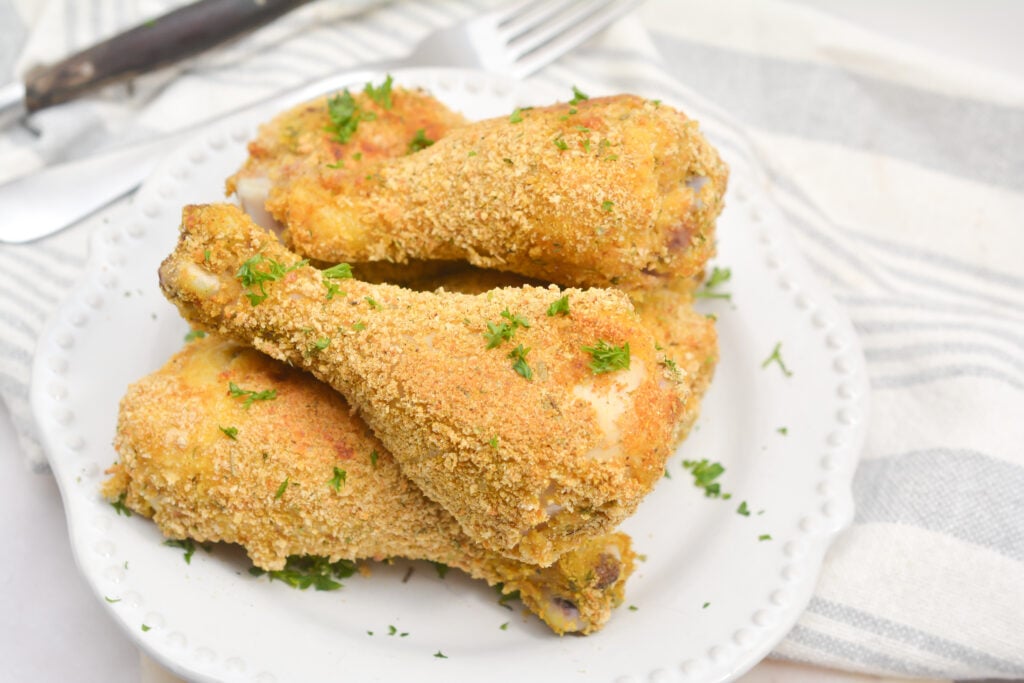 These baked curry chicken drumsticks recipe is so tasty, easy to make and is one of our family's favorite chicken recipes!
I love playing around with different spices. Luckily, my family loves food with some spice, too! We all enjoy curry and Indian style foods so I add this recipe to my weekly meal plan often.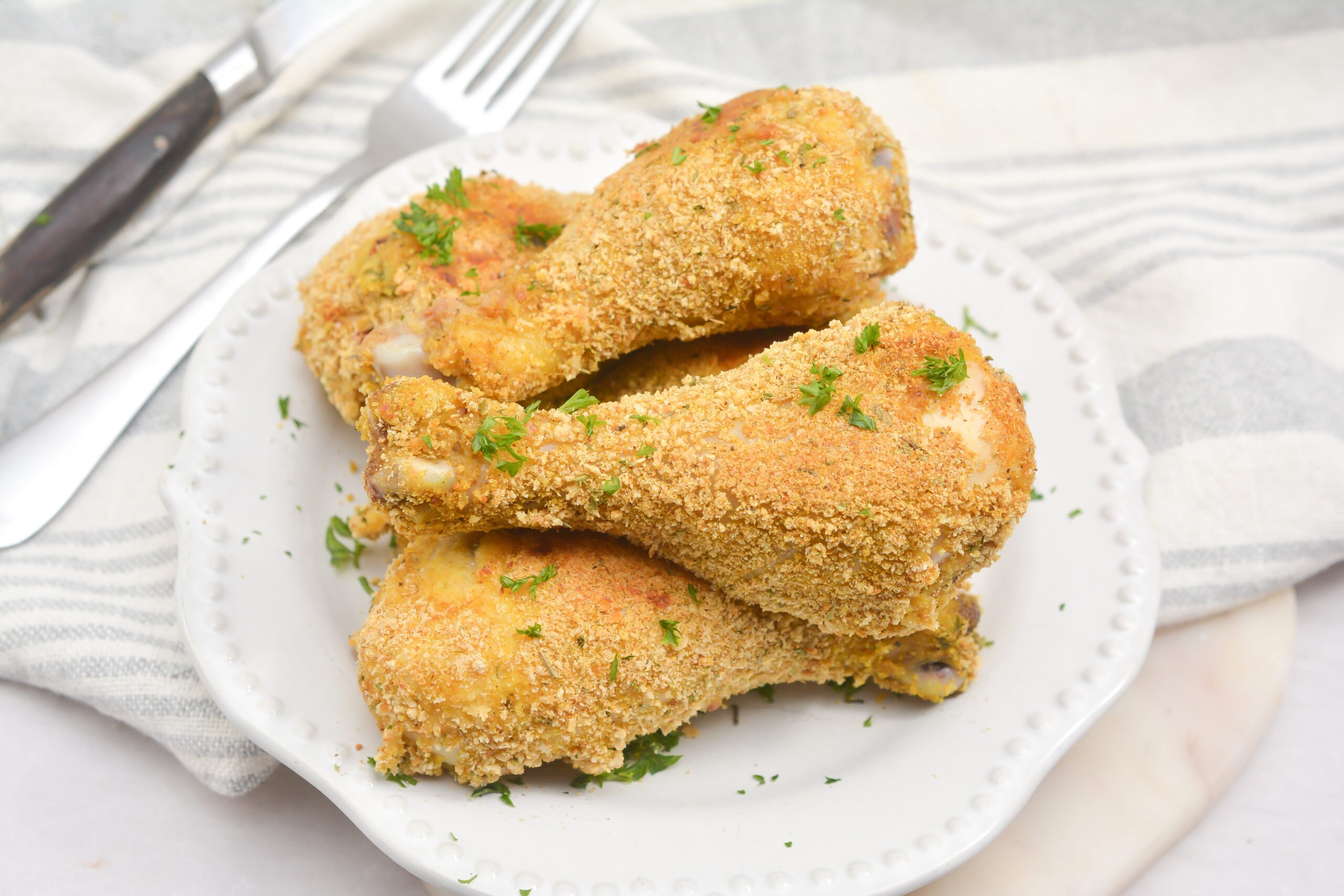 One of my good friends shared a baked curry chicken drumsticks recipe with me and I was very excited to try it. My family loves chicken any day so a curry chicken recipe sounds like something that will go over well at dinner time.
Let me just say that this recipe did not disappoint. It is very flavorful, pretty easy to make and has just the right amount of spice. I know you are going to love it too!
What You'll Need to Make Baked Curry Chicken Drumsticks
There is a good chance you already have everything you need to make these delicious baked curry chicken drumsticks. No crazy ingredients or tools needed here! I do love a good simple recipe and this one is definitely easy to make.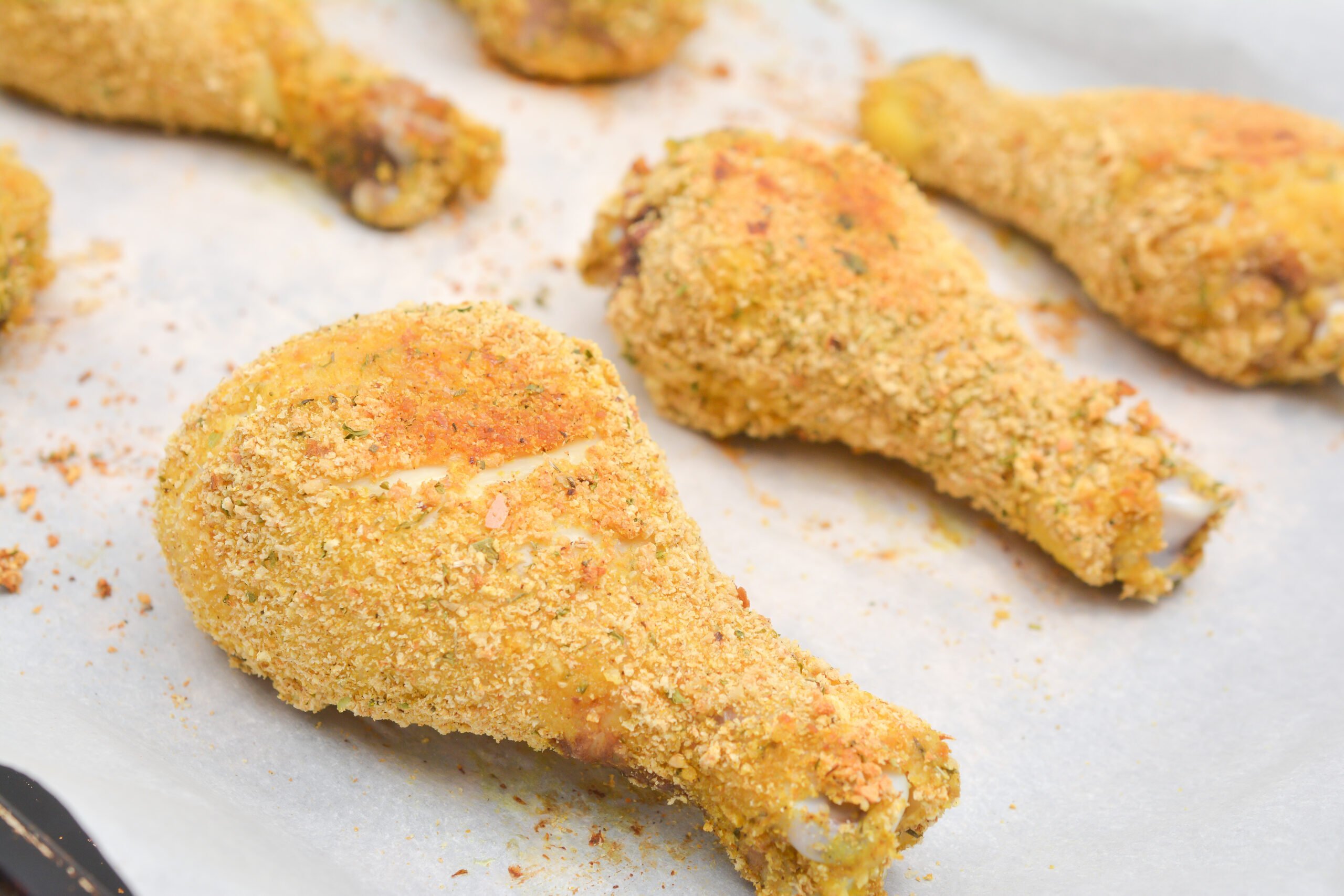 To make these easy baked curry chicken drumsticks, you will need a few mixing bowls, a baking sheet and parchment paper. You have all those already, right? Most of us do! All of these ingredients are also very easy to find in any grocery store so you can go grab them right away. While you're at the store, pick up these ingredients as well:
chicken drumsticks – I like to use bone in chicken drumsticks to ensure the chicken stays tender. The bones help the meat stay juicy and they fall right out after the chicken bakes.
buttermilk – Buttermilk gives the chicken a little bit of tangy taste. Soaking the chicken in buttermilk is another way to help it stay moist. It also adds a little bit of Southern flair to the recipe- I do love food fusion and blending cuisines! If you do not have buttermilk on hand, add a teaspoon of white vinegar to a cup of whole milk. This will curdle the milk and give it the sour taste of buttermilk.
seasoned bread crumbs – Seasoned bread crumbs are a simple way to add more flavor to the chicken. Try using Panko bread crumbs if you want even more crunch.
dried thyme – Dried thyme has a nice earthy flavor. It also has a nice lemon taste that brightens the dish.
curry powder – Use your favorite curry powder- any brand will do! The main ingredient in curry powder is turmeric which has a golden yellow color. Turmeric is also super healthy. It is an anti inflammatory and an antioxidant. Don't you love when ingredients taste good and are also good for you?
garlic powder and onion powder– garlic and onion are always a necessity in my opinion. They make every dish taste so much better!
I love the slight taste of curry powder that isn't overpowering but gives this chicken a unique taste. But the herbs can steal the show on this recipe. They aren't overpowering but they linger enough to make you really want more.
Now that you have all of the ingredients you need, get ready to make an amazing dinner!
How to Make Baked Curry Chicken Drumsticks
One of the most important steps to this baked curry chicken drumsticks recipe is letting the chicken legs soak in the buttermilk. This is step number one and it should not be skipped. Marinating the chicken in the buttermilk keeps the chicken moist and juicy as it bakes. It also gives it a nice tangy taste. Marinate it up to 6 hours. You will really see the impact of soaking the chicken when you take that first bite.
Once your chicken has been fully marinated, it's time to gather all the ingredients. In a mixing bowl, mix the breadcrumbs and all the seasonings.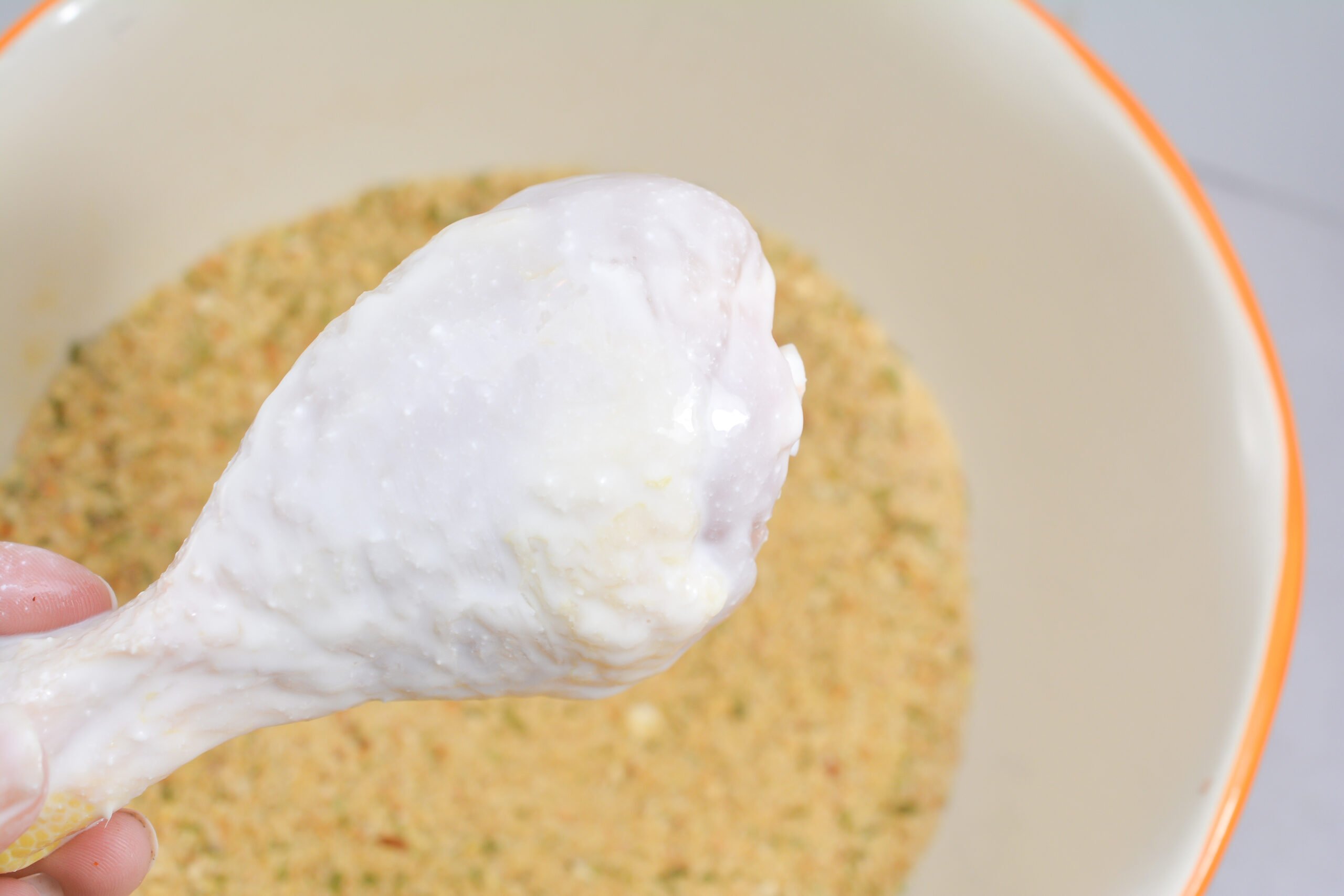 Remove the marinated chicken from the buttermilk mixture and place them in a clean bowl.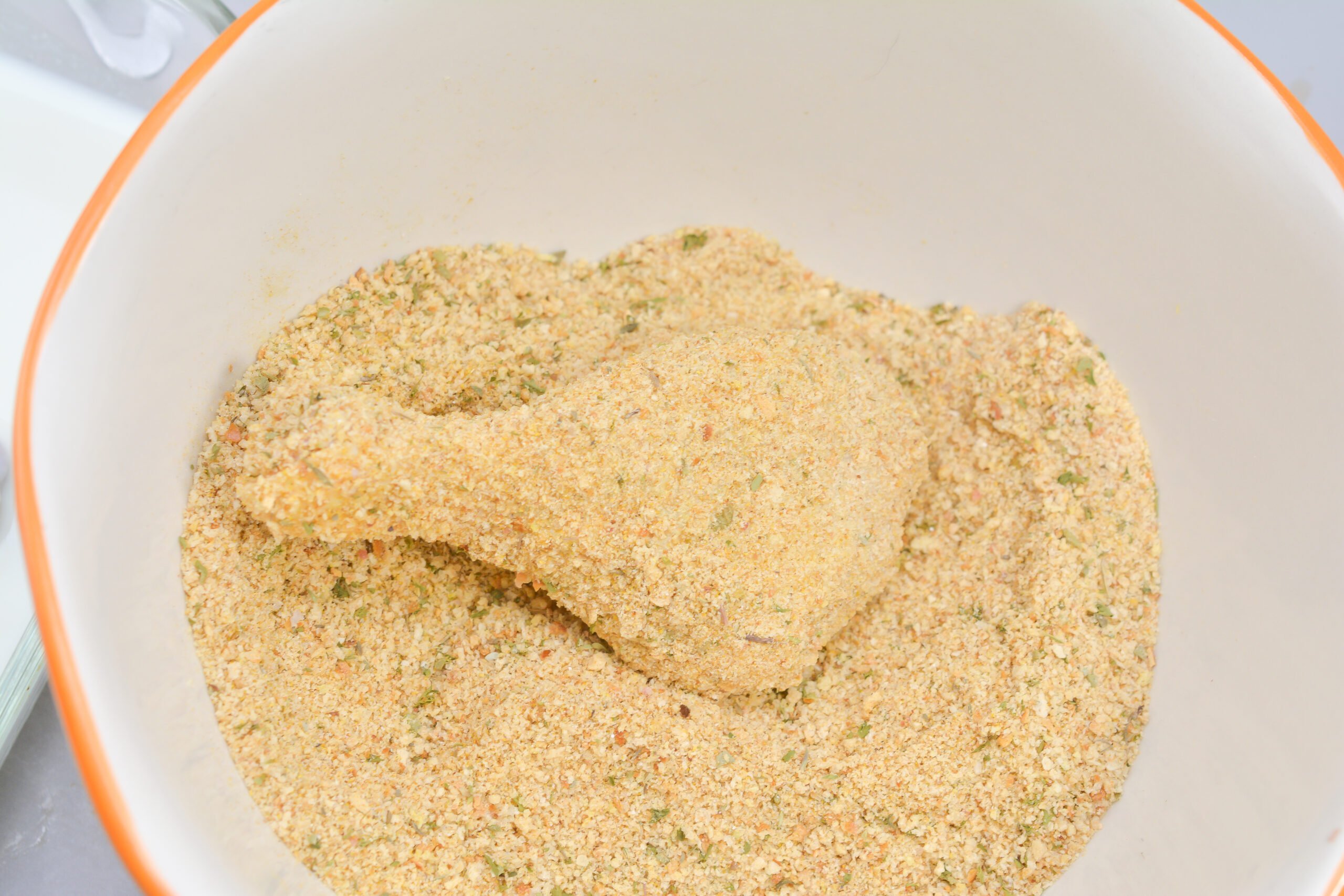 Then, coat each chicken leg with the breadcrumb mixture, making sure each side is fully coated.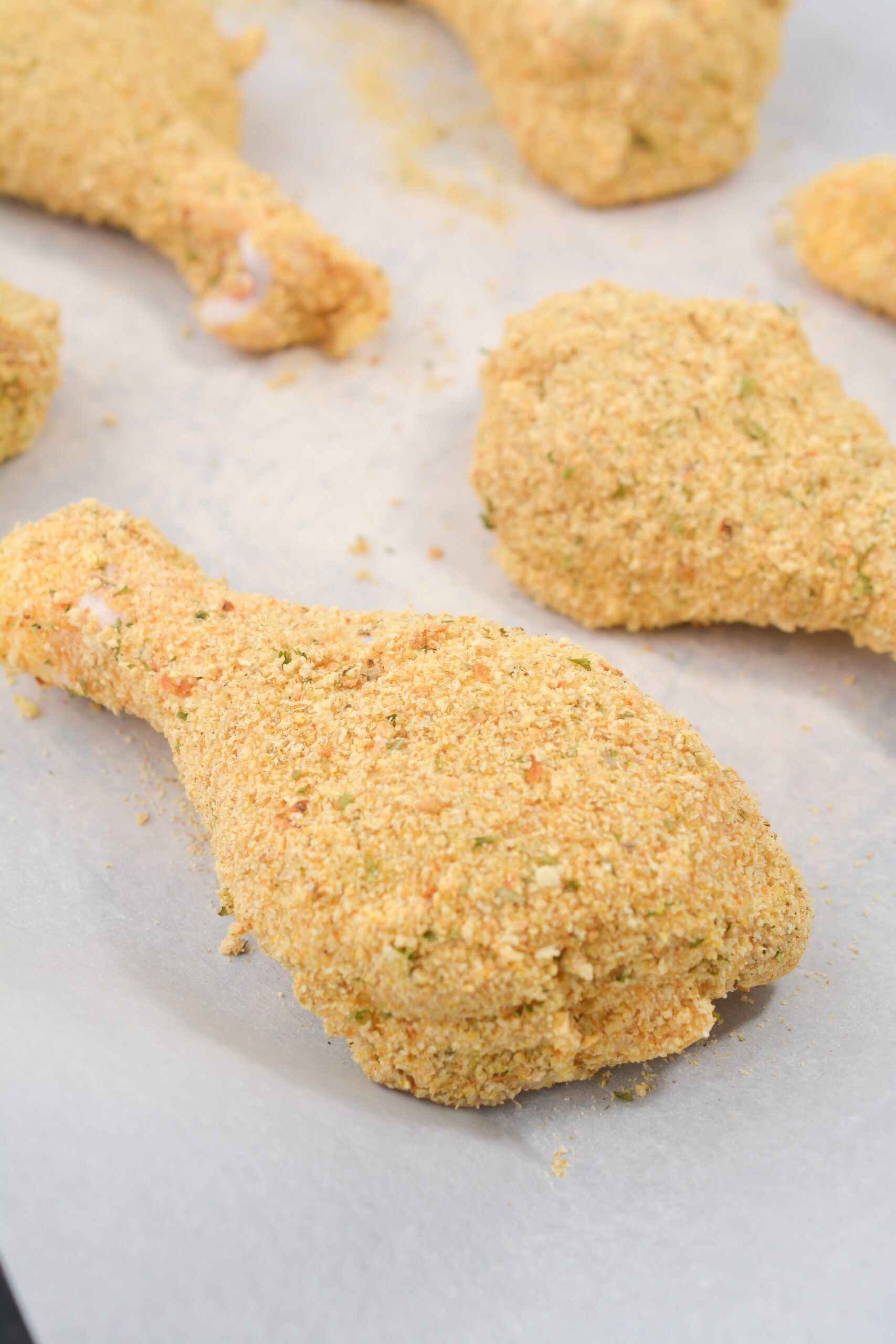 Place the breadcrumb coated chicken on a parchment lined baking sheet and bake.
The chicken will turn golden brown and crispy when it's done. I definitely recommend eating it while its hot out of the oven. It is pretty irresistible!
Tips and Tricks for Making Baked Curry Chicken Legs
Since my friend gave me this recipe a few months ago, I have already made it quite a few times. So I do have a few tips and tricks to share with you. Take a look before you get started to ensure you make perfect baked curry chicken legs!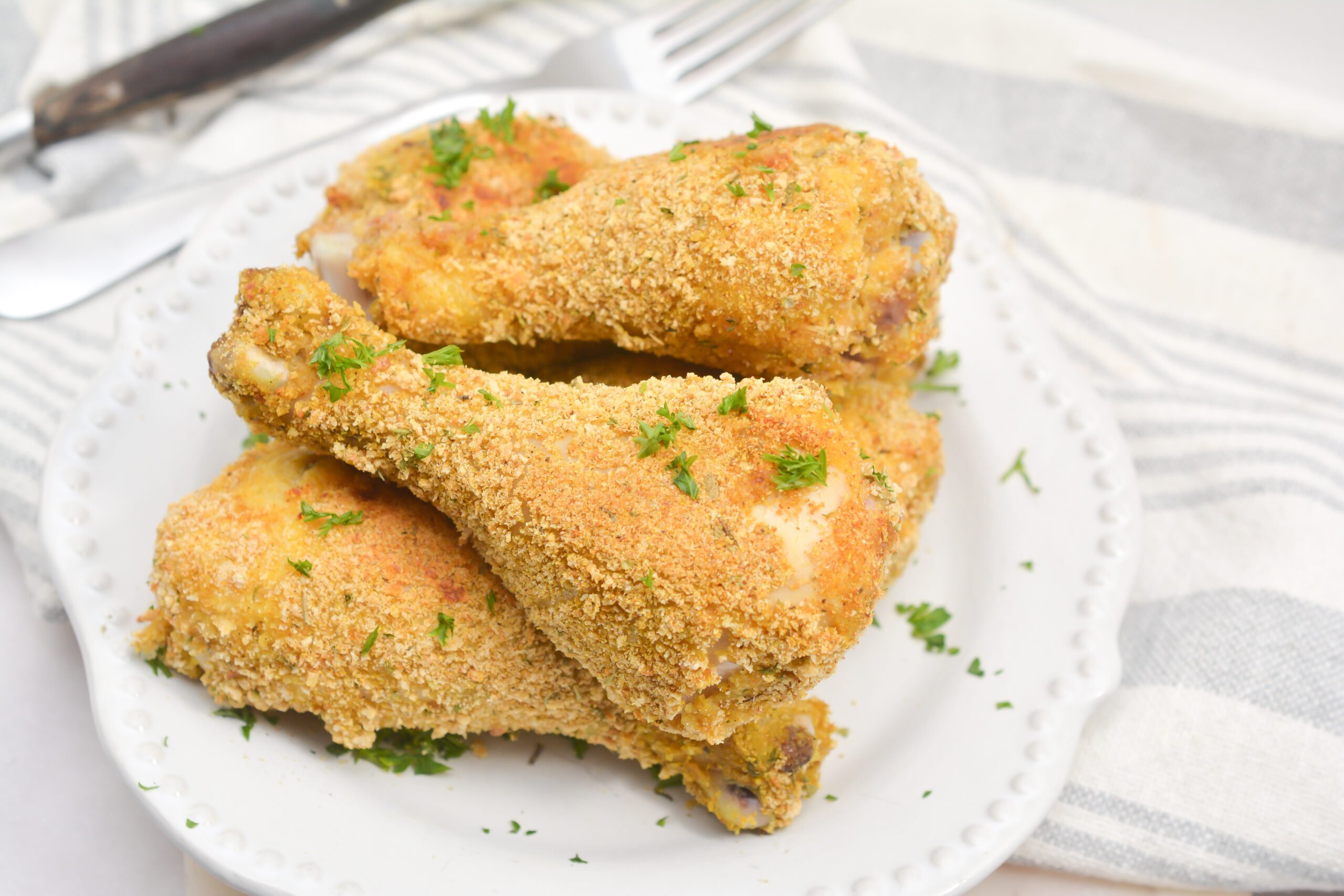 Soak the chicken legs overnight if possible. This will ensure they are juicy, tender and flavorful.
Use chicken wings or chicken thighs in place of chicken legs. Any bone-in chicken will work.
Use Panko bread crumbs for a crunchier, crispier chicken.
Use plain, unseasoned bread crumbs but double the curry. This will give you chicken that is a little spicier which isn't a bad thing!
Serve the chicken with a Thai peanut dipping sauce or a sweet plum sauce. You can also drizzle a little extra curry sauce over the top!
Serve the chicken with some brown rice, roasted veggies or a nice, simple salad. A healthy, mild side is great since the flavor of the chicken is so powerful.
Deep fry the chicken for a crispier outside.
This baked curry chicken drumsticks recipe is a definite keeper! From the marinating to the herbs and crunch, this baked curry chicken drumsticks recipe is now our family favorite for many reasons.
Let me know if you come up with any other tips or tricks. I love hearing about your culinary adventures! No matter what you try, you really can't go wrong with this baked curry chicken.
If you like a little spice with your chicken dinner, then this is the perfect recipe for you. If you love easy, quick dinner options, then this recipe is for you, too! It is a delicious and fast way to prepare chicken and it will really liven up your dinner routine. Give it a try and let me know what you think. Enjoy!
*This post may contain affiliate links. Read our Disclosure Policy for more details.
Print
Easy Baked Curry Chicken Drumsticks
---
6

chicken drumsticks

2 cups

buttermilk

2 cups

seasoned breadcrumbs

1 tbsp

. thyme, dried

2 tbsp

. curry powder

1 tsp

garlic powder

1 tsp

onion powder
salt and pepper to taste
---
Instructions
In a bowl, combine the buttermilk and chicken legs. Let sit for at 2 hours, up to 6 hours.
In a separate mixing bowl, mix the breadcrumbs and all the seasoning.

Remove the chicken legs from the buttermilk mixture and place them in a clean bowl.

Coat each chicken drumstick with the breadcrumb mixture, making sure to coat on all sides. 

Place the chicken legs on a parchment lined baking pan.

Preheat oven to 350 degrees.
When all legs are coated and seasoned, place in the oven.
Bake for approximately 40 – 50 minutes or until the internal temperature reaches 185.
Serve with your favorite veggie side or steamed rice.
Enjoy!