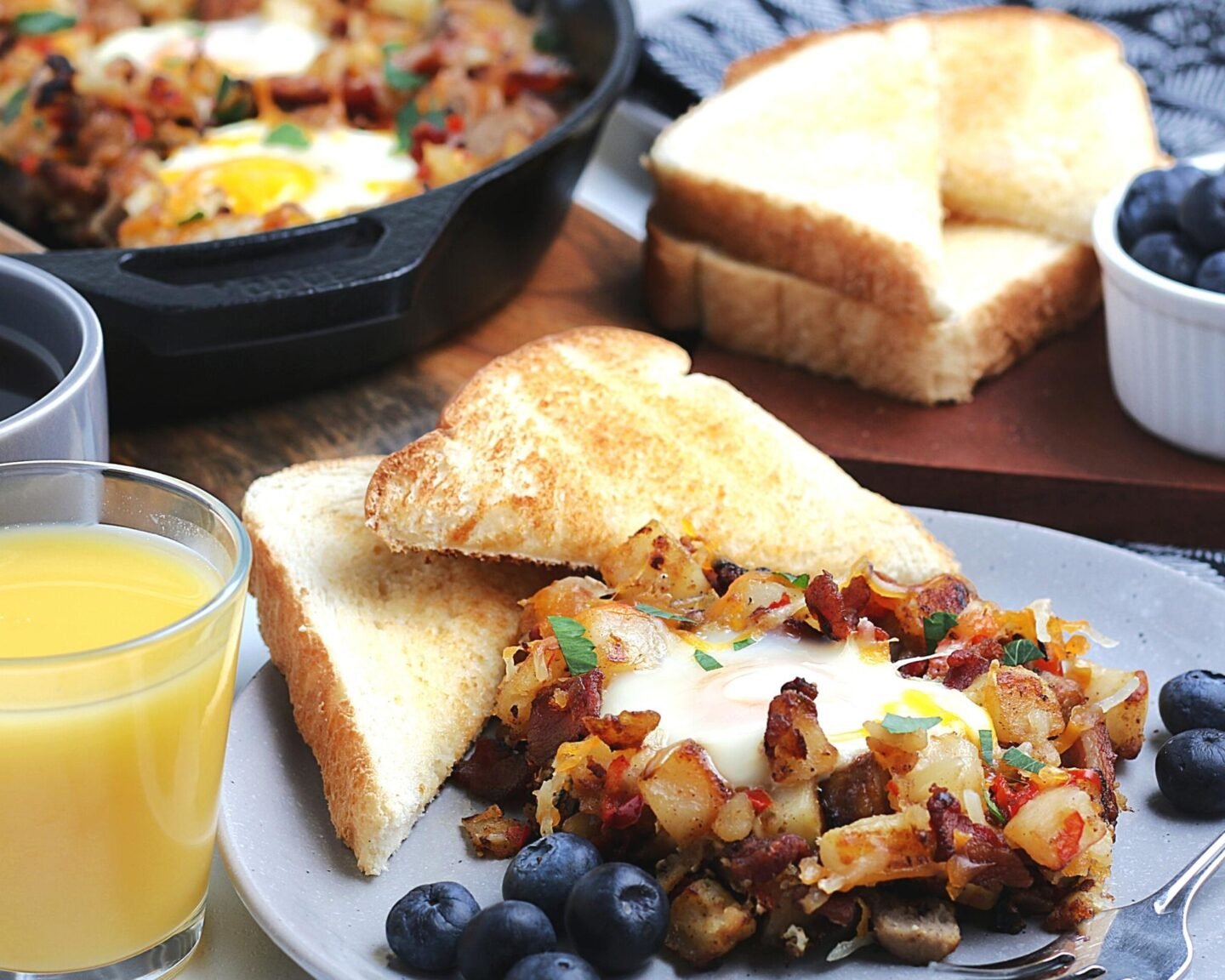 This delicious Breakfast Skillet Recipe is f

ull of classic breakfast ingredients: bacon, eggs, sausage and potatoes

topped with shredded cheese. A nice, easy skillet breakfast the whole family will enjoy!
My family is not really a big breakfast family. We are all typically too busy in the mornings to stop for a big sit down meal. More often, we each have a quick bowl of cereal or a granola bar on our way out the door.
However, every now and then, I do like to prepare a yummy, hearty breakfast as a special treat.
Breakfast skillet is what I make most often when we are all craving a true, filling morning meal.
My breakfast skillet recipe is full of classic breakfast ingredients. I use sausage, bacon, eggs and potatoes as the main ingredients- all traditional breakfast foods. I also only use one pan to cook everything- making my AM clean up nice and easy. Saving a few minutes in the morning is always a great thing!
Speaking of time, this potato breakfast skillet recipe is ready to serve in less than 30 minutes and will give you four very hearty servings. It is quick to make but looks like you really put in a big effort in the kitchen. Your family may wonder what time you woke up in order to make such a great meal! It is definitely the opposite of my normal morning muffin but I really do love all the classic breakfast tastes and I know you will too.



Ingredients for Breakfast Skillet Recipe
When you think of breakfast foods, you probably think of eggs, bacon and potatoes. I use all of these standard breakfast foods in my recipe plus a few more tasty add-ins.
Here's what you'll need to make breakfast skillet:
bacon

– Bacon is unlike no other meat. It is salty, crunchy and full of delicious fats that melt in your mouth. It is the idea breakfast food and something that will really get you up and out of bed!

potatoes or hash browns

– I use pre chopped refrigerator potatoes or frozen hash browns. These tend to cook faster than regular potatoes and require less prep work from you.

onion

– Some sweet white onion will add an earthy taste to the skillet.

red bell pepper

– Red bell pepper adds a very subtle spice to the skillet. It also has a pretty red color that I love.

sausage-

Pre cooked breakfast sausage helps bulk up the meal. I like using chicken breakfast sausage since it is a little healthier but feel free to use any kind you'd like. Just make sure that it is already cooked!

salt and pepper

– A little salt and pepper is the perfect, simple seasoning for your skillet.

eggs-

Eggs are full of healthy protein and fats that will give you energy to get through the morning.

Cheddar cheese

– Cheese is always a good idea, especially when it is melted with ingredients like bacon, eggs and sausage
In addition to the skillet ingredients, you may want to grab a ripe avocado, a few tomatoes or maybe even a jalapeno to add as garnishes for the skillet. Grab whatever "extras" suit your family's taste!
How to make Potato Breakfast Skillet Recipe
My breakfast skillet is made completely in one pan. Grab a big cast iron skillet and a rubber spatula or spoon and you are ready to begin! Here is how to put this dish together:
1. Cook the bacon in the skillet until it is crispy then remove it from the pan and set it aside.
2. Add the potatoes to the same skillet, tossing it in the leftover bacon grease. Cook the potatoes until they are golden.
3. Add the onions and peppers and toss everything again. It takes about 5 minutes for the veggies to get nice and tender.
4. Crumble up the cooked bacon and add it back to the pan along with the cooked breakfast sausage.




5. Mix a little salt and pepper into the skillet mix then push back the potatoes and meat in the pan, making four small cavities.
6. Crack one egg into each of the cavities. Cover the pan and let the eggs cook until the whites are completely set. You want the yolks to stay runny so they act as a sauce for the potatoes and meat.
7. Uncover the pan, sprinkle with the shredded cheese and cover the pan again to melt the cheese for about a minute.
8. Scoop the mix onto four plates, giving everyone one egg and a big scoop of potatoes and meat.
Don't you just love one pan meals? I sure do! Especially in the morning when the last thing I want to do is more dishes.
I do like to add sliced jalapenos to the top of the potatoes to add some heat and a little crunch. Our youngest son likes to scoop his potatoes and eggs onto a big roll and eat it like a sandwich. You really can't go wrong with this breakfast skillet recipe!



Tips and Tricks for making Potato Skillet Breakfast Recipe
Anytime I try a new recipe, I always make sure to read any tips and tricks before I start cooking. The more you fully understand a recipe, the better it will be! Here are my tips and tricks for this easy and delicious potato skillet breakfast. I know they will help you out!
Use leftover roasted potatoes to help clean out your fridge and make a tasty breakfast

Be sure to keep the egg yolks runny as they act as a tasty sauce

Add 1 cup of salsa to the potato and meat mix before you crack in the eggs. This will give you an easy Mexican inspired skillet.

Skip the melted cheese to cut back on some calories- it will still taste amazing

Use cooked apple sausage to add a sweet flavor to the skillet
Now that I am thinking about this breakfast skillet recipe and how delicious and easy it is to make, I am really craving a big breakfast. I think I will surprise my family and whip this up tomorrow morning. You should too! Give it a try and take the time to sit down with your family and enjoy every bite. Let me know what you think!
*This post may contain affiliate links. Read our Disclosure Policy for more details.
Try these other delicious breakfast/brunch recipes!
I hope you love this breakfast skillet recipe – be sure to give it a review below!
Print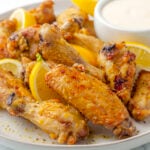 Breakfast Skillet Recipe
---
Author:

Prep Time:

10 minutes

Cook Time:

20 minutes

Total Time:

30 minutes

Yield:

4

servings

1

x
Ingredients
4

–

6

strips bacon, cut into

1

inch pieces

1

bag (20 oz) refrigerated potatoes or

3

–

4

cups frozen hash browns

½ cup

sweet onion, diced, optional

 

½ cup

red bell pepper, diced, optional

 

8

–

10

cooked sausage links, chopped

 

Salt and pepper to taste

4

large eggs

 

1 cup

shredded cheddar cheese or your favorite

 
Serving
green onions, sliced
tomatoes, sliced
avocado, sliced

 

jalapenos, seeds removed and sliced
fresh parsley

 
---
Instructions
In a large skillet or cast iron skillet, cook bacon until crispy and remove from pan onto paper towel
Add potatoes and cook until browned

 

Add vegetables, if using and cook until tender, about 5 minutes
Stir in sausage and bacon and heat through
Add salt and pepper to taste
Make wells in the pan and carefully break eggs into each well
Cover pan and cook over medium low heat until whites of eggs are set, about 8-10 minutes
Sprinkle with cheese and cook until melted
Serve immediately with toppings of your choice
Store leftovers in refrigerator

 
Keywords: air fryer lemon pepper wings, chicken wings, air fryer chicken wings, air fryer recipes
LOVE THIS BREAKFAST SKILLET RECIPE? PIN IT HERE!