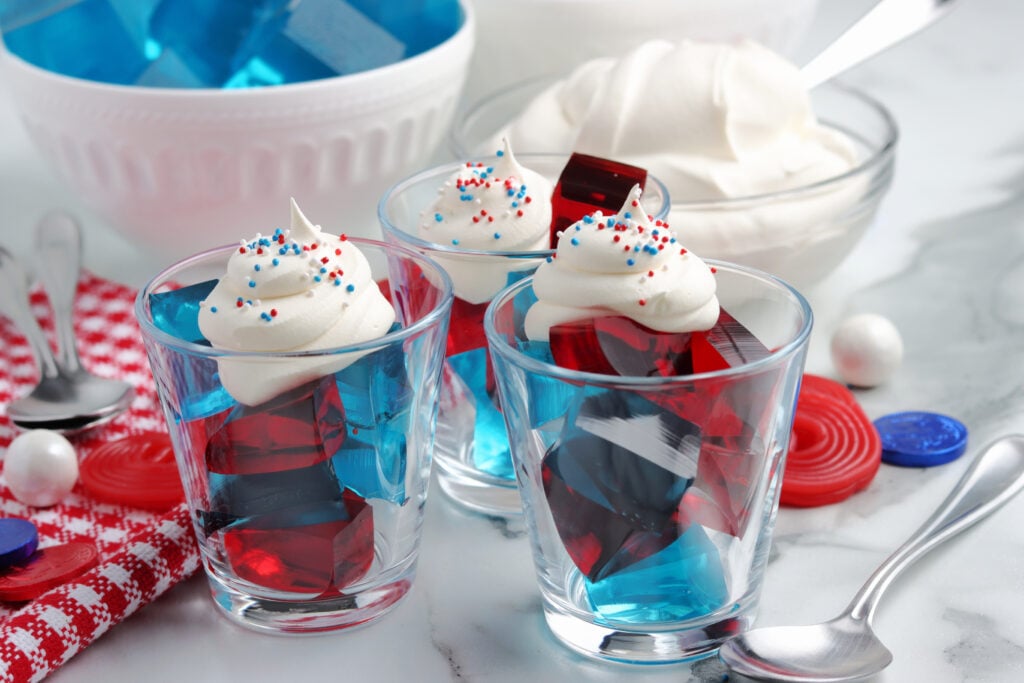 These super easy and delicious Jello Jigglers recipe is a perfect summer time dessert! You can make them in your favorite colors or make them patriotic-themed like I did here for Memorial Day and 4th of July!
I love when the seasons change and I get to make all new types of desserts. I've been waiting for summer to make all of my fruity, refreshing desserts and I'm so excited the summer weather seems to finally be here!
The summer dessert I'm going to make is my Jello Jigglers. They are fun, easy and really bring back memories of my childhood. Did you love jello when you were a kid, too?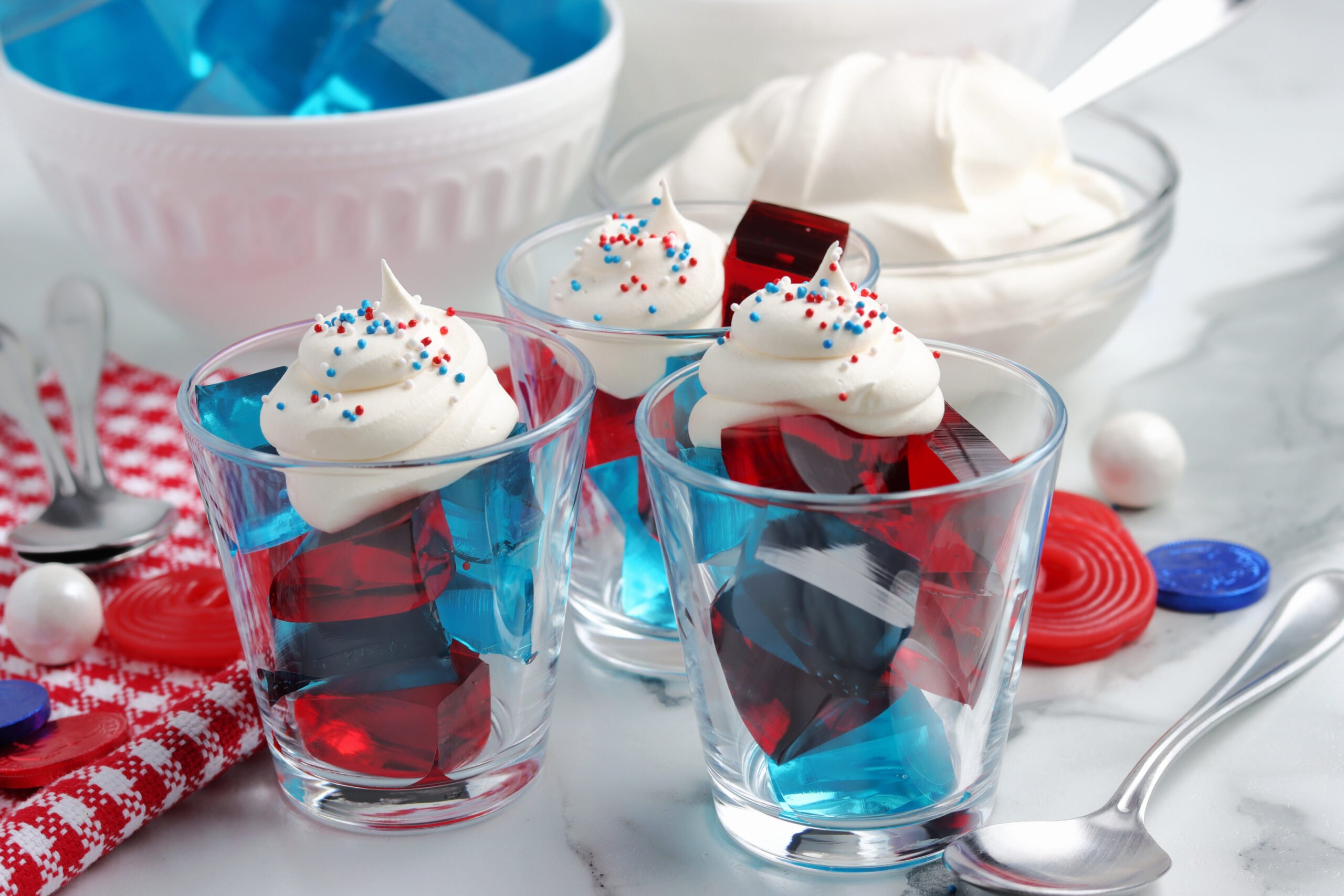 My Jello Jigglers recipe is very simple to make and can be made in pretty much any jello flavor. For this recipe, I chose to go with a red white and blue theme (perfect for Memorial Day or the Fourth of July!). Later, I'll give you a few more flavor ideas that will keep this summer treat exciting and tasty all summer long! So keep on reading!
Tools and Ingredients for Jello Jigglers
Summer is all about having fun, being outside and just enjoying the warm weather. You don't want to be stuck in your kitchen making complicated recipes! That is just another reason why I love making jello jigglers- they are so simple! You can make this entire jell-o jigglers recipe in just 5 minutes!
Here is a quick look at what you will need to grab at the grocery store to make these Jello Jigglers recipe: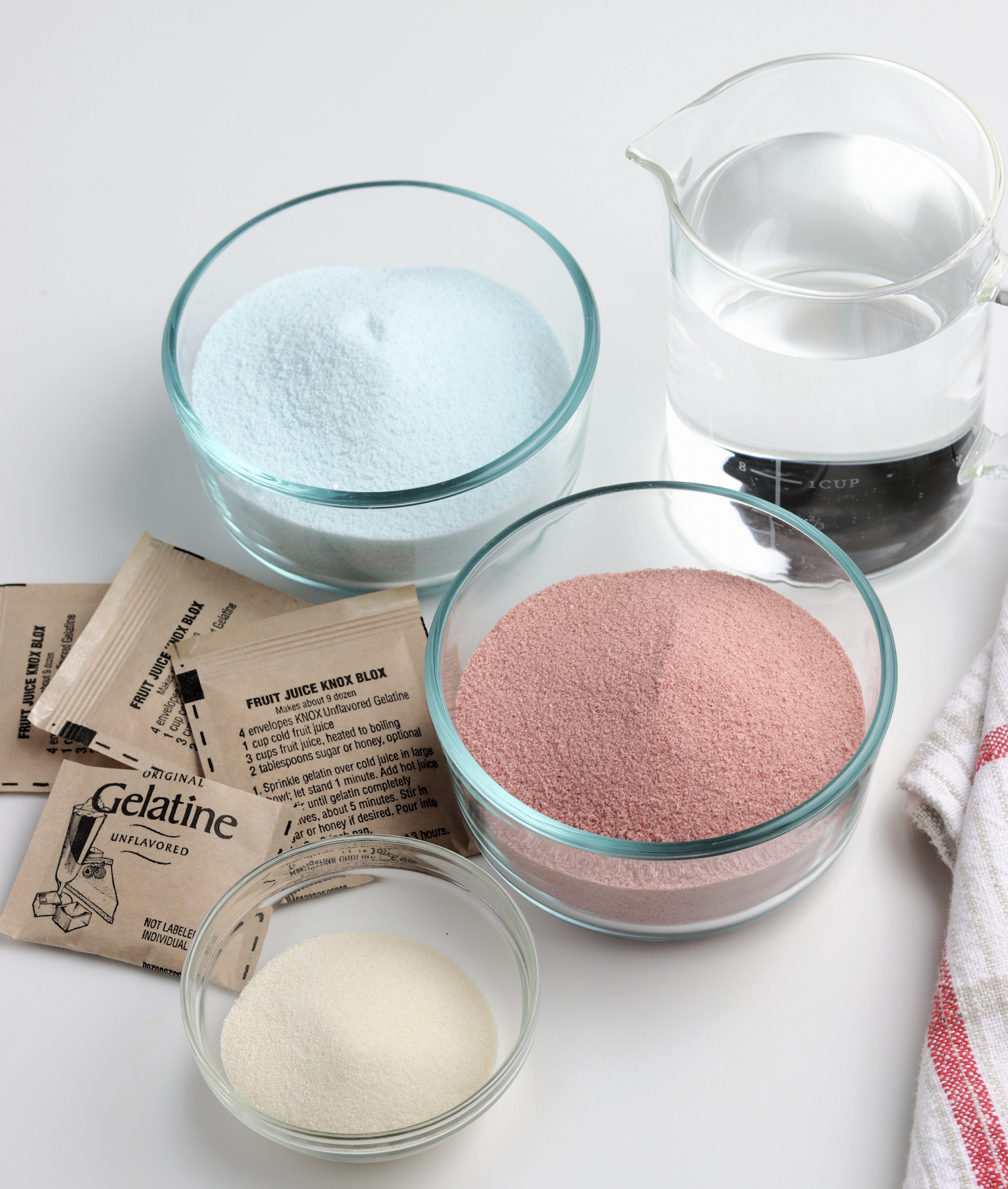 Jell-o– Choose any flavor you'd like! You can even use sugar free jello if needed. For my red, white and blue jello, I used berry blue flavor and raspberry. Strawberry or cherry jello will work too!
unflavored gelatin– Unflavored gelatin is what will make this jello extra jiggly. It will also help the jello be more firm, allowing it to slice easily and hold it's shape.
boiling water– Boiling water dissolves the jello completely. You want to be sure all the jello and gelatin are completely dissolved.
whipped cream– White whipped cream is the perfect finishing touch for this jello jigglers recipe. It not only adds a creamy flavor, but also makes the jello look picture perfect.
sprinkles– Sprinkles are always a good idea for summer desserts. I mentioned before that jello jigglers remind me of summers as a kid and sprinkles do the same. We all remember ice cream and desserts covered with sprinkles in the summer. So for me, sprinkles are required!
You will also need a large bowl and a spoon to mix the ingredients together. An 8×8 inch square pan. If you are making multiple flavors, you will need extra 8×8 inch pans but you can rinse and reuse the same large bowl.
Jell-o Jigglers Recipe
Easy summer desserts are the best. This jell-o jigglers recipe is as easy as it gets. Here is what you need to do: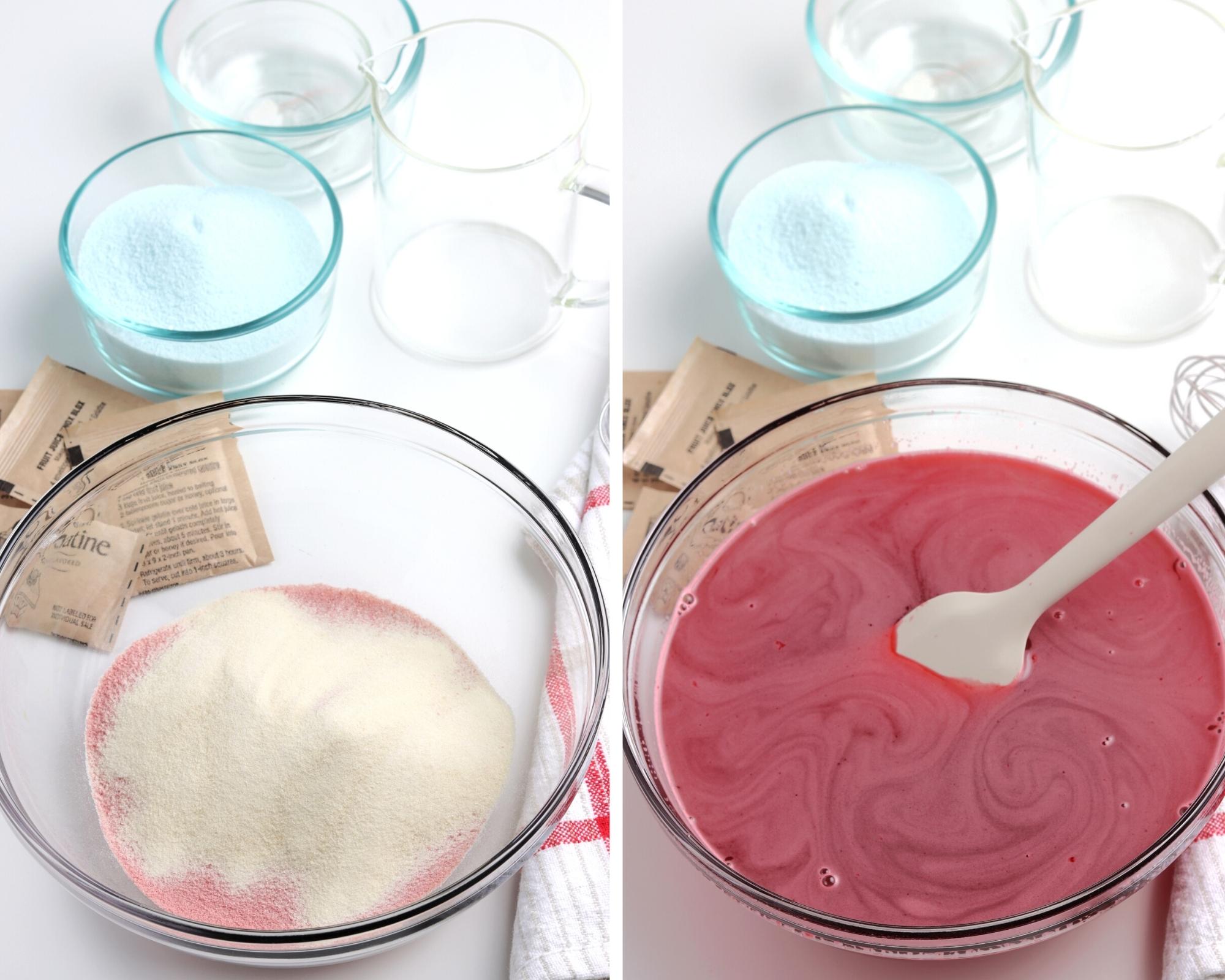 1. Boil the water either on the stove or in the microwave.
2. Mix the jello and gelatin in a large bowl and then add the hot water to the bowl.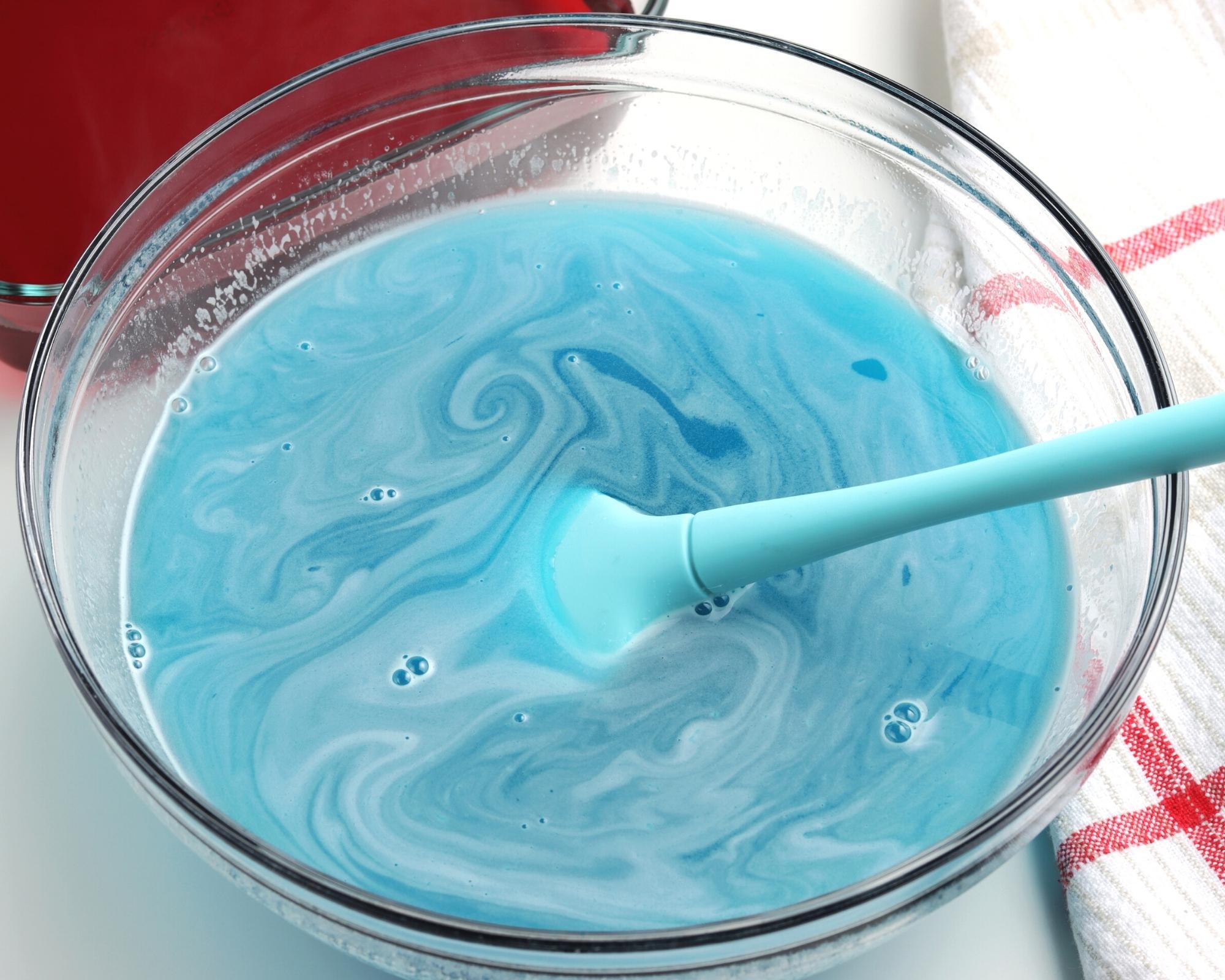 3. Whisk the jello into the water to dissolve it completely.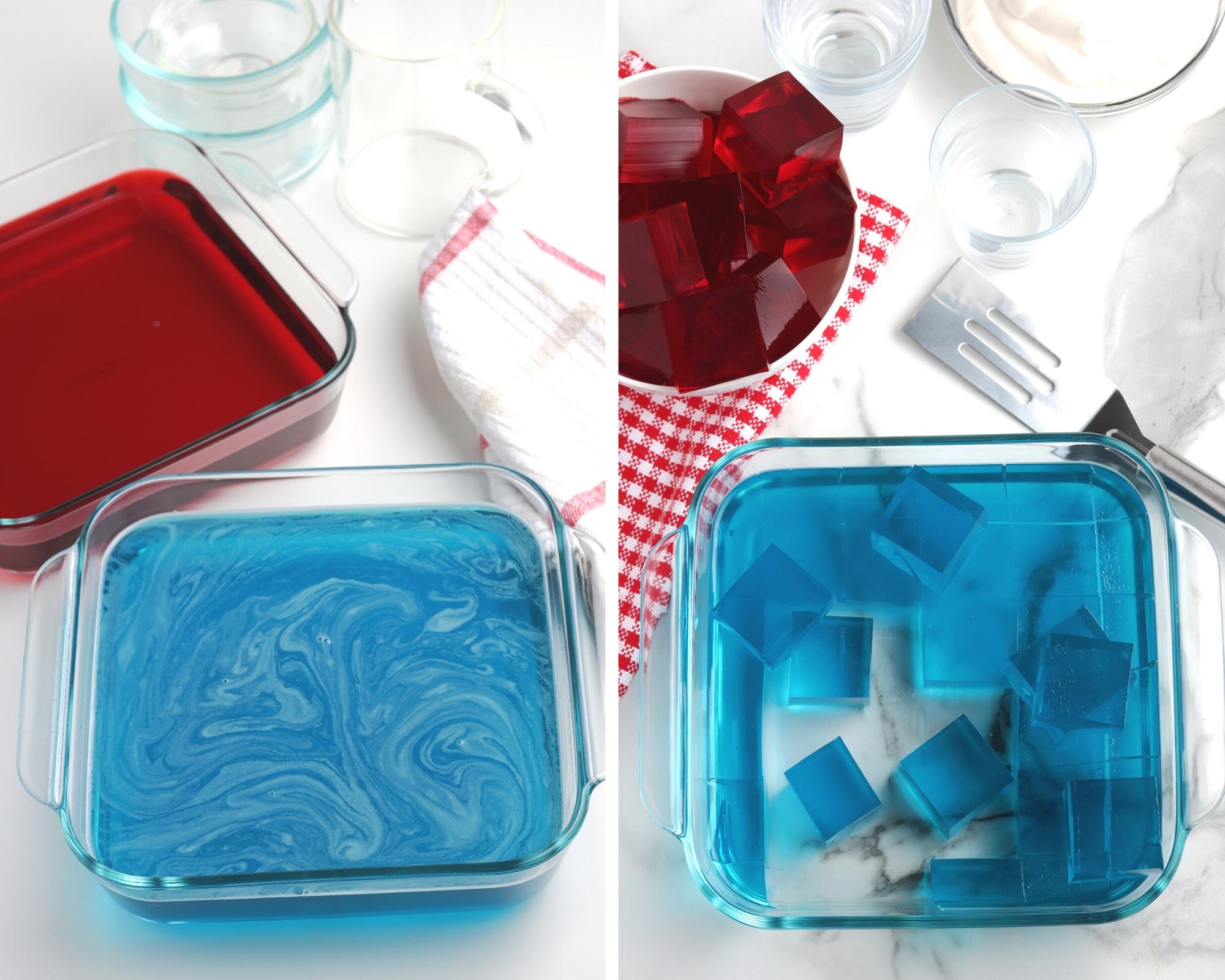 4. Pour the jello mix into the 8×8 inch square pan and then place the pan in the fridge for at least 4 hours to set.
5. Use a sharp knife to cut the jello into cubes.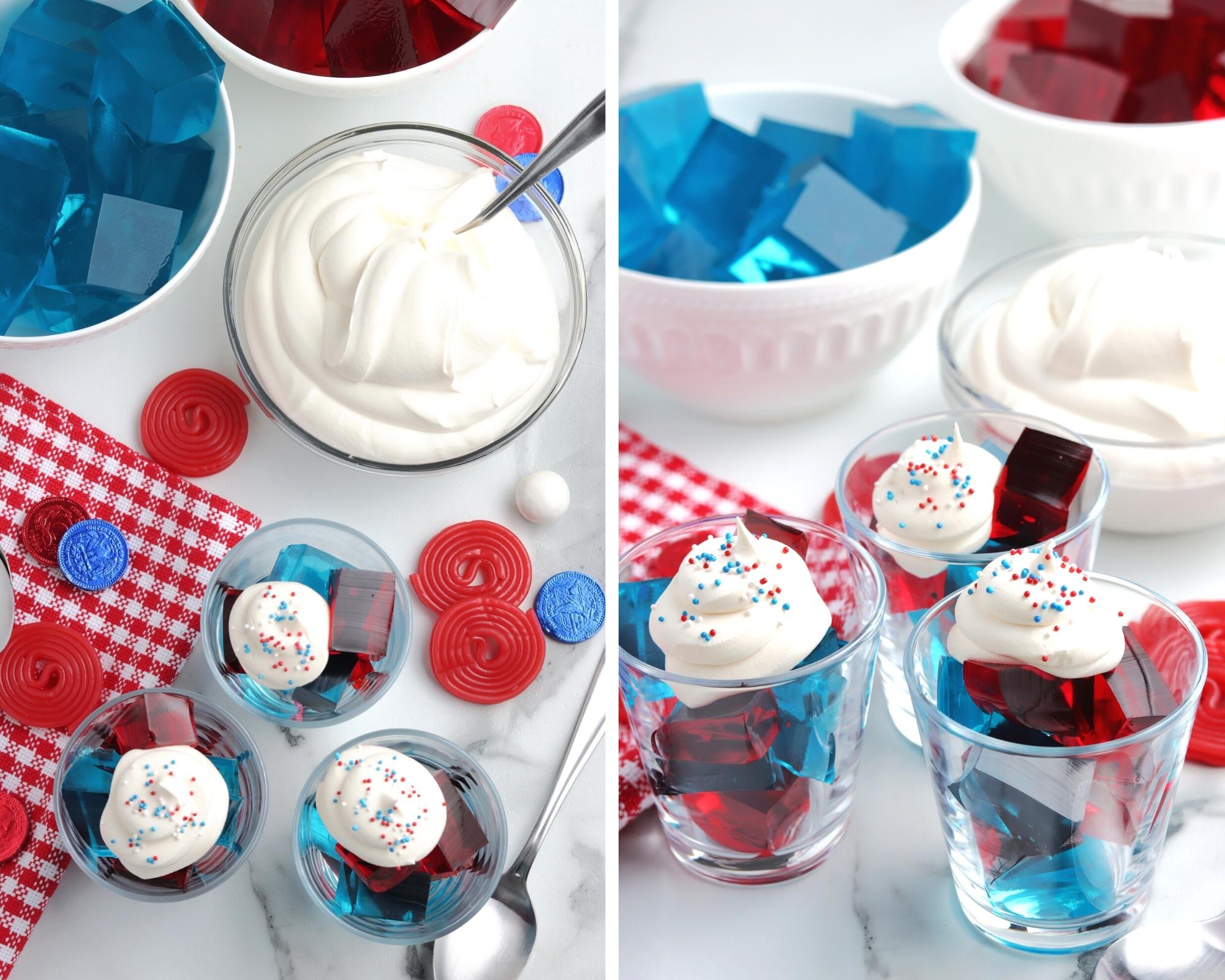 6. Add the jello cubes to glasses, alternating colors.
7. Top with whipped cream and sprinkles then enjoy cold!
Simple enough! It is so easy to double or triple this recipe too – making enough to serve a whole summer party of people!
Jello Jigglers Recipe: Flavor Ideas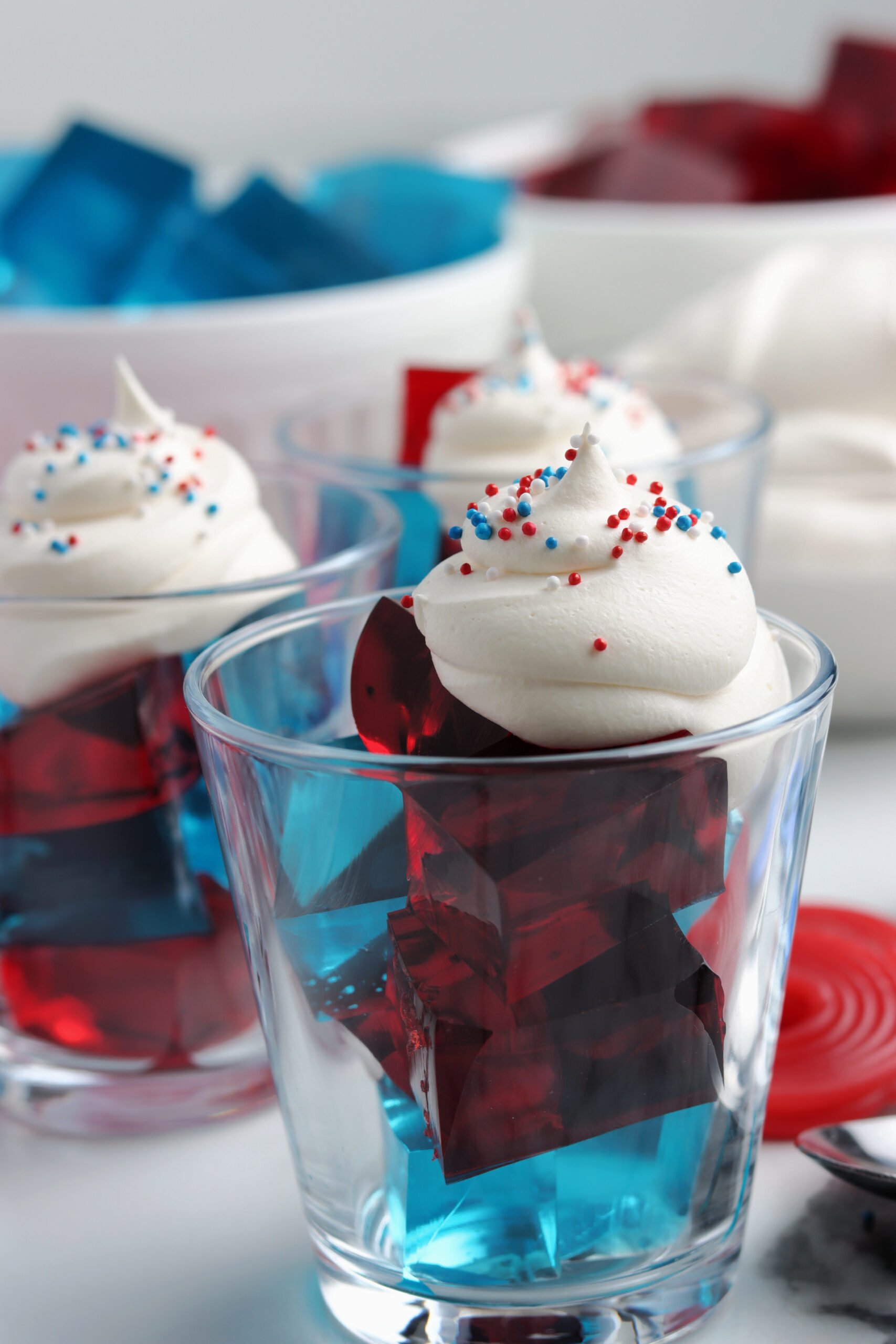 For this recipe, I made patriotic jello jigglers for the 4th of July so I used red and white and blue. But you can definitely make them all in different flavor combinations.
Here are a few of my favorites, all of which taste great and also look very pretty in a glass.
Lemon jello and lime jello
Pineapple and mango jello
Watermelon and lime jello
Blueberry, strawberry and raspberry
Peach and blackberry jello
Melon and black cherry
Do you have a favorite combination of jello? Send a pic or leave a comment below! I always want to know the most summery, tasty jell-o jigglers recipe!
Jello jigglers remind me so much of summer. They are such a fun, easy and light dessert that everyone loves. Give my jello jigglers recipe a try for your next BBQ or just for a family treat during the week. I know they will put a smile on your face. Enjoy!
This post may contain affiliate links. As an Amazon Associate, I earn from qualifying purchases. Read my disclosure policy for more details.
More fun and yummy summer desserts to try!
LOVE THIS RECIPE? PIN IT HERE!
Print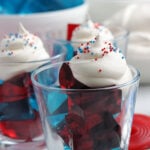 Easy Jello Jigglers Recipe
---
Author:

Prep Time:

5 minutes

Cook Time:

4 hours chill time in the fridge

Total Time:

55 minute

Yield:

32

-

36

squares

1

x
Description
These super easy and delicious Jello Jigglers recipe is a perfect summer time dessert!  You can make them in your favorite colors or make them patriotic-themed like I did here for the 4th of July!  
---
Ingredients
3

small (3 oz each) jello, your favorite flavor

1

box – 4 envelopes (

1 oz

each) unflavored gelatin

4 ½ cups

boiling water
Serving, optional
whipped topping or whip cream

 

sprinkles

 
---
Instructions
Set out a square 8×8 inch pan

 

Heat water to boiling, either in the microwave or on the stove

 

In a large bowl, whisk together the jello and unflavored gelatin

 

Carefully pour the boiling water over the jello mixture and stir 2-3 minutes until completely dissolved

 

Pour into pan
Place in refrigerator for at least 4 hours or until set
Repeat with additional flavors if desired
Cut into squares or shapes and serve
Store leftovers in refrigerator
Serving, optional
Layer jello squares in glass
Top with whipped topping and sprinkles if you like