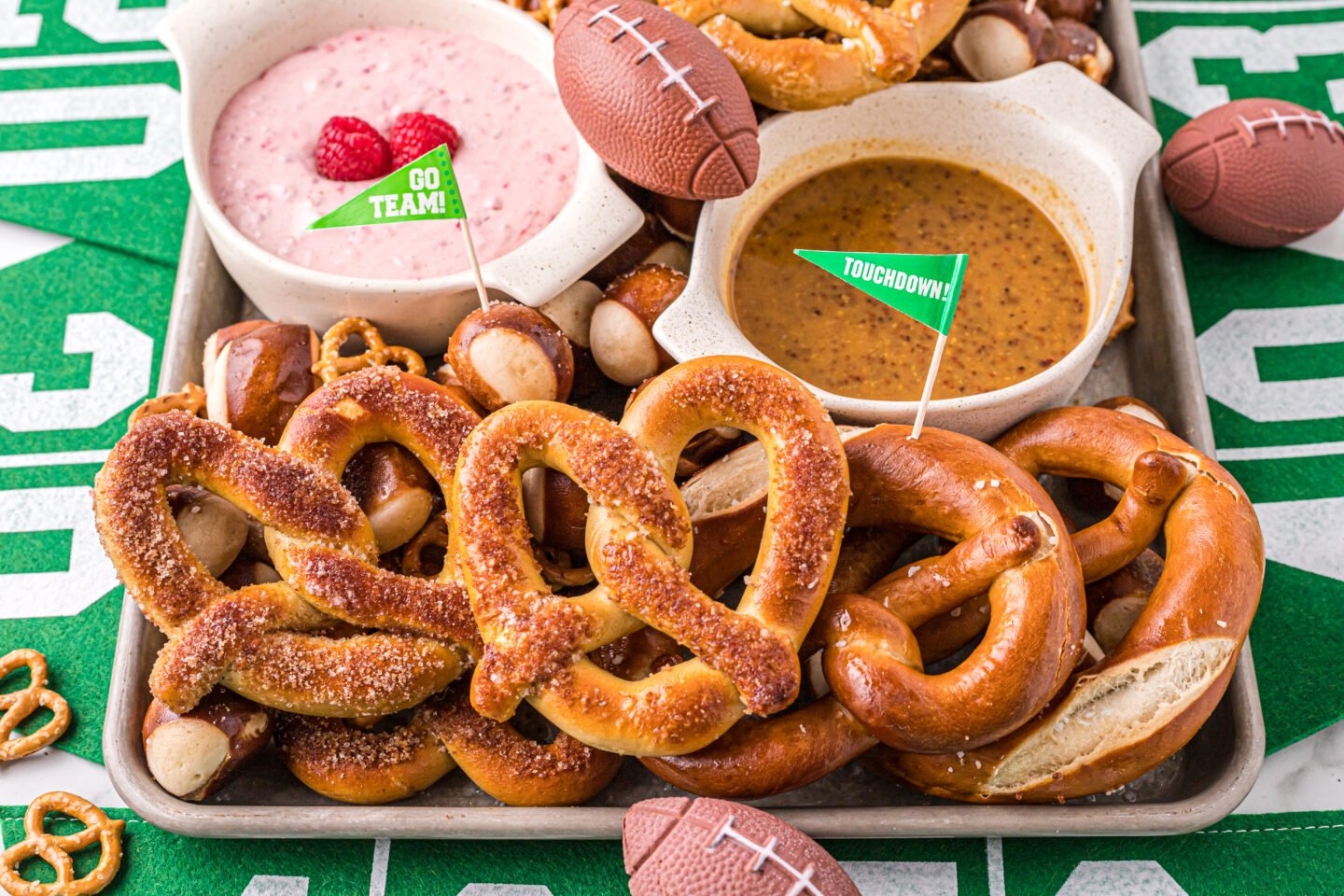 Need a yummy game day snack idea? You and your guests will enjoy this crowd-pleasing, easy to make pretzel snack board that includes three different cheesy dipping sauces for your game day party!
What to know what I am excited for? Football! My family and I are big football fans and we are pumped that football season is right around the corner. Are you getting ready for football season too?
Naturally, I have been thinking about football food. We love game day get togethers and I like to make lots of delicious, homemade food for my family and guests to enjoy while watching the big game. My pretzel snack boards are probably the most popular dish I make and they are always devoured within the first half of the game! I even think some of my friends come over just for the pretzel board, not necessarily to watch football…
What is on a Pretzel Snack Board?
My pretzel snack board really does have it all. I use hard pretzels, sweet pretzels and salty soft pretzels. Then I add three different types of dips:
These are all my own homemade dip recipes. I think that the different types of dips are really what makes this snack board so special. They are tasty, unique and also homemade (the perfect little touch!).




All of these dipping sauce recipes are on my blog and each one is easy to make. I highly recommend making them all because it will give your guests so many options. Those who like spicy foods will love the heat of the spicy honey mustard dip and the sweet lovers in the group can go for the raspberry cream cheese option. And everyone loves the beer cheesy dip. How can you go wrong with pretzels in cheese?! There is something for everyone! This pretzel snack board is a true crowd pleaser!
Best Pretzels for a Snack Board
Now, let's talk a little about the pretzels. There are a few options here. While I have gone crazy and made homemade soft pretzels in the past, it is super easy to just buy soft and hard pretzels for this board. I have found that the store bought ones are delicious and save a whole lot of time! Why spend hours in the kitchen kneading pretzel dough when you can just buy some tasty pretzels and focus on what reality matters- getting pumped for the game!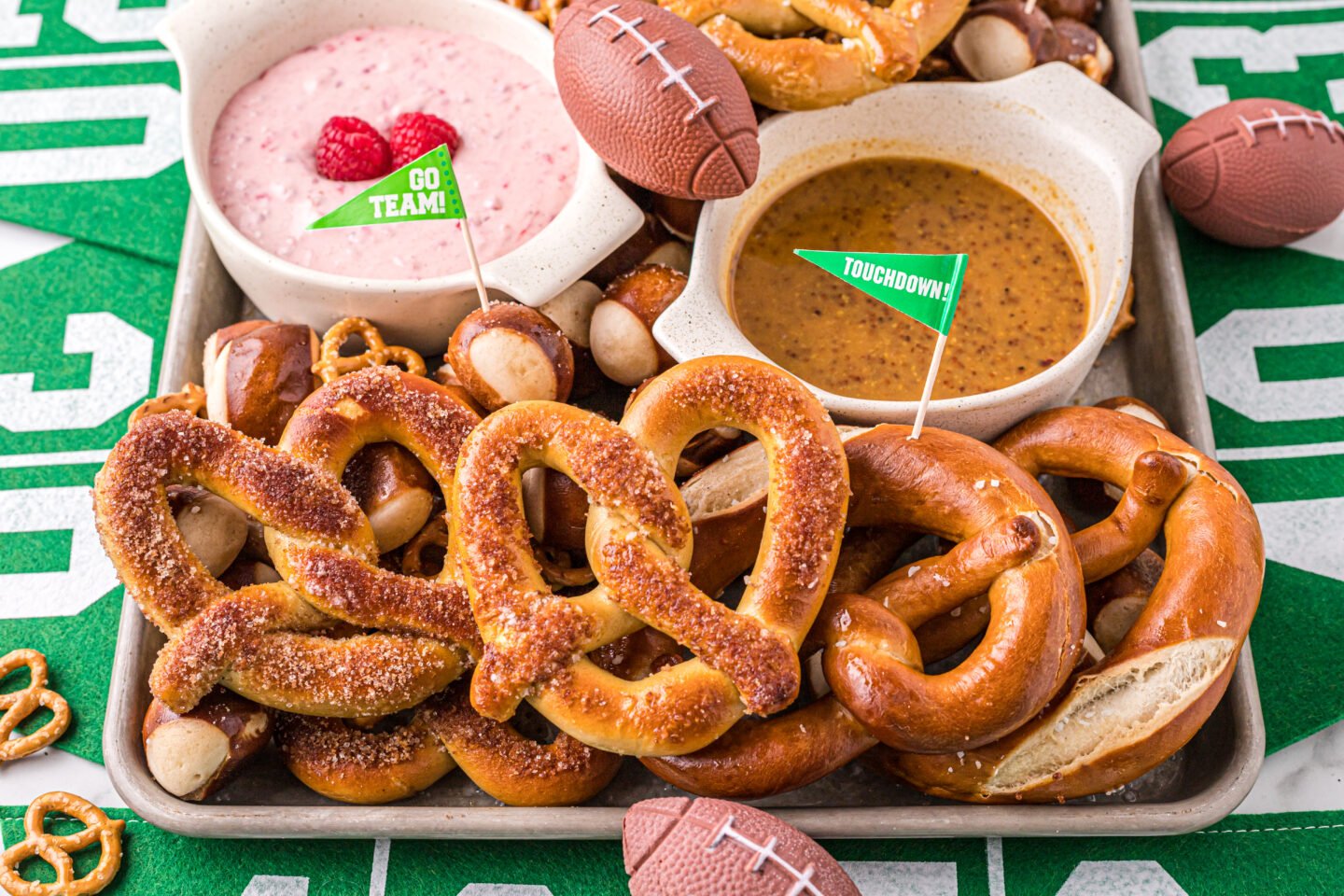 You can get these big soft pretzels from Amazon. I have also found soft pretzels at Walmart and my local grocery store carries them too. The big pretzels are great for people who want to grab one pretzel, put it on a plate along with a few scoops of dip and sit down to relax.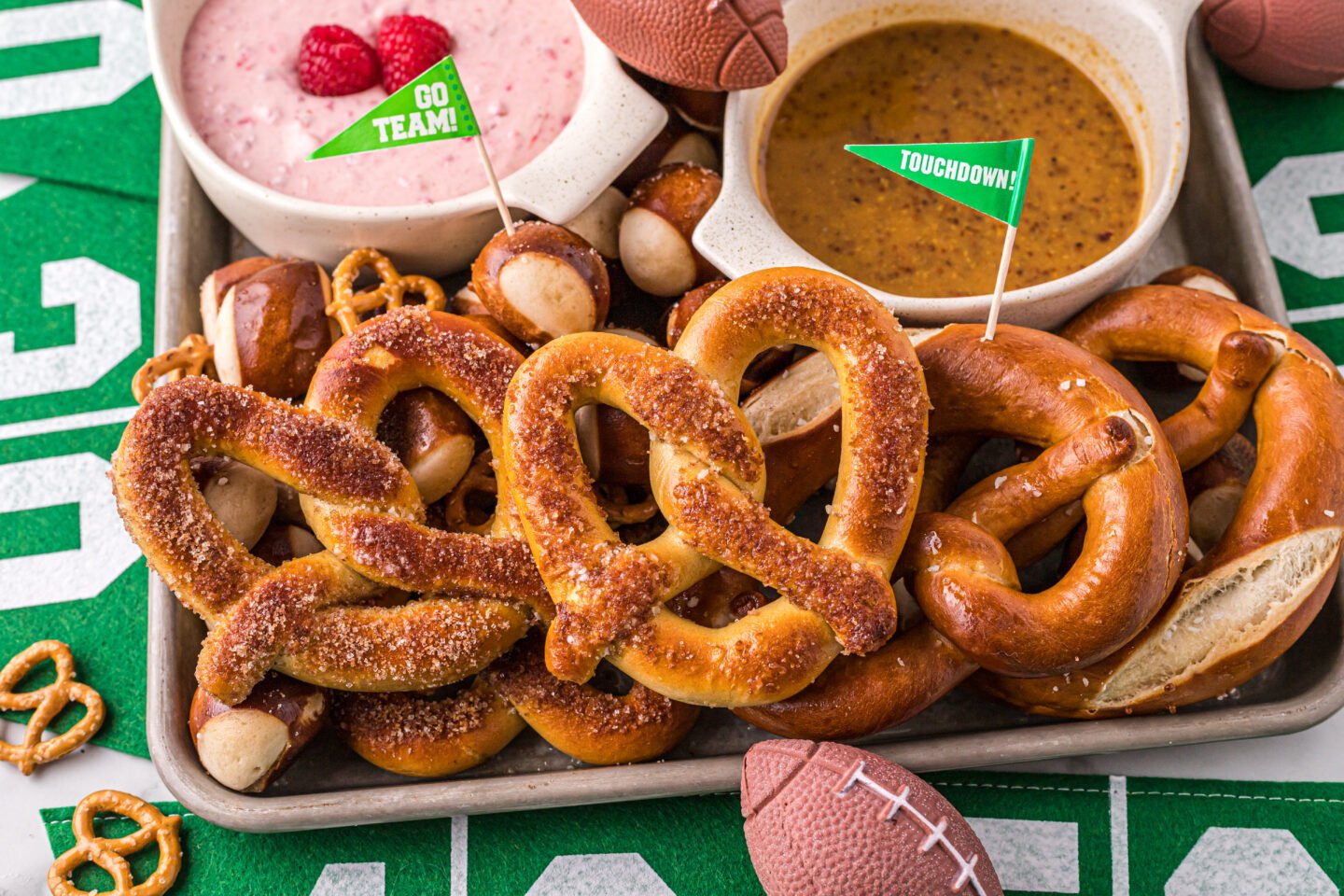 I personally love the little pretzel bites best so I can pop them in my mouth while cheering on my team. I don't have time for a plate- I need to keep my eyes on the TV! So the little, finger food style bites are my favorite. Grab a big pack of soft pretzel bites and you will be set for the season! You can store these soft pretzel bites in the freezer and thaw them right before the game. Pop them in the oven for 2-3 minutes to heat them up. There is nothing like a warm, soft pretzel bite dipped in beer and cheese dip….drool.
Best Snack Boards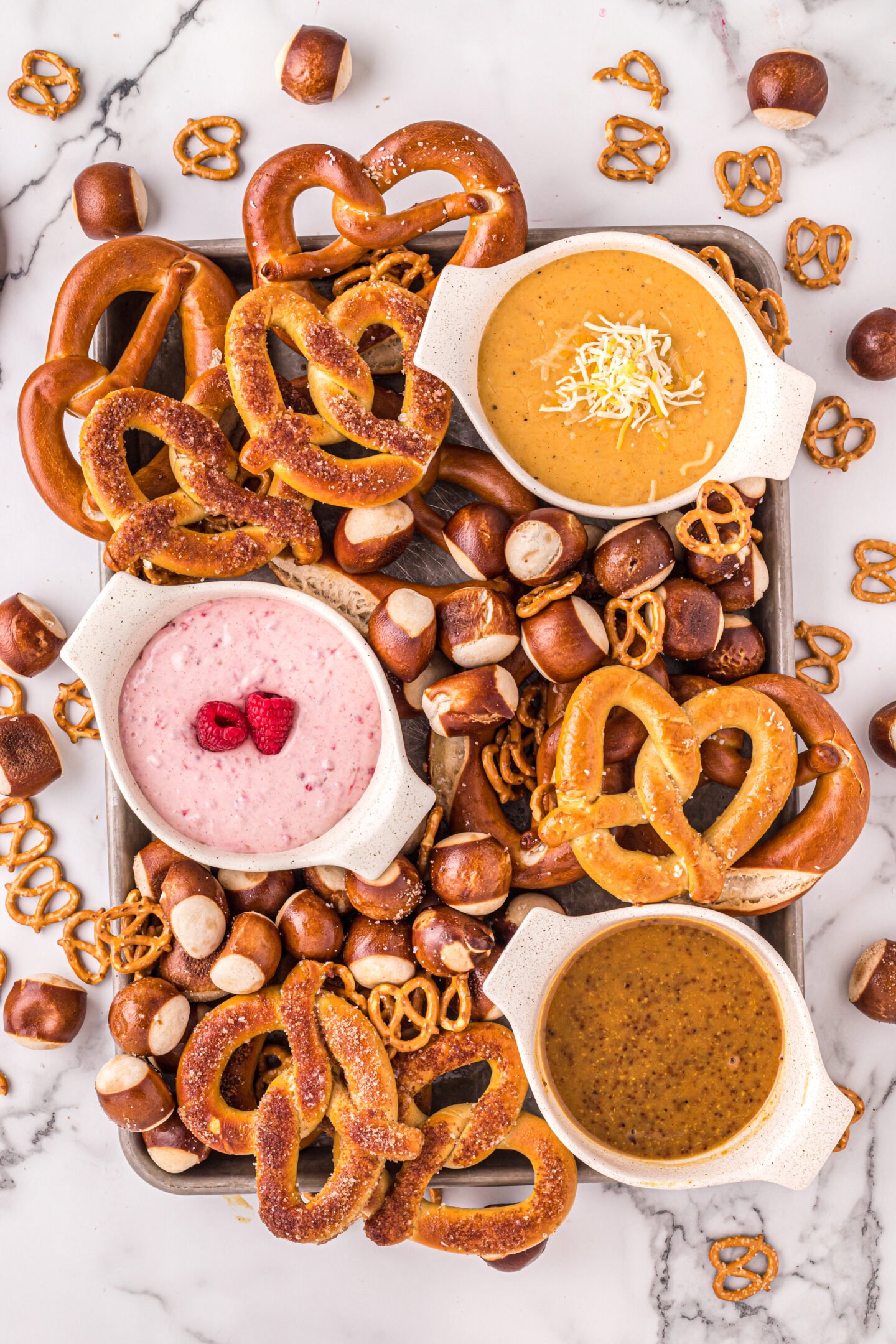 I have a pretty big round charcuterie board that I got on Amazon but you can really use any kind of board or large sheet pan that you'd like. I like the flat, cutting board look but a big tray with edges is great for holding the pretzels safely. Just make sure your tray or board is big- you want it to hold a lot so you don't have to worry about refilling the board in the middle of the football game.
Jazz up your serving tray with fun football themed decorations. I got my little football items at Hobby Lobby but you can probably find things at your local grocery store too, especially once football season really begins.
How to Make a Pretzel Snack Board
Once you have made all 3 dips listed above and have gathered everything you need: soft pretzels, crunchy pretzels and your football decorations, it's time to assemble the pretzel snack board! Here is how I do it:
Place the sauce bowls on the board. I like to spread them out on the board as much as possible.

Place the large pretzels in the corners of the board, keeping the sweet pretzels on one side, the salty on the other side and the crunchy pretzels in a different corner.

Fill in the board with the pretzel bites, piling them around the dipping sauce bowls and the large pretzels.

Add the sauces to the small bowls right before you are ready to serve the pretzel snack tray.

Decorate with any football, game day themed items you'd like!
Once you have put together one or two of these pretzel snack boards, you will be a total pro. It really is easy but it looks incredibly impressive. Good-looking, simple recipes are always my favorite!
I hope that my pretzel snack board has gotten you excited for football season. At least you already have an idea of what to serve for those big games! Give my pretzel snack board a try and I know you will love it. I bet it will become a staple on your Sunday game day table. Enjoy!
*This post may contain affiliate links. Read my Disclosure Policy for more details.



LOVE THIS GAME DAY SNACK BOARD? PIN IT HERE!