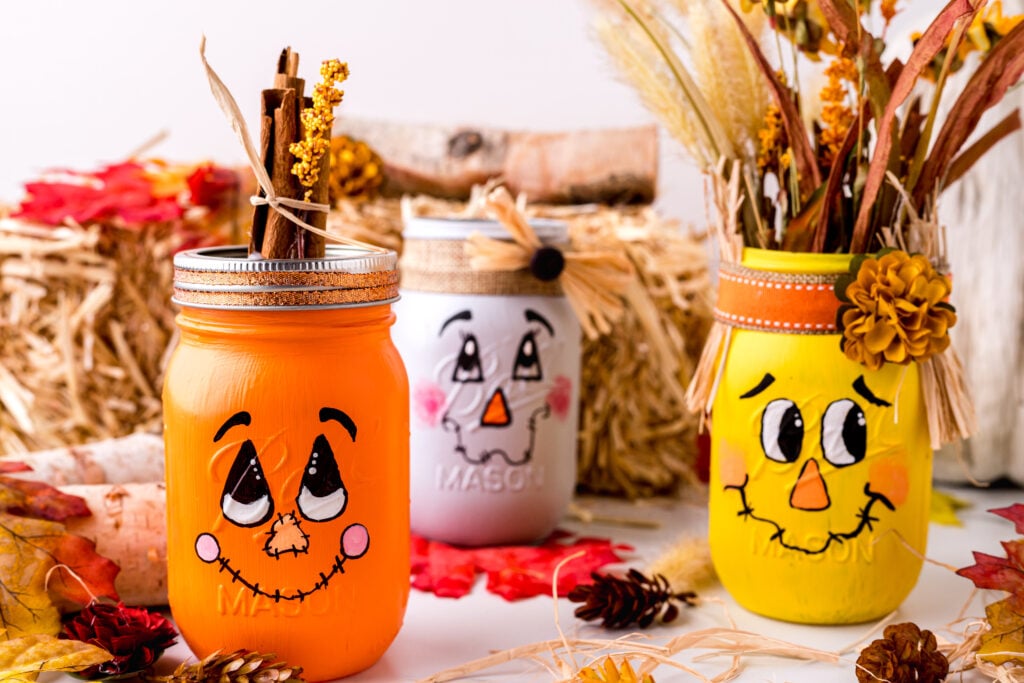 Here's the ultimate guide and step-by-step tutorial on how to make your own DIY scarecrow painted mason jars – a wonderful addition to your fall or Halloween decor!
I'm so excited because today, I'm sharing with you my newest DIY fall craft tutorial: scarecrow mason jars!
You know, fall always feels like the beginning of crafting season. While I love being outside all summer long (and through the fall), there is something about the cooler weather that makes me feel like it's okay to stay inside and make some crafts.
There are also so many cute, fun fall crafts to make! From basic fall décor to Halloween and mason jar crafts, like my DIY candy corn mason jars… I love making them all!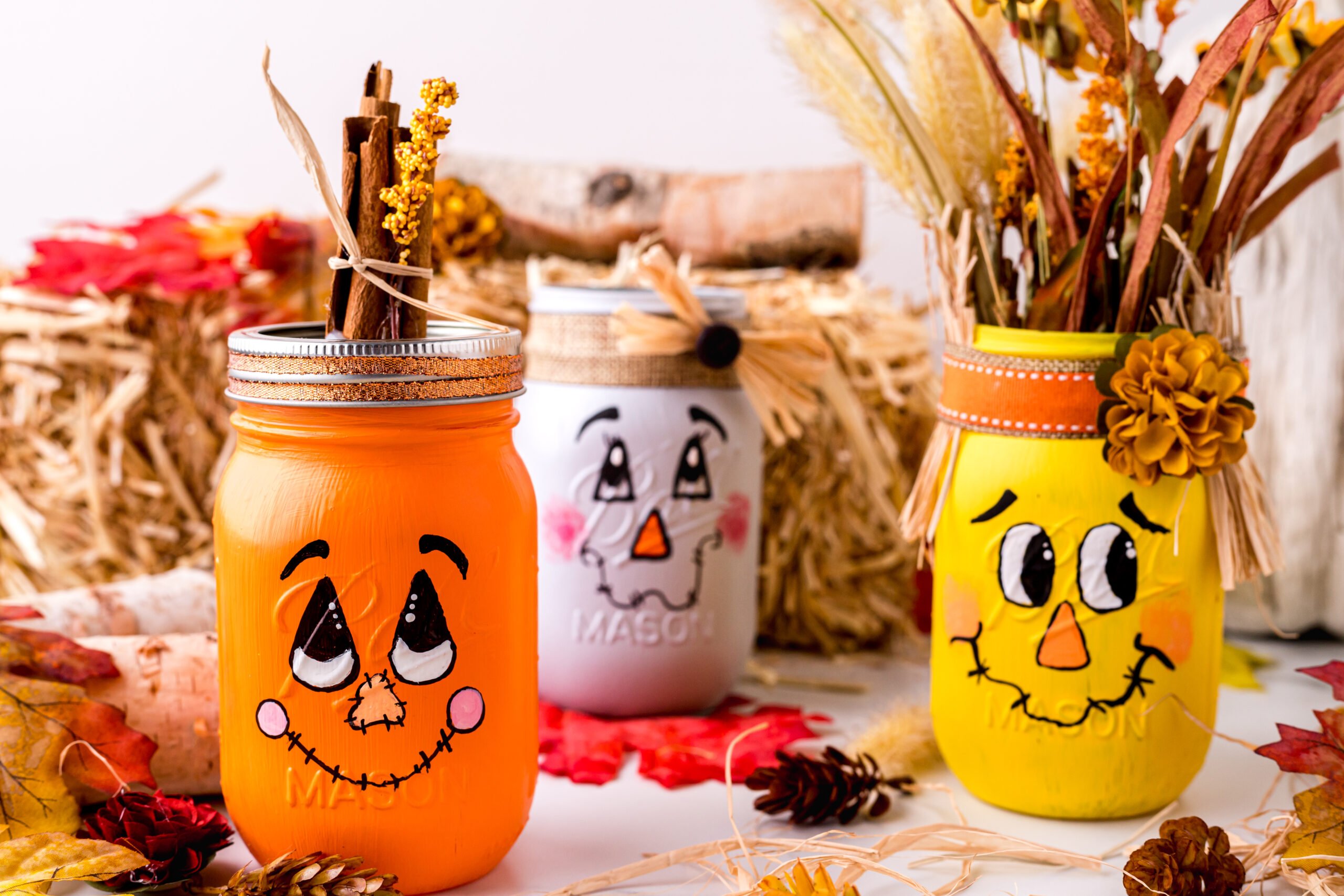 Easy Fall Mason Jar Craft
I have been super busy with work and family lately, but I specifically set aside time to make these cute scarecrow mason jars. Crafting always helps me relax and these super cute scarecrow mason jars are simply adorable! They will make a great gift or centerpiece this fall season. I love a simple centerpiece and this is such a fun craft to do with the kiddos too, or even have your friends over and make cute centerpieces for them to take home.
What Is A Scarecrow Mason Jar?
This DIY fall craft is so easy that kids can make them! A scarecrow mason jar is basically a mason jar that you paint to look like a scarecrow. Decorate it with some twine and hay – just like a scarecrow would have – and the craft is complete!
These DIY mason jar scarecrows make the perfect addition to your Halloween and fall décor and you can use them in many ways (more on that later!)… and the best part? They're super fun and so easy to make!
Sooo.. get your mason jars out and follow me along as I show you how to make these adorable scarecrow mason jars!
Toos and Supplies: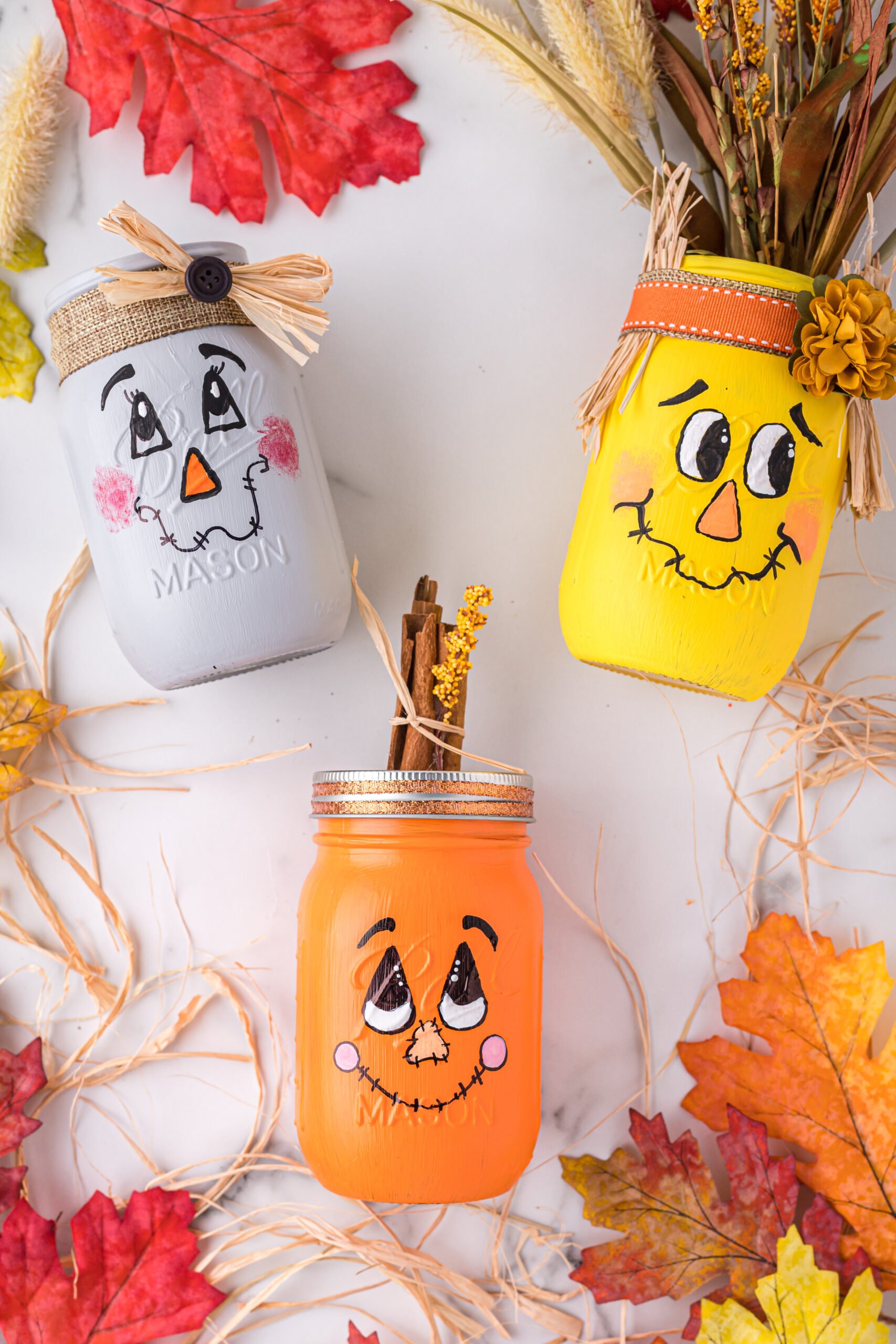 You don't need too many tools to make this scarecrow mason jar diy craft. You can get everything you need from your local craft store but there's a good chance you already have a lot of the tools at home. I bet many of you have mason jars laying around!



Here is exactly what you will need to make these three adorable diy scarecrow mason jars:
Once you have gathered all your supplies, it's time for the fun to begin! You are going to have three adorable scarecrow mason jars in just a matter of minutes.
How to Make DIY Scarecrow Mason Jars
It's time to dive in and get crafting! Follow along as we begin this diy scarecrow mason jar craft!
1. Start by painting the mason jars. One will be yellow, one gray and one orange. You may want to let the paint dry and do a second coat of paint to really color the jar.
2. Next, draw faces on each mason jar. Once the paint has dried, use the black paint marker or sharpie to draw silly, happy faces on each jar. The faces do not need to be complex. The simpler, the better! Look at my jars for examples of easy, cute scarecrow faces. I like to make the faces first in pencil and then trace over them with the paint marker. If I make a mistake with the pencil, it is easy to erase and start again.




3. Highlight the scarecrow's face by adding a touch of pink to the cheeks. This little detail will really take your homemade fall crafts to the next level. They will look professionally designed for sure!
4. Embellish the mason jars. Attach the fall colored ribbon around the top of the mason jar using the hot glue. Add a piece of rattan around a jar or two to make them each unique. Hot glue a faux flower to the top as well. Once the hot glue is dry, you are ready to display your fall mason jars. Now, wasn't that easy?!
Tips and Tricks
After making these charming mason jar scarecrows, I have a few tips and tricks that I know will help you make them perfectly on your first try. Here are my little pieces of crafting advice: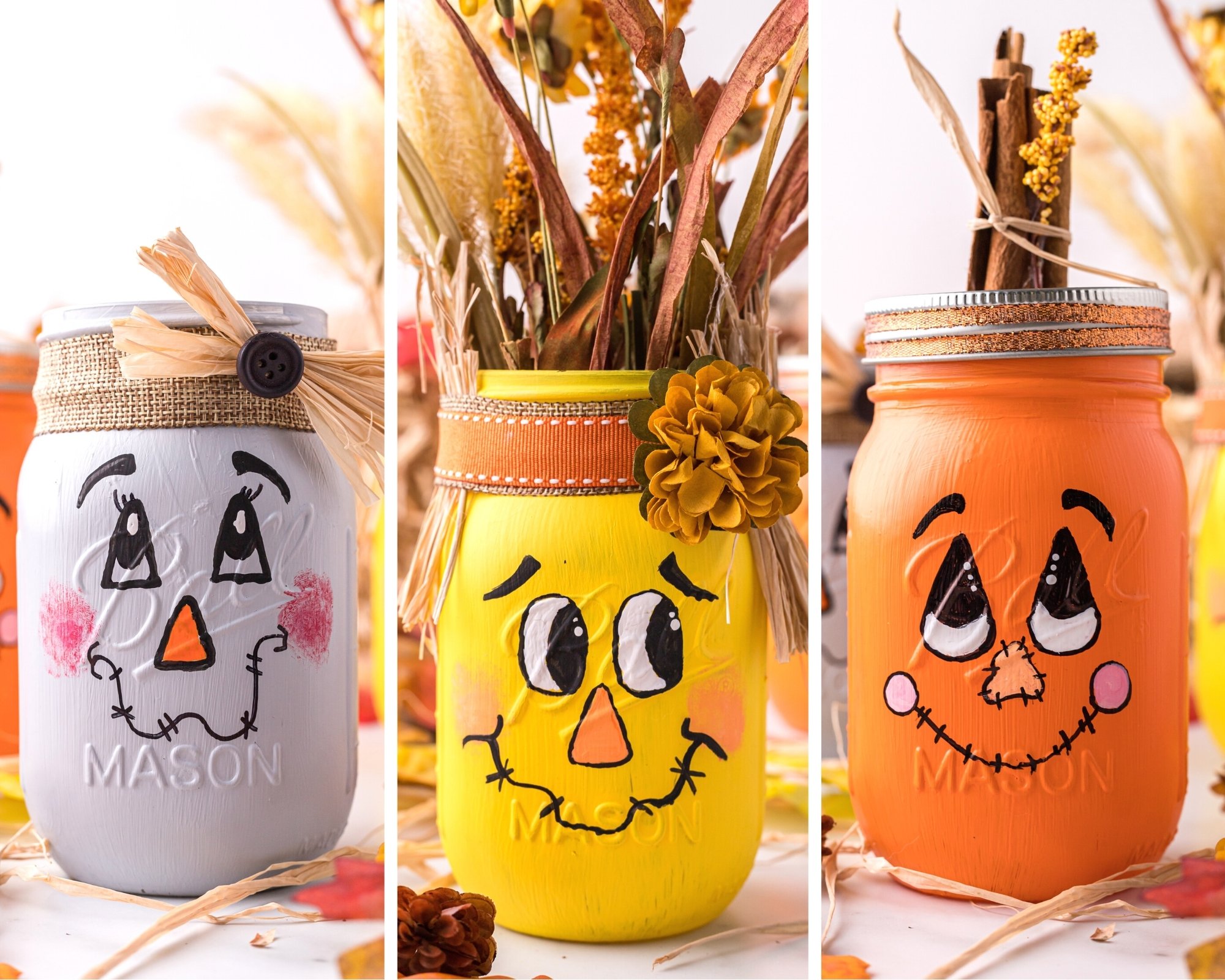 Use cupcake liners to hold your paint. They will keep the paint colors separate and are super easy to clean up (just throw them away!).
Chalk paint will work in place of acrylic paint and it will give your scarecrows an even more rustic, fall look.
Screw the top on the Mason jar, glue rattan to the top and then glue three cinnamon sticks in the center. This will look just like a pumpkin stem!
Dark color paint pens work really well for drawing the face. They come out easily and the lines look nice and dark.
Check your local dollar store for ribbon. They usually have good choices that won't break the bank. They often have off-brand mason jars that you can use to craft with, too! Michaels and Hobby Lobby also have similar ribbon and jars but may cost a little more. You can usually find a coupon online if you do a quick search!
If you come up with any great tricks when you make these fall mason jars, let us all know! I always love a new crafting tip.



Fall Mason Jar Variations
What changes can you make to scarecrow mason jars? Try one of these easy ideas:
Use glitter paint
Add electric votive lights
Personalize them with names
Use a Cricut cutting machine to make the faces
Fill with potpourri
Fill with candy and give it as a gift
How to Use Scarecrow Mason Jars
There are so many ways to use and display these DIY Halloween mason jars. Here are a few ideas about how you can show off your new beautiful diy scarecrow mason jar craft!
Place them on your fireplace mantel or with your Halloween display.
Put them on your desk to hold pencils, scissors and pens
Put a tea candle in the jar and use it as a pretty lantern.
Give the scarecrow mason jars as gifts to your kids teachers. Teachers always appreciate a little gift to show that you are thinking of them!
Give them as a hostess gift for any Halloween parties you attend. A homemade gift will show your appreciation for sure!
Fil them will small candies and put them on your dessert table for a Halloween party.
We all may be feeling a little busy these days- it is a busy time of year! However, it is important to take a minute to yourself and do something you enjoy. I definitely enjoyed making these delightful scarecrow mason jars and I know you will too. They are sitting on my desk right now, putting a smile on my face!
Send me a photo of your cute scarecrow mason jar diy too, if you decide to make them and tag me on Instagram @hipmamasplace! I would love to see what you create!
Happy fall, y'all! 🙂
*This post contain affiliate links. See my Disclosure Policy for more details. All images on this post are owned and copyrighted by Hip Mama's Place. Do not use without permission from the editor.

More Mason Jar Crafts
If you have extra mason jars lying around, here are some fun and easy ways to upcycle them and use them in DIY projects:
LOVE THESE DIY SCARECROW MASON JARS? PIN IT HERE!