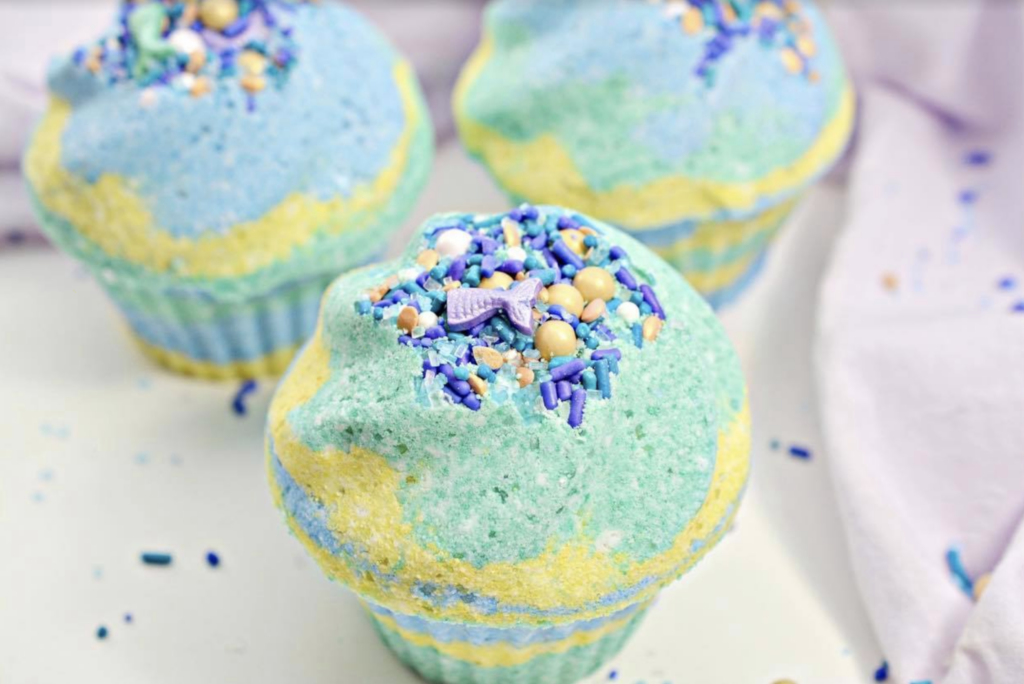 These easy Mermaid Cupcake Bath Bombs DIY will make your bath smell wonderful and more relaxing! Try making this DIY bath bomb recipe for yourself or to give away as gifts!
There is nothing I love more than relaxing in a nice, warm bath after a long day. Baths are one of the best ways I de-stress and truly relax my mind and aching body. I'm a true believer in the importance of self-care and that's also why I'm excited to share with you my newest bath recipe: Mermaid Cupcake Bath Bombs DIY!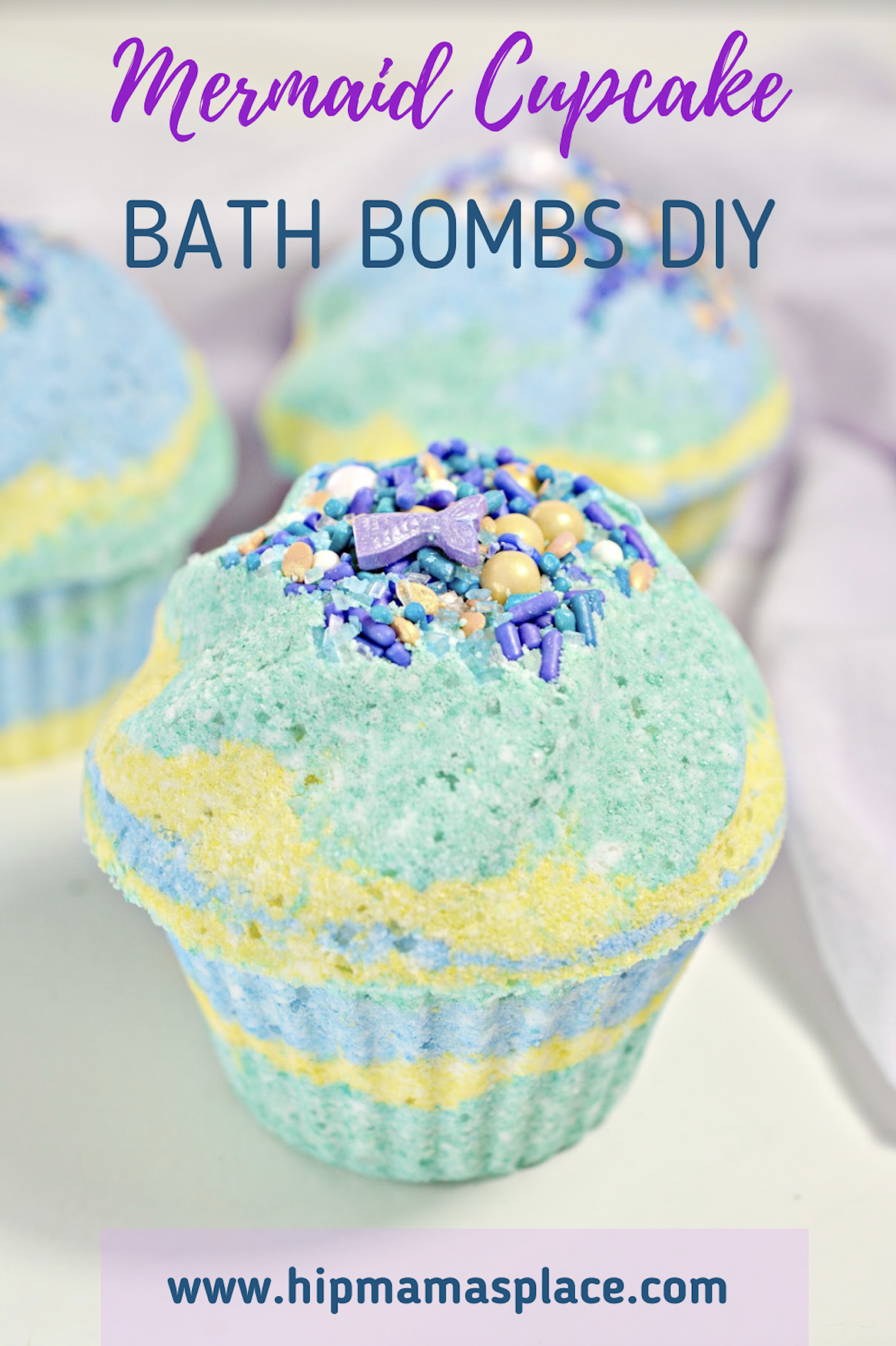 Mermaid Cupcake Bath Bombs DIY
Do you agree when I say that what makes a bath even better is by adding bath bombs? I'm sure you do. Tossing a bath bomb into the tub makes for a wonderful-smelling, fizzy and more relaxing bath!
I have always loved homemade bath bombs and I've made them several times before. But after I attended a friend's bridal shower recently and saw the homemade mermaid bath bombs that were given as guest favors, I was convinced to try making my own. You know I'm always up for fun, new DIY projects and I love making bath bombs. They give my baths an extra special, homemade, fizzy twist and I feel like I'm in a spa – right in my own home!
I just recently perfected my DIY mermaid bath bombs and I'm ready to share this awesome recipe with you!
Ingredients
This is what you'll need from the store before you begin. The exact amounts are in the printable recipe card at the bottom of this post.
Baking soda
Citric acid
Cornstarch
Epsom or sea salt
Coconut oil, melted
Witch hazel
Essential oil of your choice
Mica powder colors in blue, green and yellow – I used this mica powder pigment set for this recipe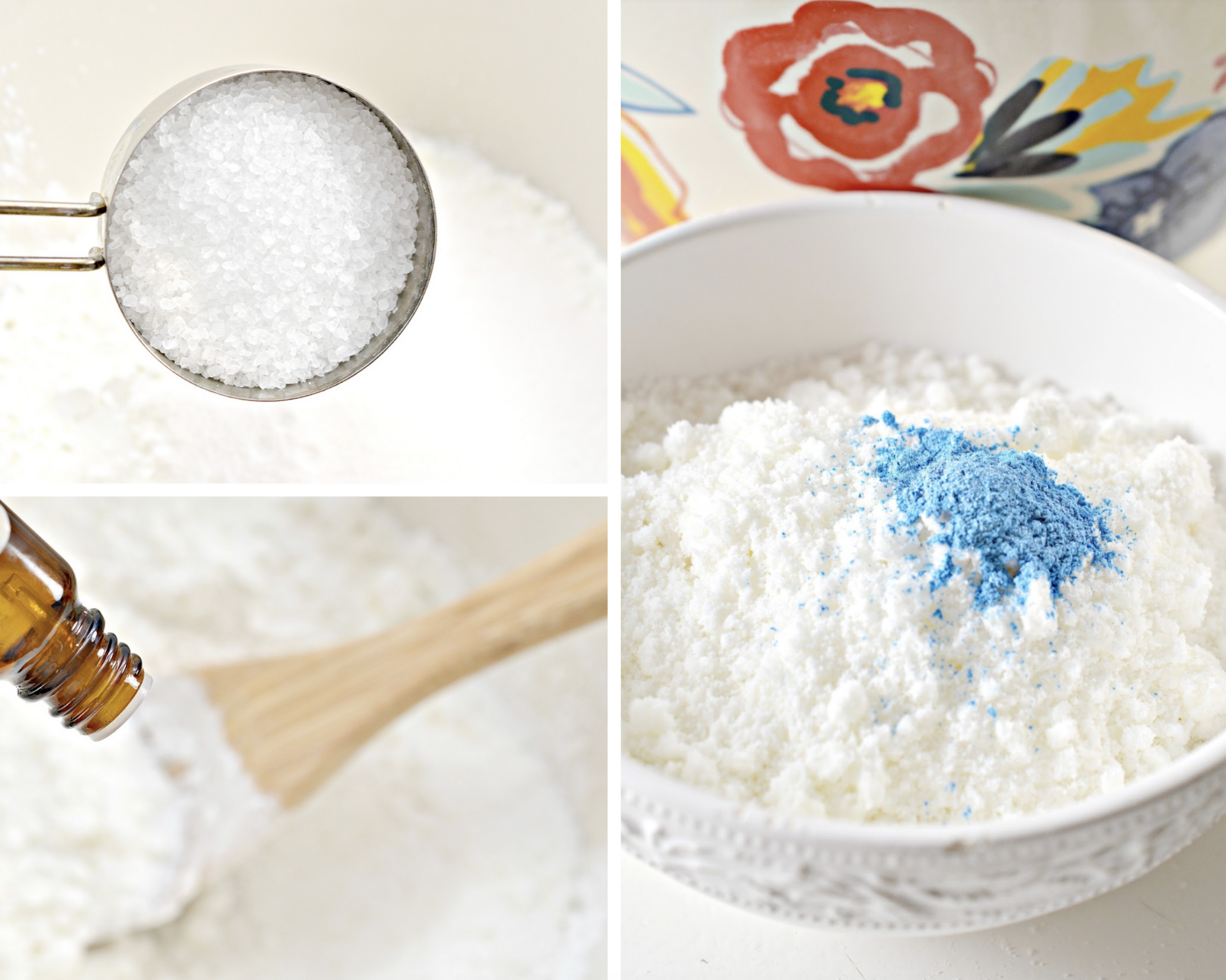 Ingredient Notes
Some of the ingredients needed to make bath bombs are probably already in your house. Many of us already have a container of coconut oil and a box of cornstarch on our shelves! However, there are a few special ingredients that you may need to get in order to make this DIY project happen. Let me tell you a little about the reason for each ingredient in my bath bomb recipe.
Citric Acid
The first ingredient that you may be wondering about is citric acid. Citric acid and baking soda are the two ingredients in bath bombs that make them extra fizzy. Citrus acid is also a great cleanser which means your bath will not only be fizzy but also cleansing.
Epsom Salt
The Epsom salt (or sea salt) adds a little abrasion to the bath bombs to help scrub away your worries while you soak in the tub! In addition, Epsom salts have been shown to help reduce swelling and pain so they are a perfect addition to a soothing bath.



Cornstarch
The cornstarch in the bath bomb works to slow down the fizzy reaction of the citric acid so that your tub is wonderfully fizzy for several minutes rather just bubbling away for mere few seconds.
Witch Hazel
Witch hazel is good for your skin, acts as an anti inflammatory and also adds moisture to the DIY bath bomb (as does the coconut oil!).
Essential Oils
Pick your favorite essential oils to mix into the bath bombs and give the recipe your own personalized twist. If you are making summer bath bombs, opt for a bright citrus oil. Peppermint essential oils will help invigorate you while lavender oil promotes relaxation.
Mica Food Coloring
Mica food coloring is toxin free and is the perfect, natural option to give your bath bombs those brilliant mermaid colors! And mermaid sprinkles are the best way to decorate the bath bombs- you want that perfect finishing touch!
Tips to Make Your Own Mermaid Bath Bombs
After making homemade bath bombs a few times now, I have found a few tricks that work well to ensure your recipe comes out perfectly. Take a look at these tips before you start and I guarantee your bath bombs will turn out beautiful!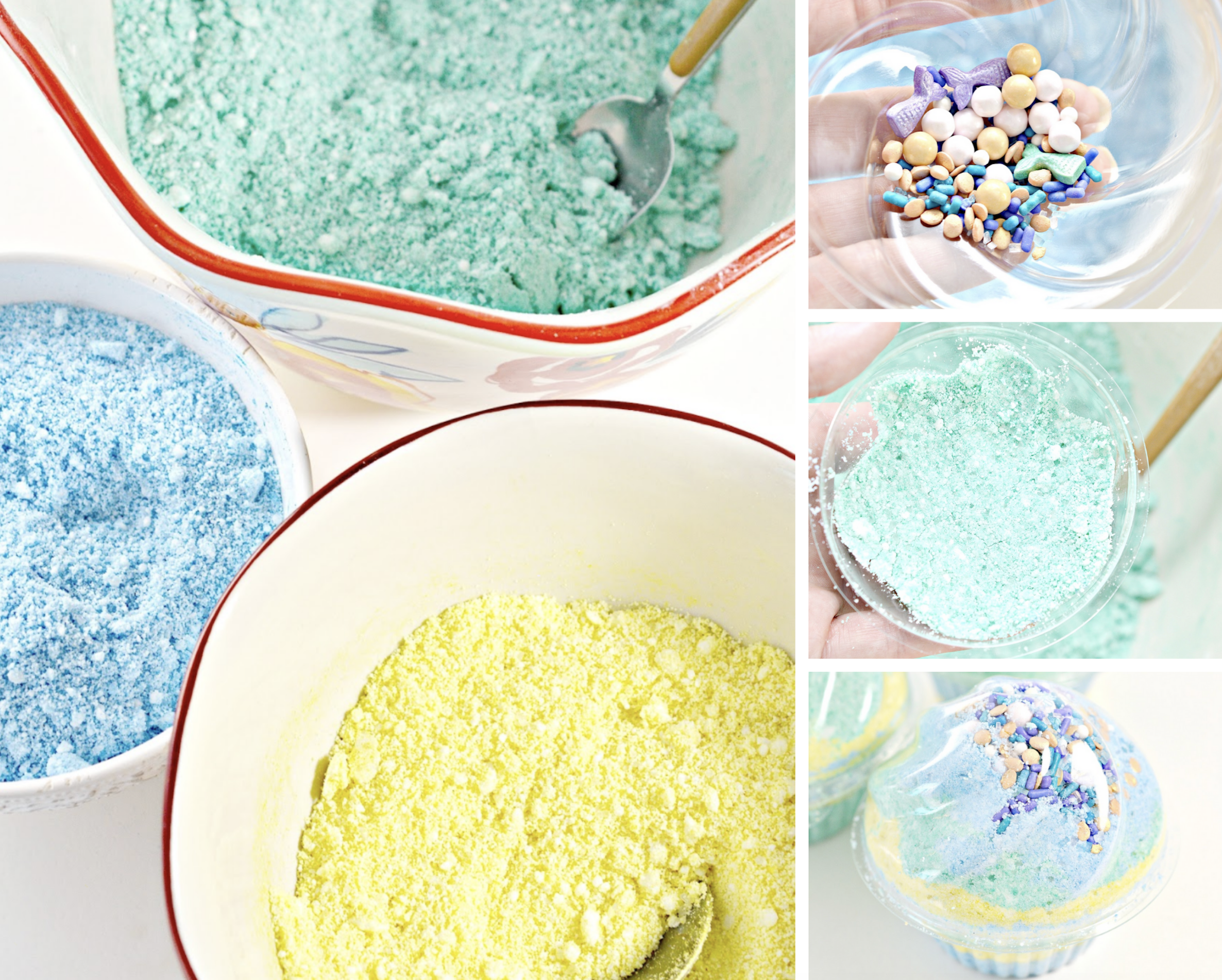 1. Mix the dry ingredients together first to ensure they are all evenly blended. If you feel like your citric acid or other dry ingredients are clumpy, shake them through a sieve to loosen them up- clumps are no good!
2. Start off with just 15 drops of essential oils and then add more if you want a stronger scent. Every brand of oil will have a different potency so it is always better to start with less.
3. Spray the witch hazel in very, VERY slowly! Take your time when adding the liquid as it really will help the end product be more fizzy. You don't want to waste any of that good fizz!
4. Once all your ingredients are blended, squeeze a handful of the mix- it should stick together like wet sand. If it is still too dry, spray once more with witch hazel to give a tiny bit more moisture. Don't over do it though, you don't want to set off the fizz or make bath bombs that are too soft!
5. If it is a very hot and humid day, you may want to consider waiting to make the bath bombs as the humidity in the air can prevent the bath bombs from setting up.
I hope that these tips help and give you perfect DIY bath bombs. I have had great success making this recipe and have tweaked it to be as easy as possible!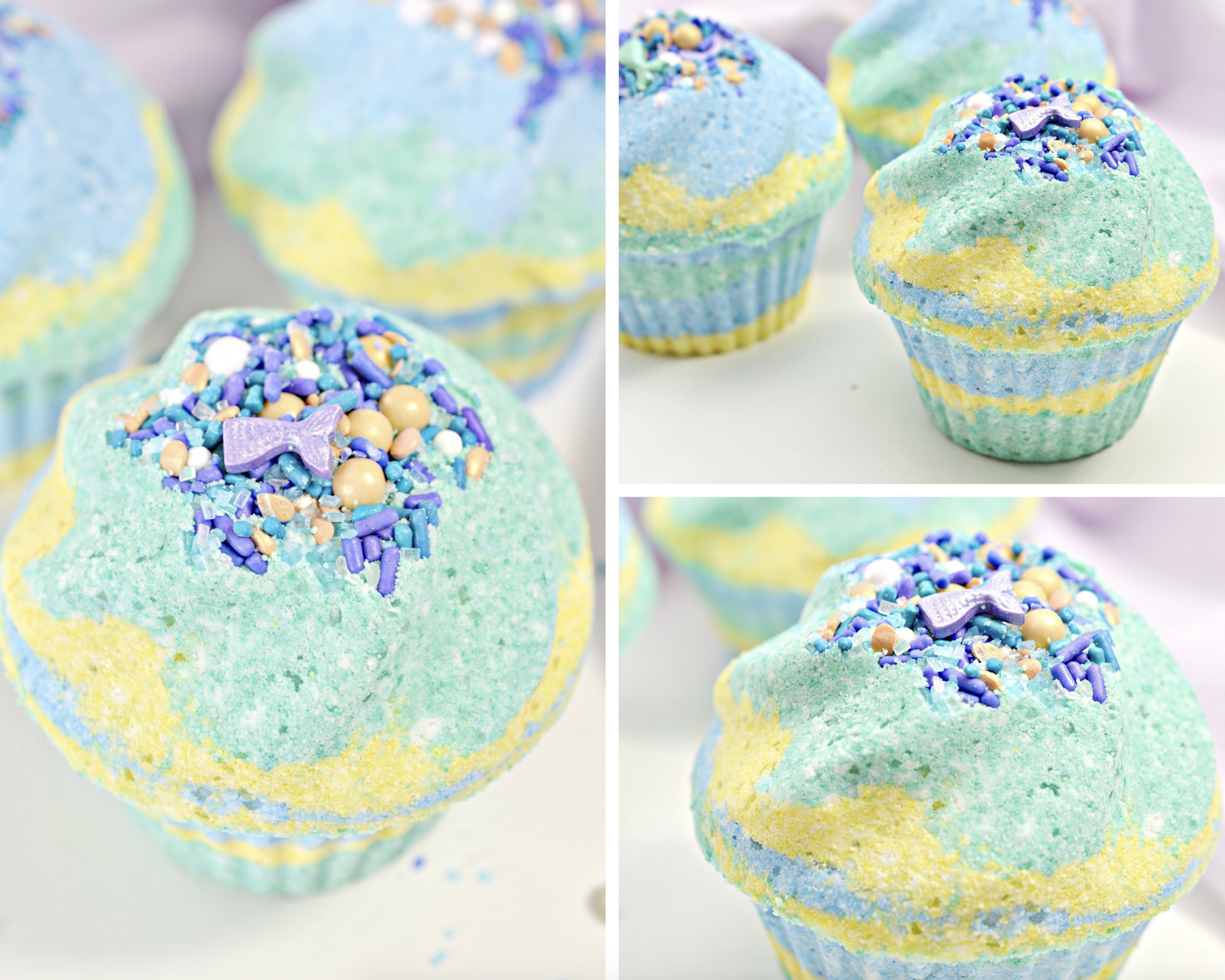 Bath Bombs AS DIY Gifts
After making these mermaid bath bombs just once, I was hooked. Since then, I have made them as birthday party favors and gifts for teachers. They would also be ideal as a hostess gift or just to have on hand in case a birthday pops up and you need a last minute gift.
Variations
Feel free to switch up the colors, the essential oils and even try using a different bath bomb mold to add your own personal touch. Don't forget to save some of the bath bombs for yourself, after all, self-care is essential. A fun project followed by a relaxing, fizzy bath is just what you need!
How To Store Bath Bombs
Store bath bombs in a cool, dry place. Since they are fragile, it's best to store them in a solid, airtight and spillproof container. Don't stack things on top of your homemade bath bombs.
Why Are My Bath Bombs Falling Apart?
This is the most common issue people run into when they make homemade bath bombs. It's so frustrating when the mixture just crumbles apart and won't stick together.
Your bath bombs are either too wet or too dry. Read one of these and see which one applies to your problem the most:
Too Dry. It should feel like wet sand and hold its shape when you form a ball. If it is too dry, spritz it gently with Witch Hazel with one hand while the other hand mixes it until it feels like wet sand.
Too Wet. If your bath bombs crack after you take them out of the mold, they are too wet. Prevent this by using less Witch Hazel.
Give this mermaid cupcake bath bombs DIY recipe a try and let me know what you think. I honestly think you'll love it! 🙂
*This post may contain affiliate links. Read our Disclosure Policy for more details. This post originally published on Hip Mama's Place in July 2020. Updated: March 2021.
Try my other homemade bath bomb recipes!
I hope you love this mermaid cupcake bath bomb recipe– be sure to give it a review below!
Print
Mermaid Cupcake Bath Bombs
---
Description
Make your next bath smell wonderful, fizzy and more relaxing with DIY bath bombs! Try my recipe for Mermaid Cupcake Bath Bombs DIY!
---
Materials:
2 cups baking soda
1 cup Citric acid
1 cup cornstarch
½ cup Epsom or sea salt
5 tbsp. coconut oil, melted
1–3 tbsp. Witch hazel
15–20 drops essential oil of your choice 
Mica powder colors in blue, green and yellow
---
Instructions
Place the baking soda, citric acid, cornstarch and salt into a large mixing bowl, and stir to combine well.
Add the oil and essential oils to the bowl with the dry ingredients, and mix to combine well.
Stir in the witch hazel a few drops at a time, or use a spray bottle to add it in slowly. Adding the liquid too quickly will cause the mixture to fizz, and will eliminate the fizzing action when it is placed into the bathtub. You want to add enough liquid just until the mixture resembles loose sand that stays together when clumped in your hand.
Separate the mixture into 3 bowls, and add the mica powder coloring to each one. Stir until you have a bowl each of blue, green and yellow mixture.
Place some of the sprinkles into the top of the cupcake mold.
Layer different colors of the bath bomb powder into the mold, and firmly press down to secure it and pack it in as you go.
Continue until you have filled both the bottom and the top half of the cupcake mold, and then press them together firmly.
Let the mold sit for 24 hours, and then remove the bath bombs carefully.
Repeat steps 5-8 to make additional cupcake bath bombs.