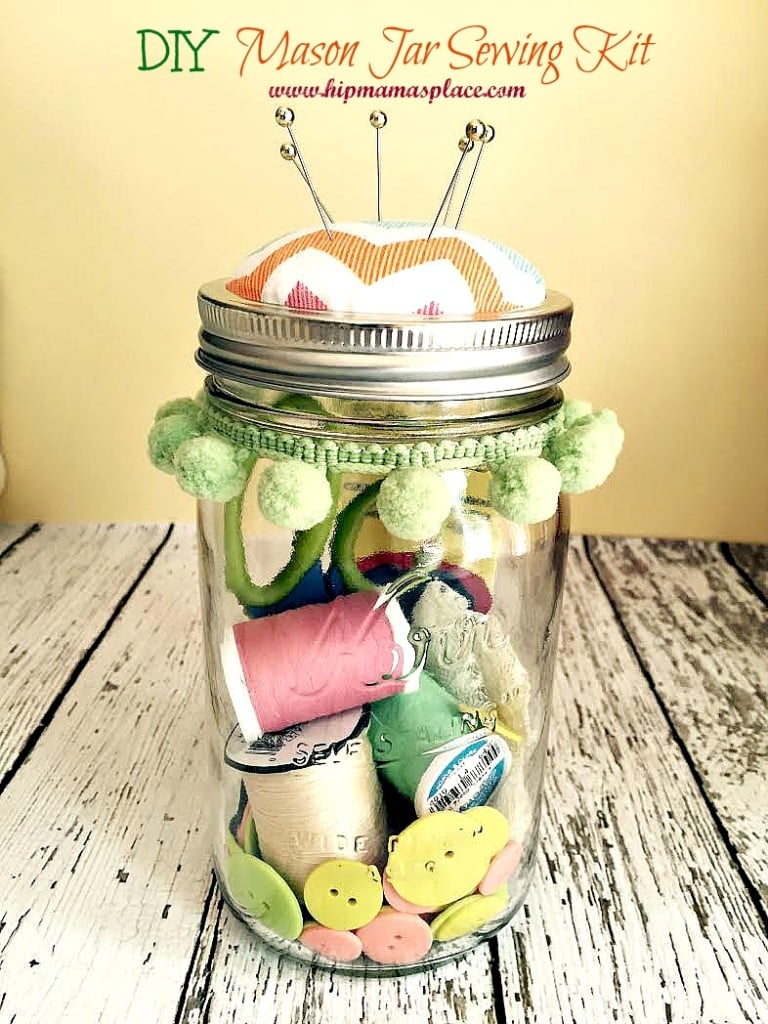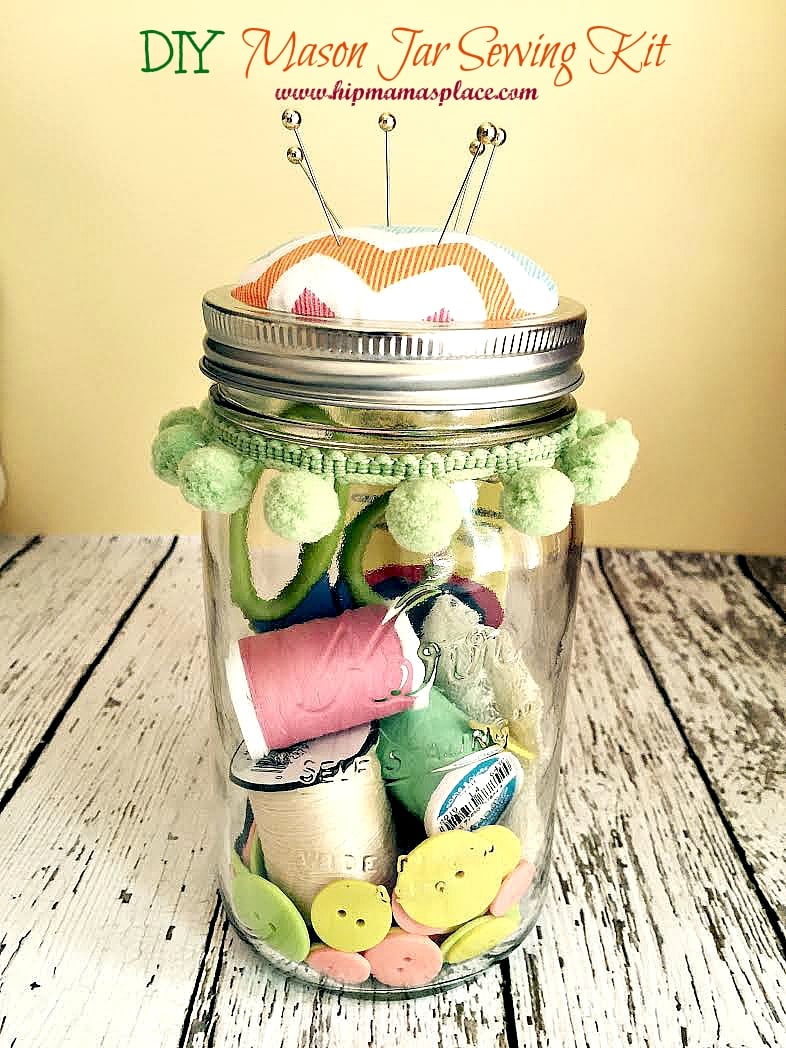 Today, I'm going to show you how to make your own sewing kit using inexpensive mason jar covered with a lovely pincushion made out of a piece of fabric and then filled with sewing supplies.
This sewing kit is super easy to make! It only took me about 25 minutes from start to finish! It's a great way to organize your small sewing supplies and saves you time whenever you need it for sewing emergencies like mending a lost button or hemming a tear on your dress.
Soooo… let's get started! 🙂
First, gather your supplies for this project: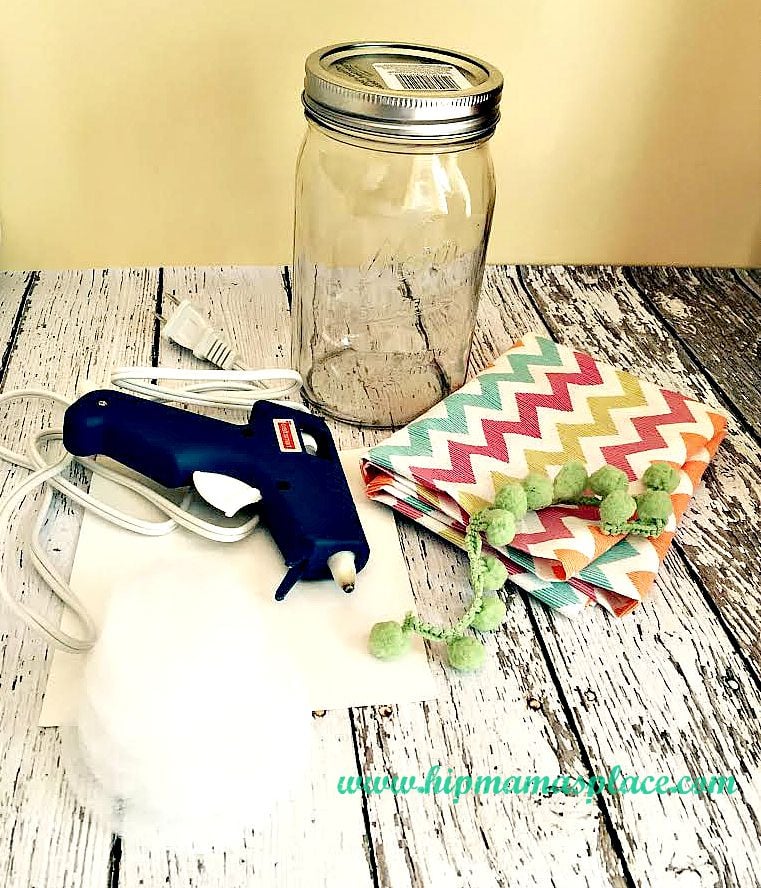 mason jar, regular size
any piece of fabric, cut to a 4×4 square
fiberfill, batting or cotton
a piece of cardboard
glue gun
scotch tape
scissors
pencil
Before you start, wipe your mason jar clean to make sure it's free from dust or dirt. Find one that has a wide mouth. I love the regular size Kerr mason jar that I got from Michael's for $2 – it's the prefect size for this project … in my opinion!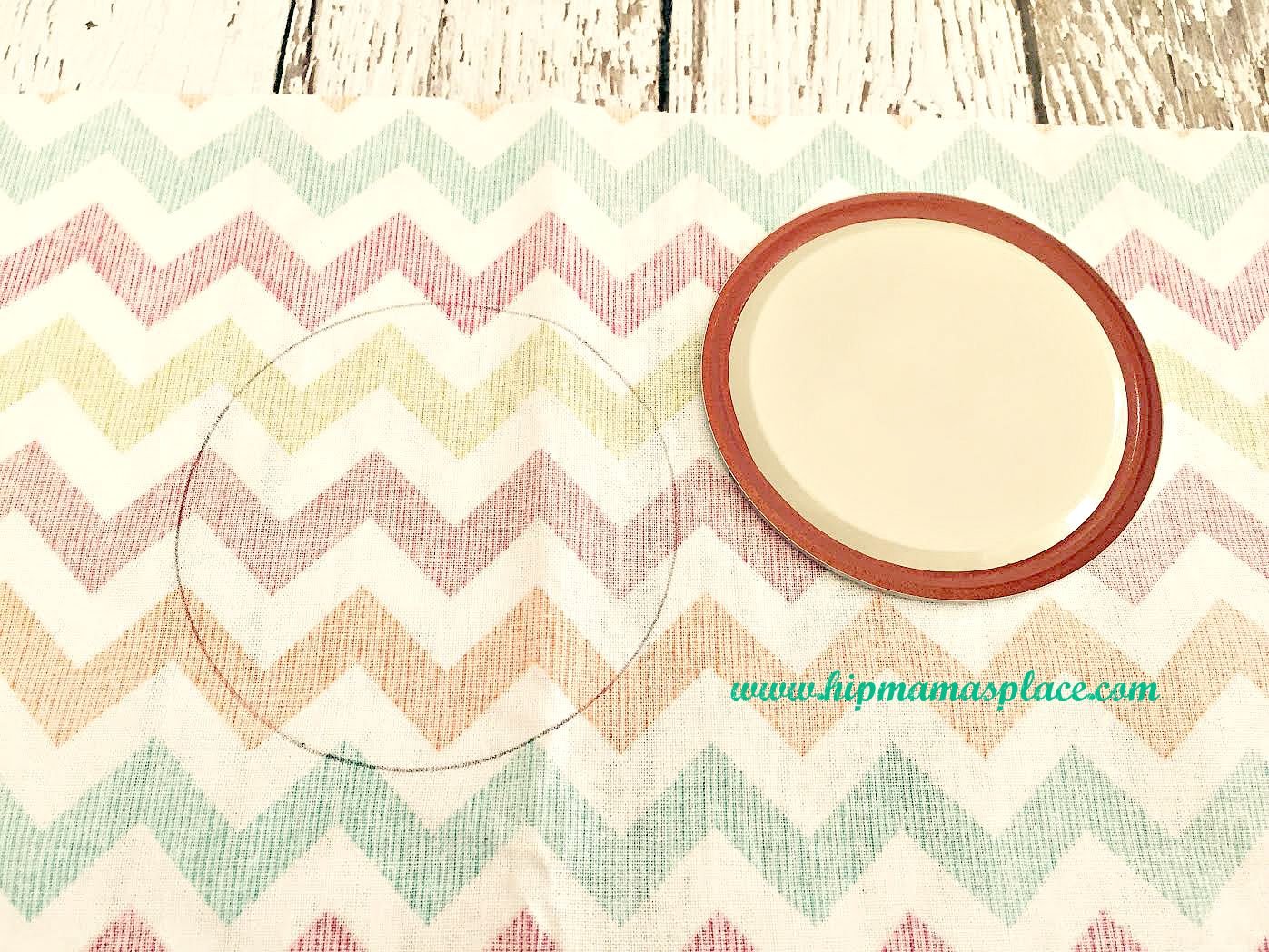 To make the pincushion, trace the round mason jar lid onto your chosen fabric with a pencil. Cut the circle about 1 inch wider than the tracing. Set aside.
For the stuffing, I used batting which I got from Michael's. Trace the same round lid on your batting or fiberfill and cut in concentric circles so that you have a stack of about eight circles that gets smaller and smaller like this.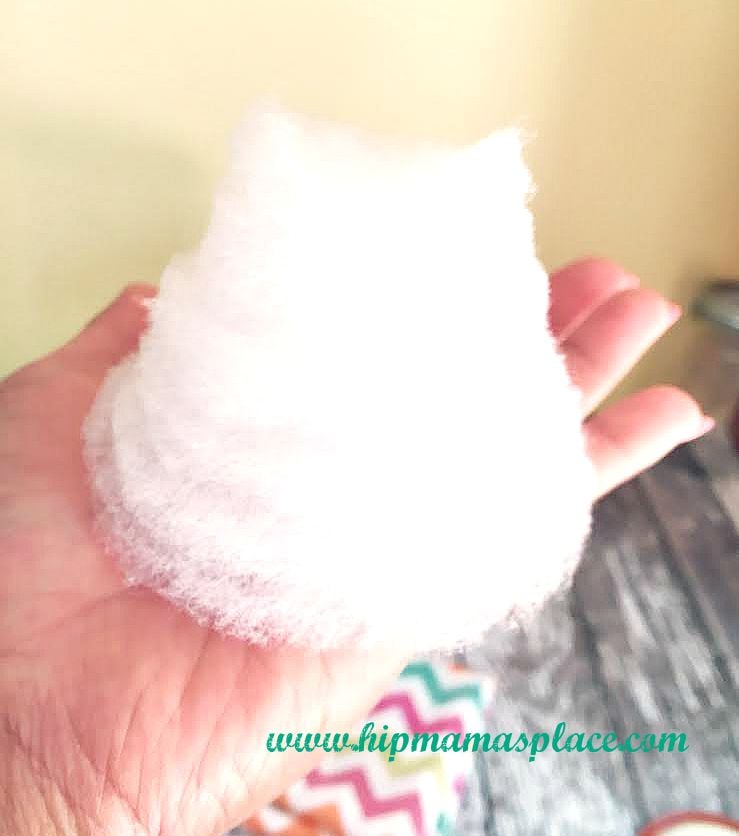 You could use cotton to stuff your pincushion, but fiberfill or batting is best.
Now, take the piece of cardboard and trace the same round mason jar lid with a pencil. Cut the round tracing.
Next, lay your fabric flat on the table, face down. Stack the fiberfill circles on your traced circle on the fabric, then put the round cardboard tracing like this.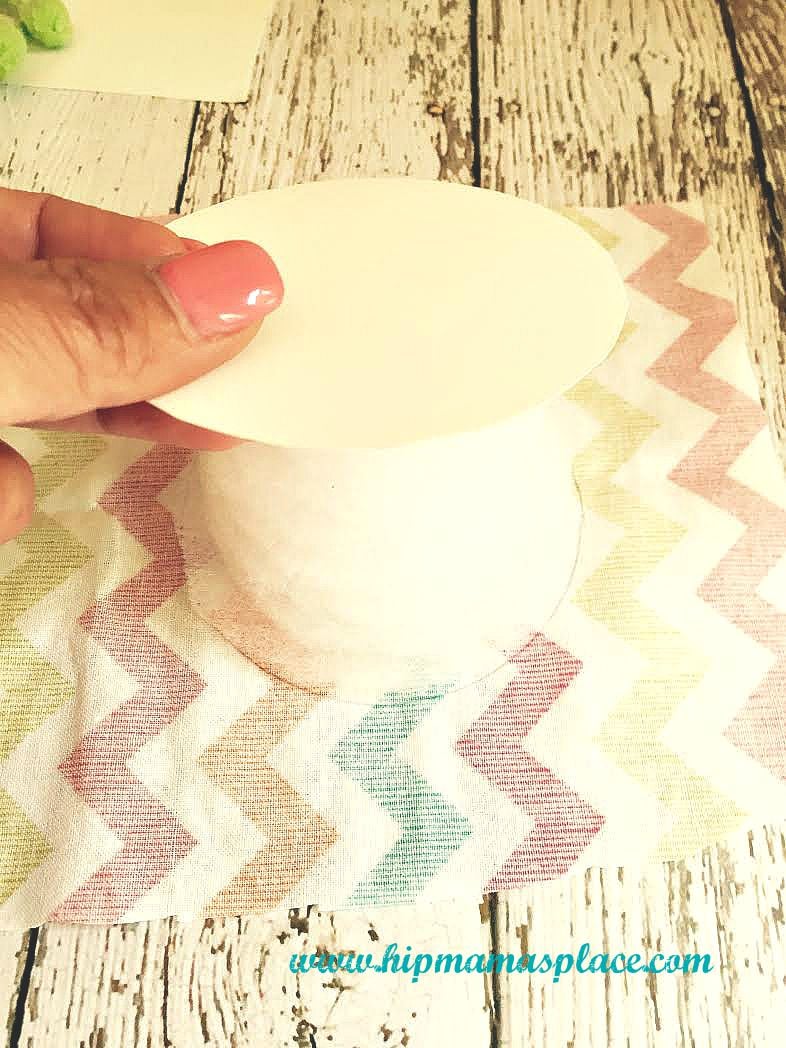 Wrap the whole thing with your fabric then then put it into the mason jar ring to make your pincushion like this.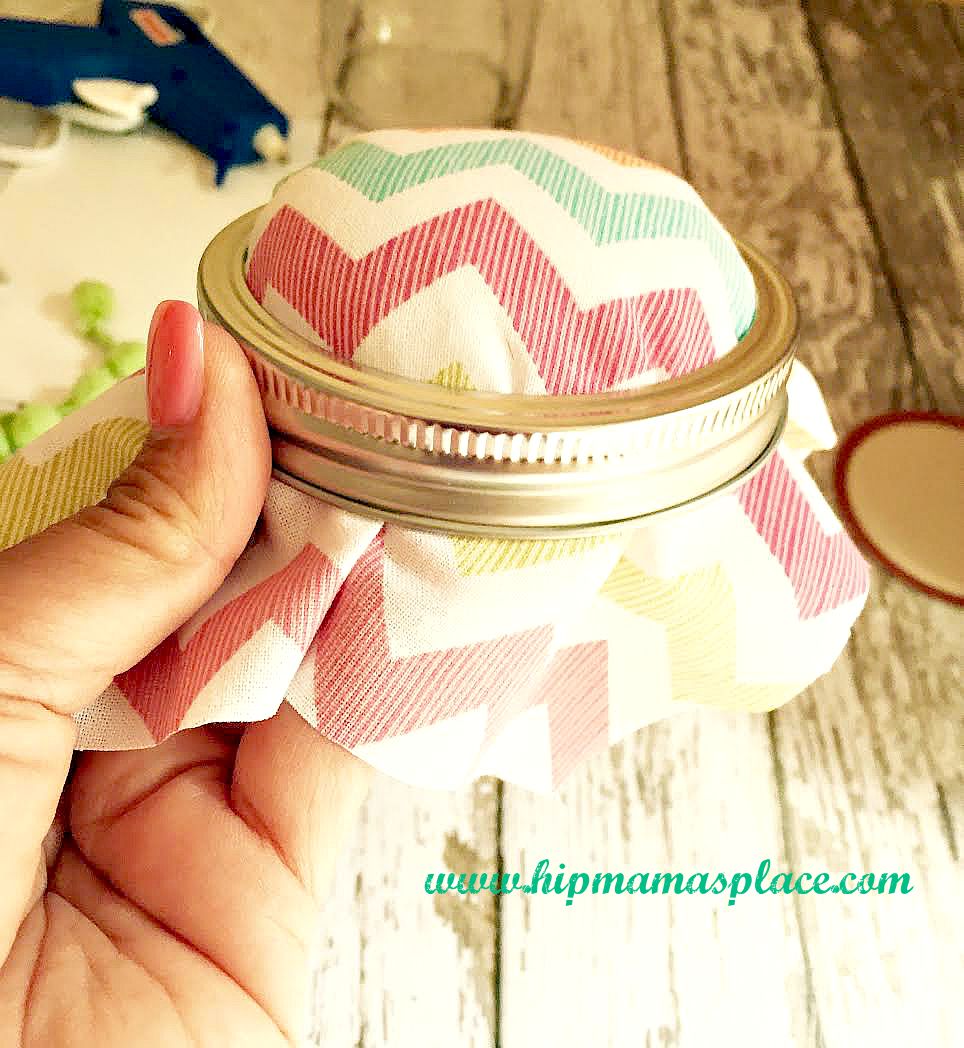 Straighten out the fabric to get rid of creases and folds. Turn it upside down. Make sure to push the round cardboard way down to the top of the ring.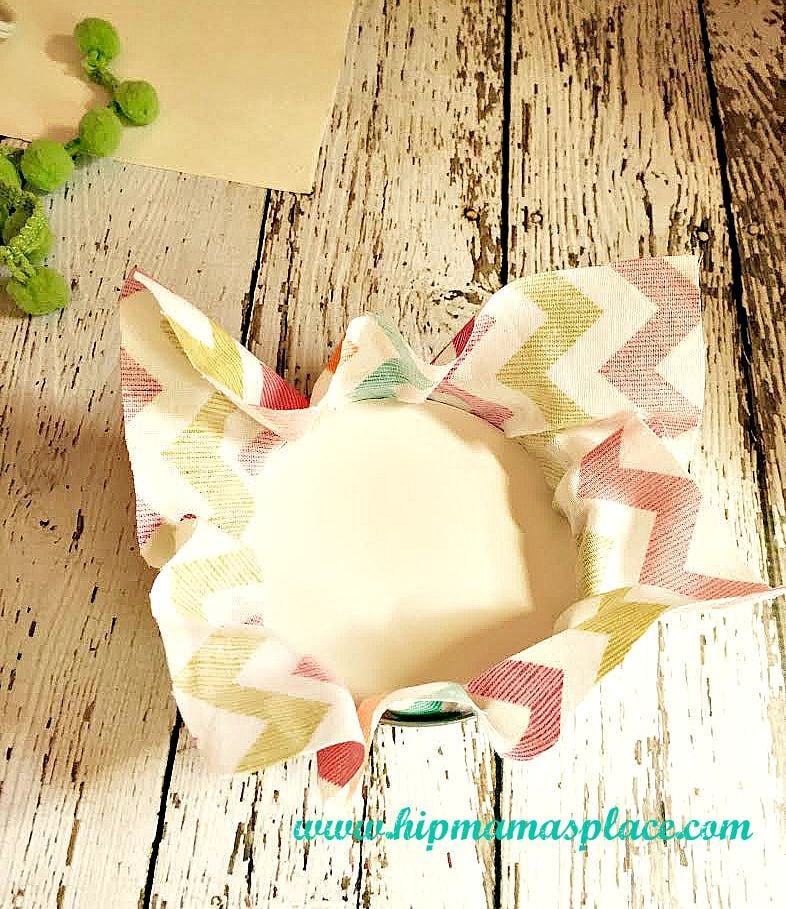 Once you achieve the desired look for your pincushion, cut the excess fabric on each side and secure them with scotch tape.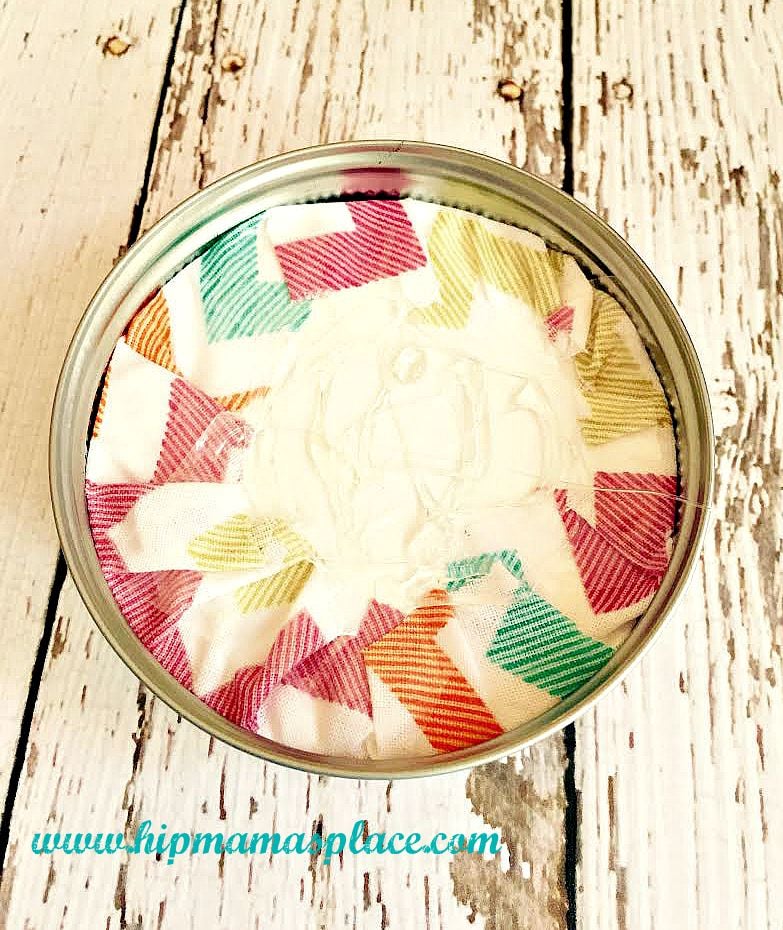 To attach the actual lid and secure your finished pincushion, put hot glue in the middle of the cardboard and then immediately attach the mason jar round lid on it. Let it cool for a few minutes.
Decorate your jar with a pretty ribbon of your choice using a glue gun. I used one of the tons of ribbons I already have from my stash. You know, I used to do a lot of scrap booking and that's how I accumulated most of them.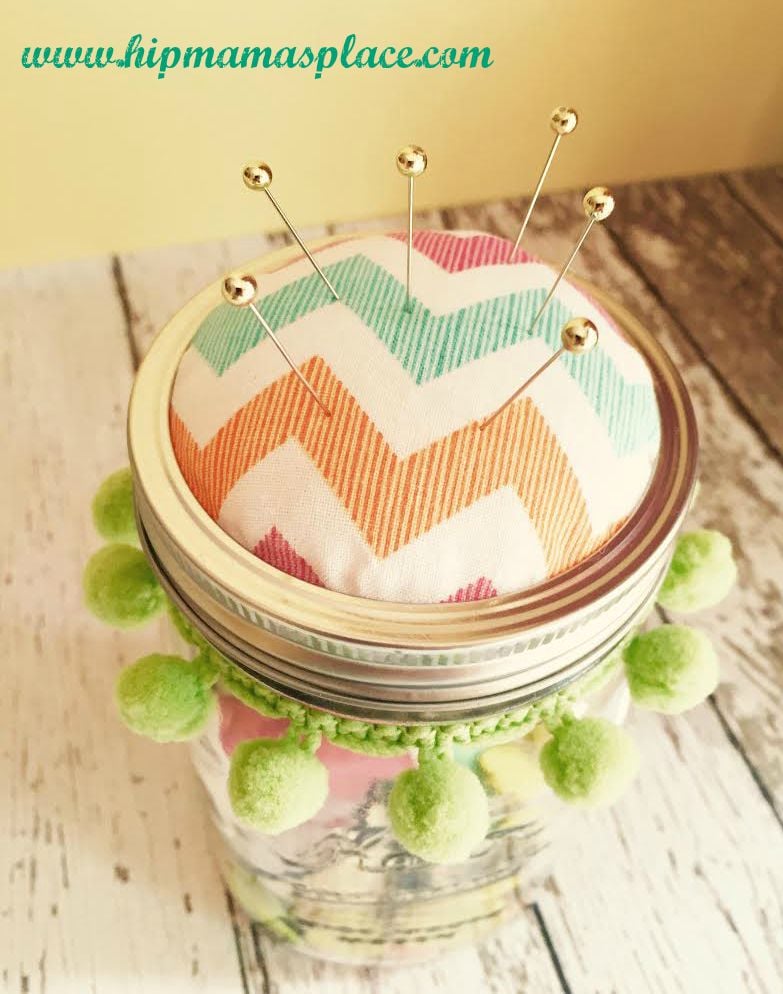 Fill your jar with a number of mending things like small scissors, tape measure, needles, safety pins, threads, buttons and more! Stick some pins and needles on your pincushion lid.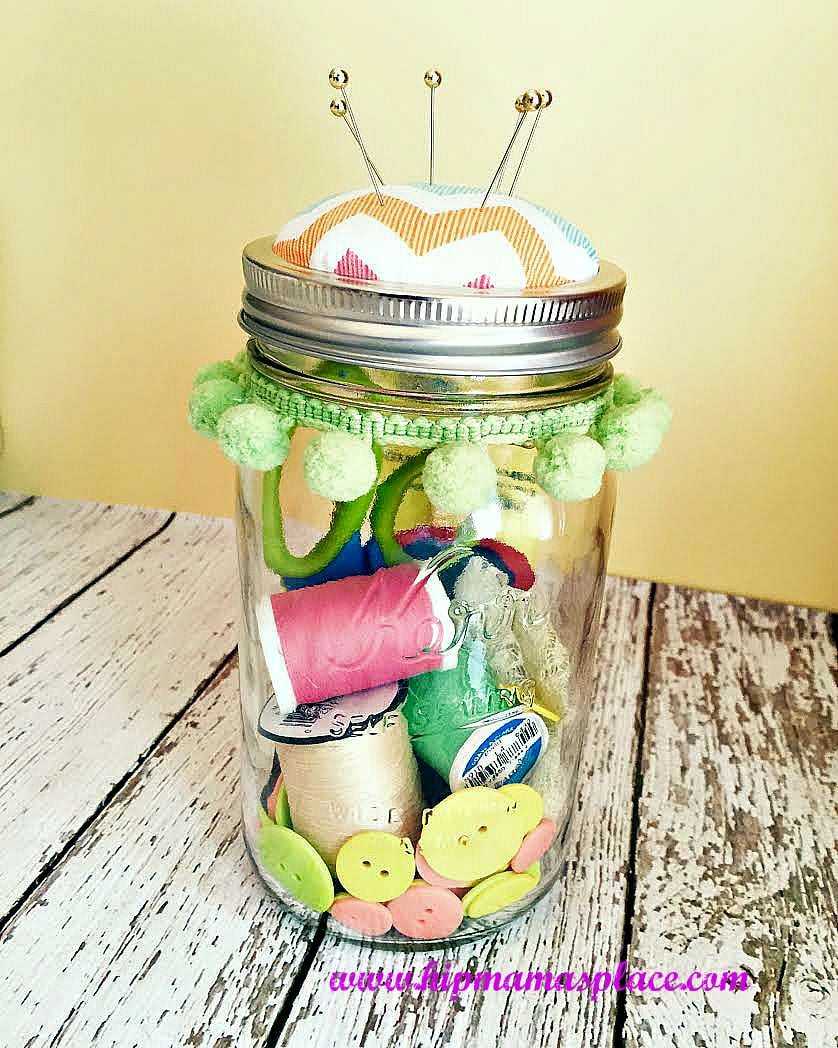 Voilà! You are now ready to show off your lovely, shiny new mason jar sewing kit handmade with love by you! I love how mine turned out.. the photo doesn't do justice! 😉
It also really makes a colorful decor for your craft room too, or as a thoughtful gift anyone will appreciate! 🙂