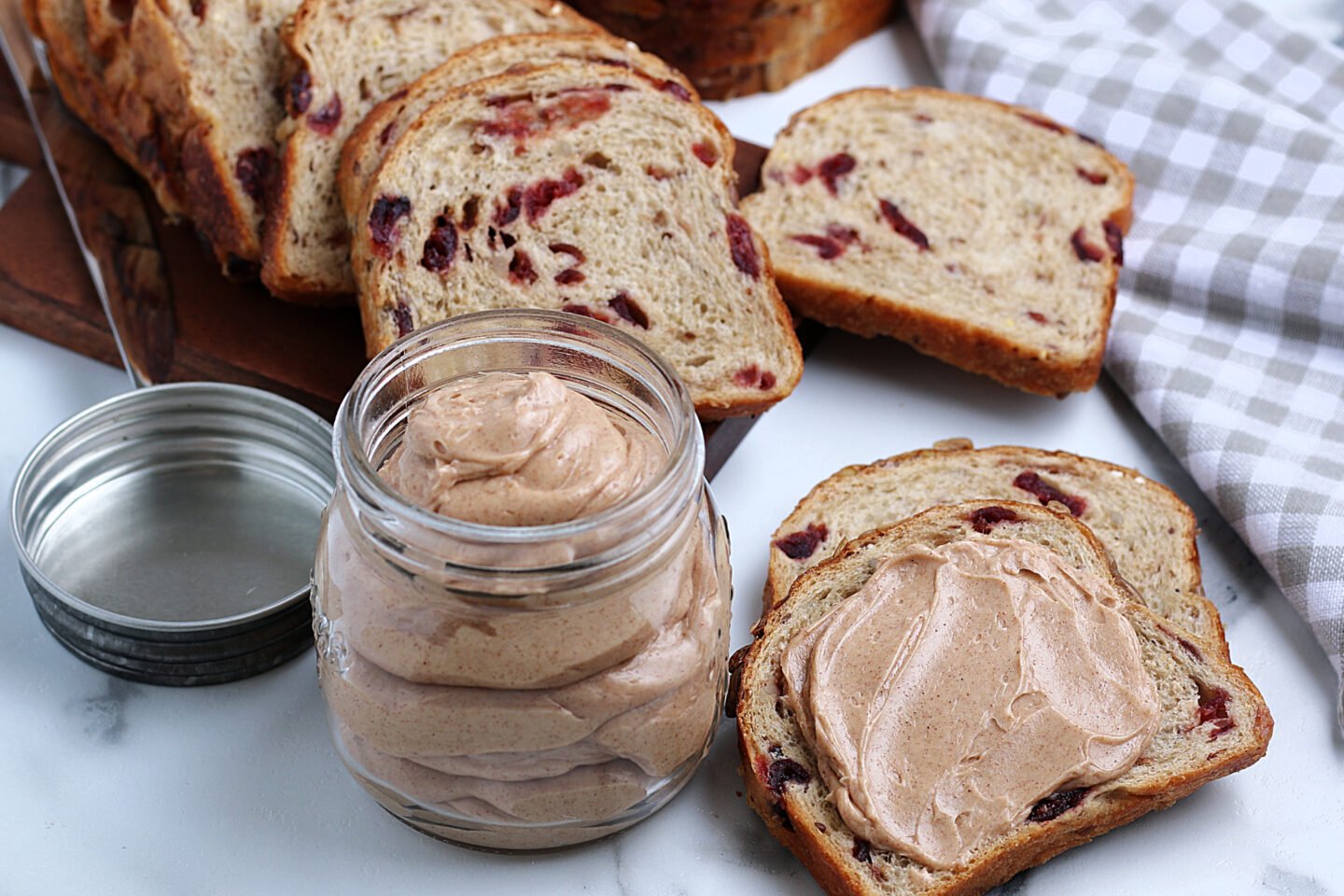 If you love Texas Roadhouse Butter like we do, then, try this delicious recipe for Cinnamon Honey Butter made with minimal ingredients and done in only 5 minutes! It's perfect on toasts, muffins, dinner rolls, pancakes, cornbread and even alongside a warm bowl of chili!
I love going out to eat with my family for many reasons. One of reasons being that I love restaurants. I love trying new foods and then thinking about how I can make those foods at home. I have created many delicious recipes by taking inspiration from restaurant menus!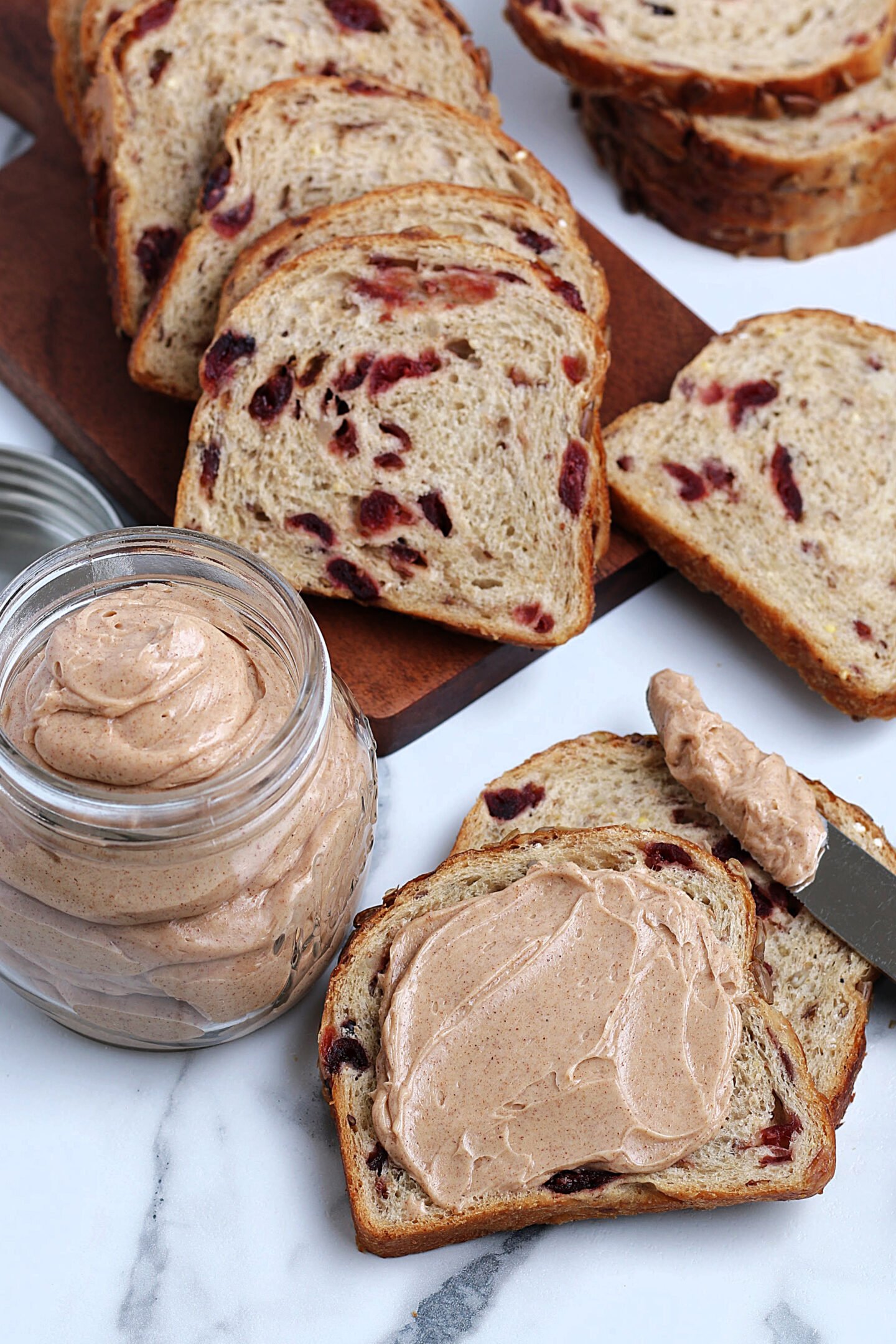 Recently, my family and I tried a new Texas Roadhouse restaurant that just opened near us. While the food was good, my absolute favorite thing was the cinnamon honey butter that came with the bread. It was amazing and I could just imagine using it at home on toast, pancakes, or slathered on cornbread to serve with chili. The moment I took my first bite, I knew I wanted to recreate this butter at home. And that is just what I did!
My cinnamon honey butter recipe is just like the one they serve at Texas Roadhouse but even better because you can have as much as you want. The ramekin at home will never run out the way it does at the restaurant! Take a look at my copycat Texas Roadhouse butter and see how easy it is to make this amazing condiment at home.



Ingredients for Cinnamon Honey Butter
Six simple ingredients are all you need to make cinnamon honey butter. I actually bet you already have all of these ingredients in your kitchen. Here is what you need: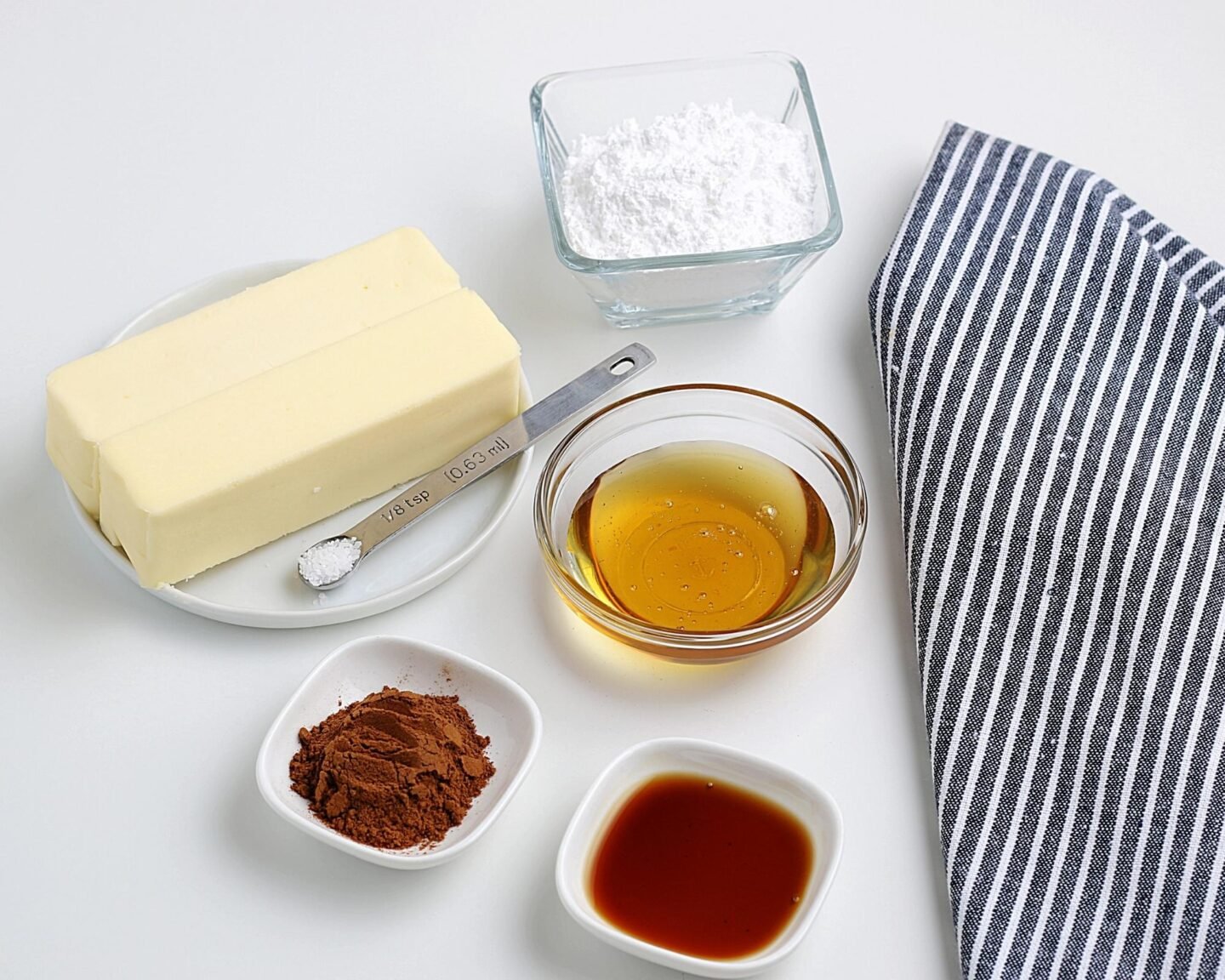 butter

– I use unsalted butter since my recipe adds kosher salt later on. If you only have salted butter, just skip the kosher salt. Make sure the butter is at room temperature so it blends into the other ingredients easily. If the butter is too cold, it is very hard to mix.

powdered sugar

– Powdered sugar melts into the butter very easily. It adds just the right amount of sweetness to make this sweet and savory butter.

honey

– You need honey to make honey butter! Honey makes the butter have a rich, sweet taste that is unbeatable. Try using local honey that is full of natural health benefits and then you can call this butter healthy!

vanilla

– A touch of vanilla extract adds depth and complexity to the butter. It enhances the flavor and makes it restaurant worthy.

cinnamon

– Cinnamon adds an earthy spice that is so good.

Kosher sal

t- A little salt makes all the flavors in the butter really pop. You will notice the difference the salt makes almost instantly.
Was I right? Do you have everything you need to make Texas Roadhouse butter just waiting in your kitchen? Then let's start mixing!
How to Make Copycat Texas Roadhouse Butter
This is a very, very easy recipe to make. Get out your hand mixer or your stand mixer and get ready to blend! This is how I make my cinnamon honey butter in just minutes: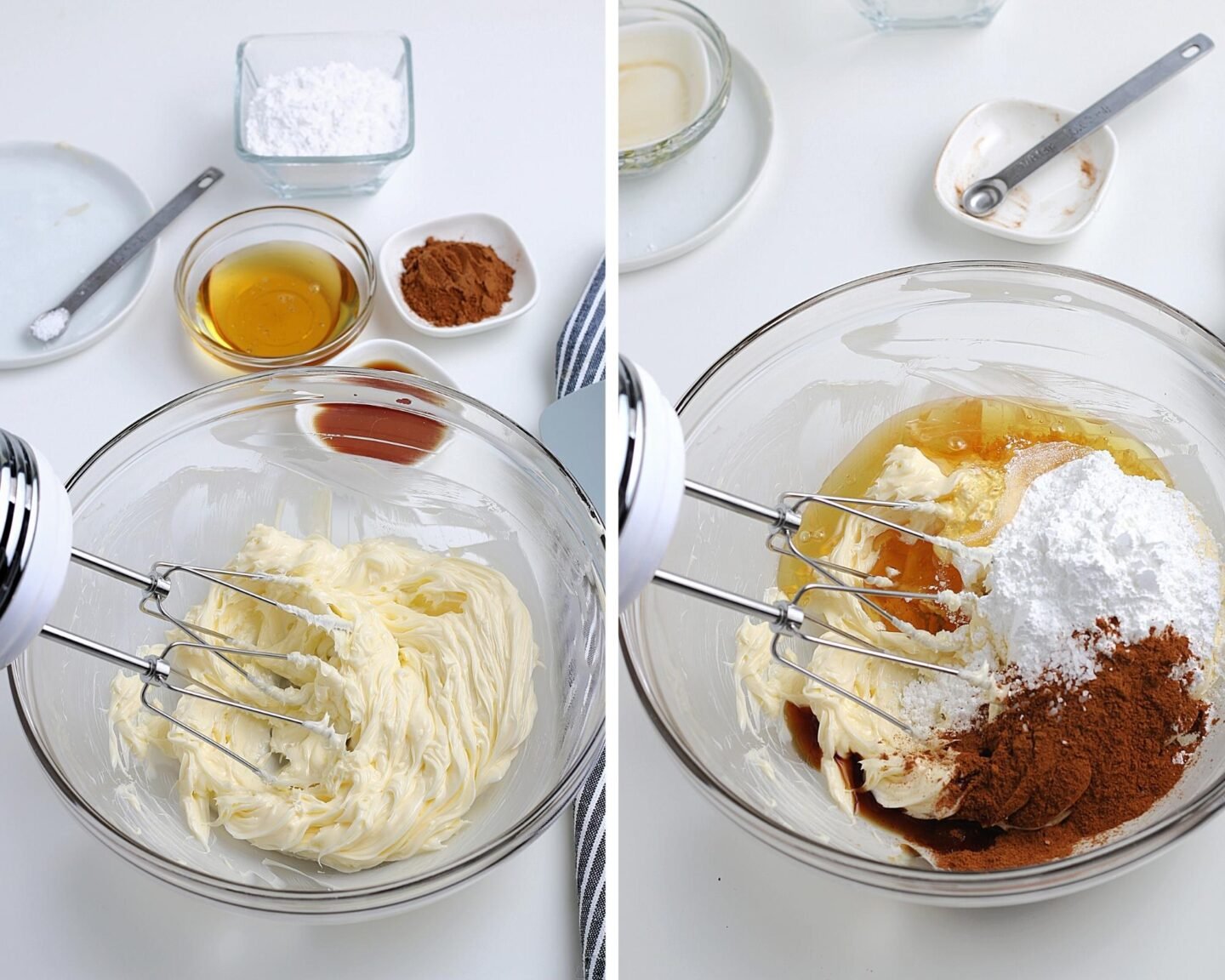 1. Beat the butter until light and fluffy. It is easiest to beat when it is room temperature.
2. Add all the remaining ingredients and beat again. Scrape down the sides of the bowl to make sure everything is mixed in evenly.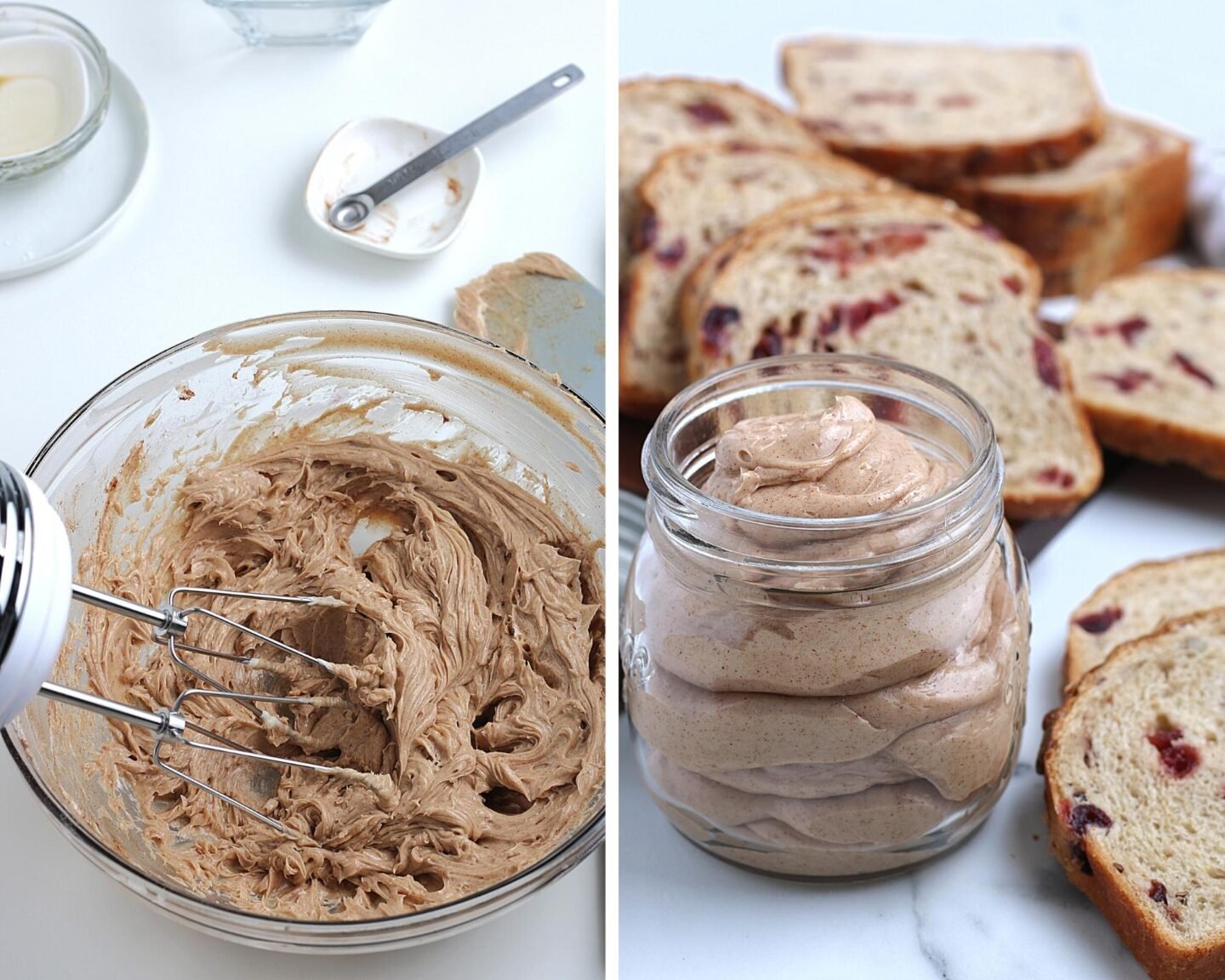 3. Enjoy your delicious honey butter right away and store the butter in an airtight container in the refrigerator.
Did you ever think it would be so easy to make such a useful, flavorful recipe? I just love easy recipes like this!
Tips and Tricks for Making the BEST Cinnamon Honey Butter Recipe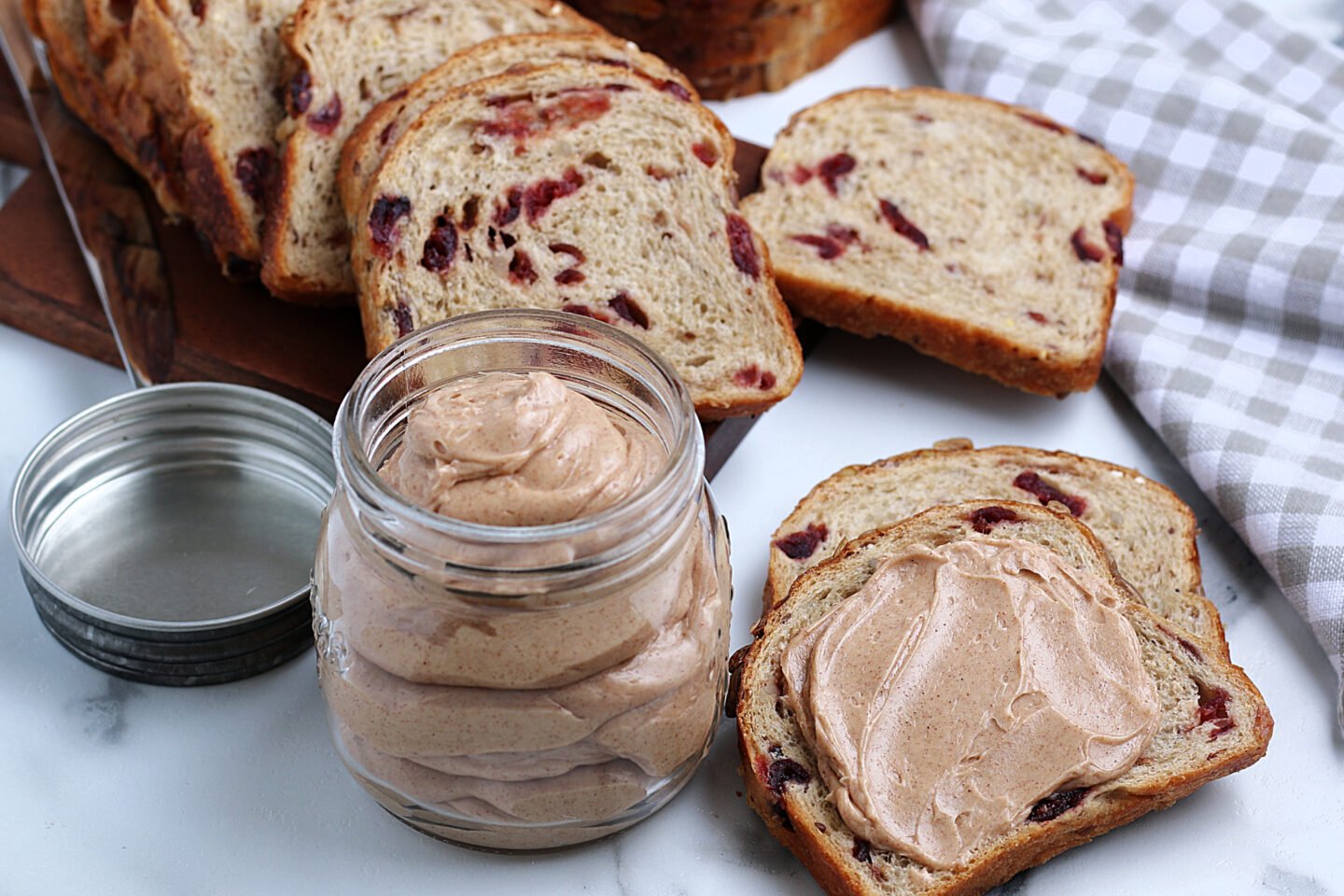 My family and I love Texas Roadhouse butter so much that I make this recipe about once a week. Since I make it so often, I have a few tricks I want to share that I have learned through experience. Take a look before you make your butter because some of these tips may be quite helpful!
If you don't have an electric mixer, beat the butter in a bowl with a rubber spatula. Make sure it is room temp so it is easy to hand whip.

Make a big batch of honey cinnamon butter and freeze it in an ice cube tray. Anytime you want delicious Texas Roadhouse butter, pop out a cube, let it thaw at room temp and enjoy!

Use the butter for cooking savory foods like sweet potatoes, sauteing zucchini, or even for oven roasting pork. Sweet and savory are so delicious together!
Substitutions and Variations for Cinnamon Honey Butter Recipe
Besides my butter making tips, I also have a few recipe variations for this texas roadhouse cinnamon honey butter recipe. Give a few of these a try and see which you like the best.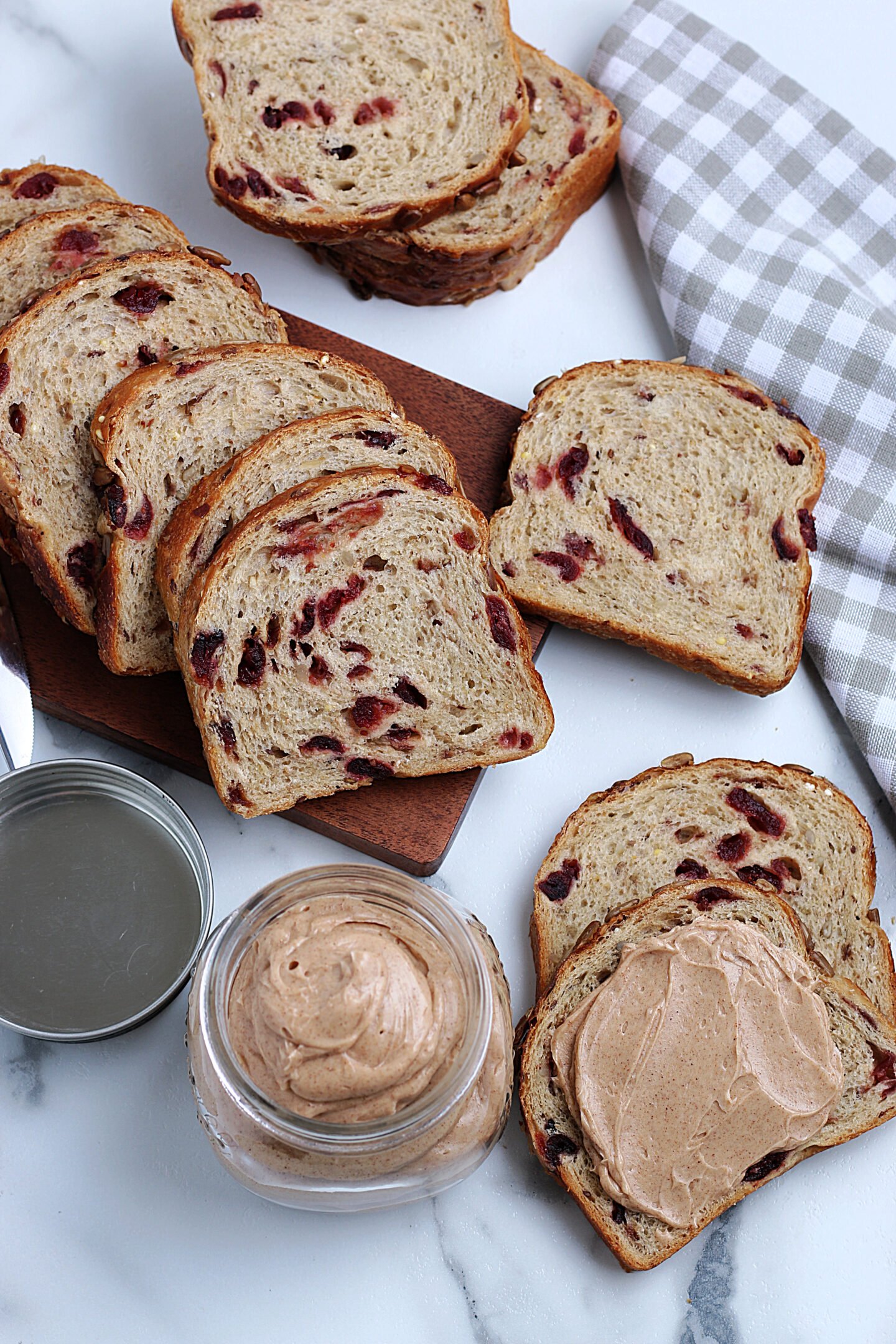 Add ⅛ tsp ground nutmeg to the recipe to make it even more spicy. This is perfect for the fall!

Use regular sugar if you don't have powdered sugar. Be sure to beat the butter and sugar together first to help dissolve the granulated sugar better.

Use salted butter in place of regular butter then skip the kosher salt

Wondering how to store honey butter? Keep it wrapped in the fridge for up to a month. You can also

freeze honey butter

for up to three months. Thaw it at room temperature and it will be ready in just minutes!
Let me know if you come up with any creative variations- I would love to try them out!
What to Eat with Cinnamon Honey Butter
There are so, so many ways to use honey butter. Here are a few of my favorite ways to use my homemade Texas Roadhouse butter recipe:
Slather it on cinnamon raisin bread or banana bread.

Use it to top pancakes, French toast or waffles

Use it as a dip for pretzels.

Serve it with dinner rolls just like at Texas Roadhouse!

Spread it on warm muffins– it goes well with almost any kind of muffin!
I love this butter on warm cornbread alongside a bowl of warm chili.
FAQ's About Texas Roadhouse Butter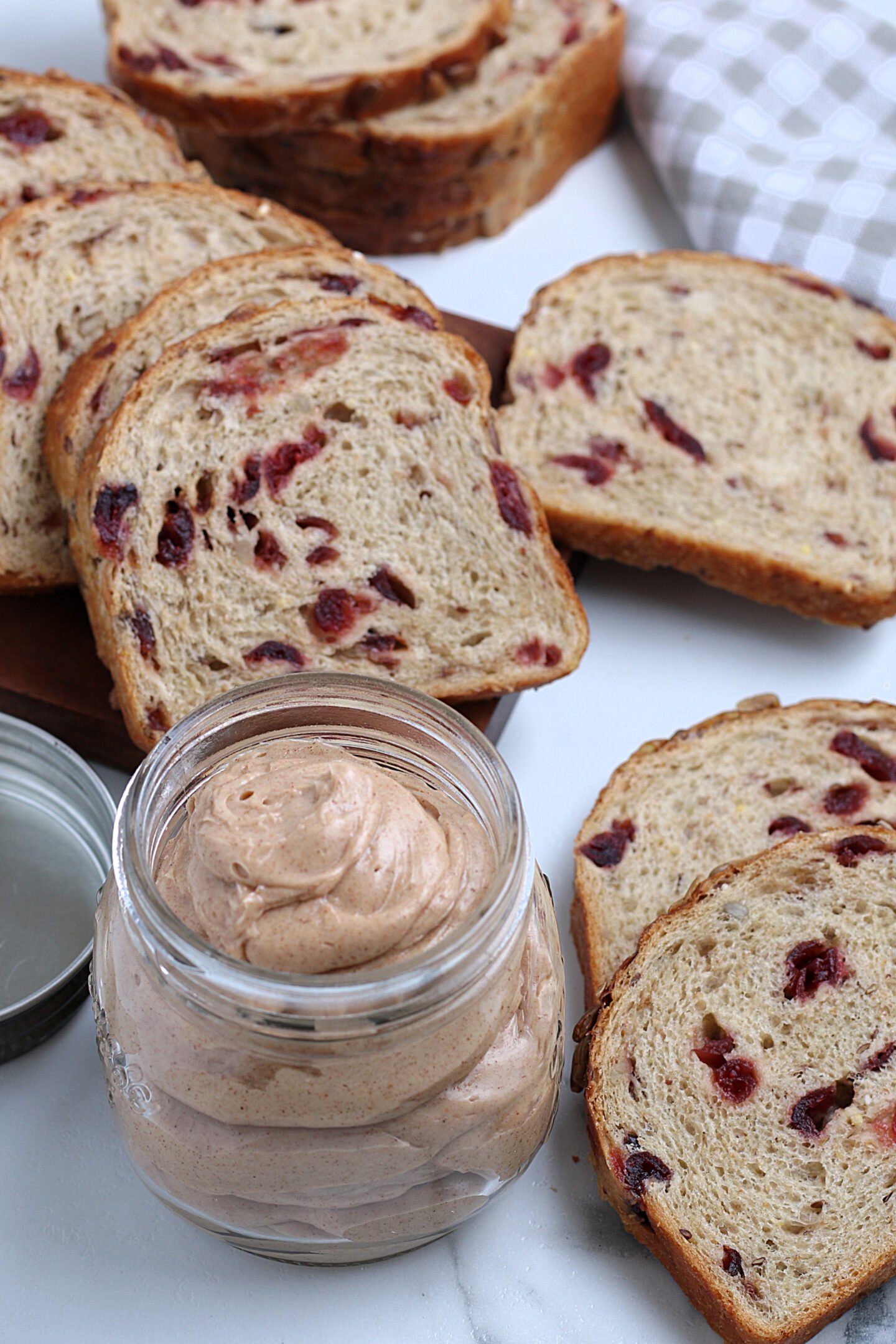 I always have questions when I try a new recipe. Hopefully these FAQ's and answers will help you! You can always leave additional questions in the comments below and I will try to answer ASAP!
Do you have to refrigerate honey butter?
Yes. Butter is best stored in the fridge. You can keep it at room temperature for about 4 hours but any longer than that, pop it in the fridge to keep for up to a month.
How long does honey butter last?
In my house, only about a day! Ha! But honey butter will keep in the fridge for about a month or in the freezer for three months.
What does honey butter taste like?
Honey butter is sweet and creamy with just a hint of cinnamon spice. It is delicious on savory or sweet foods!
If you are a fan of Texas Roadhouse butter or just love sweet butters like me, you should definitely give this cinnamon honey butter recipe a try. It is great anytime of year on so many different foods. It will make your chili dinners better, improve your breakfasts and make a delicious dip for some sweet potato fries. Try it on everything! I hope you love it.
Try these other delicious recipes!
I hope you love this recipe for cinnamon honey butter – be sure to give it a review below!
Print
Cinnamon Honey Butter- Copycat Texas Roadhouse Butter
---
Author:

Prep Time:

5 minutes

Total Time:

5 minutes

Yield:

14

-

16

servings

1

x
1 cup

(

2

sticks) unsalted butter, room temperature

½ cup

powdered sugar

2 tablespoons

honey

1 teaspoon

vanilla extract

2 teaspoons

ground cinnamon

⅛ teaspoon

Kosher salt

 
---
Instructions
In a large mixing bowl, beat butter until fluffy.
Add remaining ingredients and beat until smooth.
Serve with rolls or bread.
Store in airtight container in the refrigerator.
Keywords: copycat texas roadhouse butter, cinnamon honey butter
LOVE THIS COPYCAT TEXAS ROADHOUSE BUTTER RECIPE? PIN IT HERE!