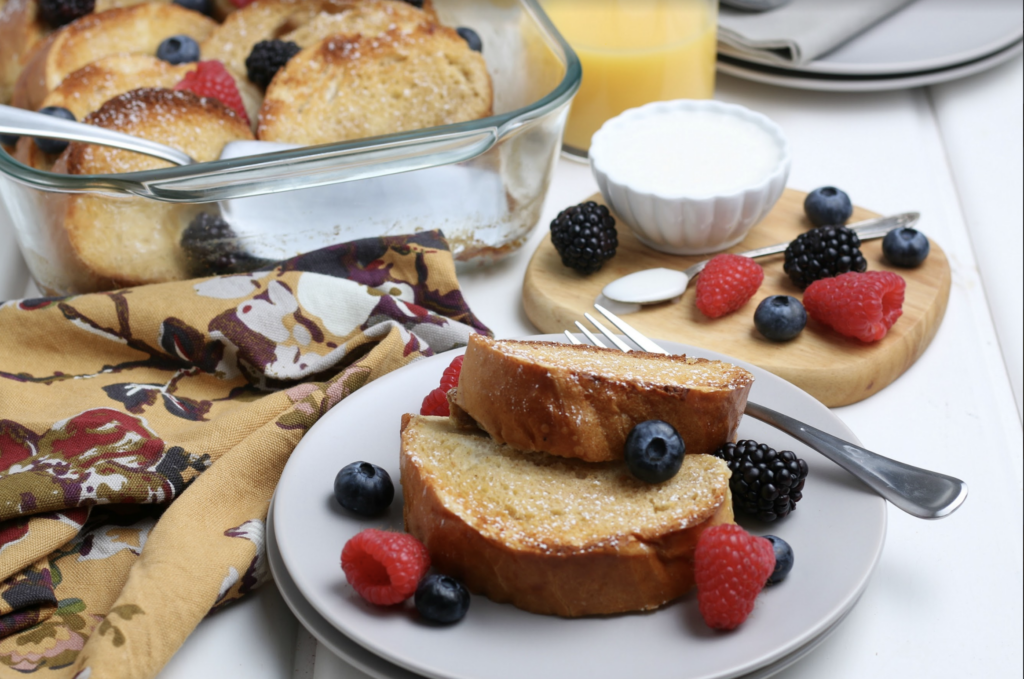 Prepped the night before, this sweet and delicious Overnight French Toast recipe is always a hit in our house for breakfast or brunch. Try it to believe it!
I am a big believer in having a hearty, healthy breakfast. I think that it really can set the tone for your entire day. That's why I'm excited to share with you my newest breakfast recipe: Overnight French Toast!
My whole family agrees that a good breakfast is essential and, because of this, we love to try new breakfast foods to help keep our mornings exciting. We often grab new kinds of cereal when we see something interesting in the grocery store, we are always whipping up new egg dishes and you can often find a variety of bagels in my pantry.
However, one breakfast food that we all still go crazy for (even after having it hundreds of times) is French toast. We just can't get enough of my homemade French toast in the morning!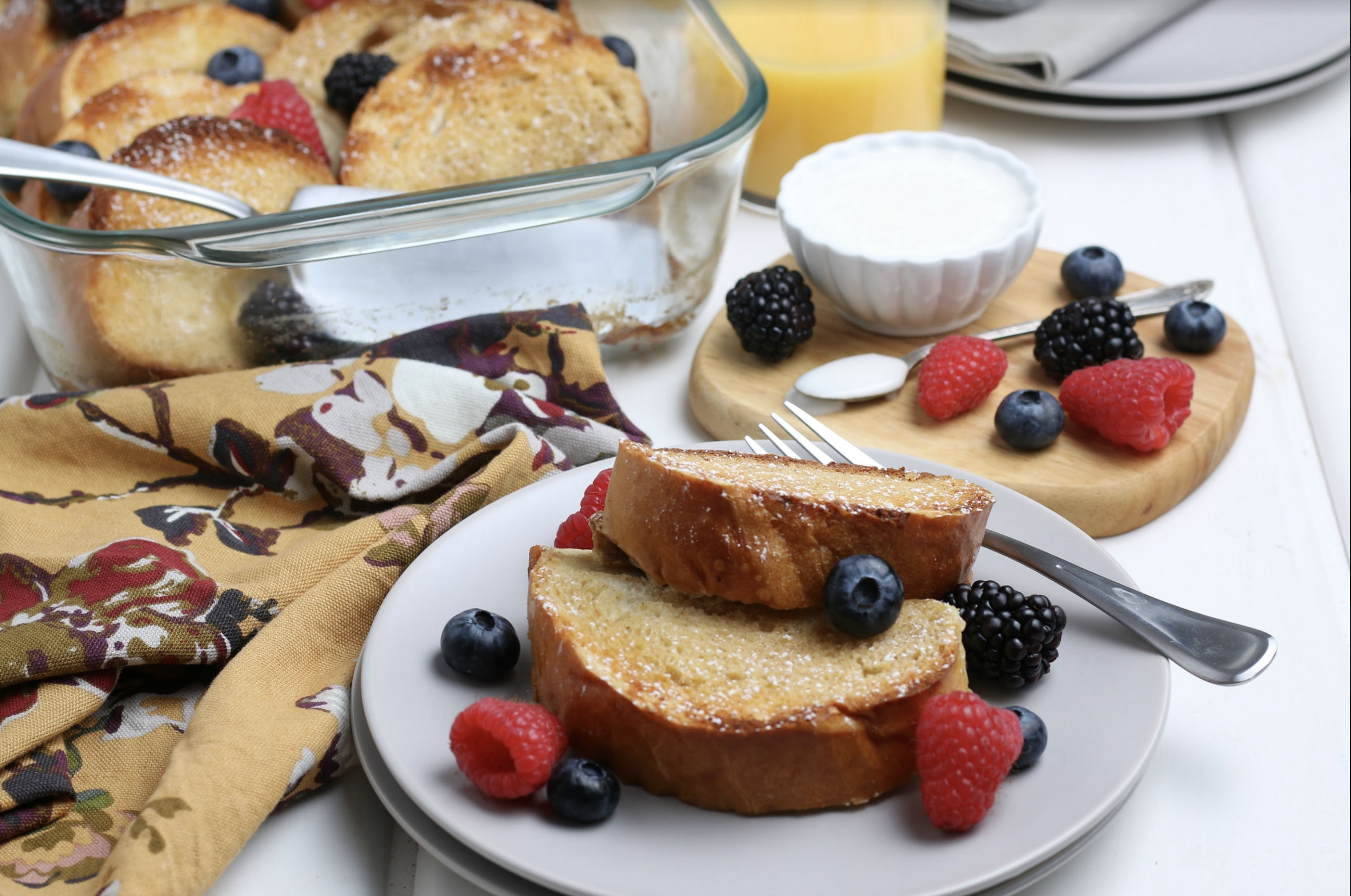 THE HISTORY OF FRENCH TOAST
While I have made many different versions of French toast over the years, the earliest, first evidence of French toast actually dates back to the Roman Empire. Of course, it wasn't called "French toast" just yet, but there are records of a sweet, egg dipped bread food being eaten way back then. Written recipes from the 17th century, have been found for a dish called "pain perdu" which translates to mean "lost bread". This name comes from the fact that the bread used to make the dish was old and stale- it would have been lost and trashed if not for this inventive recipe! The old bread was dipped in a whisked egg and milk mix and then fried. Sounds familiar? That is because that is still how we make French toast today!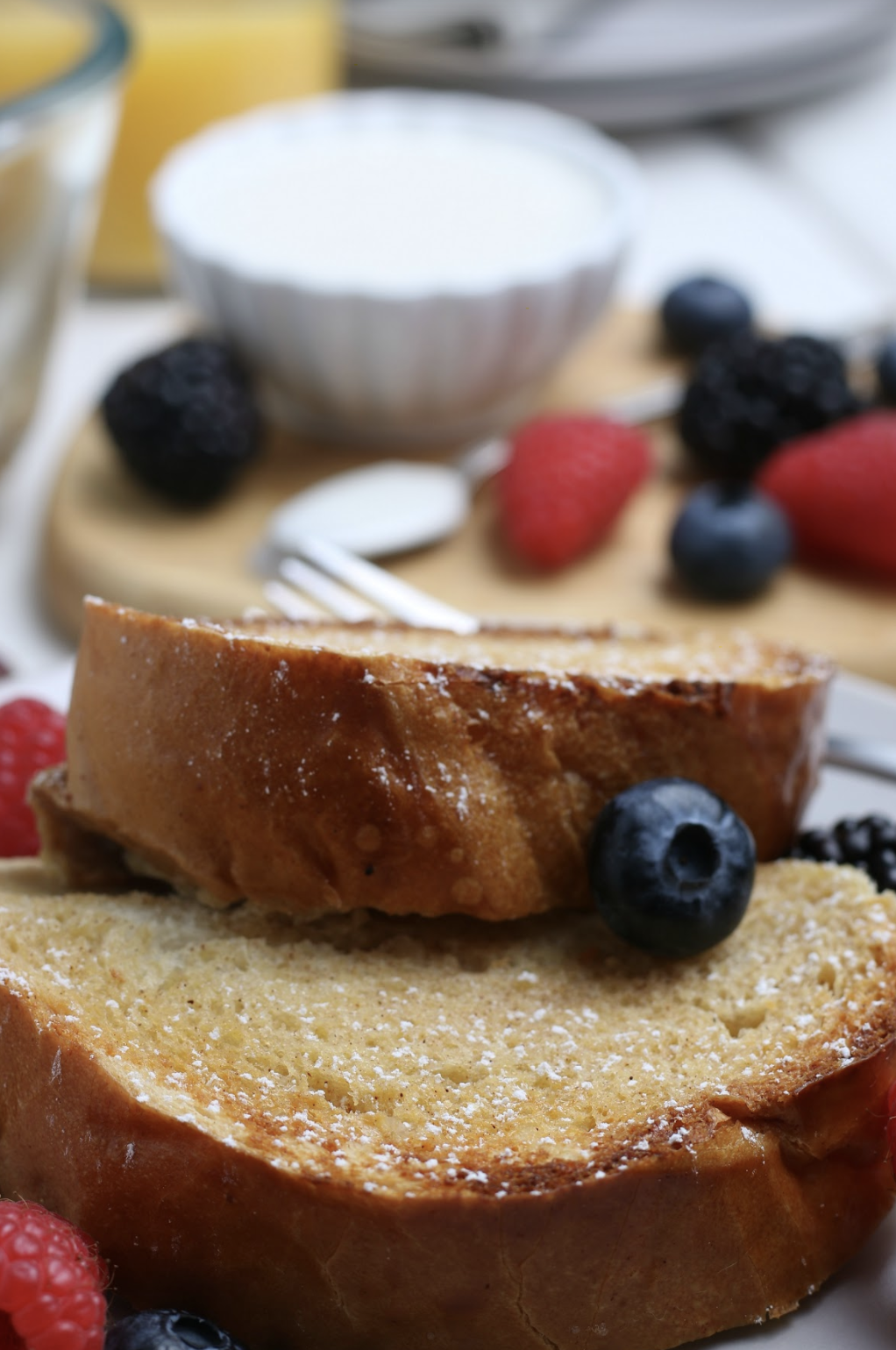 Pain perdu was brought to the United States by English settlers and it was then dubbed "French toast" since the dish was, by then, a French institution. This name stuck! Now, it is one of the most popular breakfast foods in the country. It is also a very versatile dish and you can customize it in so many ways. You can top your French toast with fresh fruit, drizzle it with syrup and even toss a few chocolate chips on it if you want a sweeter breakfast treat. As long as the base of the recipe is comprised of bread dipped in an egg and milk mix, it is still French toast!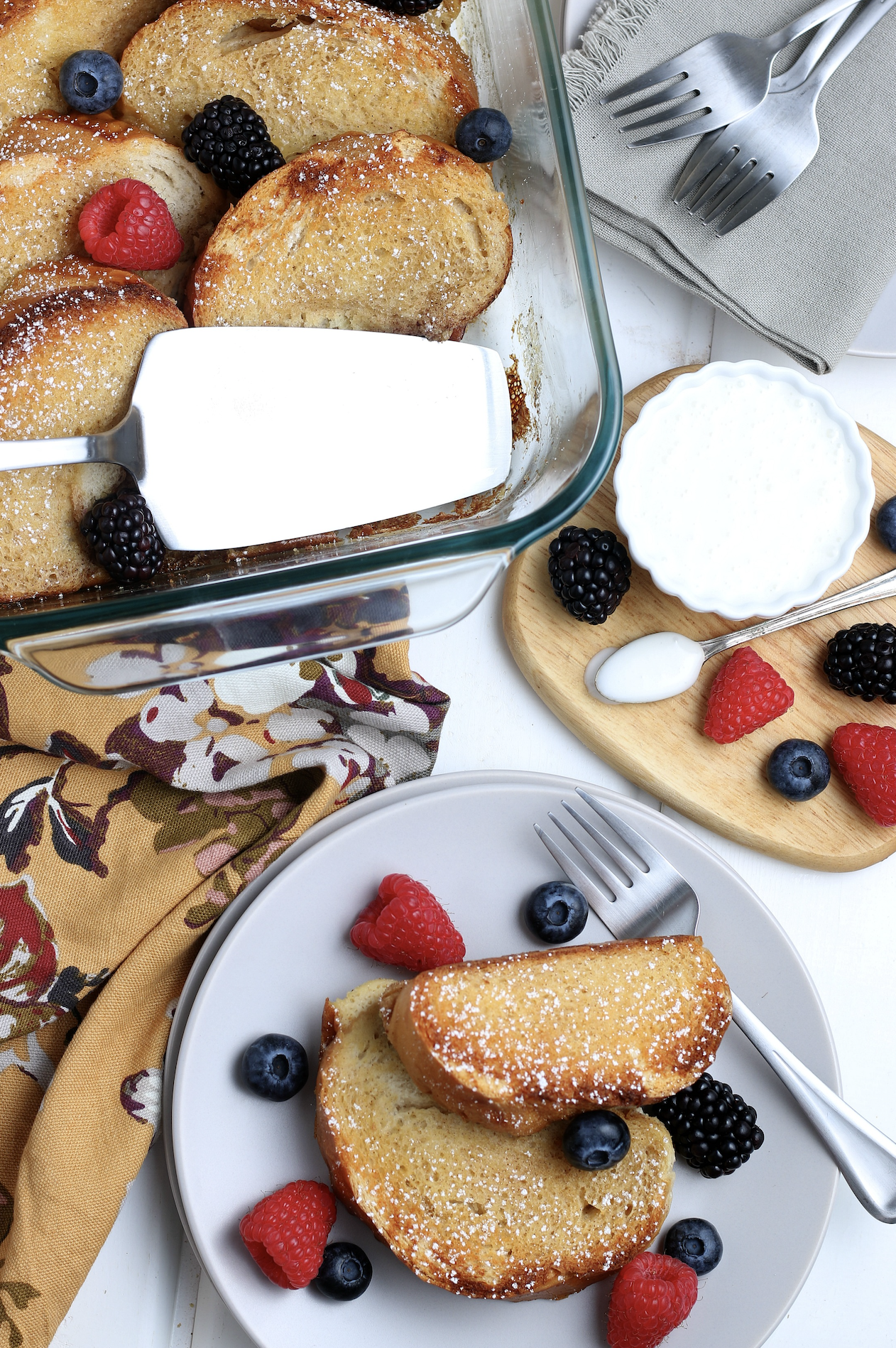 In a house where we eat French toast often, I am always playing around with how to make it new and interesting (but of course, my whole family would be perfectly happy with basic, delicious, classic French toast… but I like to switch it up!). Recently I started making overnight French toast which has completely changed my French toast game.
HOW TO MAKE OVERNIGHT FRENCH TOAST
To make the French toast, the slices of bread are lined up in a baking dish, overlapping them a little bit. I have found that a really crusty French bread works best. If you have an old baguette, that will be perfect!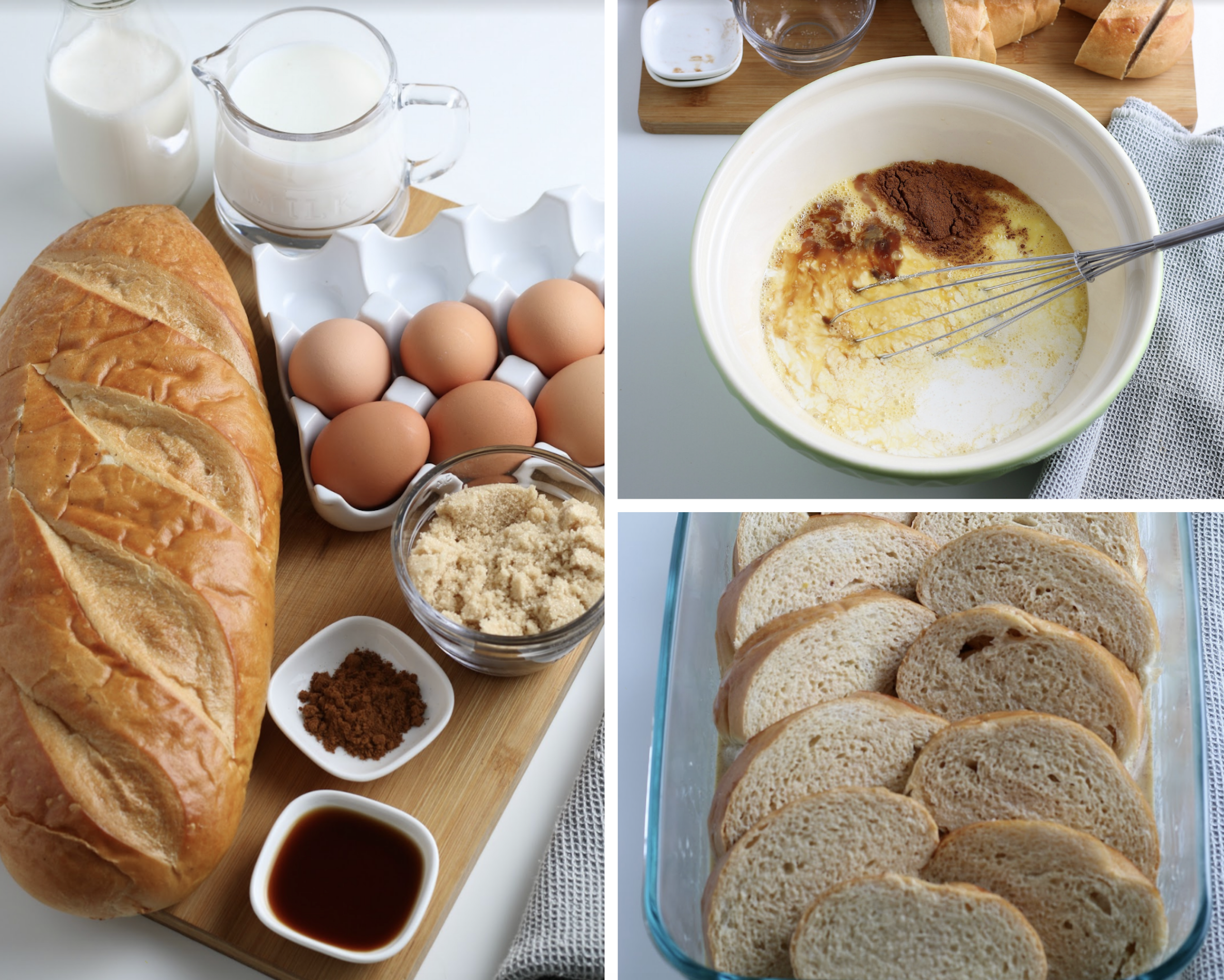 The eggs, milk, heavy cream, vanilla and cinnamon are whisked together in a bowl, just like if you were making regular French toast. However, instead of dipping the bread individually into the egg mix, the whole mixture is just poured over the bread in the baking dish. The baking dish is then wrapped and refrigerated overnight, letting the crusty bread soak up all of the eggy goodness and flavor. In the morning, all you need to do is pop the pan into the oven and your French toast is ready! There is no standing over a frying pan, cooking each piece of bread. There is no need to cook in batches and serve one person at a time (you can only fit so many slices of bread in a skillet at once!).
Eight servings of French toast are ready to enjoy with almost no morning-time effort at all! It really is my new favorite way to make my family's favorite breakfast food.
If you and your family are big French toast lovers too, I highly recommend giving this overnight French toast recipe a try. Having a whole big tray of French toast ready to bake right when you wake up really is a luxury. French toast has never been easier and this is the perfect way to give your family that sweet, classic breakfast that they crave. Make this recipe as written once and then, the second time you crave a tasty treat, try tossing in a few fresh blueberries amount the layers of bread. Try adding some chocolate chips or even a few chopped pecans!
There are so many ways to make overnight French toast and this perfect recipe is just the beginning. Now, on to your new French toast journey! Pain perdu may be centuries old but there are always ways to make classics exciting again. Enjoy!
Print
Overnight French Toast
---
Description
Prepped the night before, this sweet and delicious Overnight French Toast recipe is always a hit in our house for breakfast or brunch. Try it to believe it!
---
One loaf French bread, cut into 1 inch thick slices
8 large eggs
1 cup heavy cream
1 cup milk
½ cup brown sugar
2 teaspoons vanilla extract
1 teaspoon cinnamon
For Serving:
powdered sugar, optional
maple syrup, optional
fresh fruit
---
Instructions
Coat a 13×9 baking dish with softened butter
Slice bread and arrange in baking dish in two rows, overlapping if necessary
In a large bowl, beat the eggs
Whisk in the heavy cream, milk, granulated sugar, vanilla extract and cinnamon
Pour milk mixture over bread, pressing down lightly to be sure the mixture covers the bread
Cover with plastic wrap and place in refrigerator overnight
Remove from refrigerator 30 minutes prior to baking
Preheat oven to 350 degrees F
Bake uncovered for 35-40 minutes or until browned and inside is set
Serve with powdered sugar, maple syrup or fresh fruit
Store leftovers in refrigerator for up to 2 days
LOVE THIS RECIPE? PIN IT HERE!

You Might Also Like…