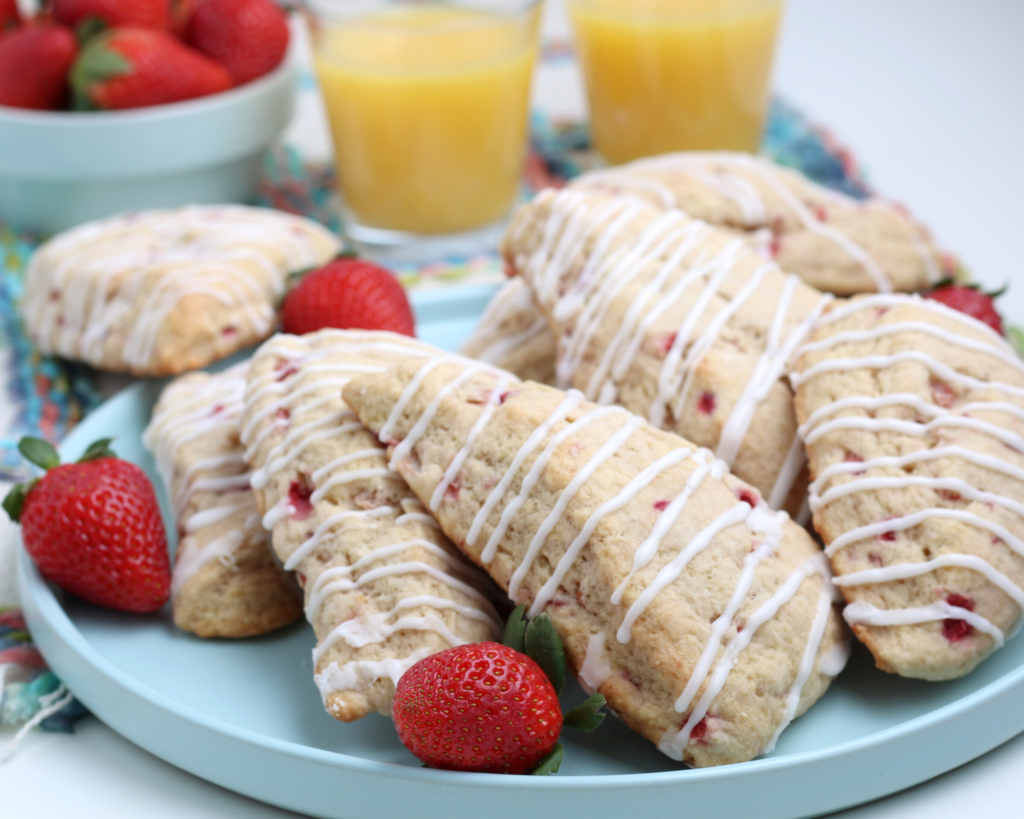 The perfect scones for spring and summer: soft, tender strawberry scones made with fresh strawberries drizzled with sweet vanilla glaze! You've found your new favorite breakfast treat or afternoon snack!
Summer is right around the corner and since we love strawberries in our house, I thought I'd make strawberry scones again. My family absolutely loves my scones and today, I'm excited to share my strawberry scones recipe with you because I know you will love it too!
Strawberry Scones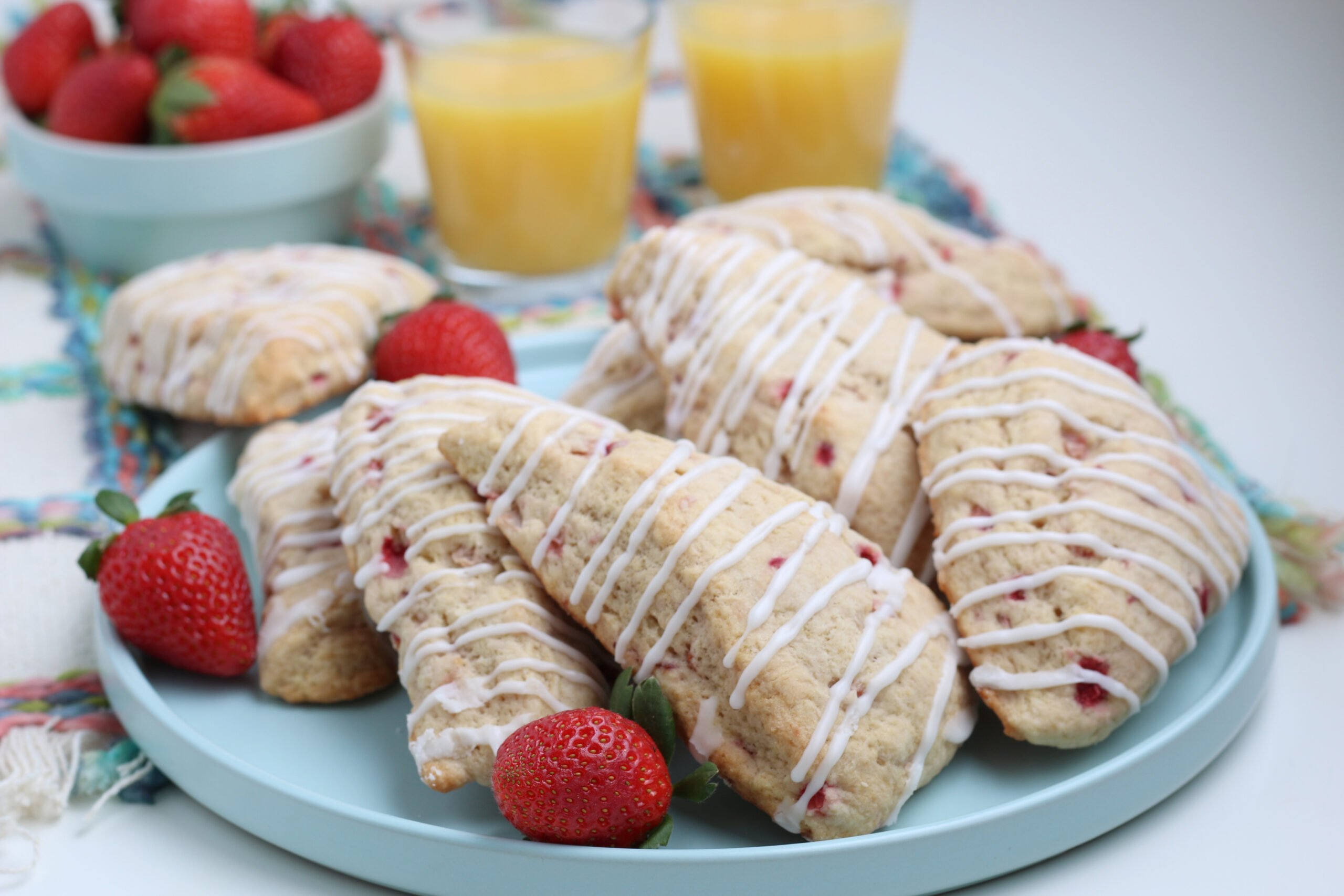 One of my friends recently asked me how I'm able to make fresh scones so often. Aren't scones hard to make? Doesn't it take a lot of time? Not at all! Scones are surprisingly easy to make and can be baked in the oven in a matter of minutes. All you need to do is mix the dry ingredients, blend in a little butter, add the wet ingredients and roll out the dough. I promise that anyone can make fresh scones quite easily.
So, let me tell you a little more about my fresh strawberry scones so you can become scone crazy too. Just a little warning: you are going to eat more than one!
Strawberry Scones Ingredients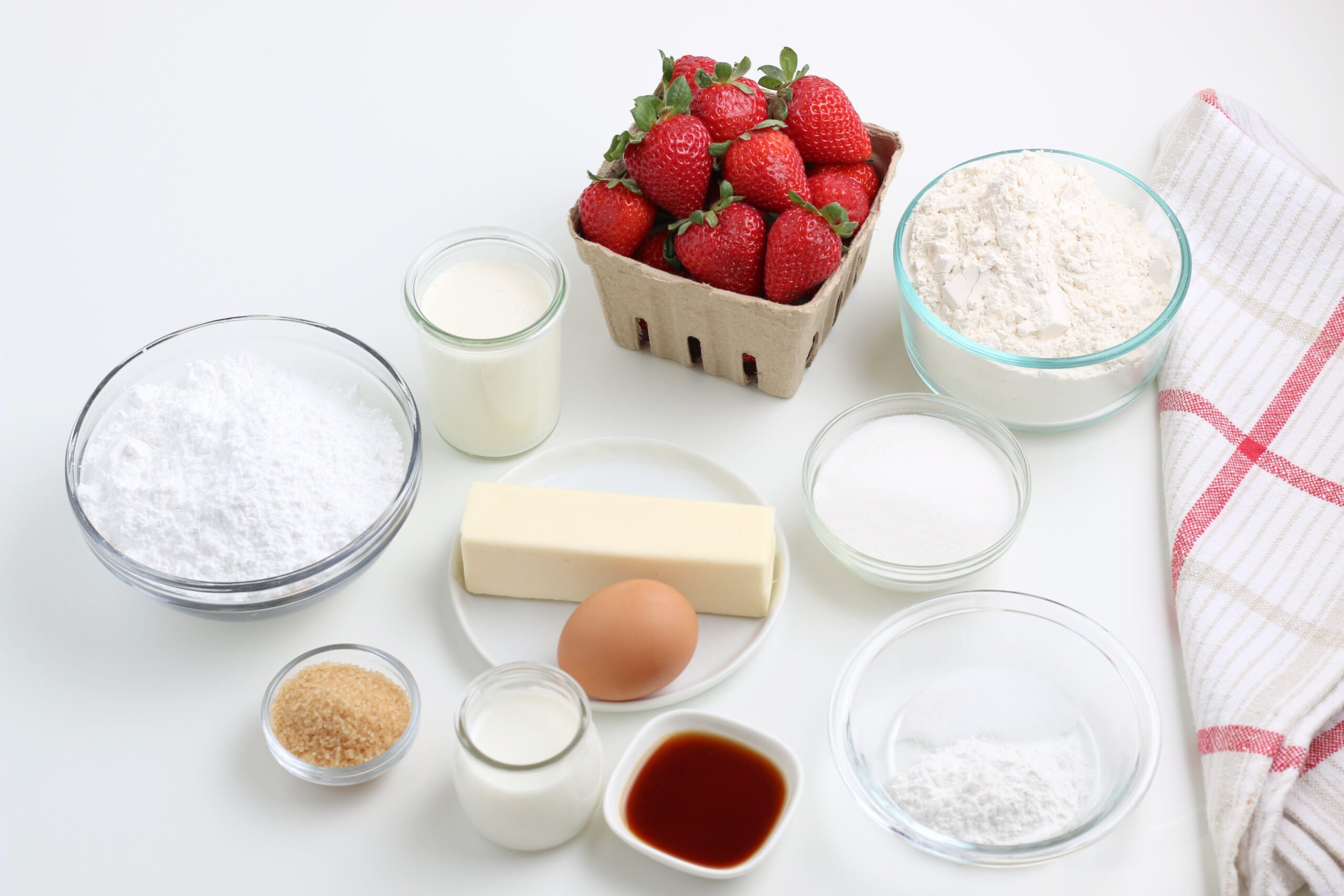 Most scone recipes are made with very similar ingredients. The standard flour, butter, milk and eggs of course! There are a few other special ingredients you will need to make these summertime strawberry scones recipe.



You'll need the following ingredients:
flour– All purpose flour works well for scones
sugar– Regular white, granulated sugar will sweeten the scones perfectly!
salt– A touch of salt enhances the flavor and brings out the sweetness of the scone.
baking powder– Baking powder will help the scones rise, making them less dense and more fluffy.
butter– I use unsalted butter since there is salt already added into the recipe. You want your butter to be super cold so it blends into the dry ingredients well.
heavy cream– I like to use either heavy cream or buttermilk. Buttermilk adds a tangy flavor that goes well with the sweet strawberries. Heavy cream adds a rich, creamy taste.
vanilla extract– A little vanilla makes every recipe taste rich and decadent.
fresh strawberries– Fresh chopped strawberries are required for strawberry scones!
I use milk and powdered sugar to make a very simple glaze for the scones but you can skip this step if you'd like. They are sweet enough without the glaze, I just like a little extra treat!
Once you have your ingredients together, you will need these basic kitchen tools:
You can use a pastry blender to mix in the butter but I like to just use my hands. Your hands are the best kitchen tool, after all!
Strawberry Scones Recipe
As I said before, scones are not hard to make. Make them once and you will see how easy they really are. I have very detailed directions in this recipe for strawberry scones below but I want to break it down for you here in simpler terms so you can really see how easy it is to make homemade scones.
1. Mix all the dry ingredients in a big mixing bowl.
2. Add the soft butter and use your hands to blend it into the dry ingredients until it looks like coarse sand.
3. Add the wet ingredients and mix into a smooth dough.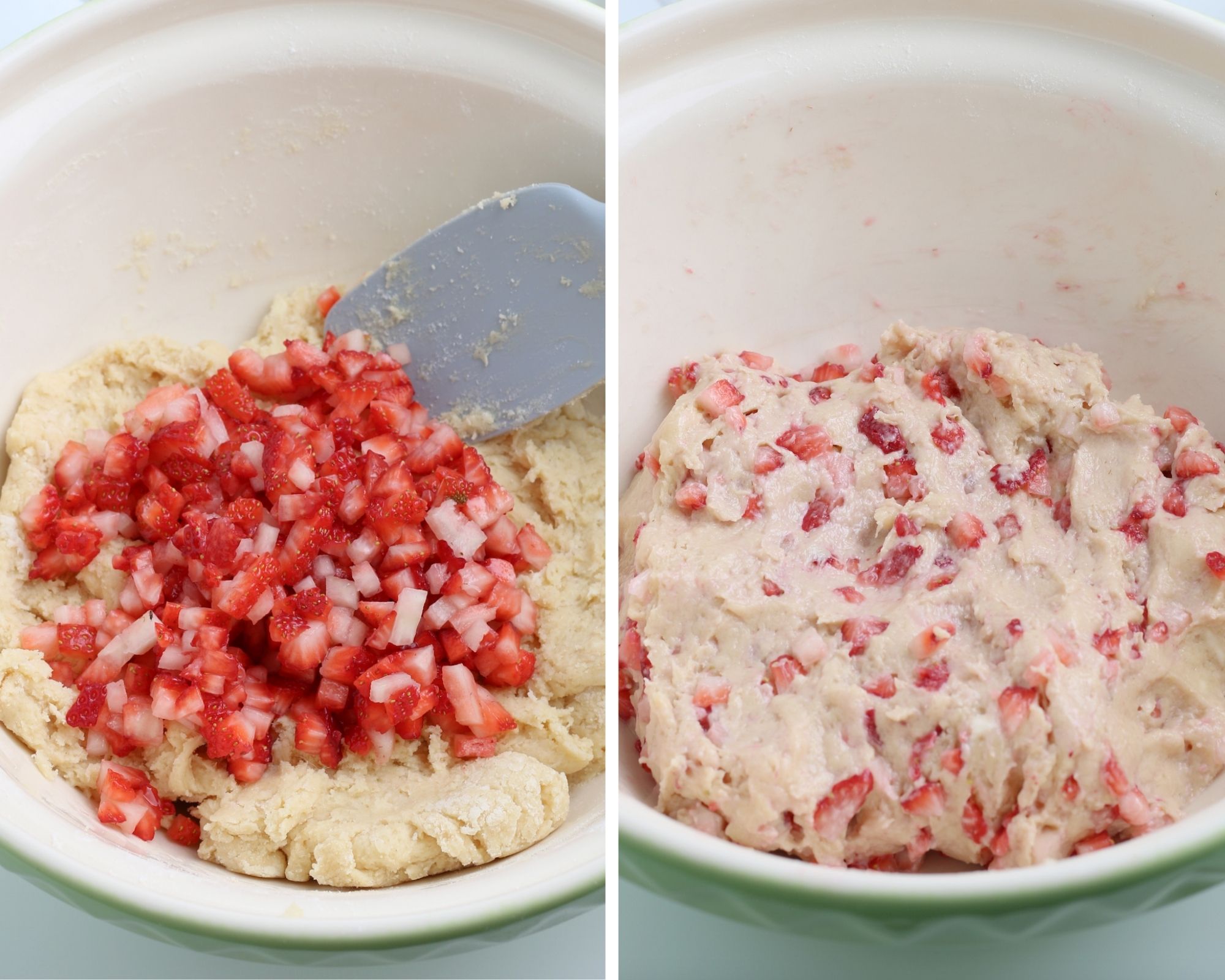 4. Fold in the strawberries.
5. Sprinkle some flour on your counter and plop the dough onto the counter.
6. Pat the dough down into a ¾ inch thick dough circle.
7. Use a sharp knife to cut the circle into 8 triangular pieces.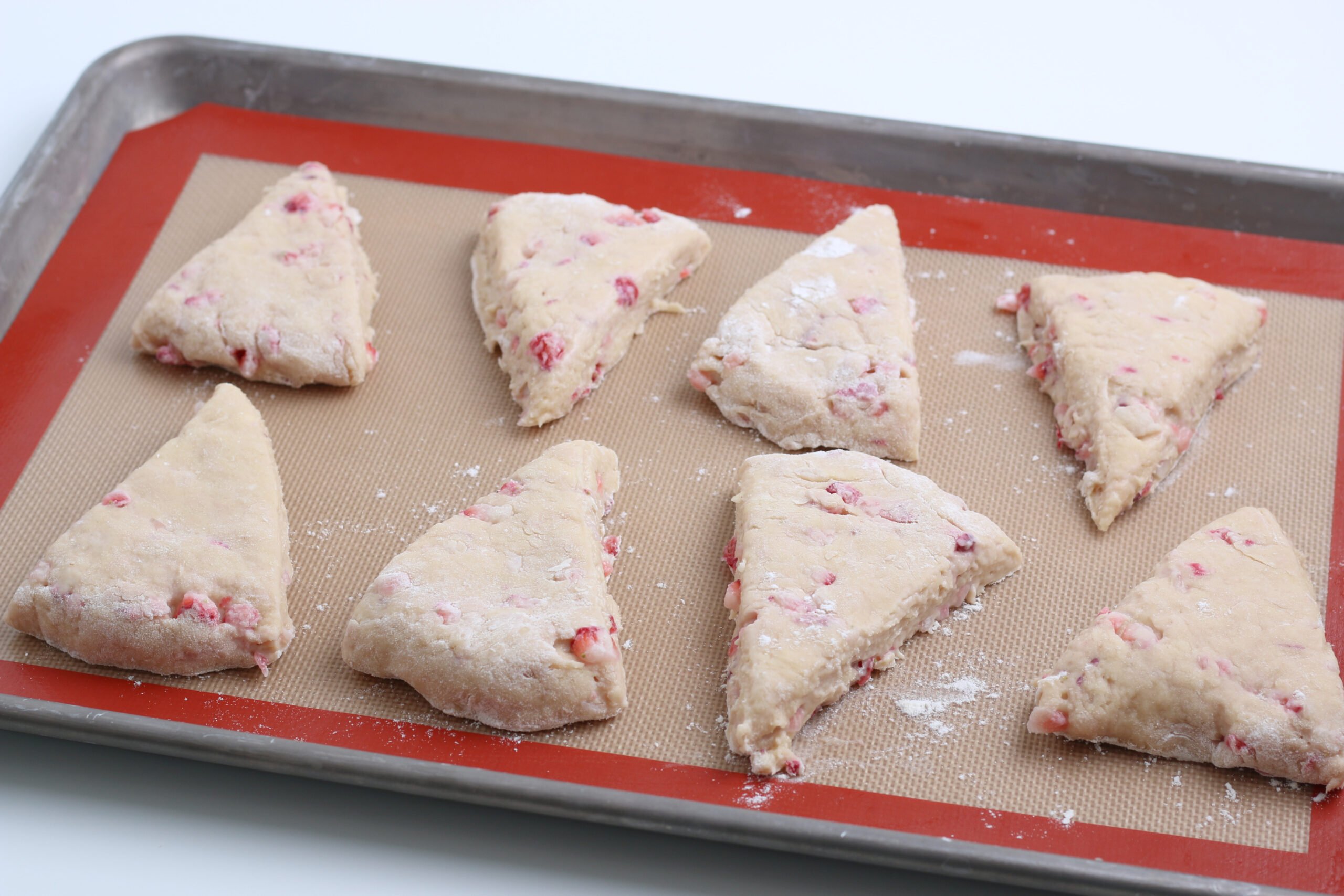 8. Place the triangles on a parchment lined baking sheet tray and bake in a 375 degree oven for 20-25 minutes.
Enjoy!
Drizzle the vanilla glaze over the scones once they have cooled a little bit. Once again, I love the glaze but you can skip it if you want! Skipping the glaze won't sacrifice flavor and it will save a little time and a few calories too!



Tips and tricks for making strawberry scones
I've made strawberry scones so many times that I am able to come up with a few tips and tricks to make perfect and incredibly delicious strawberry scones. Take a look at these ideas and give them a try.
Scoop the dough with a large, ¼ cup cookie scoop and place the scoop right onto the parchment lined tray. Pat the scone down until it is about ¾ inch thick. This makes very easy, round scones without needing to roll or cut the scone dough.
Before you bake the scones, brush them with a little extra heavy cream and sprinkle them with sugar. This gives them a glossy, golden brown top as they bake that looks beautiful. This is especially great if you are skipping the vanilla glaze.
Once you cut the scone dough into triangles, gently place them in a gallon sized zippered bag and freeze the dough. Anytime you want fresh scones, you can just take out a few frozen triangles and bake them! They will bake perfectly from frozen, it will just take about 5 minutes longer in the oven.
Add ½ cup chocolate chips to the scone dough to make chocolate strawberry scones. Now THAT is a great breakfast treat!
Add a tablespoon of lemon zest t o the dough to make strawberry lemon scones. These taste as bright as a summer's day!
If you have any scone tips, let me know. I'm a sconeaholic so I always am interested in new scone ideas and tips!
If you have even thought about making scones before, I definitely encourage you to try my recipe for strawberry scones. They are such an easy breakfast treat that are sure to impress. My strawberry scones are also a great way to welcome the warm weather. Fresh scones, fresh strawberries, a beautiful sunny day…sounds like a dream! Enjoy!
*This post may contain affiliate links. Read my Disclosure Policy for more details.
Try my other strawberry recipes!
I hope you love this strawberry scones recipe – be sure to give it a review below!
Print
Strawberry Scones
---
Author:

Prep Time:

10 minutes

Cook Time:

25 minutes

Total Time:

35 minutes

Yield:

8

servings

1

x
Description
Looking for the perfect scones for spring and summer? You found it in these soft, tender strawberry scones made with fresh strawberries and then drizzled with sweet vanilla glaze!
---
2 cups

all-purpose flour

⅓ cup

granulated sugar

½ teaspoon

salt

1 tablespoon

baking powder

½ cup

(1 stick) unsalted butter, grated and very cold or frozen

 

½ cup

buttermilk or heavy cream, plus more for brushing on top

 

1

large egg

2 teaspoons

vanilla extract

1 cup

fresh strawberries, chopped

 
Toppings, optional
Vanilla Glaze: Whisk together 1 ½ cups powdered sugar and 2 tablespoons milk
Coarse Sugar

 
---
Instructions
In a large bowl, whisk together flour, sugar, salt and baking powder
Using a pastry blender or your hands, cut in butter until mixture is crumbly
In a small bowl, whisk together eggs, buttermilk or cream, and vanilla extract

 

Add liquid ingredients and strawberries to dry ingredients and stir until moistened, and mixture is well combined and holds together in a ball
Sprinkle a small amount of flour onto parchment paper or counter
Press dough into 8 inch circle, about ¾ inch thick

 

Brush top with additional buttermilk or cream
Sprinkle with coarse sugar, if desired

 

Using a sharp knife, cut circle into 8 wedges
Divide triangles and place on baking sheet lined with parchment paper or silicone mat, leaving enough space for the scones to expand when cooked

 

Preheat oven to 375 degrees F
Bake for 20-25 minutes or until golden brown
Remove from oven and cool slightly
Add vanilla glaze if you like
Serve warm or room temperature
Store leftovers in airtight container at room temperature

 
Category:

Breakfast

Method:

Baked
Keywords: strawberry scones, strawberry dessert, breakfast