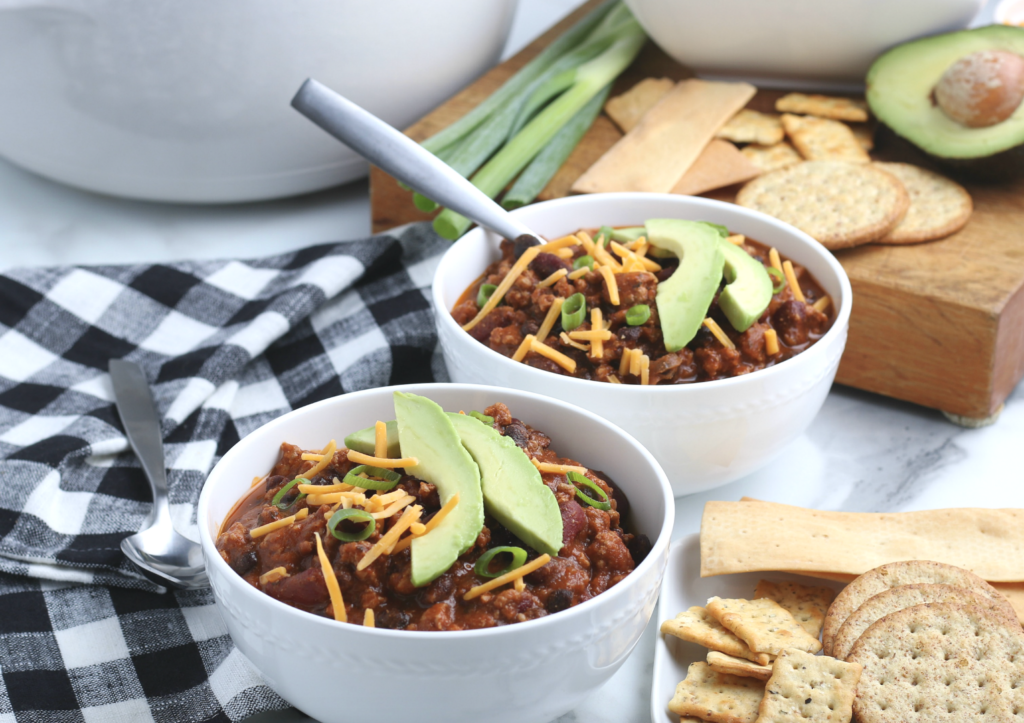 This easy, hearty turkey chili is made with ground turkey, beans and the perfect blend of spices! It's packed with protein and flavor and the perfect, cold-weather meal that will satisfy your craving for comfort food!

Aren't the holidays just the best? Even though the season is wrapping up, I am still feeling the holiday cheer. Do you all feel the same? I wish that joyful, warm, loving feeling could last forever. Over here, we're still relaxing and enjoying time together as a family… trying to keep that Christmas spirit as long as possible!
Our kids are still on break from school which means we have no set schedule, no places to be and just time to hang out. How often does that ever happen?!
I feel very lucky to have the option to stay home with my family at this time, especially because it is absolutely freezing outside. Winter is here for sure! We saw a few flurries on Christmas but the 30 degree weather has yet to bring enough snow to cover the ground. We have had the fireplace roaring to keep out the chill and I have been serving up warm, filling comfort foods all week long. Speaking of which, my latest creation was a super easy turkey chili that was hearty and hot; a perfect winter food!
So if you're looking for a tasty, cold-weather meal, you should definitely give this easy turkey chili a try.
There is not much hands-on kitchen work that you need to do to make this delicious chili. In fact, once you have everything in the pot, you can walk away, sip some cocoa by the fire and come back in 30 minutes to a perfectly cooked meal (this is exactly what I did yesterday!)
To get the chili going, heat the olive oil and onions in a large Dutch oven and cook until the onions are nice and soft. Then, add the turkey and cook it until no longer pink.
I like to chop up the meat with a wooden spoon as it cooks so that the turkey pieces are nice and small. The seasonings are mixed into the cooked turkey, then the tomato sauce, chicken broth and canned beans are poured in.
Once the chili is boiling, your work is done! Just 30-45 minutes of low simmering and your winter dinner is ready.
My recipe calls for a good amount of cumin, chili powder and cayenne. Everyone in my family enjoys a chili with a good, spicy kick to it, which is why I always add extra spices. A bland chili just will not do in our house! However, if you are not a huge fan of spice, feel free to cut back. You can cut the spice quantities in half then taste the chili after the 30 minutes of simmering. Add more spices at this point, making it perfect for your pallet.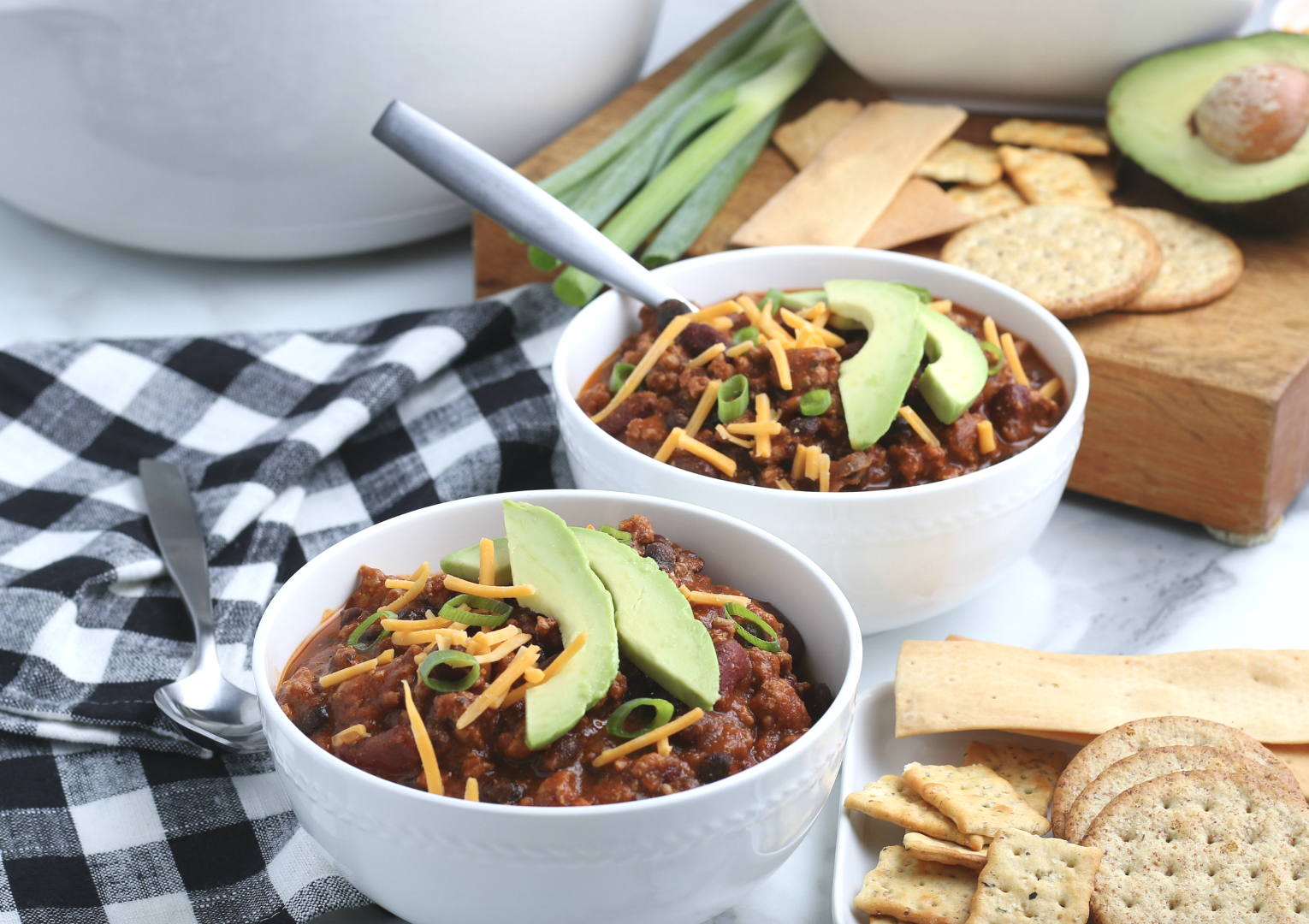 If you want to make this recipe even easier, you can try making it in your slow cooker or crockpot. Brown the turkey and onions in the oil in a sauté pan over high heat. Once the veggies and meat have a nice caramel color, place them in the bowl of the slow cooker. Toss all of the ingredients, except the canned beans, into the slow cooker along with the browned turkey. Cook on low for 6 hours then stir in the beans. Cook for another hour and then your turkey chili is ready!
Serve this turkey chili on top of rice, over egg noodles or with a few tortilla scoop chips on the side. Of course, eating it straight out of a bowl with a spoon is delicious as well! No matter how you serve your turkey chili, it is going to make a perfect, winter recipe that you will use all year long. It is already on the menu for next week at my house! And once the kids go back to school and our hectic schedules resume, I will definitely be needing easy, tasty recipes to please the whole family.
Let me know how you like this turkey chili. I hope it keeps you warm!
Enjoy!
Print
Easy Turkey Chili
---
Author:

Prep Time:

5-10 minutes

Cook Time:

45-50 minutes

Total Time:

35 minute

Yield:

4

servings

1

x
2 tablespoons olive oil
1 pound turkey, ground or shredded
½ cup yellow onion, chopped
3 cloves (1 tablespoon) garlic, minced
1 (15oz) can tomato sauce
2 cups chicken broth
1 teaspoon cumin
1 tablespoon chili powder
½ teaspoon cayenne pepper
½ teaspoon oregano
salt and pepper to taste
1 (15oz) can black beans, drained
1 (15oz) can kidney beans, drained
---
Instructions
In a large pot or dutch oven over medium high heat, heat oil.
Add onions and cook for about 5 minutes or until tender.
Add in turkey and cook though, drain and return to pot.
Next add in garlic, cumin, chili powder, cayenne pepper, oregano, salt and pepper stir to incorporate
Add in tomato sauce, chicken broth, kidney beans and black beans.
Bring to a boil and then reduce heat to a simmer for 30-45 minutes
Adjust seasons as necessary.
Serve immediately.
Keywords: chili, turkey chili, winter recipe

You Might Also Like…