We live in the East Coast and the weather has been erratic on and off here this winter season. Just when we think the weather is becoming warmer one day, the temperature drops to below 30 degrees the next day. As a result, our bodies react to these unpredictable temperature changes which means, catching the dreaded cold and flu becomes unavoidable!

As a mom, nothing gets me more worried about these weather changes than seeing my kids getting hit with cold and flu. Instinctively, I become Dr. Mom and work instantly to find relief for my sick babies. The moment I see the signs and symptoms of cold and flu in them, I rely on fast, effective relief that I can depend on. In our house, we love Children's Advil. I love that in just one dose, my kids' fever is relieved faster or keeps it down longer (up to 8 hours!)
Our two younger boys (ages 7 and 8.5 years old) love the Children's Advil Grape flavor, although they come in other great-tasting flavors too: Bubble Gum, Blue Raspberry, Fruit and Dye-Free White Grape. If you have kids that like chewables, you can get the Grape Chewables and small tablets that are easy to swallow. For infants, they have the Advil Drops available in dye-free White Grape flavor.

I'm also happy to bring great news that recently, Pfizer Consumer Healthcare (makers of Childen's Advil) launched the Children's Advil® Feel Better Activity Center on the Children's Advil® Facebook page to help make our jobs as Dr. Moms a lot easier! The online "Feel Better" activity center provides fun and free activities, crafts and more to do with our kids while helping them feel better again! Your kids will surely enjoy playing and creating with such activities like playing pet doctor, making finger puppets, Sink or Swim experiment, making and decorating first-aid kits and more! Go here to learn more.
For more information on Children's Advil products that are appropriate for your kids, visit them online at: http://www.childrensadvil.com/

*Hip Mama's Place Disclosure: "My reviews and opinions are 100% my own and are based on my actual experience in using the products. I received Children's Advil® products and information by Pfizer Consumer Healthcare to help facilitate this post".
Don't miss out on the latest fab deals, cool freebies, fun giveaways, delicious recipes, DIY inspirations and more! Subscribe to the Hip Mama's Place email newsletter, Hip Mama's Place feed reader, or simply "Like" Hip Mama's Place on Facebook and/or follow Hip Mama's Place on Twitter!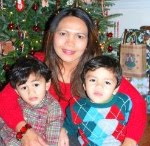 About the Author: Jocelyn Cañasa-Brown is a working mom of two boys and is a recognized blogger and mom influencer in the Washington, DC area. In her spare time, she designs and creates her own handmade jewelry, maintains her jewelry store on Etsy and is an active moms group organizer and leader both online and offline. Hip Mama's Place was nominated for Parents 2011 Best All-Around Mom Blog and named one of the Highest Rated Blogs and Sites on Nickelodeon ParentsConnect for the Washington, DC area. Follow Jocelyn on Twitter, Facebook and Pinterest.