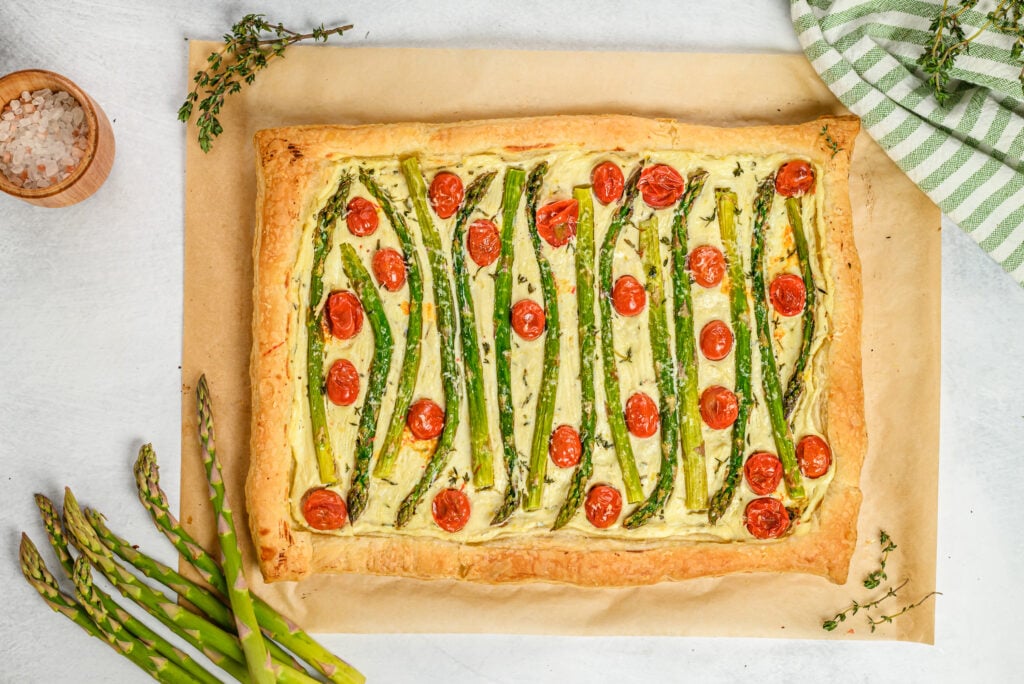 This delicious Asparagus and Tomato Tart recipe is perfect for breakfast or brunch. It's easy and quick to prepare and is always a hit!
Happy Wednesday, my friends! I'm so excited to share my newest breakfast (and brunch) recipe: Asparagus and Tomato Tart!
Does asparagus remind you of spring? Because the moment I see asparagus front and center in the grocery store, I know that spring really is here! Asparagus is one of the first spring veggies to poke through the cold soil. It is the first harvest for many backyard gardeners and fresh asparagus is oooh, so amazing! They're tender, incredibly flavorful and very easy to prepare and cook.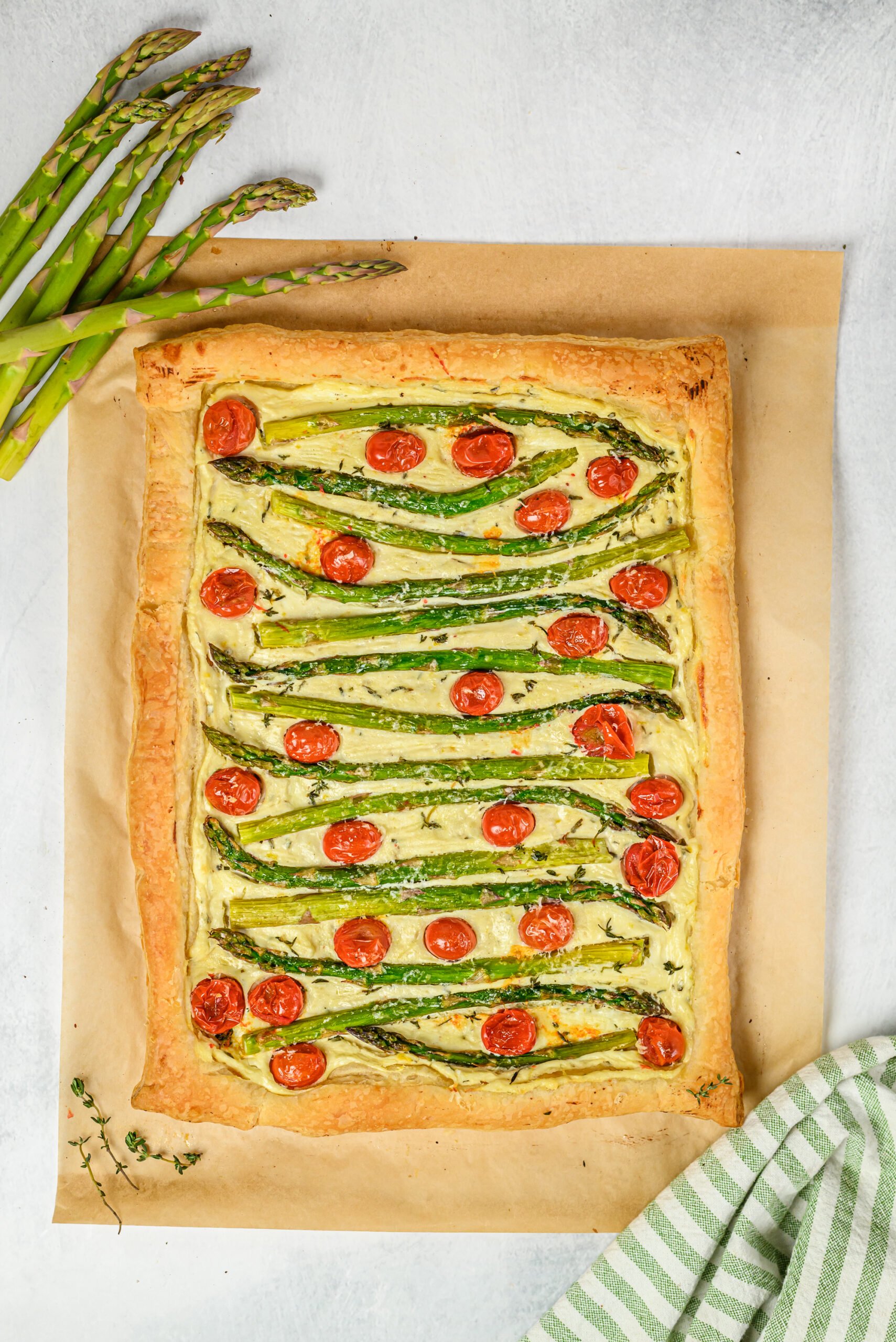 Asparagus actually stays in season for quite a while. If you grow asparagus, you can easily pick it through the middle of the summer. That means that asparagus season and tomato season overlap! That is quite convenient since the two veggies taste amazing together. In fact, the earthy flavors of asparagus and the bright, fresh taste of tomatoes is what inspired this asparagus tart recipe.
My asparagus tomato tart is very easy to make but looks like something right out of a magazine. The bright green asparagus, deep red tomatoes and crispy puff pastry tart are just perfect. So, grab a baking sheet, some parchment paper, a medium bowl, a spatula and a rolling pin and let's get baking!
HOW TO MAKE ASPARAGUS AND TOMATO TART
What you will need to make this asparagus tomato tart:
sheet of puff pastry
ricotta cheese
goat cheese
egg
garlic
lemon
dried tarragon
fresh asparagus
cherry tomatoes
olive oil
fresh thyme
Romano or Parmesan cheese
salt and pepper
Begin by lining your baking sheet with parchment paper and preheating your oven to 400 degrees F. Mix together the ricotta, goat cheese, egg, garlic, lemon and spices.
Roll the puff pastry dough out on a floured surface so that it is about 10×13 inches. This is a rough measurement but this size works well for this recipe. Spread the cheese over the pastry, keeping it in the center of the puff pastry tart dough.
Carefully place the asparagus spears and tomatoes on top of the cheesy center of the tart. Line them up in a pretty, careful way to ensure your vegetable tart looks perfect. The asparagus and tomatoes won't move when they bake so wherever you place them on the puff pastry is where they will stay!
Brush the pretty spring vegetables with the olive oil, a little salt and pepper and some Romano cheese. Pop the puff pastry tart into the oven to bake and then sit back and relax while the prettiest, most flavorful, spring tart bake to golden perfection!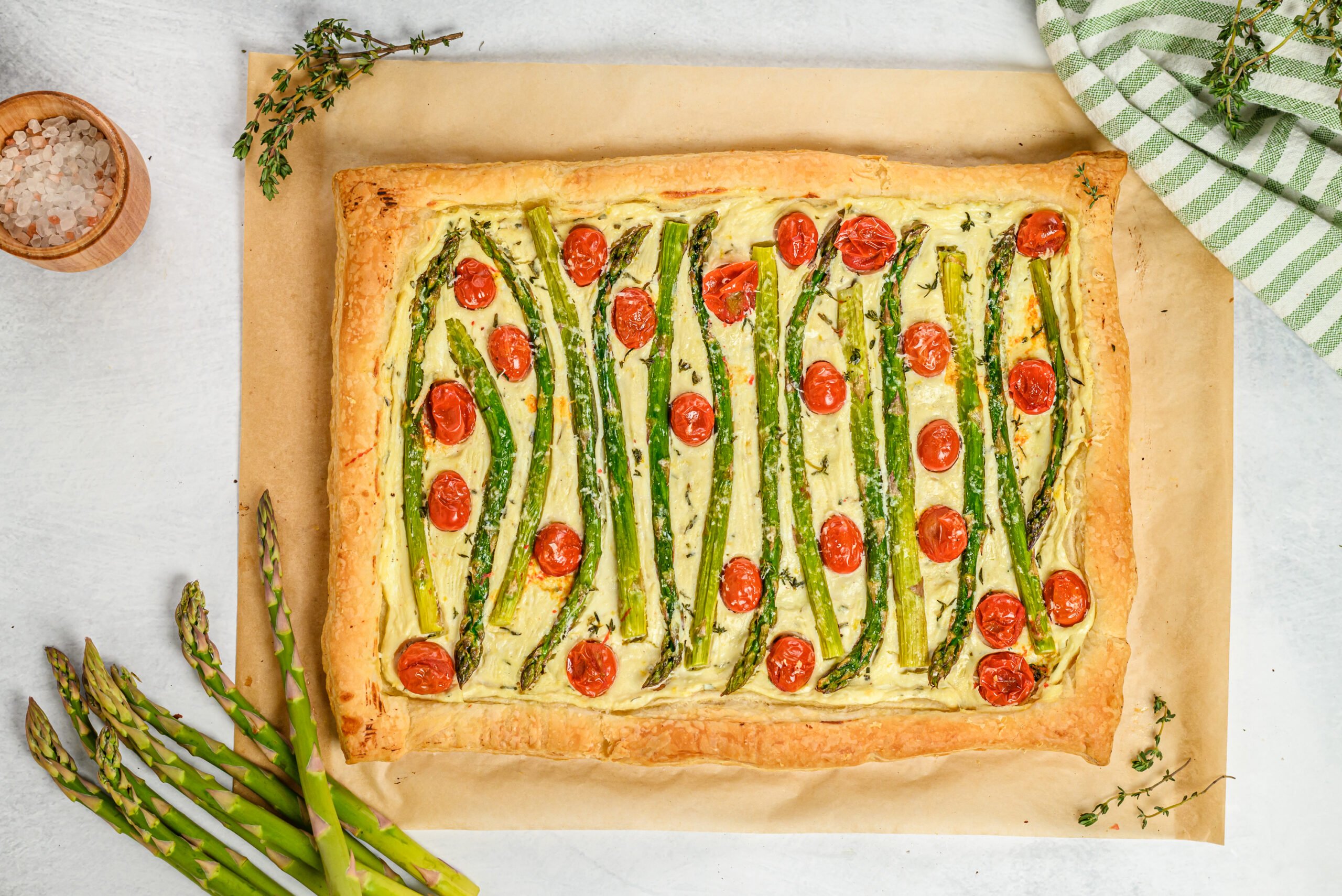 The finished asparagus and tomato tart just looks so good and it's so hard to resist eating it right away… AND A LOT OF IT!
TIPS, TRICKS AND IDEAS FOR MAKING AND STORING ASPARAGUS AND TOMATO TART
HOW TO SERVE: I like this tart when served warm but many people also enjoy eating it chilled. It's completely up to you!
STORAGE: If you want to store the spring veggie tart, let it cool completely and then cover the tart in plastic wrap. The tart will keep in the fridge for about 2-3 days.
REHEATING: Reheat it in the toaster oven or enjoy it right out of the fridge! A slice of tomato tart with puff pastry and asparagus makes a wonderful lunch, appetizer or healthy snack.
VARIATIONS: If you are looking to use other spring veggies you may have on hand, this tomato tart can be turned into a totally different spring vegetable recipe with just a few tweaks.
Veggies:
Add a few baby spinach leaves on top of the tart or place a few thinly sliced pieces of eggplant under the asparagus.
Chopped leaks or sliced onion would also taste fantastic on this tomato tart.
Some other spring and summertime vegetables that would go well on a tart include zucchini, red pepper (or any bell pepper), sweet potato, yellow squash, and carrots. Combine any two or three of the above for a delicious spring or summer pastry treat!
Almost any veggie will be delicious and make the puff pastry tart unique and original to you. Get creative! And be sure to share any amazing ideas you may have. I am always looking for ways to freshen up my asparagus and tomato tart recipe!
Cheeses:
In place of the ricotta and goat cheeses, you could use fontina, gruyere, cream cheese, creme fraiche, or even Boursin cheese. For this recipe, I used Romano cheese to top it, which is a great substitute for Parmesan cheese and is usually less expensive.
So, if you're looking for amazing roasted asparagus recipes or unique asparagus recipes, you don't need to look any further than this asparagus and tomato tart recipe. It is one of my favorite spring recipes for sure. Grab an extra bunch of fresh asparagus the next time you're at the grocery store or head outside and pick some from your garden (if you're so lucky!). This breakfast tart captures the essence of spring and the excitement of summer. It's a show stopper for sure!
MORE BREAKFAST RECIPES TO TRY:
Print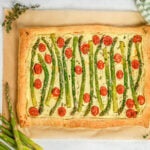 Asparagus and Tomato Tart
---
Author:

Prep Time:

12 minutes

Cook Time:

18 minutes

Total Time:

30 minutes

Yield:

8

servings

1

x
1 sheet puff pastry, thawed
1 cup ricotta cheese
4 ounces goat cheese, at room temperature
1 large egg
2 cloves garlic, minced
1 teaspoon lemon zest
1 teaspoon lemon juice
1 teaspoon dijon mustard
1 teaspoon dried tarragon
½ teaspoon salt
½ pound asparagus spears, ends trimmed
½ cup cherry tomatoes
Olive oil for brushing
1 tablespoon fresh thyme leaves, divided
2 tablespoons grated Romano cheese
Salt and fresh ground black pepper
---
Instructions
Preheat oven to 400°F. Line a baking sheet with parchment paper and set aside.
In a medium bowl, mix together the ricotta, goat cheese, egg, garlic, lemon zest, lemon juice, mustard, tarragon and salt.
Roll out the pastry sheet on a floured surface, into a 10×13" rectangle. Place on the lined baking sheet and lightly score a 1-inch border all the way around.
Spread the cheese mixture all over the pastry, inside the scored border. Lay asparagus spears on top. Place tomatoes evenly around. Brush the tops of asparagus and tomatoes with olive oil. Sprinkle half of the thyme all around the tart. Top with romano cheese.
Bake until pastry is puffed up around edges and is golden brown, about 15 to 18 minutes. Sprinkle with fresh ground pepper and salt and the remaining thyme leaves. Garnish with more grated Romano cheese if desired.
Keywords: asparagus tomato tart, asparagus tart, brunch, brunch recipes, breakfast recipes, easy recipes, quick recipes
LOVE THIS RECIPE? PIN IT FOR LATER!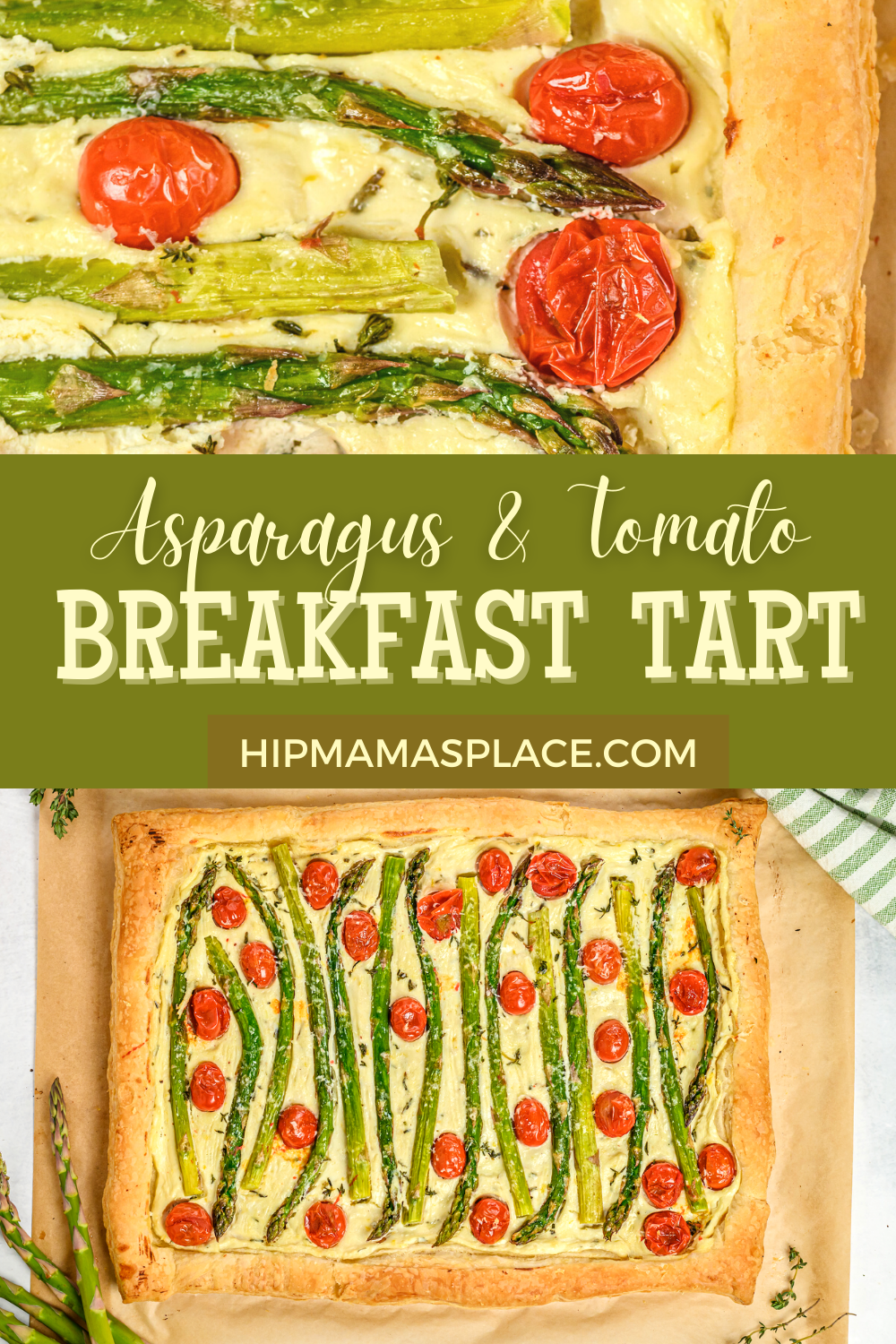 You Might Also Like…