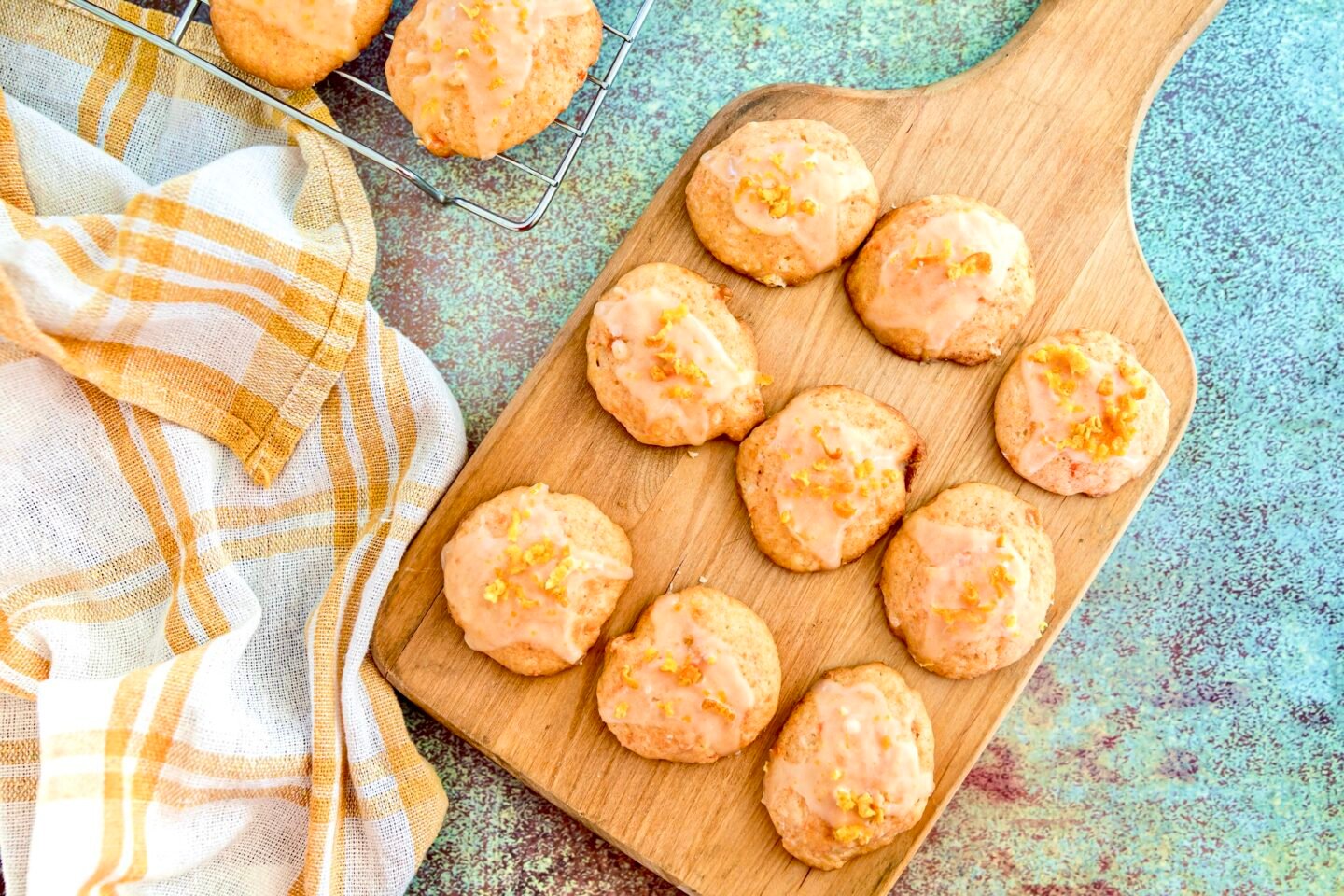 Easy and delicious orange carrot cookies are made with mashed carrots and then glazed with a delicious orange icing. Perfect as a springtime dessert or breakfast treat!
Most seasons have specific desserts or flavors associated with them. Fall is the season for pumpkin spice, winter is when chocolate and peppermint reign and anything light and fruity reminds me of summer. But what about spring? In my house, any kind of dessert with carrots in its ingredient list is a springtime dessert. Carrot cake, carrot muffins and this new recipe I'm sharing today for orange carrot cookies all scream of spring!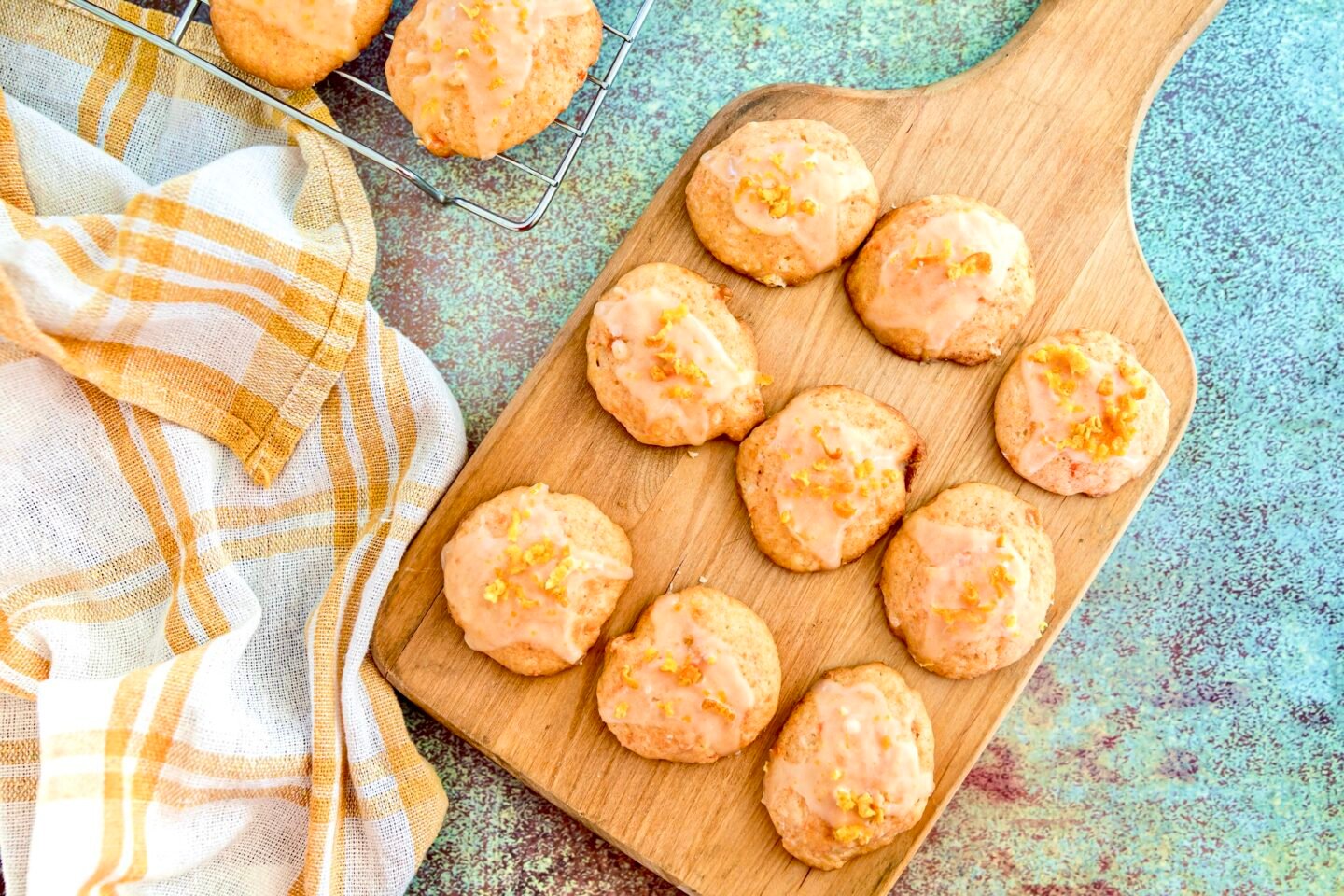 No matter the reason, when spring comes around, I start dreaming of carrot everything. That is how I ended up creating this orange carrot cookies recipe! Besides having a whole cup of shredded carrots baked into the cookies, these tiny morsels are also bright and zesty, just like the spring season!
After baking these easy orange carrot cookies recipe once, my family and I fell in love and they quickly became a springtime favorite. They have even become our new favorite Easter cookies too!
HOW TO MAKE ORANGE CARROT COOKIES
To make my orange cookies with orange glaze, I start by beating together shortening and sugar. You can opt to use butter in place of the shortening but I have found that the shortening makes the cookies stay soft and chewy for days after baking.
Shredded carrots, eggs, vanilla and fresh orange zest are added to the mixer and beat well. The batter will look a little wet and frothy at this point. Mix the batter slowly until it becomes smooth. It may take a few minutes of slow mixing to get the perfect texture.
Add the dry ingredients to the cookie batter and then, once mixed, scoop the cookie dough onto a flat cookie sheet and bake! The batter may be a little softer than your average cookie dough but that is exactly how it should be. It is actually easiest to drop the batter off from a spoon onto the tray rather than using a cookie scoop.
Only bake the cookies until they are just beginning to turn a golden brown. If they are too dark, the orange cookies get dry and crunchy. A light golden colored cookie will be tender and chewy. They will also stay fresh for longer, keeping that nice soft texture.
I make these delicious drop cookies topped with an orange glaze and orange zest. Some powdered sugar and orange juice mix together to become a flavorful, thin glaze that will coat the cooled cookies completely. The glaze also gives the cookies a little extra sweetness. However, you can skip the orange glaze if you want them more of a less sweet, breakfast cookies. All that carrot inside the cookie makes it perfect for breakfast! Orange cookies and a cup of hot coffee is one of my favorite ways to wake up in the spring!
There is so much to love about these perfect springtime orange carrot cookies! Orange and carrot makes a wonderful, vibrant flavor combination that mimics the bright spring weather. Shredded carrot is a springtime hallmark dessert ingredient and there is plenty of that in every single cookie! The recipe is also just so easy to make that you can bake these orange carrot cookies in a matter of minutes. That's why I end up making them so often!
If you are looking for new Easter desserts or just an exciting springtime favorite, my carrot cookies recipe is the one you need to try. The sweet orange icing and the velvety texture of the cookies is something that you are sure to love. I know that my family looks forward to these every year, just as much as they crave the warm spring weather.
Give these orange cookies a try and let me know what you think. Are you now hooked on breakfast cookies? Did you serve a big platter of orange sugar cookies for Easter? Did you have to make a triple batch just to have enough?! I'd love to hear all about your cookie making experience! Enjoy!
LOVE THIS RECIPE? PIN IT FOR LATER!
Print
Glazed Orange Carrot Cookies Recipe
---
Description
Easy and delicious orange carrot cookies are made with mashed carrots and then glazed with a delicious orange icing. Perfect as a springtime dessert or breakfast treat!
---
Ingredients:
2/3 cup shortening or softened butter
3/4 cup sugar
1 cup carrots, cooked and mashed
1 egg
1 teaspoon vanilla 
1 teaspoon orange zest
2 cups all-purpose flour
1/4 teaspoon salt
2 teaspoons baking powder
Glaze:
1/4 cup hot orange juice
2 cups powdered sugar
zest of 1 large or 2 small oranges, less 1 teaspoon used in cookie dough.
---
Instructions
Preheat oven to 350 degrees F.

With a mixer, beat shortening and sugar until crumbly.

Add carrots, egg, vanilla and orange zest to sugar mixture and

beat until well mixed.

Sift flour, salt and baking powder and gradually add to dough,

mixing well.

Drop by spoonfuls onto cookie sheet.

Bake 15 minutes until golden.

Make glaze while cookies are cooling by combining hot orange

juice and powdered sugar.  Stir until all lumps are smooth,

then stir in zest.

Drizzle glaze on top of cooled cookies.

Optional: lightly sprinkle with additional orange zest for garnish.
You Might Also Like…