These Air Fryer Chicken Wings are the best crispy chicken with simple spices, so quick to prep and are ready to serve in only 20 minutes!
As a busy mom, I absolutely love easy recipes. Yes, I love to cook and feed my family delicious meals but I also don't always have the time to prepare a three-course dinner. I bet that a lot of you feel the same way! Well, I know just the perfect recipe and I want to share it with you today: my easy air fryer chicken wings!
One kitchen appliance I have that I absolutely love is my air fryer. I got it for myself last year and instantly fell in love with it. It is seriously one kitchen appliance you need to have if you want to cook fast, tasty meals.
I've made many recipes using my air fryer but the most requested recipe from my family is my air fryer chicken wings. They all love the crispy outside, the perfect blend of spices and the fact that I can whip them up in just a few minutes. My chicken wings recipe tastes like something right off of a restaurant menu. No need to order take out chicken wings when you have an air fryer .. and you only need a few ingredients to make these chicken wing air fryer recipe!
How to Make Easy Air Fryer Chicken Wings
How do I make these incredible, almost magical air fryer wings? Simple.
Start by drying the chicken wings with a paper towel. The seasonings will stick better when the chicken is dry. If you are using frozen chicken wings, be sure to thaw them completely and then pat them dry once they have defrosted. Frozen chicken wings work well for this recipe but do need to be completely thawed in order to cook evenly.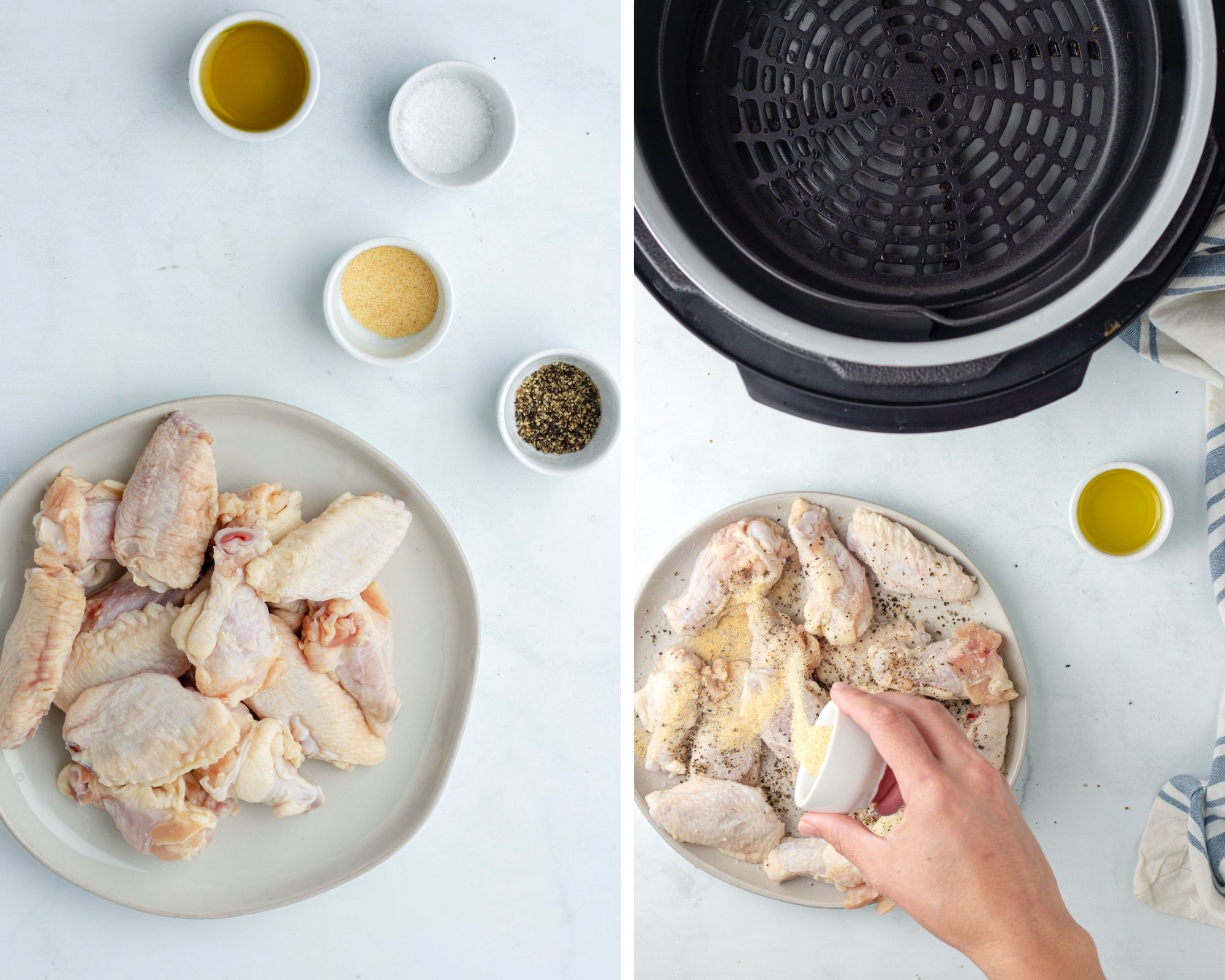 Once the wings have dried, sprinkle them with garlic powder, salt and pepper. I like to keep my seasonings simple and everyone in my family loves this blend. However, feel free to add other spices to suit your taste. You could add some onion powder, cayenne pepper or even some powdered ranch dressing mix. My air fryer chicken wings recipe is very flexible!
Once the wings are seasoned, toss them with a tiny bit of oil and place them on the air fryer tray. You do not need to use very much oil to make these chicken wings and that is one of the highlights of using an air fryer- not a lot of oil or fat but you still get that crispy chicken you are craving.
I like to cook my air fryer chicken wings recipe in two batches. This ensures that they get super crispy. If you pack too many wings into the air fryer, the hot air won't be able to circulate as well and some of your wings may not crisp nicely. Take the extra time to cook in batches and you will be happy that you did!
I have the Ninja Foodi Pro which has a crisper tray. I lay the wings in a single layer on the tray, spacing them out a little for maximum air flow. The Ninja Foodi is automatically set to air fry at 400 degrees F and this temperature works perfectly for my chicken wings recipe. The wings are nice and crisp after about 20 minutes in the Ninja Foodi.
I like to flip them halfway through just to get an even crunch all around the wings. Depending on your air fryer, you may not need to flip but for the Ninja Foodi, this method works well. This is seriously my favorite kitchen appliance! Did I mention you can cook an entire chicken in it?! But today, we will focus on the chicken wings.
One your beautiful air fryer chicken wings are done, you can eat them right away- no sauce is needed! They are incredibly flavorful, thanks to the spices. However, you can choose to toss the wings in buffalo sauce, in some honey dressing or serve them with any of your favorite wing dips. The simple flavor gives you endless chicken wing sauce options!
With about 5 minutes of prep and 20 minutes of hands off cooking, you can have incredible, delicious air fryer wings on the table, ready to be devoured. I know that your family will love these air fryer wings as much as mine does. Just be warned, you will be getting many requests for these yummy wings in the air fryer recipe! No one can seem to get enough of them! Totally fine with me though as any easy recipe is one that I am happy to make.
Enjoy!
MORE YUMMY CHICKEN RECIPES TO TRY:
Print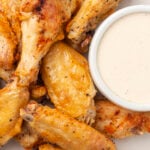 Easy Air Fryer Chicken Wings
---
Description
These Air Fryer Chicken Wings are the best crispy chicken with simple spices, so quick to prep and are ready to serve in only 20 minutes!
---
1 lb chicken wings
1/4 teaspoon garlic powder
1/4 teaspoon salt
1/4 teaspoon pepper
1 tbsp. cooking oil
---
Instructions
Pat your chicken dry with paper towels. Sprinkle the chicken with garlic powder, salt, and pepper. Place half of the chicken in your air fryer. Drizzle the olive oil over the chicken, making sure to turn the chicken to coat with oil evenly.
Turn the air fryer on to 400° for 20 minutes, making sure to turn halfway through at the 10-minute mark.
Toss the chicken with any of your favorite sauces, or enjoy!
You Might Also Like…