*This post was sponsored by Safeway. All views and opinions are mine.
Thanksgiving has always been a holiday my family looks forward to each year. The gathering with family and friends around a table laden with our favorite foods, we can't deny that Thanksgiving is one joyous occasion that deserves to be celebrated!
At the same time, the preparations and cooking can also get overwhelming.
Thankfully, we have some great tips and tricks as well as a few holiday recipes today — to make life easier during the happiest (and busiest!) time of the year, brought to you by Chef Jeff Anderson, Executive Chef of the Safeway Culinary Kitchens.
Here are Chef Jeff's tips and tricks:
Take inventory

: Before diving into cooking and baking this holiday season, check your pantry, refrigerator and freezer to make sure you have all the essentials.

Need to do some last minute shopping? No worries! Safeway can deliver your last minute needs in one-, two- or 4- hour windows with Grocery Delivery!
o PRO TIP: Keep extra flour and sugar in the pantry, stock up on an 18 count of Lucerne® Eggs, and store Lucerne® Butter in the freezer so you have it on hand to make last minute dishes for the parties you'll be attending or hosting!
Gather, Measure, Ready

: (Or in fancier terms, "Mise en Place") Before you begin baking your scrumptious treats, organize all of your ingredients, utensils, and baking materials. Use these simple steps to help you prepare and not waste any time in the kitchen:
Gather

: Pull together all of your ingredients.

Measure

: Before you get your hands dirty, pre-measure your dry ingredients such as flour, salt, dairy, spices, etc.

Ready

: Get your oven pre-heated before you started, so there is no waiting around
Get ahead of the game

: Have an early morning start? Prepare dishes that can be made ahead of time and freeze them until it's go time! As an example, freeze your

Pumpkin Chocolate Rolls

made with Lucerne® Pumpkin Flavored Cream Cheese and then pop into the oven just before guests arrive so they will smell the delicious aroma when they walk through the door!
o PRO TIP: Take the extra step, and prepare whipped cream to top off your desserts! Try out this recipe using just four ingredients including Lucerne® Heavy Whipping Cream. This is great for coffee drinks, kids' treats, adult beverages and more!
Dry run

: Read over your recipe a few days in advance. When menu planning, make notes, check your inventory, and think through everything you'll need to prepare the recipe.
If you have not been to the Safeway website lately, check out Safeway.com/Lucernedairy for some of the delightful recipes they offer.. These recipes were developed by Chef Jeff Anderson and are not only delicious, but are also affordable and simple to prepare for today's busy families!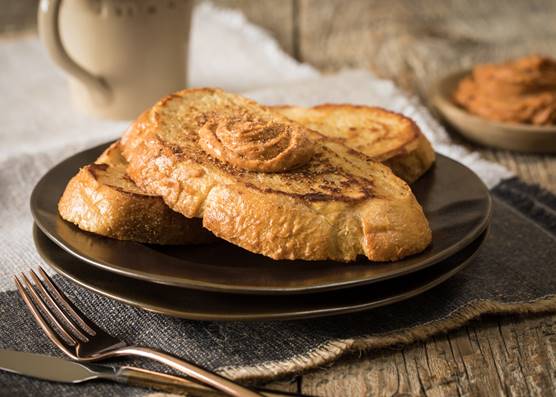 Kids will love the Cream Cheese Topped French Toast with Pumpkin Spiced Cream Cheese for a delicious holiday breakfast treat!
[amd-yrecipe-recipe:13]
Chef Jeff uses a wide variety of quality, affordable products from Lucerne® Dairy Farms, available exclusively at Safeway stores.
You can find these delicious recipes and more at Safeway.com/Lucernedairy and shop for all the essential Lucerne® products at your local Washington D.C Safeway stores.