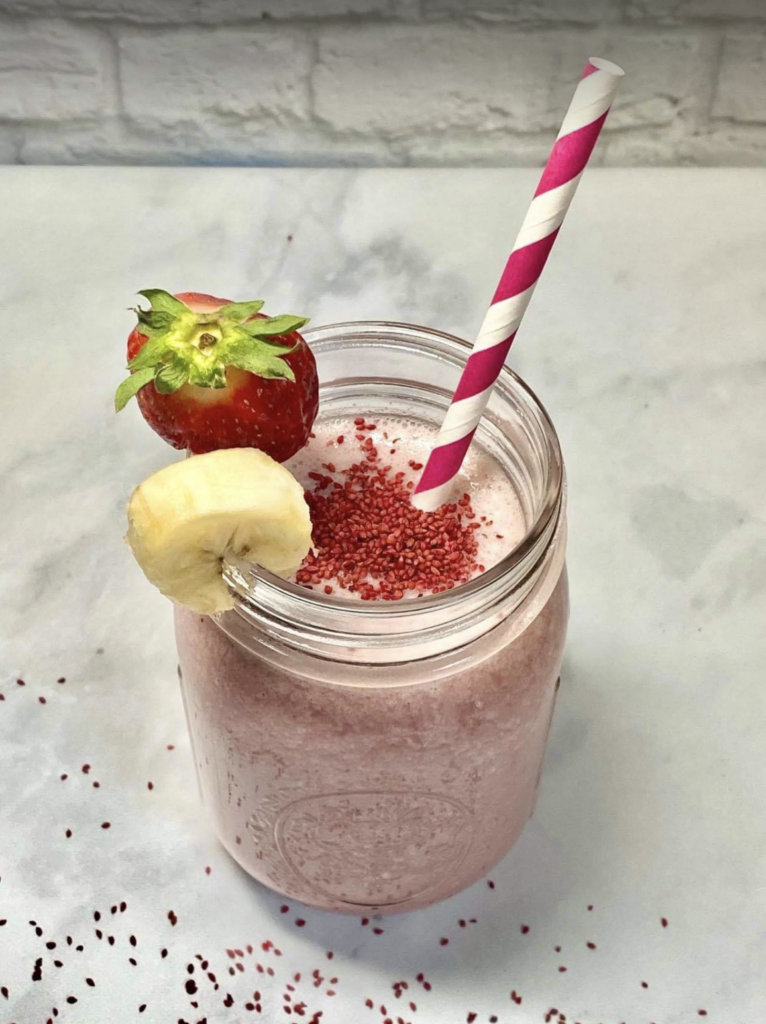 This strawberry banana smoothie with cranberry seeds is delicious, healthy and lightly sweet perfect for breakfast or as a pre-workout drink!
This post is sponsored by BabbleBoxx on behalf of Ocean Spray. All views and text are my own.
Did you set any goals for 2021? I did and now that we are one month into the new year, I have been thinking about ways to stick to my goals.
One of my major goals for 2021 is to live a healthier life. I have been trying to exercise more and eat a more nutritious diet. I know a lot of you may have the same kinds of aspirations – we need to stick together to make sure we meet these goals!
One thing I have been doing recently is adding what I like to call "nutrition boosters" to my foods. These are ingredients that I can add to recipes to make them healthier without altering the food too much. Sprinkling high protein hemp seeds on a salad or blending fiber rich ground flaxseeds into a smoothie are two examples of things I do all the time. These little additions give my body some bonus nutrition that I need.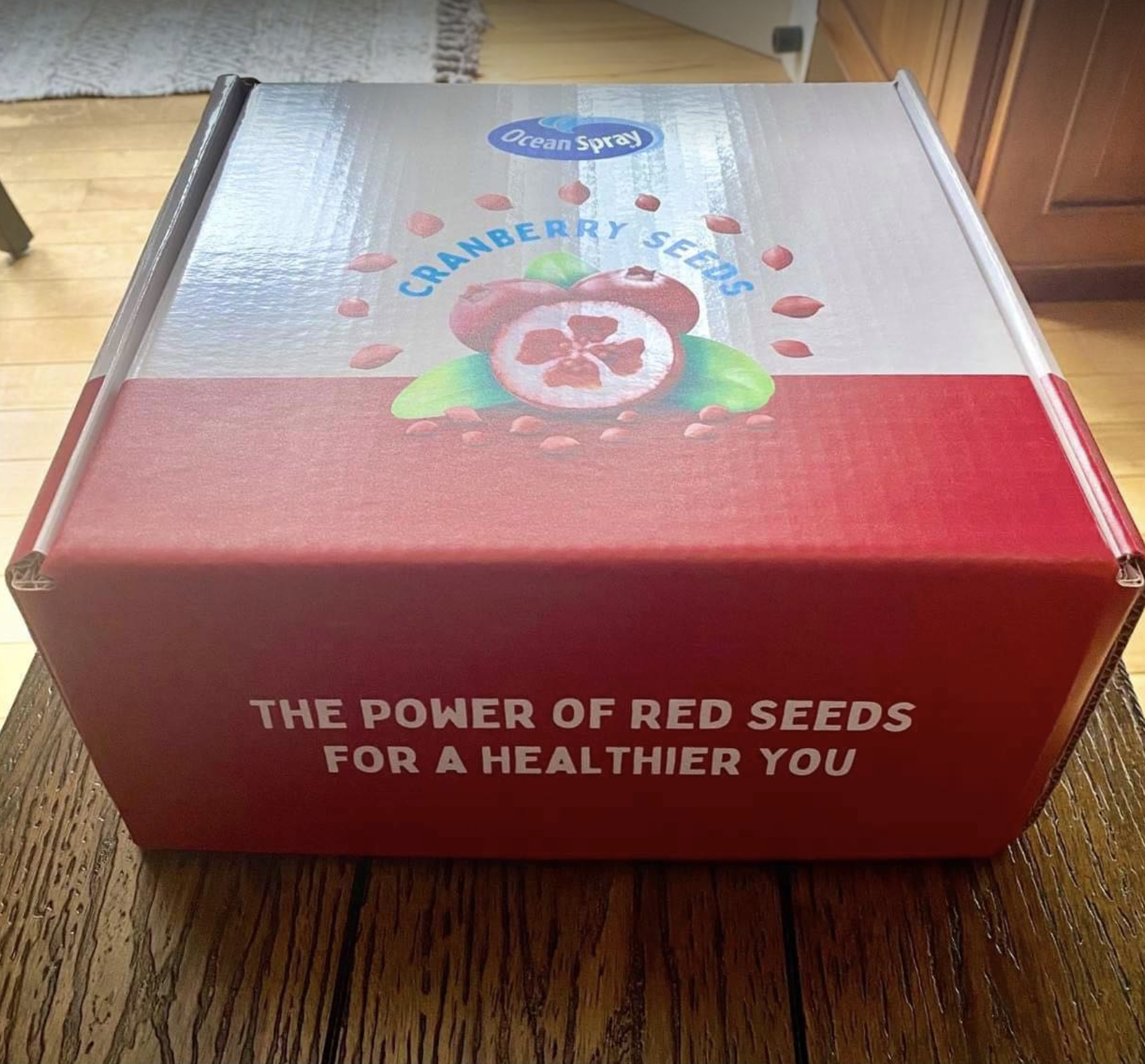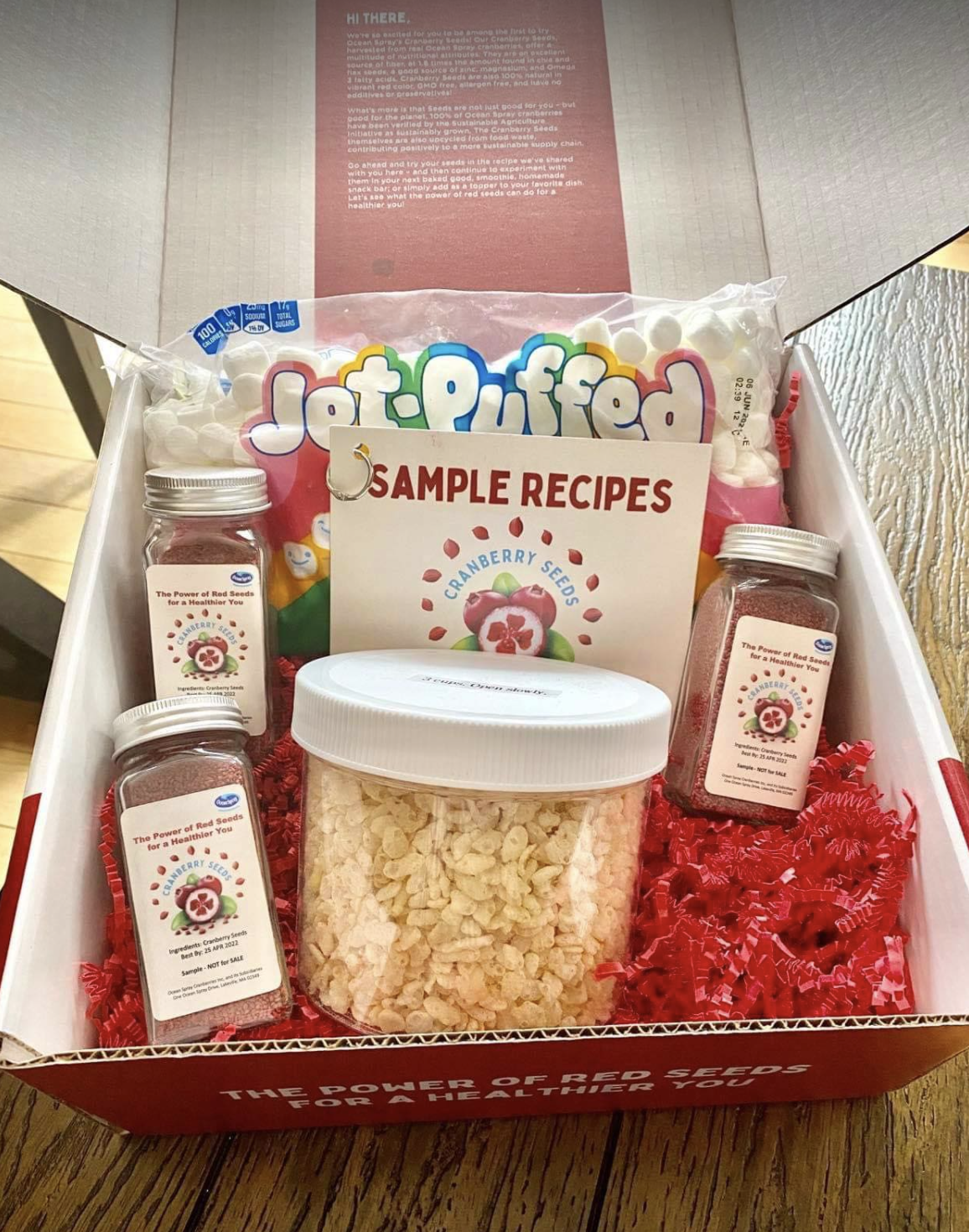 One nutrition booster that I recently discovered is cranberry seeds and I am so excited to collaborate with Ocean Spray and show you how great cranberry seeds are. Cranberry seeds are an upcycled, clean label product that is harvested from sustainably grown cranberries. The tiny red seeds have a neutral flavor but are incredibly nutritious. They are an excellent source of fiber (even more than found in chia seeds or flaxseed!), a good source of zinc and magnesium and they are full of Omega-3 fatty acids. Ocean Spray cranberry seeds are GMO free, allergen free and have no additives or preservatives.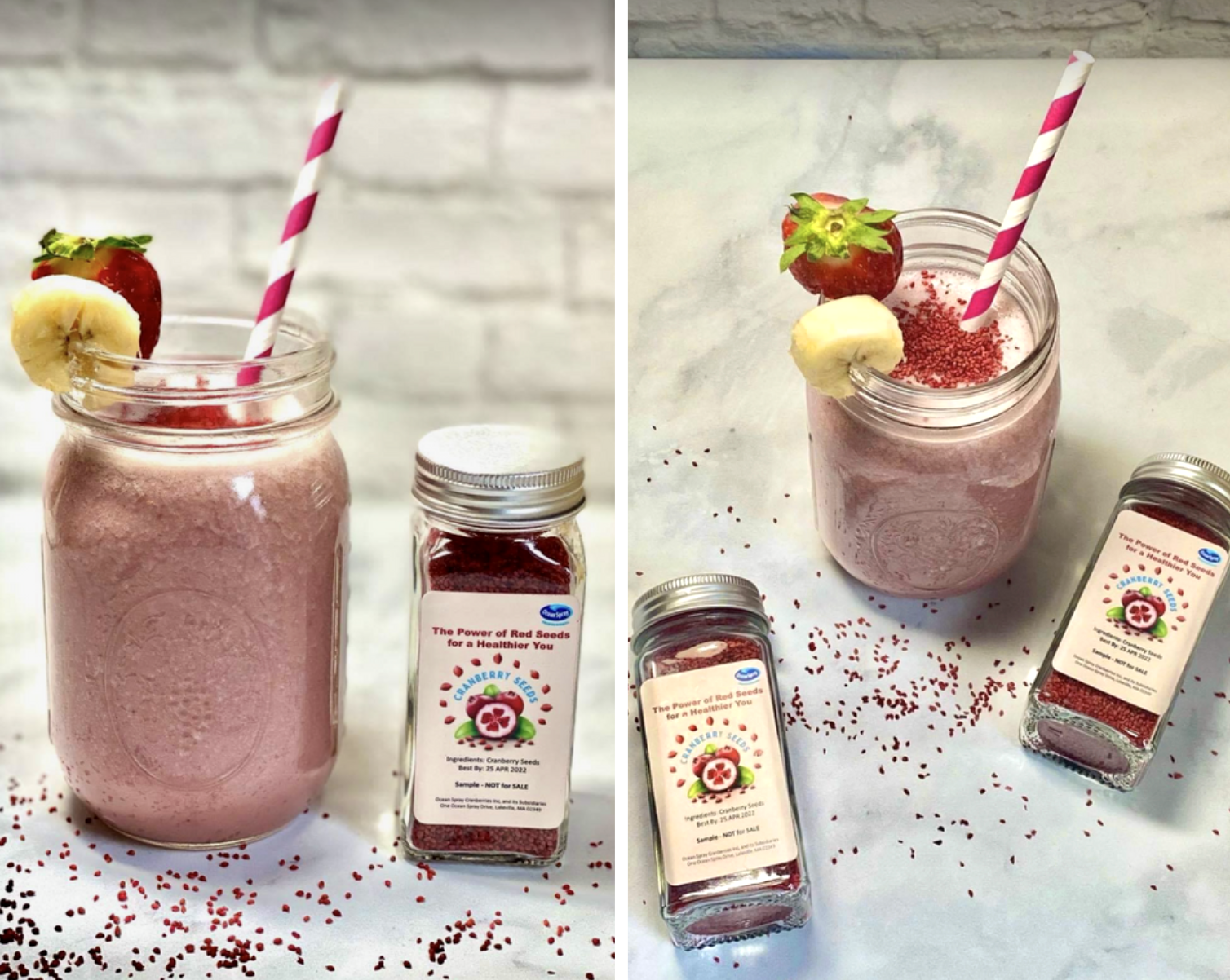 So.. what does all that nutritional information mean toward reaching your new years goals?? To start, it means that adding cranberry seeds can help support your digestive health and your immunity. I know we could all use a little immune booster right about now! Cranberry seeds may also support hearth health and maintain your brain health too. The health benefits of seeds is pretty impressive!
Besides being amazingly beneficial to your health, Ocean Spray cranberry seeds are upcycled. This means they come from cranberries that are not perfect enough to sell as a whole berry, but still perfectly good to eat. Since the seeds come from "food waste", making cranberry seeds helps contribute to a more sustainable food chain. Ocean Spray farmers also practice regenerative farming which supports the health and conservation of natural resources. Could this new ingredient get any better?!
HOW TO MAKE STRAWBERRY BANANA SMOOTHIE WITH CRANBERRY SEEEDS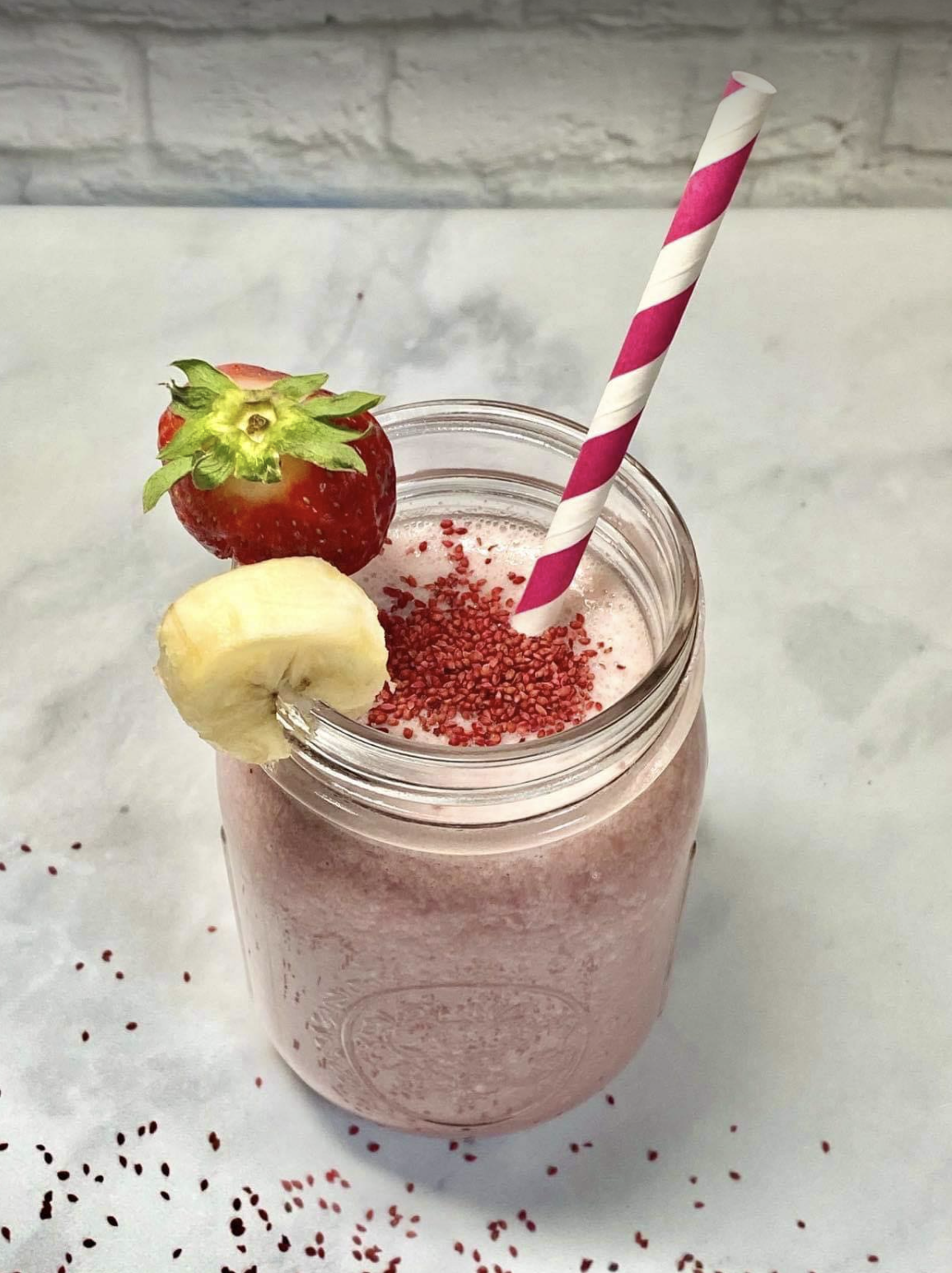 If you are dying to give cranberry seeds a try, you can start by making my Strawberry Banana smoothie recipe with Ocean Spray® Cranberry Seeds. It's a healthy, refreshing, lightly sweet and delicious smoothie perfect for a lighter breakfast or pre-workout drink! All the power of cranberry seeds is mixed right into the glass giving you a healthy and delicious drink. I like to make this strawberry banana smoothie with cranberry seeds for breakfast and also as a pre-workout drink or mid-day snack. One sip and I instantly feel good knowing that I am sticking to my health goals for the year and giving my body the nutrients it needs.
If you are like me and trying to be a healthier version of yourself in 2021, cranberry seeds are definitely something you need in your cabinet. They are easy to use, can be sprinkled on almost anything and they are incredibly healthy. All in all, these tiny red seeds are a power-packed ingredient that you are going to love using!
Let me know how you use your cranberry seeds and share any fun recipes you may have. I want to try them all!
Print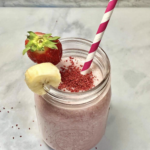 Strawberry Banana Smoothie with Ocean Spray Cranberry Seeds
---
2 cup

s frozen strawberries

1

 fresh banana, peeled

1 cup

 milk (I used almond milk)

1 cup

 ice

1 tbsp

Ocean Spray Cranberry Seeds

1 tbsp

agave syrup or sweetener of your choice (optional)
---
Instructions
In a blender, combine the frozen strawberries, banana, ice, milk and sweetener. Blend until smooth.
Add cranberry seeds to blender and blend on the lowest speed just until mixed.
Pour into glass, add straw and serve immediately.