This post was sponsored by Bonne Maman. All views and opinions are mine.
Happy Wednesday, my dearest friends! I'm so excited about today's recipe. It's a new take on a chicken dish that's packed with flavor and is perfect if you're wanting to freshen up your family's dinner menu!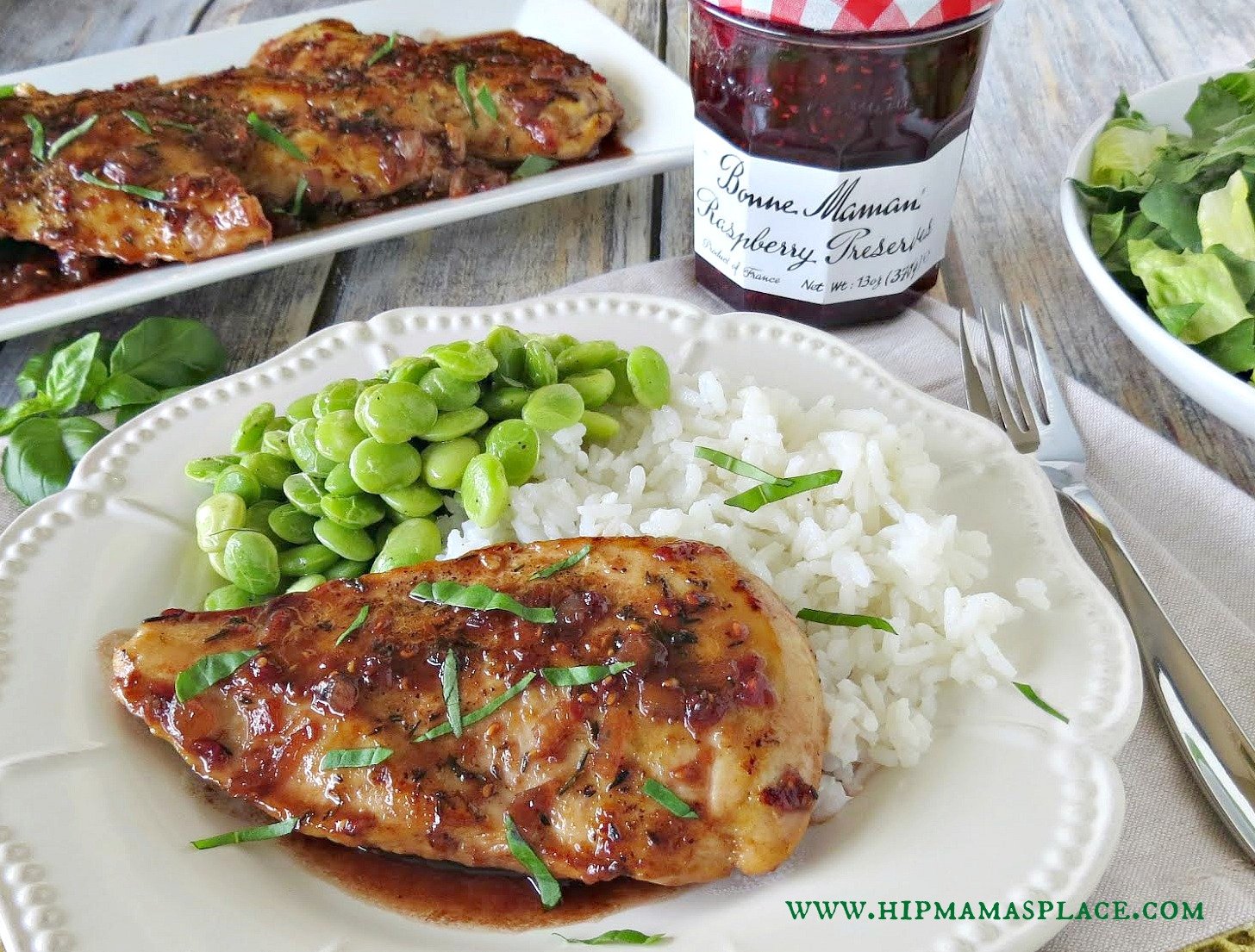 You'll be pleasantly surprised how quick and easy this recipe is. The sweetness of the raspberry preserves combined with the tartness of the balsamic vinegar and freshness of the basil is pure perfection! Not only is it quick, easy, and delicious, but the colors are gorgeous too! We like to serve this dish alongside steamed rice and a vegetable with lots of fresh basil sprinkled on top!
Raspberry-Balsamic Glazed Chicken
Print
Raspberry Balsamic Glazed Chicken
---
Description
Easy, quick, yet elegant in appearance, this delicious dish takes chicken to a whole new level!
---
1 tsp

olive oil

4

chicken breast cutlets (

2

full breasts)

1/2 tsp

dried thyme

1/4 tsp

salt

1/4 tsp

pepper

1/2 cup

chopped onions

1/3 cup

Bonne Maman Raspberry Preserves

2

balsamic vinegar

1/3 cup

water
---
Instructions
Sprinkle both sides of the chicken with the salt, pepper, and thyme.
Place a large skillet on the stove over medium-high heat.
Carefully lay the chicken pieces in the pan, and sprinkle the onions around it.
Cook the chicken for 3 minutes on the first side, and turn it over.
Cook for 3 minutes on the second side, turn the heat down to medium-low and add the Bonne Maman Raspberry Preserves.
Pour in the balsamic vinegar and the water, and use a spoon to blend the preserves into the sauce.
Turn the heat down to low, cover the pan, and simmer for 2 minutes or until the sauce has slightly thickened.
To serve, arrange the chicken on a platter, drizzle the sauce over it, and sprinkle with some sliced basil.
Notes
To make your life a little easier, you can buy your chicken cutlets already sliced, or ask the people that work at the meat counter to do it for you. Since cutlets are very thin, this only cooks for about 8 minutes to keep the chicken nice and moist. Ours were about 1/4" thick. If yours are thicker, just be sure to cook the chciken until it reaches 165°F.

When adding the preserves to the chicken, I like to use a spoon and place small spoonfuls all around the pan. This just helps it incorporate into the sauce more easily.
Bonne Maman Mother's Day Sweepstakes
Just a few years ago, I was introduced by a friend to Bonne Maman preserves and jellies. I'm in love with their products, so I'm so thrilled to be able to partner with them to create this delicious dish using the Bonne Maman Raspberry Preserves!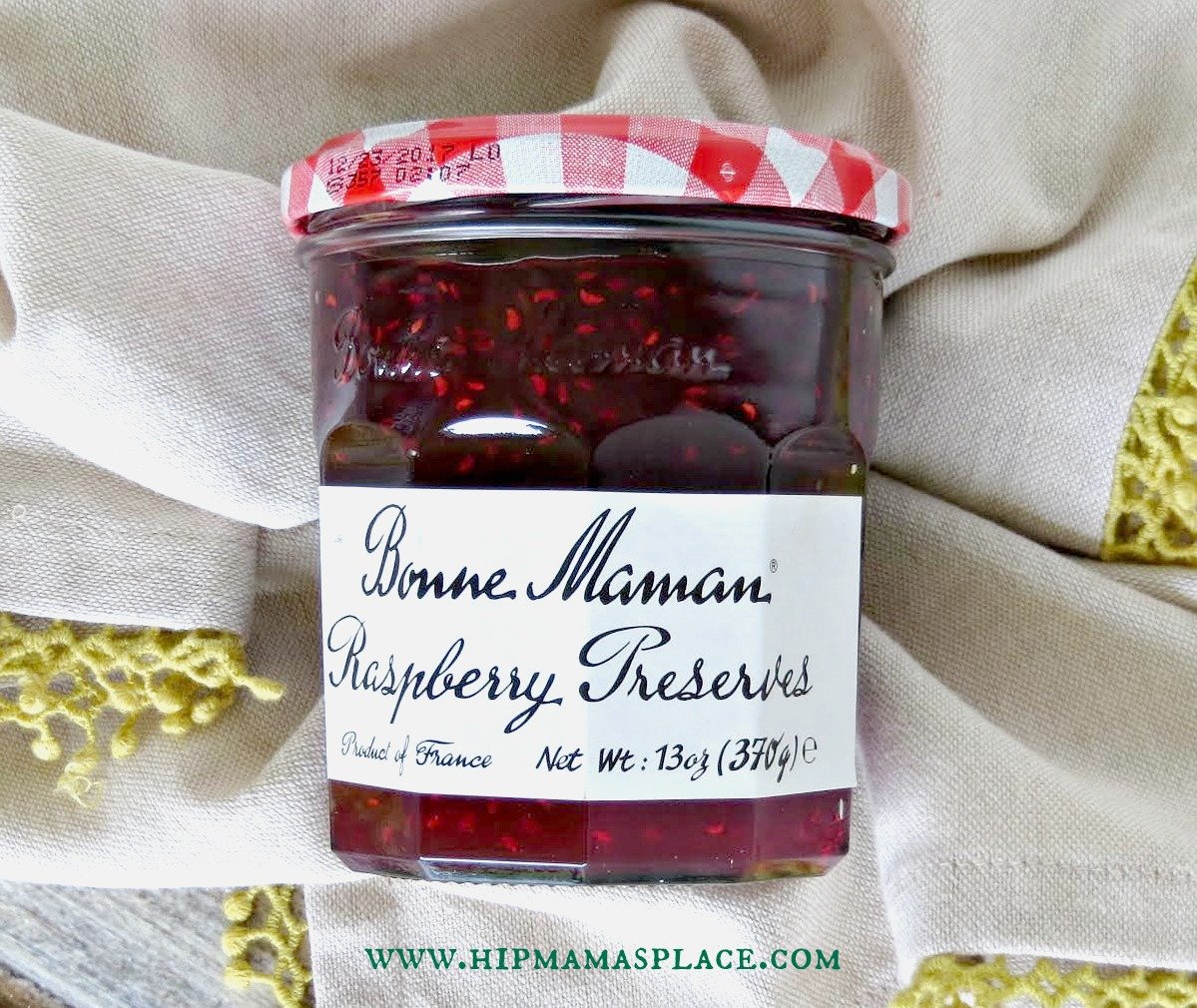 I'm also really excited to share about Bonne Maman's Share the Love sweepstakes to you all! In honor of Mother's Day and now in its second year, the sweepstakes seeks to honor and celebrate all that our moms do for us by offering her a chance to win a $4,500 day off. Now, how exciting is that??!
The Share the Love sweepstakes will run from April 1- October 31, 2016 and one grand-prize winner will win $4,500 from Bonne Maman to take a day off doing whatever she'd like! Also, when you enter the Share the Love sweepstakes, you'll be able to download a $2 off coupon to use towards your next Bonne Maman purchase! "Bonne Maman is built on a history of family traditions, love, and cherishing each moment. What better time to honor that history than Mother's Day? Did you know Bonne Maman means Granny or Grandmother?" said Sharon Sawyer, Sr. Marketing Manager for Bonne Maman. "Everyday moms are being pulled in a million directions and too often don't have a moment to take for themselves. The Share the Love campaign is our way to show our appreciation for all they do, and to provide an extra special moment for mom to enjoy."
To enter the sweepstakes and for more details on the full terms and conditions of the sweepstakes, please visit https://www.bonnemaman.us/bonne-maman-mothers-day-sweepstakes/.
About Bonne Maman
Bonne Maman is the fastest growing preserves brand in the U.S. and #3 selling brand of preserves in the US*. The brand provides consumers with products of the highest quality in the finest French culinary tradition. All Bonne Maman Preserves and Jellies are Non-GMO Project Verified. Bonne Maman produces 16 varieties of preserves from the original Strawberry to the newest flavor, Mango-Peach Preserves, plus 4 flavors of jelly. Bonne Maman Preserves, produced in France, are all-natural, no high fructose corn syrup, no artificial additives, and no preservatives added. Everything in Bonne Maman Preserves could easily be found in grandma's kitchen cabinet. To learn more about Bonne Maman, visit www.bonnemaman.us