This shop has been compensated by Collective Bias, Inc. and its advertiser. All opinions are mine alone. #allfreeclear #CollectiveBias
Simplify your life. It's a mantra from which we can all benefit. When it comes to household chores, I've mentioned before that I'm very big into finding ways to keep our household running smoothly! Anyway, we let our kids play pretty freely – they're kids, they should be allowed to climb, run, play hide and seek. That means tons of dirt, lots of grass stains and lots of potential for stains on our boys' clothing.
My Kids are #FreeToBe Kids
When it comes to parenting, we want our kids to have fun, but we also pride ourselves in teaching our children to be respectful, and that means knowing that after play is done, there is a need to look presentable. Clean clothes, free of stains, is definitely part of that, along with saying "please" and "thank you" and knowing a proper handshake. And let me just say, the all®free clear brand encourages and allows my kids be kids. You know why? The products let my kids "live free" from sensitive skin worries and I am "worry free" knowing that I'm using the #1 Recommended laundry detergent brand by dermatologists, allergists, and pediatricians for sensitive skin: all® free clear!
About all® free clear
all® free clear is 100% free of dyes and perfumes. This means no phthalate laden "smells" that last too long, giving some of our family members headaches. My nine year old son and I both suffer from mild eczema and we've been using all® free clear detergent for many years now since it was recommended to us by our family dermatologist. It's made for people with sensitive skin and for allergy sufferers in my family, it's our number one choice for laundry detergent!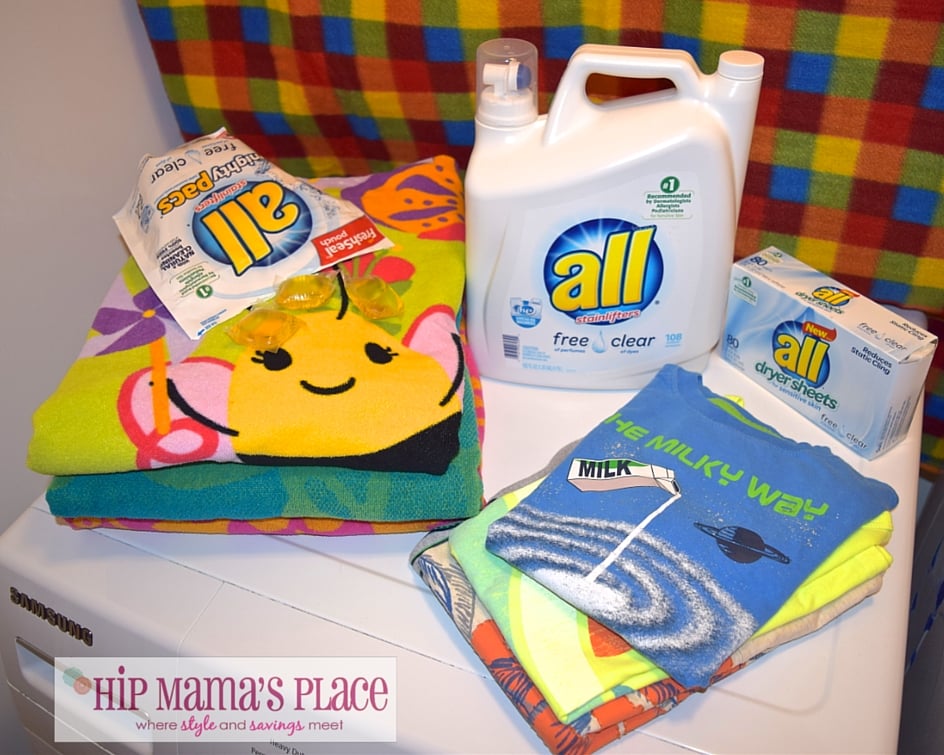 Other benefits of using all® free clear include:
Hypoallergenic
Clinically proven to be gentle on the skin
Actually removes up to 99% of allergens!
What does that really mean? It means if you're allergic to cats or dogs, and someone lends you their shirt, you can wash it and 99% of those allergens will be gone, which is awesome (especially if you have a family with hand me downs from cousins). Other allergens include: dust mites, ragweed, grass and tree pollen. But since using all® free clear we we are able to finally live free from the irritants and allergens that can get in the way of having fun!
My 7 Life-Saving Laundry Hacks
Since we are on the subject of simplifying life, I wanted to share my very own laundry hacks that I know you can use!
Yes, it is that dreaded day again when you notice the laundry piling up before your very eyes. If you are like me, it is just one of those chores that seems to be at the bottom of my list and also one that I can find many ways to procrastinate. But, what if there were some helpful laundry hacks that could make this daunting task one that is much easier to bare? Check them out below!
Start by sorting laundry throughout the week the easy way by using color coded baskets. One for darks, lights, and even a fun color for your kids.
I only recently discovered that by washing the adult and kids clothes separately, shaves off so much of the sorting time later.
When it comes to the land of the lost socks, try only buying the same brand of socks and either match them up easily or just toss them all together in a drawer. Another great idea for kids especially is to get them those mesh laundry bags for all their socks to wash and dry them in. No more lost socks.
I don't enjoy ironing so if I can avoid it, I definitely will. Just keep a batch of hangers near the dryer and remove clothes promptly and hang them up on the spot. An easy way to get all clothes to the right bedroom is carry those loads right to the room and fold and put them away.
It also helps to keep a laundry basket for the "must wash now" kind of clothes. For example, school and sports uniforms, work shirts, and any pre-treated stained items.
If you absolutely need to iron, start with a damp shirt. Try spritzing it with a little water.

It's always a good idea to make it a regular habit to clean your washing machine. Yes, clean it! Just use a mild cleaning solution and scrub the inside tub and get all the nooks and crannies around the lid area too. This goes for your dryer too. Give it a good cleaning and keep the lint trap emptied after each use.
With a simpler laundry routine, we gain time and have less stress. With a simplified life, things get even better. This is why I love that I can head into Sam's Club for so many of my every day purchases. Buying in bulk means I can make just a few trips each month for most of our necessities, which also saves time and money!
And with a little bit of pre-planning and organization, laundry day can seem less troublesome and tiring. all® free clear laundry detergent products make my life simpler and clearer for sure! I only want what's best for my family and I'm confident that by using laundry detergent products from all® free clear, not only will my family look and feel their best, we also live free from sensitive skin worries!
Note: all® free clear is not intended to treat or prevent allergies.
For new updates and special offers, follow all® free clear on their social media pages: