Tomorrow, Aprill 22, is Earth Day, so I'm so excited to write about this post and this easy DIY project to help promote recycling bathroom items and to celebrate Earth Day!
While we spend around a third of our lives sleeping, before and after sleeping we spend time in the bathroom. So, these little pit-stops are full of potential upcycling and recycling of projects. The Care To Recycle® program is a way to use product packaging in various projects and crafts.
Did you know? One-third of regular recyclers (34%) admit that it never even occurred to them to recycle in the bathroom! One way to remember to recycle personal care products in your bathroom is to have a recycling bin in your bathroom.
Recycle or upcycle?
Bathroom personal care product packaging is often recyclable. If your locale has recycling, did you know that you can first "upcycle" and then recycle? To make it worthwhile, minimize the use of glue and permanent items on the project to ensure that when you're done showcasing your project, you can still recycle the bottle or package.
When your shampoo or mouthwash is finished, you can often recycle the bottles. Have the box from your home wax it? Yes, that's paperboard that can be recycled too. But, first you can use the paper board for a barrier when your kiddo is using markers. Then, when the craft project is done, you can still recycle – and you didn't have to use clean paper for the "safety." To better understand which bathroom products can and cannot be recycled, visit CareToRecycle.com.
Be Creative!
When it comes to crafting, who doesn't remember toilet paper roll crafts? I think it is a summer camp and elementary art class requirement from the 80s and 90s. But, even today we have ways we can make use of items otherwise discarded.
Craft idea: DIY Pencil Case Holder using Empty Bottles of Aveeno Body Wash
Do you have those lotion tubes lying around? Since lotion tubes aren't currently recyclable in most areas, to prevent them from making their way to the landfill, re-use them in a project. Plastic body wash bottles actually make perfect hanging pencil holders!
Things you need for this project:
Empty lotion/shampoo bottles
Scissor
Knife/box cutter
Marker
Duck tape
Sandpaper or nail pile
Step 1:
Wash the empty bottles thoroughly and dry them out. Peel off the stickers if you need to, but it's not necessary. Then decide the height of the holder and mark the bottle with pencil.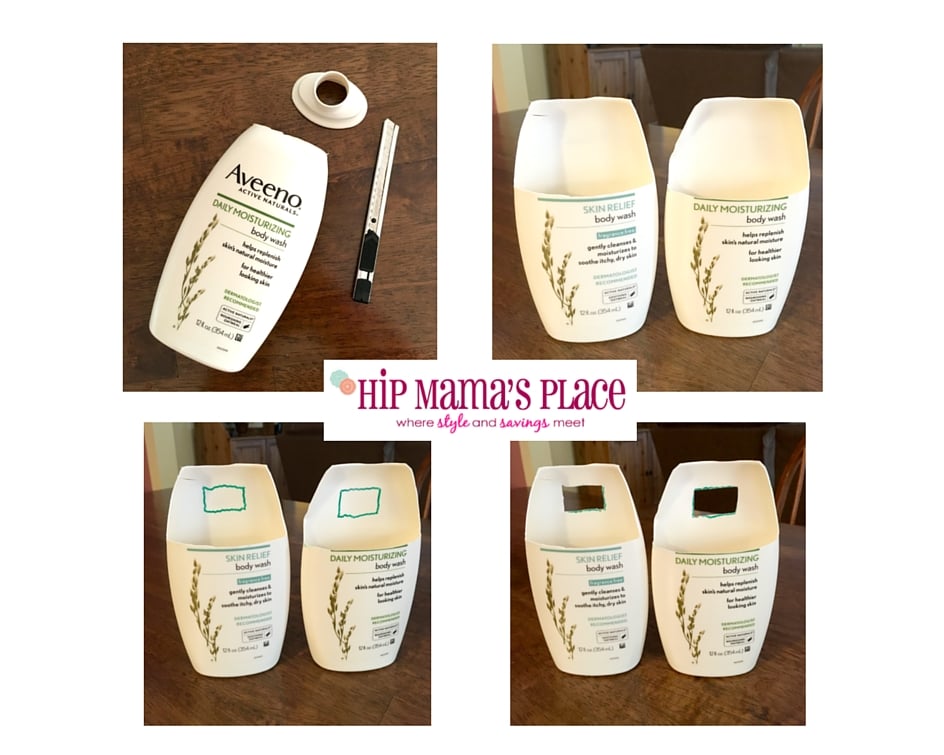 Step 2:
Using a sharp knife or box cutter, cut along the marked line and sand off the rough edges using nail pile or sand paper. Take extra care when handling sharp objects.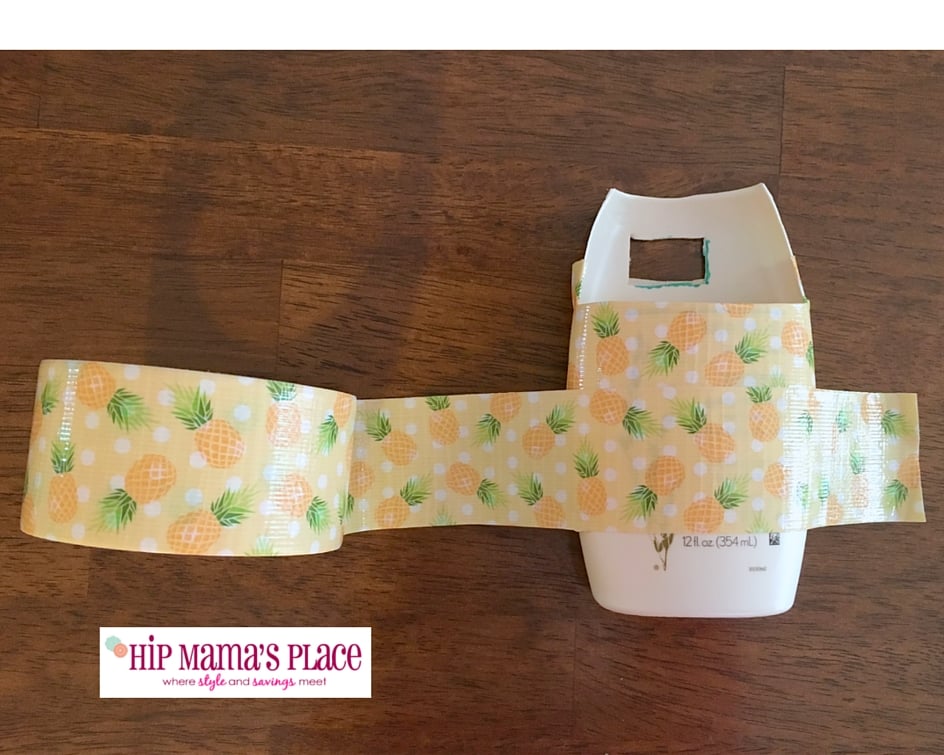 Step 3:
I used some leftover designer duct tapes I had from a previous craft project I was working on to decorate my bottles. You can also use acrylic paint in your favorite colors and/or embellish them with foam flowers. YOu can hang them with plastic hooks or if you like mine, I suspended them with a pretty and colorful piece of fabric and used two white thumbtacks to secure them.
I love how these DIY pencil holders turned out – perfect for my home office! My pens and pencils are now very organized and I've made a better space on my work table without the pencil holders on top of it. And they're are a cute addition to my decor too! I showed them to my sister and she said she would have never known they were from plastic bottles from bathroom items!
Decorating tip: Use shorter tubes/bottles for smaller things, and longer tubes/bottles for anything from makeup pencils to colored pencils!
Recycling FYI: Most #1 and #2 Plastics (PETE & HDPE) are the most commonly collected plastics in curbside and town programs. Check to see if your area recycles #5 plastics.
Projects ideas are endless! This Earth Month, consider what you can do to divert items from the landfills unnecessarily! Recycle or re-use, both are ways which you can do to make an impact. The more you know about what's recyclable, the more likely you are to do it.
For tips and tools to become a better recycler, visit www.caretorecycle.com.
I was selected for this opportunity as a member of Clever Girls and the content and opinions expressed here are all my own.