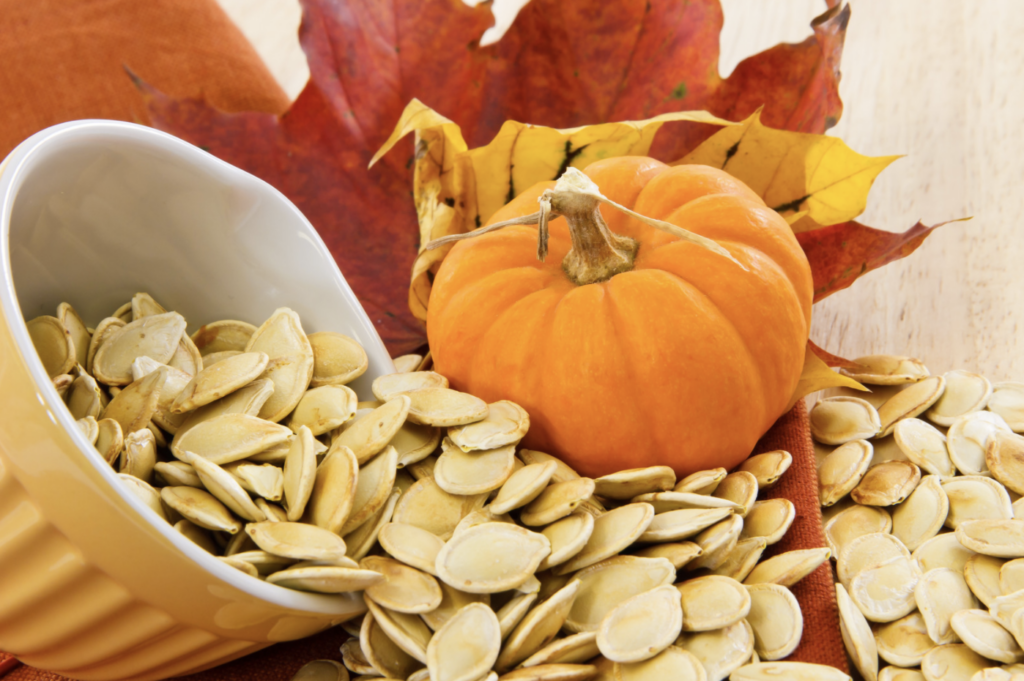 How well do you know about pumpkins? Here are 30 fun facts about pumpkins or pumpkin trivia to learn more about this Fall favorite fruit!
It's pumpkin season! Those pretty orange globes are popping up on doorsteps everywhere. But how much do you really know about pumpkins? Sure, you probably know that they are in season in the fall, they are typically orange and they are available in all different sizes but there are many other fun pumpkin facts that you may want to learn.
Here are my favorite 30 facts about pumpkins that will help prepare you for any pumpkin trivia night this fall!
1. Pumpkins can be huge
The typical pumpkin that you use for carving weighs around 12-18 pound However, the largest pumpkin ever grown was 2,582 pounds! It was grown in New Hampshire and the man who grew this massive gourd won $6,000 for his first place pumpkin.
2. Pumpkins are gourds
Pumpkins are actually classified as gourds. Other members of the gourd family include cucumbers, watermelons, zucchini and honeydew melons.

3. Pumpkins can grow in a lot of places
Pumpkins are native to Central America, Mexico specifically. However, they are now grown on 6 continents and most likely turning ripe right about now on a farm near you!
4. Pumpkins are old
Pumpkins have been around for at least the last 5000 years. Archeological evidence suggests that pumpkins have been cultivated since around 3500 BC making it one of the oldest known crops in the Western hemisphere.
5. Pumpkin was "pepon"
The word pumpkin came from the Greek word "pepon" which means "large melon". The French word for Pepon is "pompon" which American settlers morphed into pumpkin.

6. Lots of pumpkins!
The US produces about 1.3 billion pounds of pumpkins each year. Many of these become pumpkin puree or other food sources. Of course, a lot of those pumpkins will grace Thanksgiving tables across the country!
7. Pumpkins take time to grow
You may not be thinking about pumpkins in May, but if you want one to grow by October, you should start planting in the spring! Pumpkin seeds take about 90 to 120 days to grow so those plants need to start sprouting by June to have a perfect orange pumpkin in the fall.
8. The Pumpkin Capital
Morton, Illinois is the self-proclaimed pumpkin capital of the world. This is also the home of the Libby company which is a pumpkin powerhouse of the food industry.

9. The Irish started the pumpkin carving trend
People of Ireland traditionally carved turnips to ward off evil spirits. When the Irish immigrated to the US, they found that it was a lot easier to carve pumpkins. Thus, the tradition of carving pumpkins began!
10. Watery pumpkins
Pumpkins are actually made up of 90% water. That may be why they are so heavy!
11. Big pumpkin pie
Pumpkin pie is probably the most common food that is made with pumpkins. The biggest pumpkin pie ever made was over five feet wide and weighed over 350 pounds. It took 80 pounds of pumpkin to make the pie and 6 hours to bake it to perfection.
12. Pumpkins are healthy
Pumpkins are actually quite healthy as they are low in calories and carbs. They also contain potassium and vitamin A. You can feel good about taking a bite out of a big pumpkin!
13. Pumpkin rugs
Native Americans would take strips of pumpkins, flatten them and dry them into mats. Imagine having a rug made of pumpkin in your home! It would be quite festive.
14. The Connecticut Pumpkin
The traditional American pumpkin is a variety called the Connecticut pumpkin.

15. 73 Kinds of Pumpkins
There are currently 73 types of named pumpkin varieties in the world. From the small decorative pumpkins like the Jack-Be-Little to the heirloom, red Rouge Vif D'Etampes, each pumpkin variety is unique and has it's own uses.
16. Hello, October
While you can find pumpkins (or at least pumpkin puree) year round, 80% of the pumpkin supply in the United States is available in October.
17. Pumpkin as medicine
The oil from pumpkins can be used to treat bladder irritation, kidney infections and also symptoms of benign prostatic hyperplasia. The oil and also the seeds are still used today in modern medicine!
18. Pumpkin bowls
Native Americans would often hollow out pumpkins, let them dry and then use them as bowls. The pumpkin bowls would store grains, beans and seeds.
19. You can eat the pumpkin flowers
Pumpkin flowers are actually edible. They are a perfect addition to a field greens salad or they can be enjoyed dipped in a light batter and fried. Pumpkin flower fritters are a fall delicacy!

20. Eat the seeds too!
Pumpkin seeds are also edible and make for a tasty, healthy snack. Roast the pumpkin seeds with a little salt or your choice of spices and you can enjoy them for days.
21. Pumpkin cures all
Pumpkins were once said to help remover freckles if the puree was applied to one's face. Pumpkin was also used to cure snake bites! While pumpkins do have other medical benefits, we are pretty sure that they won't actually remove your freckles…
22. Illinois Pumpkins
A whopping 95% of the pumpkins grown in the United States come from Illinois. That's a lot of pumpkins for one small state!

23. Pumpkin beer traditions
You may think that pumpkin beer is a new, trendy drink but it actually has a long history. Pilgrims were into pumpkin beer hundreds of years ago thanks mainly to its abundant availability. Pumpkins served as an easily fermentable sugar for beer making needs.
24. No pie for pilgrims
Contrary to popular belief, pumpkin pie was not actually served at the original Thanksgiving feast of 1621. After all, there was no butter or flour back then to make a pie crust. A hollowed out pumpkin filled with milk, spices and honey may have been served but this has never been proven.
25. Pumpkins are a fruit
We mentioned that pumpkins are part of the gourd family but they are also considered to be a fruit. Those who always thought pumpkins were vegetable are wrong!
26. By the pound
Pumpkins are typically sold by the pound and the national average price is $.89 per pound. Of course, this price will vary depending on where you are located. Grocery store pumpkins will also likely be cheaper than those you pick at a local farm.

27. Pie pumpkins
Your big Jack-O-Lantern pumpkin will not make a good pie. The pumpkins that are grown for carving do not actually taste very good and are typically grown more for size than taste. A small sugar pumpkin is the best choice for baking.
28. Millions of Dollars
In 2019, Americans spent approximately $377 million dollars on pumpkins. The country sure was decorated well for fall after all that cash was used to buy our favorite fall gourd!
29. National Pumpkin Day
Every October 26th you can celebrate National Pumpkin Day. This unofficial holiday is a convenient day to carve our your pumpkin so it is ready for Halloween on the 31st!

30. All the pumpkin foods
There are many foods that can be made using pumpkins. To celebrate fall and pumpkin season, you can make so many delicious recipes with pumpkin, like…
pumpkin bread
pumpkin bars
pumpkin muffins
pumpkin ice cream
casserole
pie
pumpkin soup
pumpkin cheesecake
cake
seeds
rolls
sauce
lattes
pancakes
smoothies
pasta
If you'd like a few ideas for pumpkin recipes this Fall season, try a few of my pumpkin dessert recipes, pumpkin casserole or pumpkin soup recipes and get cooking and baking with pumpkins! 🙂
So what are you favorite pumpkin facts? Do you have any fun ones that we missed? And what do you plan to do with your pumpkins this fall? I know I am ready to turn on the oven and start baking some pumpkin goodies!
LOVE THIS PUMPKIN TRIVIA ARTICLE?
You Might Also Like…