With Fall in full swing, and the weather actually feeling like winter, it is time to pull out the fuzzy socks and take advantage of pumpkin patches, apple picking and a great homemade soup. One thing that I love to be able to do is bake! It warms the house and really can warm the soul. After you've enjoyed a day outside raking leaves or just waiting at the bus stop, having personal sized peach crisps ready to go is bound to be a hit.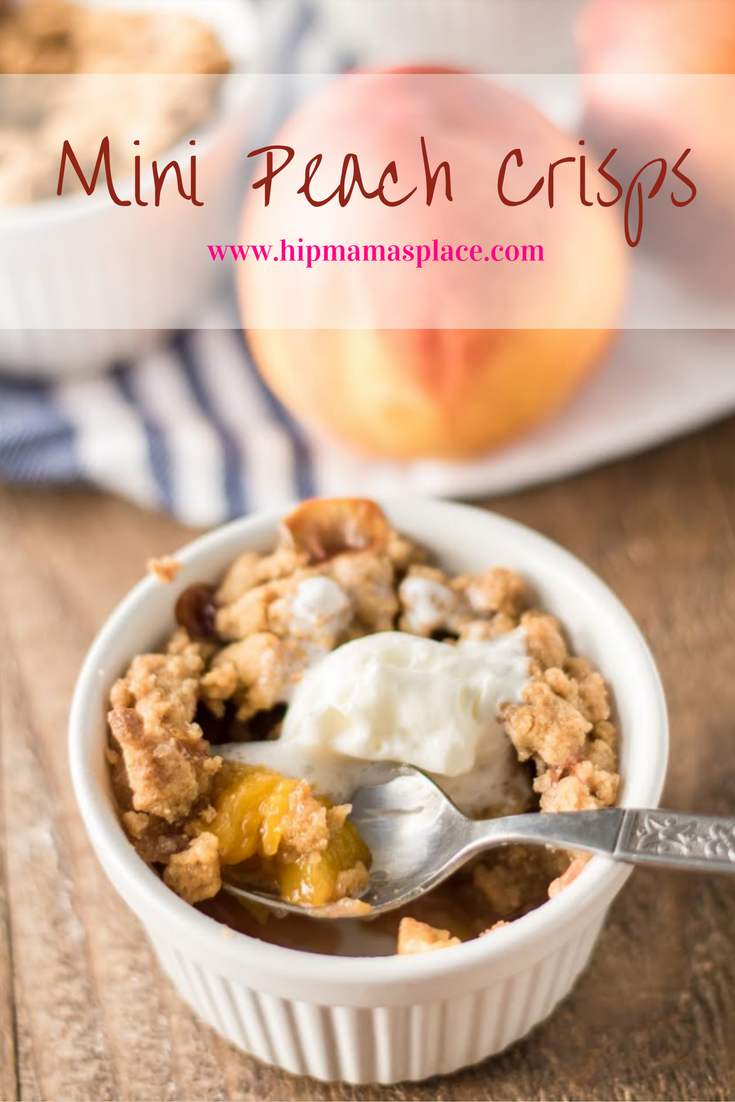 Okay, let me tell you a secret – a crisp is the perfect alternative to not having to deal with making your own pie dough or heading out to the store to find pre-made dough. Since the ingredients in any crisp are standard pantry items, it usually means having the right fruit and a few minutes to prepare this easy afternoon snack, or dress it up and it is perfect to serve to out of town visitors too! Since these are made in personal ramekins, you can make as much or as little as you want – they can even be frozen to eat later after a quick reheat.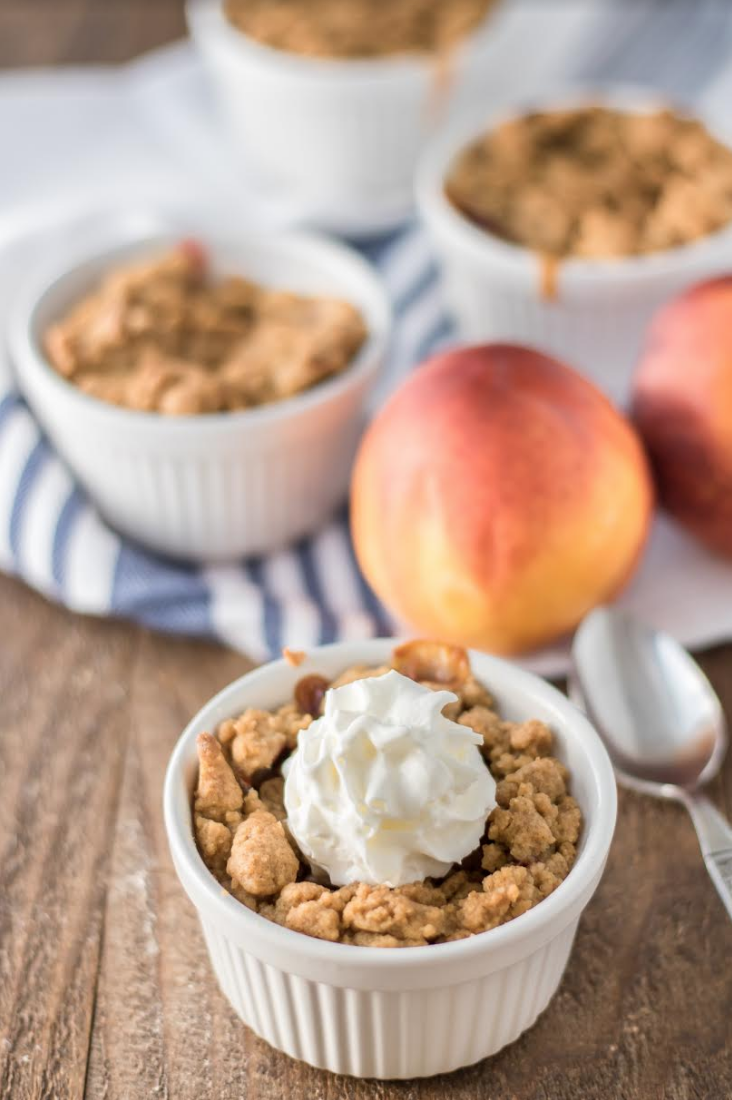 Picking the Perfect Peach
When it comes to finding the perfect peach, we all know that the light ones are likely more "woody" and dry. But, what is the best peach for baking? Is it okay to pick soft ones? Does it matter if they're yellow or white? Coming from someone who's visited peach country (hello Georgia readers!) you're likely to get a slightly different opinion than someone who prefers California-grown peaches. Now, fast fact: Peaches were first cultivated in China. Who knew!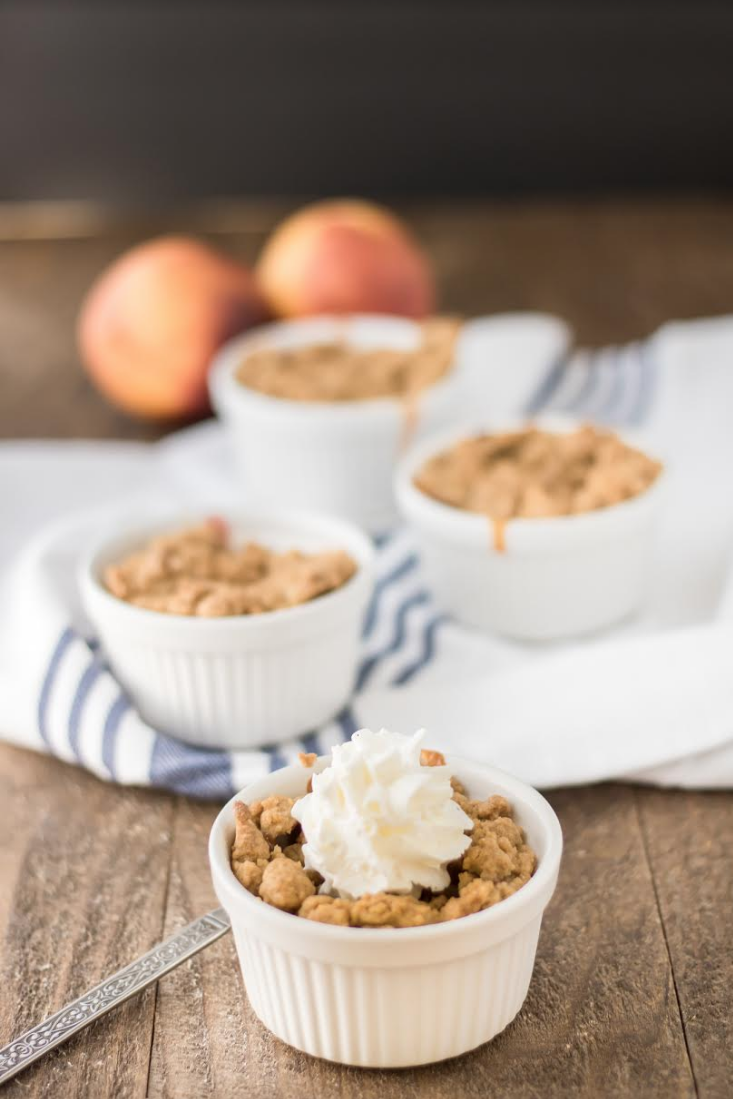 Tips for a good baking peach
People bake with peaches late in the season because late season peaches are usually freestone peaches. These are the perfect ones for baking!
Choose yellow peaches are usually "thicker" fleshed, so they hold up better for consistency when baking versus white peaches
Choose a peach that is heavier than others of similar size – test this by holding two and comparing a few, choosing heavier ones
Bruised skin isn't the end of the world, but check for soft spots and choose other peaches when possible (but for peach sauce (think apple sauce and peaches mixed), bruised ones are fine!)
Softer peaches are perfect for baking, just make sure that again, they are not bruised.
Many times you'll want to remove the skin from the peach before baking. To do so, bring 6 or more cups of water to a rapid boil. Make an 'X' in the bottom of the peach. Gently the drop the peaches one by one into the water, removing after 20-30 seconds. Using a slotted spoon, take the peaches out and put them into a large bowl of ice water. From there, peel away from the X.
Once you've found the perfect selection of peaches, enjoy your mini crisps as a snack or as a dessert. You really can't go wrong with this recipe. Serve it warm with your favorite real vanilla ice cream and everyone will probably ask when you're serving it again!
Print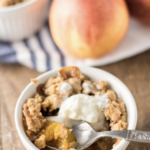 Mini Peach Crisps
---
2 cups

diced peaches

1/4 cup

sugar

1 Tbsp

Cornstarch
For the Crumble Topping

4 Tbsp

butter, melted

3/4 cup

flour

1/4 cup

brown sugar

1 Tbsp

sugar

1/2 tbsp

cinnamon
---
Instructions
Preheat oven to 350.
Spray 4 ramekins with cooking spray. Set aside. In a bowl mix the peaches with the sugar and cornstarch. Spoon the peaches evenly into the ramekins.
For the topping, mix all the ingredients together until it turns into a sand-like texture. With a spoon top each ramekin with the crumble. It's okay if there are uneven clumps.
Place the ramekins on a baking sheet and bake for about 30 minutes or until the fruit is bubbling and the crisp is golden brown.
Serve with whipped cream or vanilla ice cream.
You Might Also Like…