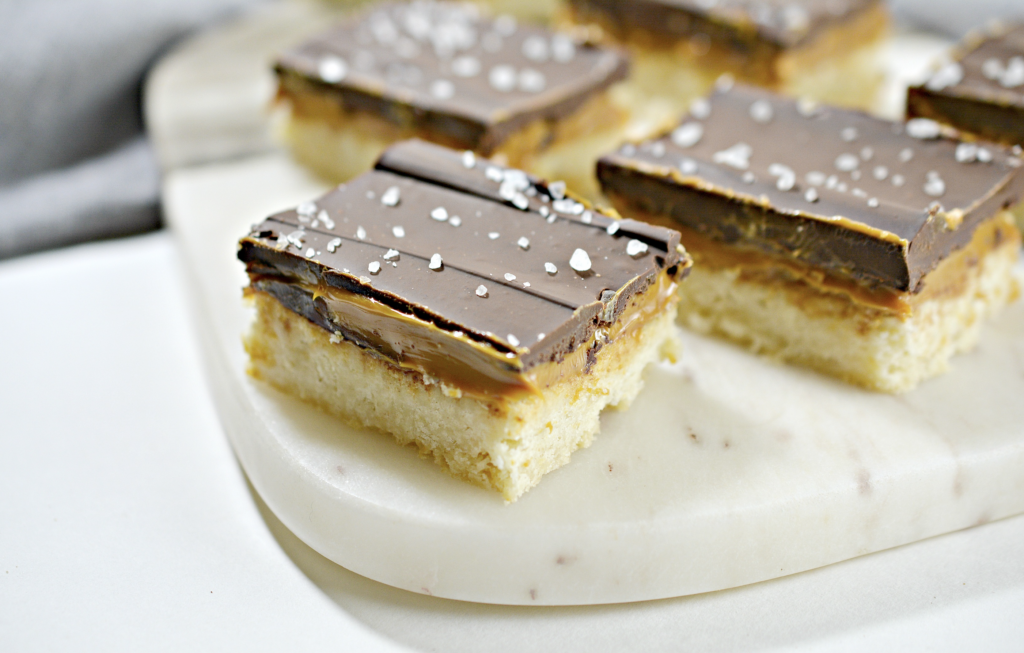 This post is sponsored by AMERICAN HERITAGE Chocolate. All views and text are mine.
I love to bake. There is nothing quite as satisfying as baking a delicious, picture perfect dessert and then getting to enjoy every bite! While I have always been an avid baker, I have found myself spending even more time in the kitchen in the last few months. Baking has become kind of like an escape for me and my family. We can create amazing, tasty things without ever having to leave the kitchen! Cooking in our kitchen has become our oasis, our safe place and our go-to daily activity.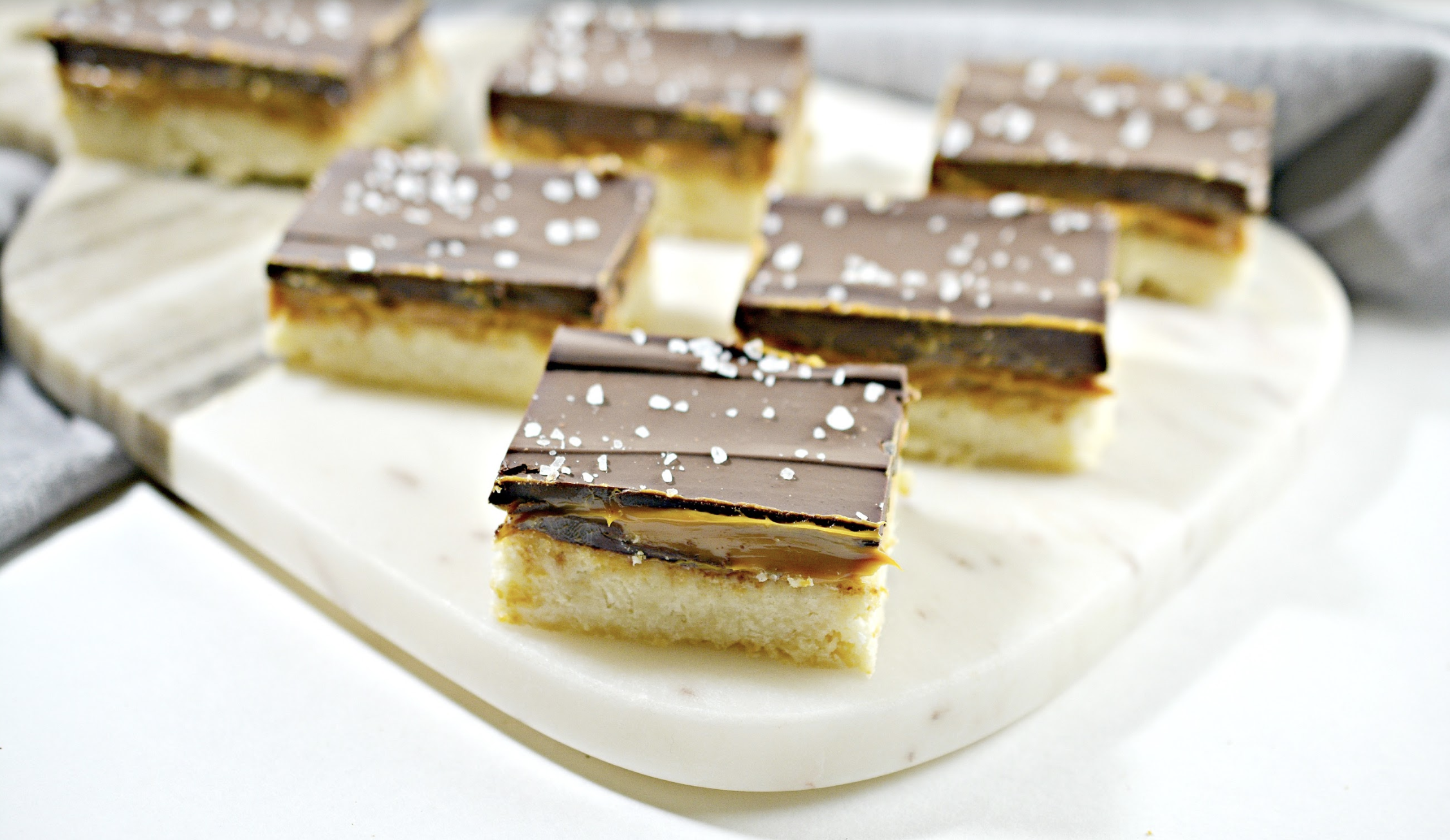 Since we have been baking even more often now that we spend more time at home (and we are just as hungry as ever!), we have had the chance to get a little creative in the kitchen. Playing around with chocolate was especially fun. Who doesn't love making things with chocolate? I was especially thrilled to partner with AMERICAN HERITAGE® Chocolate once again and get the chance to make a new, delicious chocolatey dessert: Caramel Slice!
Delicious, Classic Chocolate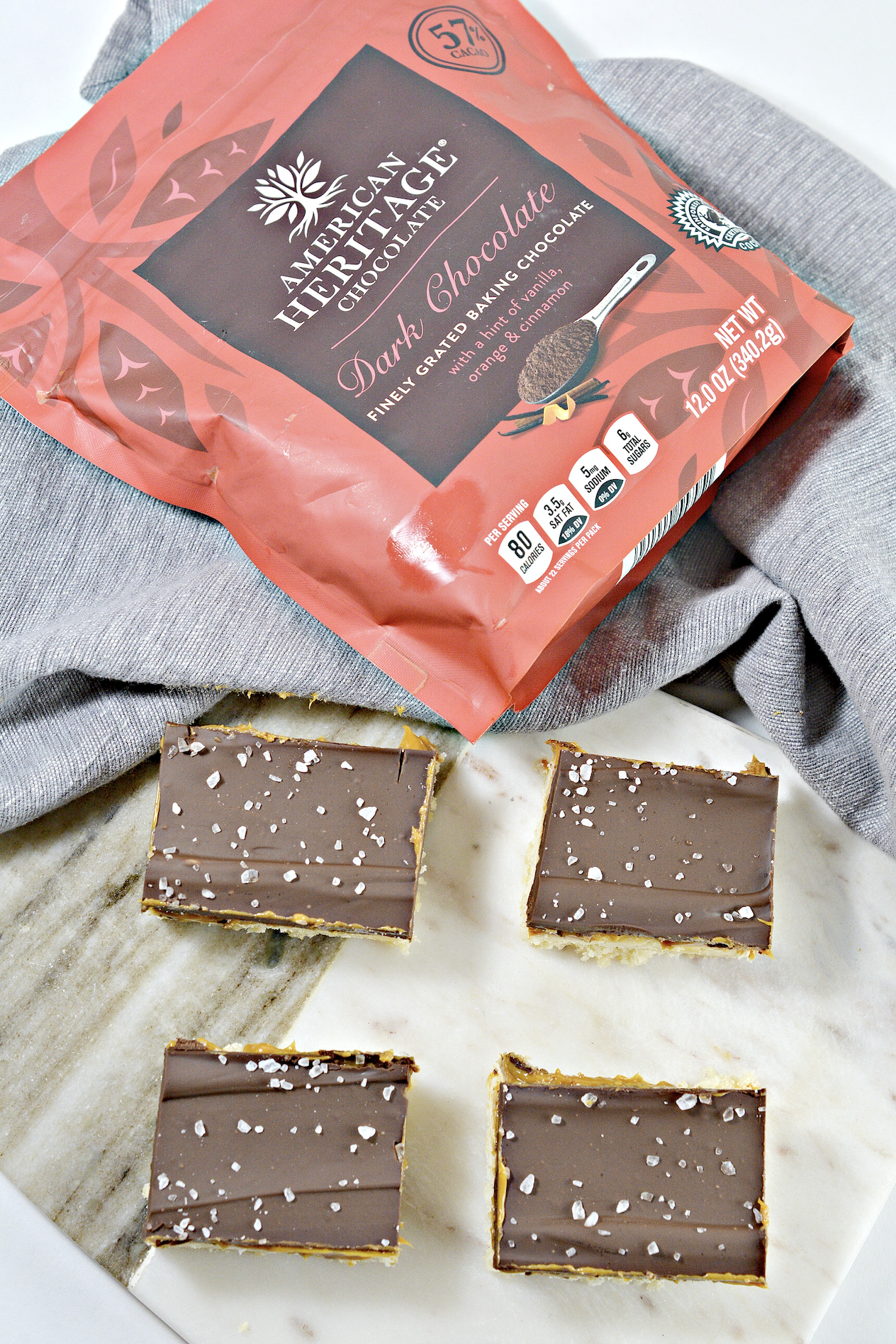 I have worked with AMERICAN HERITAGE Chocolate several times in the past and have been making recipes based on their incredible chocolates (my hot chocolate marshmallow chocolate chip cookies are still one of my family's favorite cookies I make). I have been friends with those behind the brand for many years and have always enjoyed working with them. Now seemed like the best time to partner again.
I have been baking a lot lately, too, and they have a new type of finely grated baking chocolate that I have been dying to try.



AMERICAN HERITAGE Chocolate Family Baking Guide
Start creating your own memories in the kitchen by baking together with AMERICAN HERITAGE Chocolate! And they're making it easy and fun for you with their new Family Baking Guide. It's FREE to download and it's got easy and delicious recipes you'll love!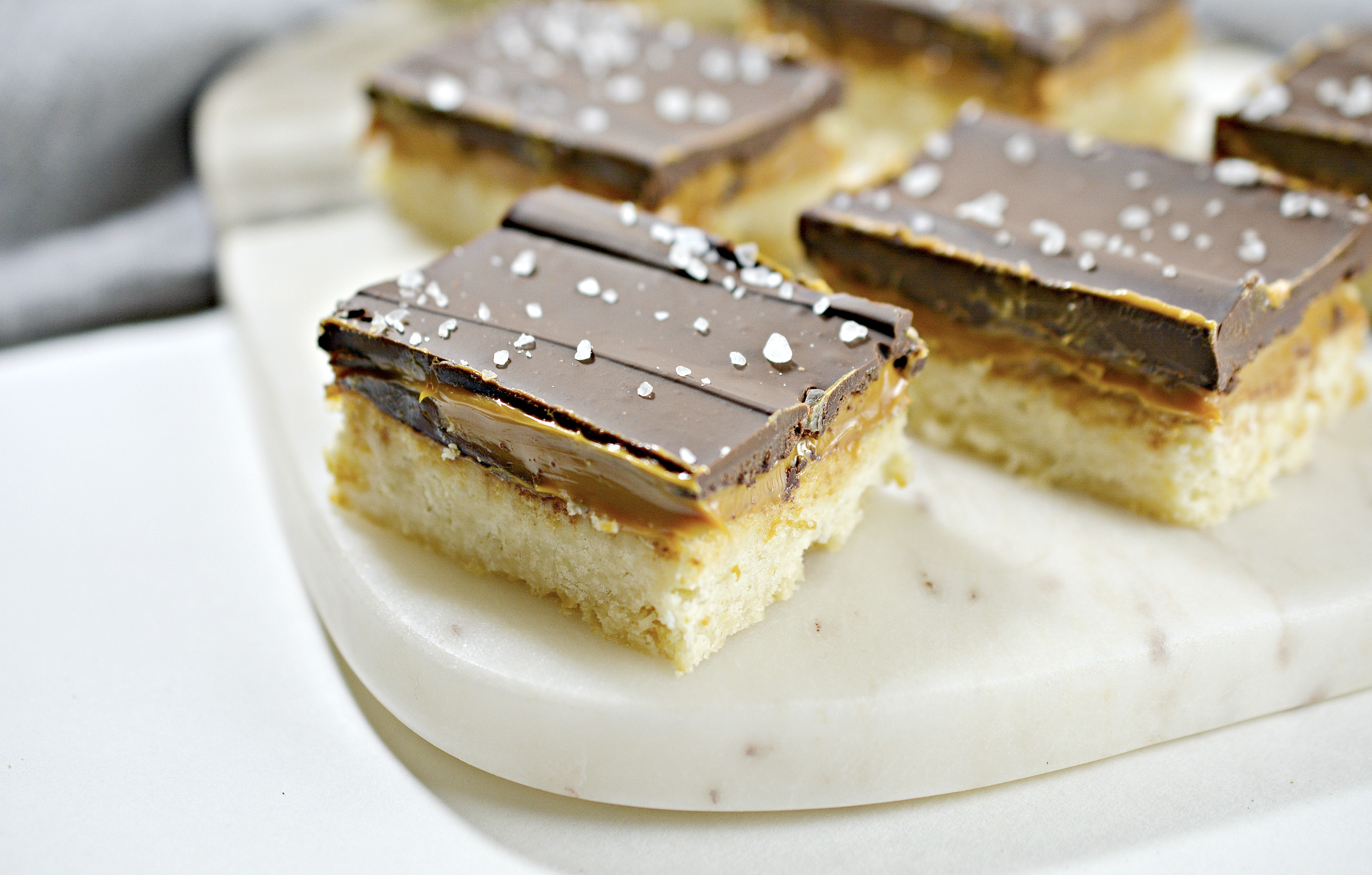 I had my boys pick what they want to make together from this baking guide and we all agreed on yummy Caramel Slice!
Chocolate and caramel automatically came to mind when I saw this recipe- two of our favorite things! I also love desserts that are easy to eat like a cookie or a bar. It is so much simpler when you can just pick up the dessert with your hands and take a bite! Caramel Slices sounded like the perfect way to mix chocolate, caramel and the ease of cookies.
Of course, I love keeping my recipes simple and flavorful and the AMERICAN HERITAGE Chocolate is an incredible chocolate and so much more flavorful than so many chocolates out there. I love that their Finely Grated Baking Chocolate is incredibly versatile to bake with. It is already grated, melts incredibly easily and smoothly and can be substituted 1 to 1 in any recipe that calls for semi-sweet baking chocolate. There are so many ways to eat, drink and bake with AMERICAN HERITAGE Chocolate products!



Caramel Slice Recipe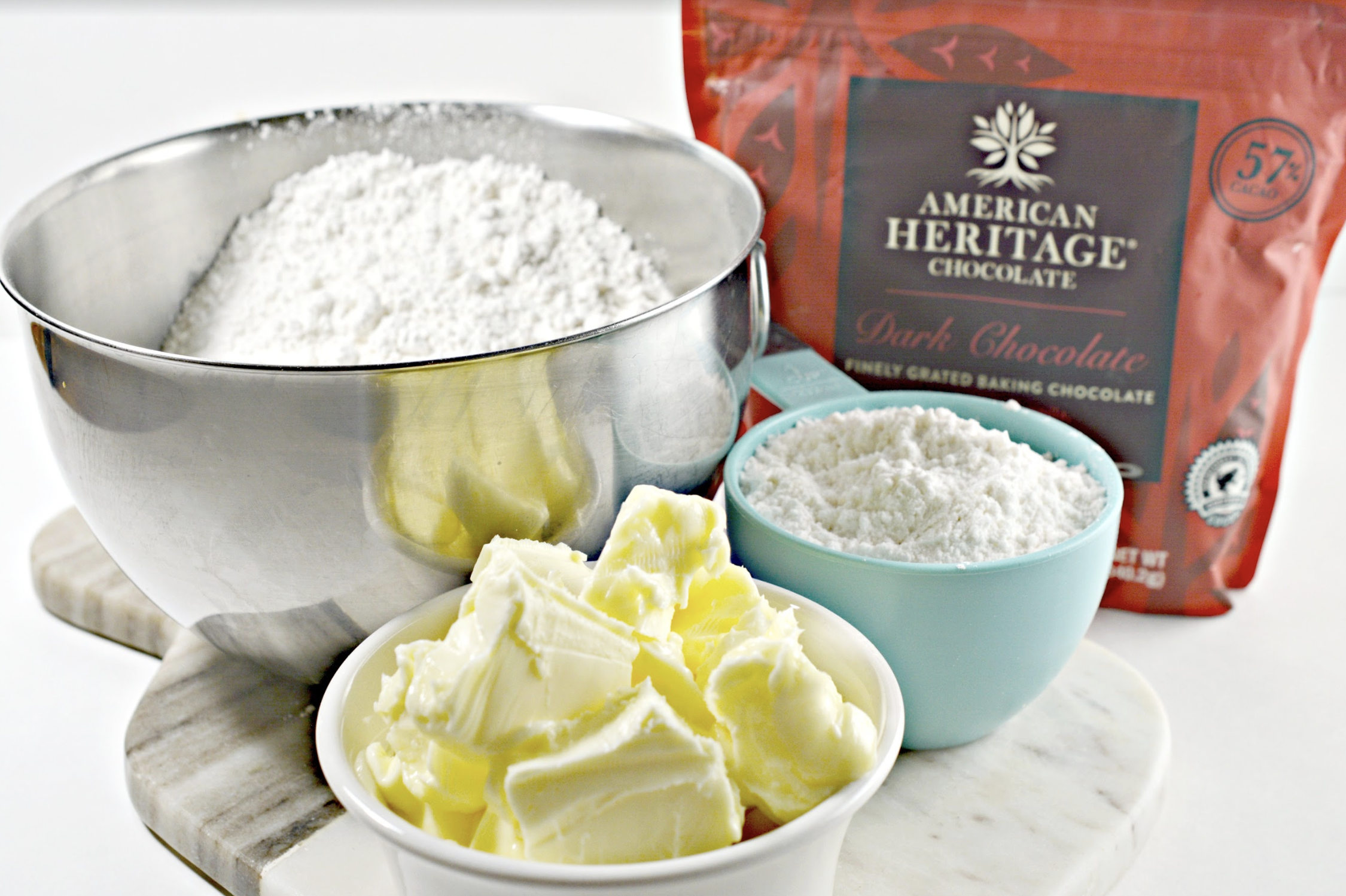 The shortbread base for the slices is made by combining the butter and powdered sugar and beating them until fluffy. Be sure to scrape down the bowl as needed, incorporating all the butter and sugar and making an almost white mix.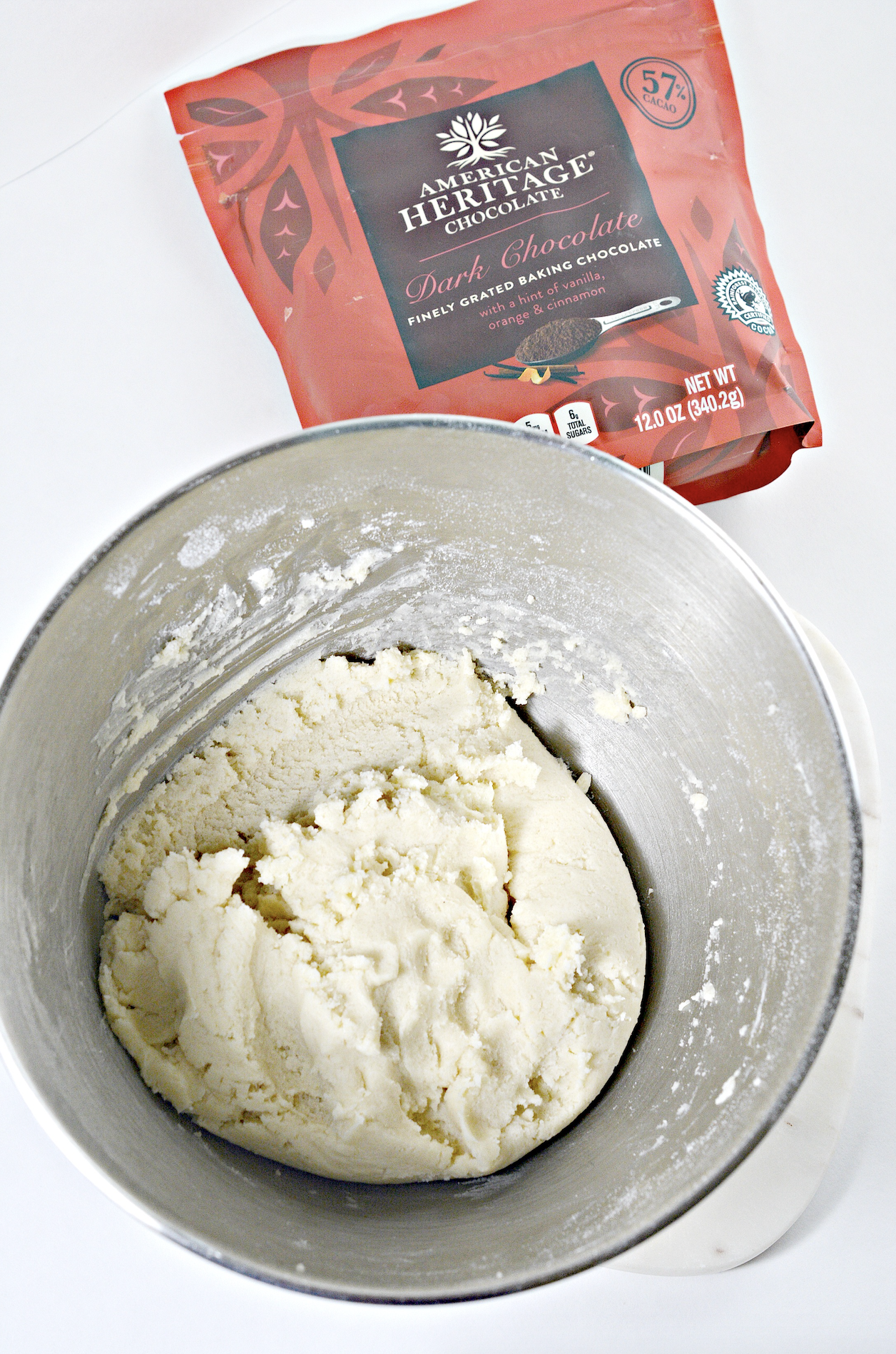 The salt and flour are added and blended into the butter slowly. You don't want to overmix or the shortbread can get a little tough.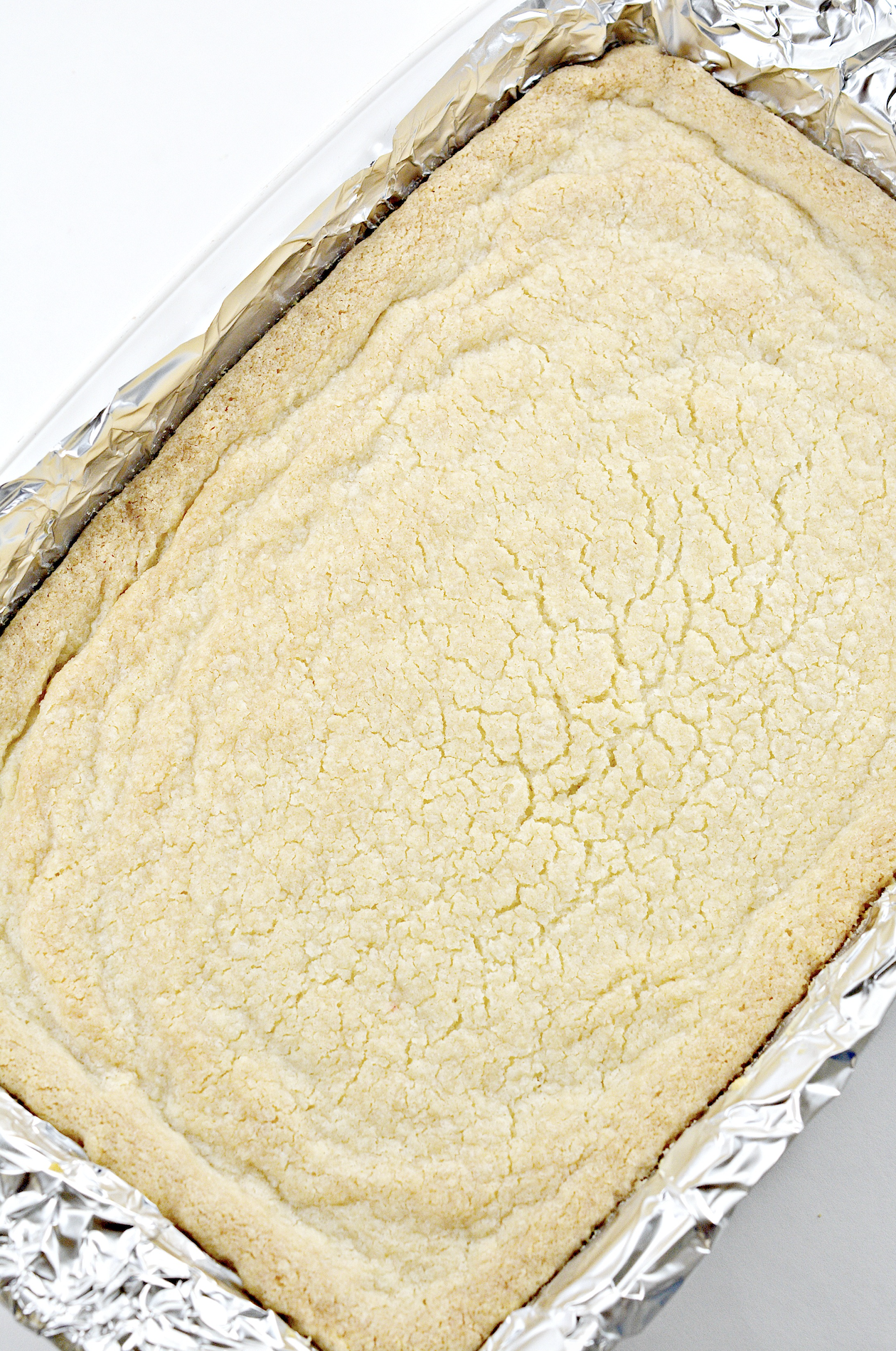 The easy, 4 ingredient dough is pressed into a greased pan, docked with a fork (which means to make pin-prick holes all over the dough, allowing the air to escape as the cookie bakes) and then baked to golden perfection.
Once cooled, smooth, sweet dulce de leche is poured over the cookie base and then chilled. You can make your own, homemade dulce de leche but there are some great cans available in the store. I bought my dulce de leche ready-made -to save a little time.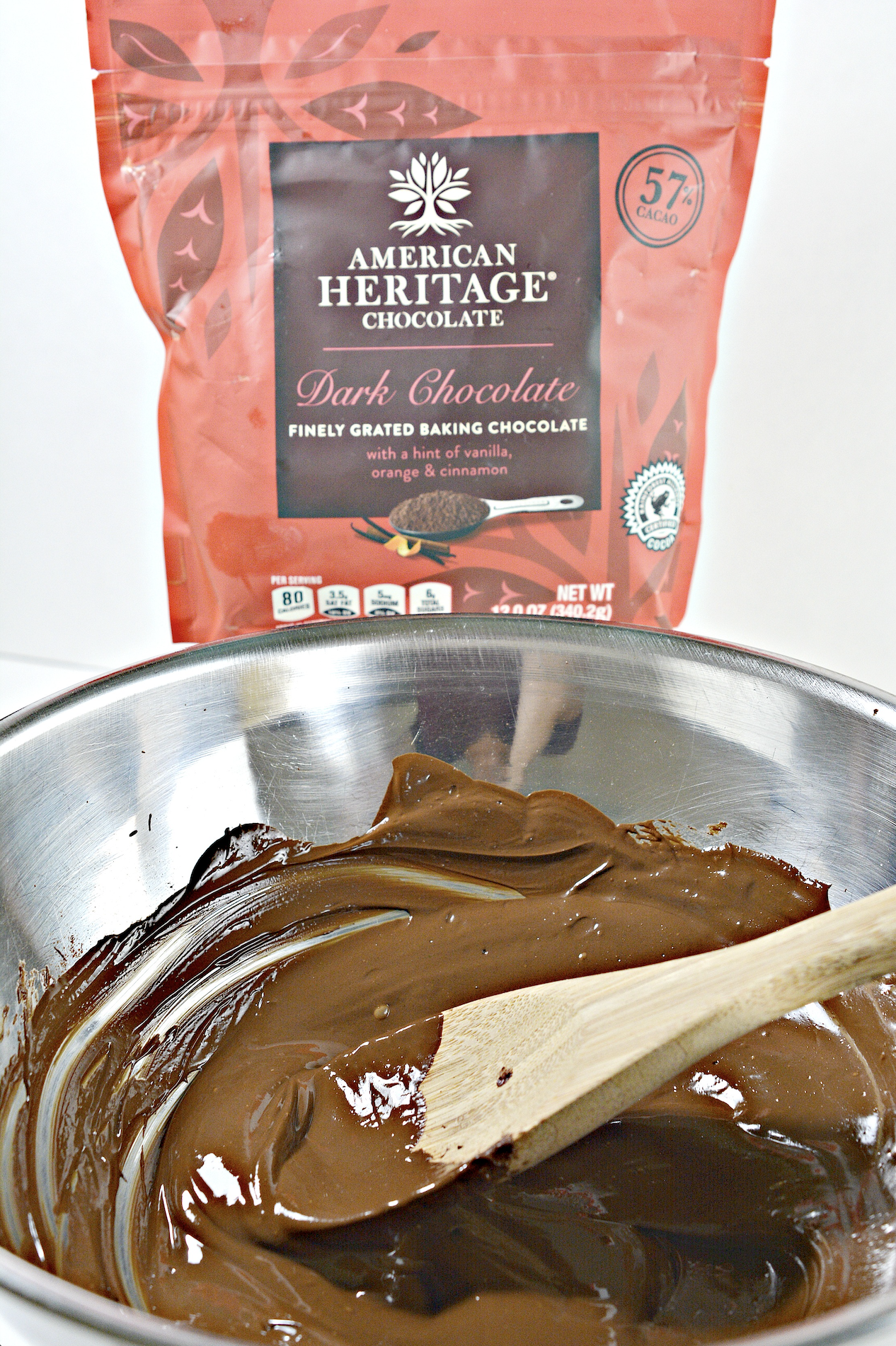 Next, the new AMERICAN HERITAGE Chocolate Finely Grated Baking Chocolate is melted over a double boiler. Since the chocolate is so fine, it melts incredibly quickly, giving you a smooth, rich chocolate in a matter of minutes. Anything that saves time in the kitchen is a win for me!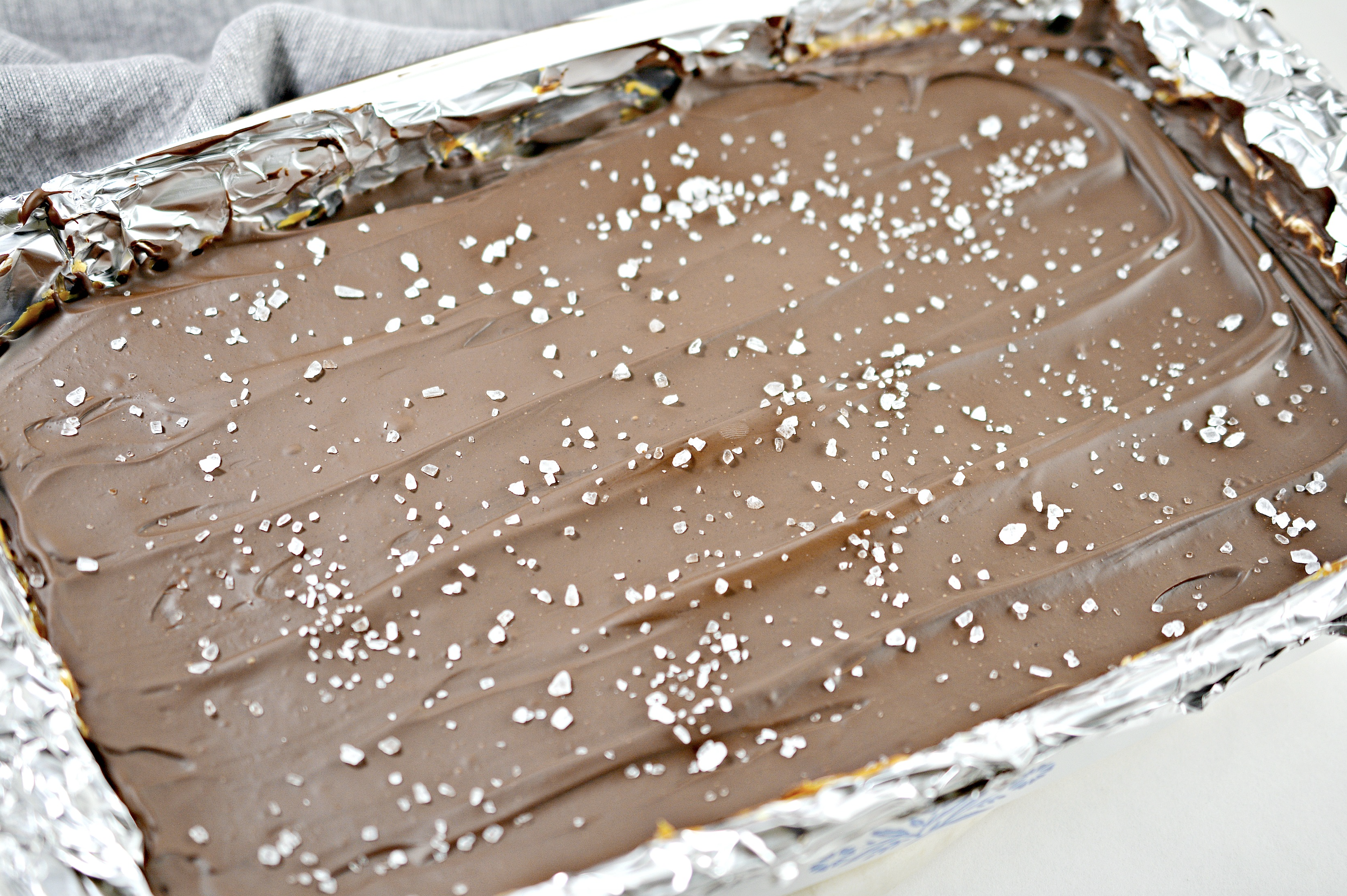 A sprinkle of sea salt, a little chilling time and the caramel slices are ready to cut and enjoy! Be sure the chocolate top is nice and hard before you slice into the bars. You can use a hot knife to help you cut through the chocolate more easily.
While I find that these bars get eaten quite quickly, you can store them in the fridge for up to a week. You want to make sure that chocolate and dulce stays cool and firm.
Why Use AMERICAN HERITAGE Chocolate
If you have never tried AMERICAN HERITAGE Chocolate then now is the time to grab some of their chocolate products and give them a try! The company uses recipes from the 1750's to make their chocolates. Classic spices are often highlighted in their chocolates including vanilla, orange peel and cinnamon- traditional and delicious! The spices come from all over the world and help enhance your recipes, elevating the flavors using just one great ingredient- chocolate!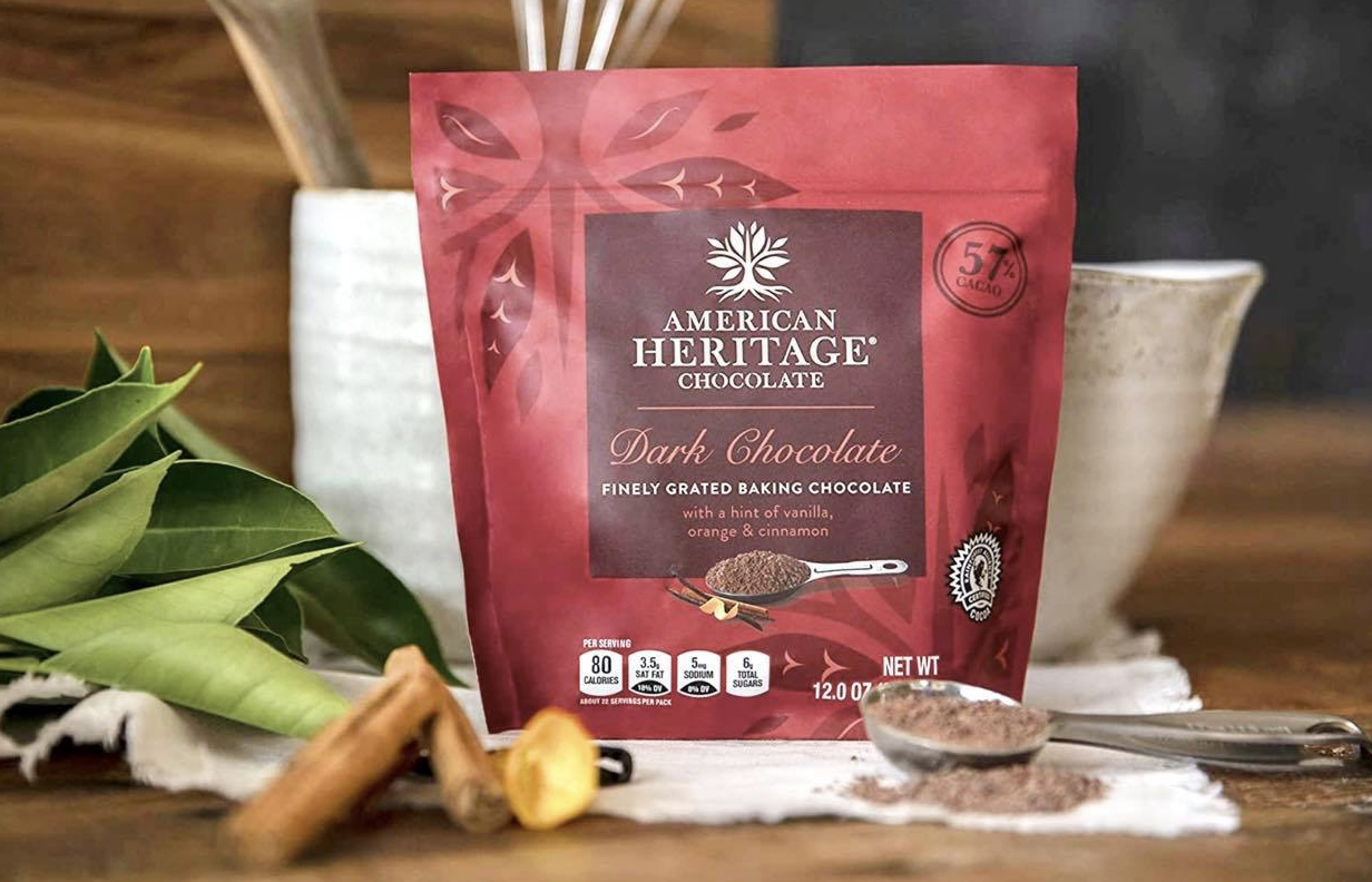 AMERICAN HERITAGE Chocolate has lots of great products but the new Finely Grated Baking Chocolate is probably my new favorite. Since it is already grated and super fine, it melts almost instantly. This is perfect for recipes like the caramel slices or anytime you need to pour a smooth chocolate over the top of a dessert. You can also just whisk come of the grated baking chocolate into some hot milk and poof! Perfect hot chocolate ready to enjoy! AMERICAN HERITAGE Chocolate is awesome for baking, eating and even for drinking. Keep this in mind when the cold weather starts rolling in within the next few weeks… hot chocolate season is just around the corner!



More FREE Chocolate Recipes + FUN Coloring Pages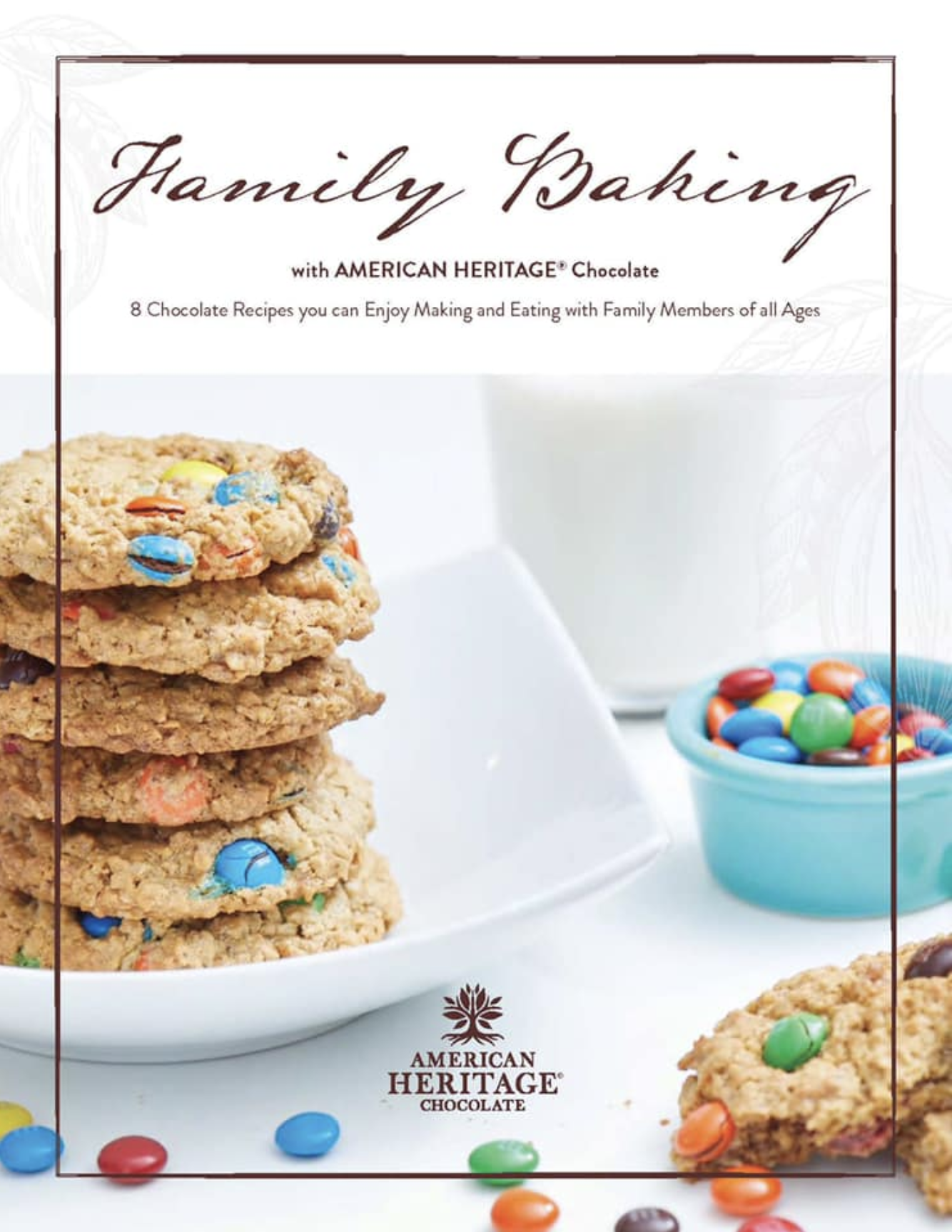 If you want a few more ideas on what to make using AMERICAN HERITAGE Chocolate, you can just hop on their website and download their FREE Baking eZine (e-magazine) for more delicious, chocolate-loaded recipes. All of the recipes in this baking eZine are tried and guaranteed to be incredible. How could they not be when AMERICAN HERITAGE Chocolate is the base of all the desserts? Great chocolate is always a winner!
On that note, I am headed back to my kitchen to continue with my quarantine baking therapy. These caramel bars topped with AMERICAN HERITAGE Chocolate is the next thing on my list to make (the first batch disappeared quite quickly in my house!). Now, you should grab a bag of AMERICAN HERITAGE Chocolate Finely Grated Baking Chocolate and give the caramel slices a try! I know you will love the recipe and find your new favorite chocolate brand too!
And if you have little ones to entertain while baking, you'll be glad to know that the FREE baking eZine also has fun coloring pages!
Enjoy! 🙂
Print
Caramel Slice Recipe
---
Prep Time:

40 minutes

Cook Time:

35 minutes

Total Time:

1 hour 15 minutes

Yield:

32

slices

1

x
FOR THE SHORTBREAD:

2 1/2 cups

all-purpose flour

1 cup

confectioners' sugar

1/2 teaspoon

coarse salt

1 cup

(2 sticks' unsalted butter, softened and cut into pieces
FOR FINISHING:

1 1/3 cups

(about

16 oz

) dulce de leche

2 1/2 cups

AMERICAN HERITAGE® Finely
Grated Baking Chocolate, divided
Flaky sea salt, for garnish
---
Instructions
Preheat the oven to 350F with a rack in the center position. Line the 9- by 13- by 2-inch pan with aluminum foil leaving a few inches on each end, which makes for easy gripping later.
Combine the flour, confectioners' sugar, and salt in the bowl of a food processor. Pulse to combine. Add the butter and pulse until the dough just comes together, about 1 to 2 minutes.
Spread the dough into the prepared pan and press firmly to smooth the top. *Dock the dough by pricking with a fork, making marks spaced about 1 inch apart. Docking means to poke holes in the dough so it doesn't puff up during baking
Bake the shortbread until it is golden brown and firm to the touch, about 35 minutes. Set aside to cool completely in the pan.
Spread the dulce de leche over the dough forming an even layer using a small offset spatula. Refrigerate about 1 hour.
Place 2 cups of chocolate in a heatproof bowl. Set over a pan of gently simmering water and stir until melted, about 1 to 2 minutes. Remove from heat and add the remaining 1/2 cup chocolate. Stir until smooth. Spread the chocolate over the dulce de leche. Sprinkle with sea salt.
Let stand at room temperature until the chocolate sets, about 10 minutes. Using the aluminum foil as a sling, carefully remove the layered cookie from the pan. Peel back the aluminum foil and transfer to a cutting board.
Using a serrated knife, cut in half crosswise, then cut both pieces in half lengthwise, forming 4 quarters. Cut each quarter crosswise into 8 bars. Store at cool room temperature for up to 2 hours or refrigerate for up to 1 week.