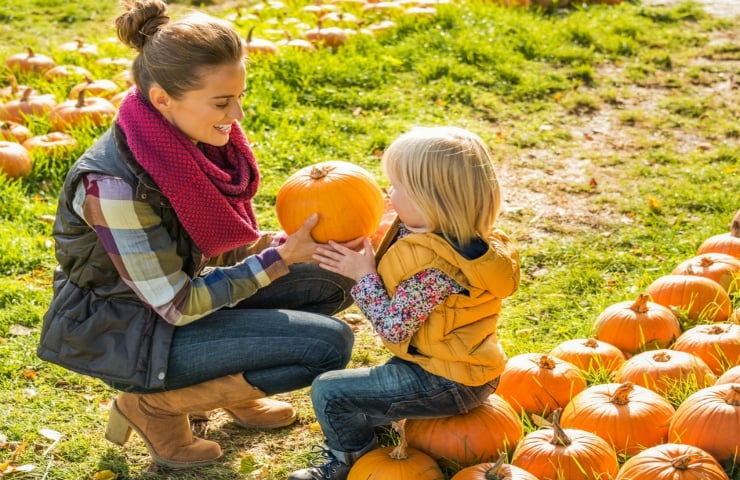 Are you looking for that great Pumpkin to bring home? Nowadays, you can (of course) bring your selection home from the grocery or big-box store. But there's something to be said about bringing your child out to the pumpkin patch to see how they're grown, where they come from and really find that unique one that fits your family's personality. Yes, someone will end up with a Charlie Brown pumpkin, but, that's okay. Really!
Here's your list of some of the best pumpkin patches in the Metro DC area!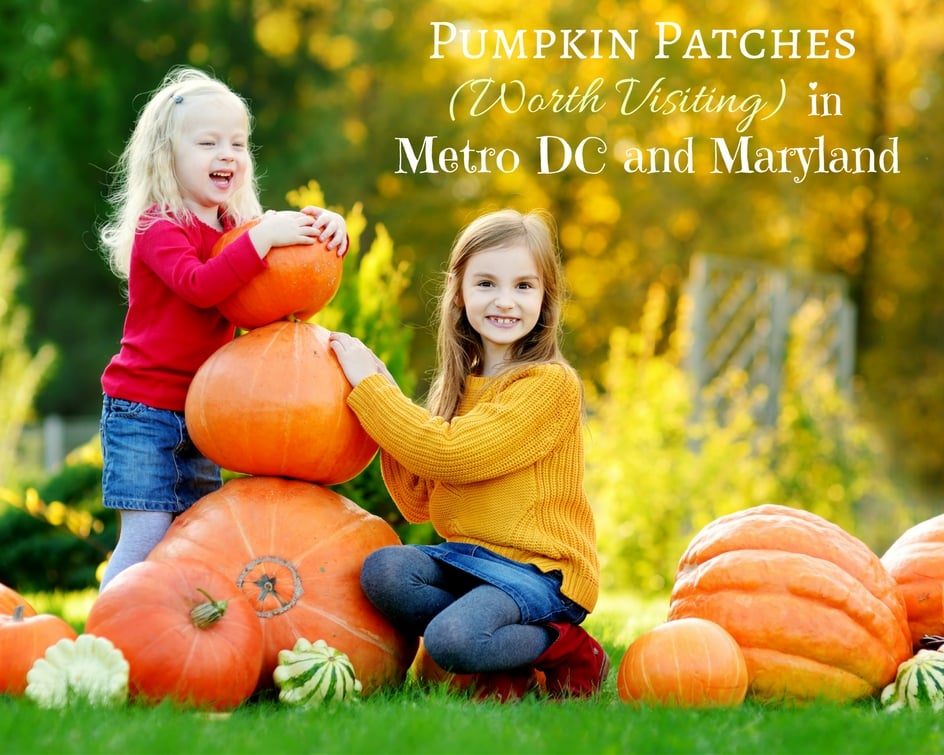 Pumpkin Patches in Metro DC
Northern Virginia area Pumpkin Patches
Cox Farms in Centreville, VA offers a great environment with a full fall festival through the month of October! From their Fields of Fear for the daring crowd, to the group tours on a hay ride, families and groups have plenty of options to choose from when they visit Cox Farms.
https://www.coxfarms.com/
15621 Braddock Rd
Centreville, VA 20120
Roundhill Farm Pumpkin Patch & Hay Bale Maze in Culpeppper, VA is a great place to enjoiy the best of both country living and fun! Wtih pumpkin picking, a petting zoo and a large variety of fun, including hay rides and their corn maze, families definitely can enjoy this, even with the youngest family members. Plenty of photo opportunities as well!
www.round-hill-farm.com/
6347 Everona Road
Culpeper, VA 22701
Owsberry Farm and Pumpkin Patch in Jefferson, VA may be new (as in 5 years old!), but they know how to help families enjoy the best of fall in Virginia. With their pumpkin farm and hay rides, you can have a relaxing day with your family while exploring the best of the greater Jefferson area.
www.owsberryfarm.com
5208 Myers Mill Rd
Jeffersonton, VA 22724
Pumpkin Village Fall Fest in Leesburg, VA may not have a traditional pumpkin farm, but they still offer a lot of fun fall activities. Their pumpkin village will not disappoint, and even your "tweens' will have fun in the races and enjoy the free apple cider!
https://www.pumpkinfestleesburg.com/
19270 James Monroe Hwy
Leesburg, VA 20175
Evergreen Acres is a popular destination in Nokesville, but there will be no pumpkin patch in 2016 due to weather conditions, but check back in the future!
www.evergreenacres.biz
12801 Hazelwood Drive
Nokesville, VA 20181
On the Maryland side, catch the following Pumpkin Patches!
Miller Farm in Clinton MD, offers everything from a practically full bakery (arrive hungry!) to their farm full of pick your own and wholesale produce to their bedding plants and vegetation that you can plant at home. Of course, visiting in October means Wagon Rides, pumpkin patch picking and a variety of corn maze fun!
https://www.millerfarmsclinton.com/
10140 Piscataway Rd.
Clinton, MD 20735
Homestead Farm in Poolesville, MD offers the best of mom-and-pop produce, including their large variety of pumpkins through October. Many schools and day cares enjoy taking their kids here for a low-key tour of a functioning produce farm and so kids can pick their own pumpkins.
https://www.homestead-farm.net/HarvestSch.html
15604 Sugarland Rd
Poolesville, MD 20837
Queen Anne Farm in Mitchellville, MD is a family farm that offers lots of local produce to their visitors, but also a real farm experience for the littles who want to pick their own pumpkin. They offer the full experience with the hay ride and a few farm animals as well!
https://www.queenannefarm.com/
18102 Central Ave
Mitchellville, MD 20716
Shlagel Farm in Waldorf, MD offers an accessible farm for those looking for weekend fun in the fall. During the week they offer educational opportunities and kids love the haybale slides and of course the hayride.
https://www.shlagelfarms.com/autumn-fun–pumpkins.html
12850 Shlagel Rd
Waldorf, MD 20601
Cherry Hill Farm in Clinton, MD offers a decent selection of produce through the year, and in October families and small groups can go on wagon rides, visit the petting zoo and of course pick their own pumpkin from the pumpkin patch. They also offer wagon rides for school and day groups out to their orchards as well.
https://www.naturalmaryland.com/cherry_hill_farm.htm
12309 Gallahan Rd
Clinton, MD 20735
Larriland Farm in Woodbine, MD actually has two farms near each other which offers a variety of produce and is a real farm where produce grows! They offer a variety of pick your own produce options, including their fall produce offerings which include pumpkins. They also have a straw maze, hay rides and a Boo Barn for even more fun!
https://www.pickyourown.com/
2415 Woodbine Rd
Woodbine, MD 21797
Now here are a few bonus ones located outside the metro area but still a fun weekend trip to see the country!
Ridge Highlands in Ararat, VA is a bit of a drive for some, but well worth it if you have a train lover! Yes, train rides AND hay rides, tons of farm animals, and gem stone panning on top of the typical offerings you'd expect at a day at the pumpkin patch. Oh, and they have an 80 foot slide. Yes, kids love this place and is worth the drive.
402 Doe Run Road
Ararat, VA 24053
Layman Family Farm Maze and Pumpkin Patch in Blue Ridge, VA offers some of the typical, but offers some great variety with their fun farm maze (this isn't a small venture!), plus their haunted barn is fun for the teens and parents too! Plus, they have a cow train which the little just love, as well as pumpkin blaster and a corn cannon. Not to be outdone, they also have a large slide, only 40 feet though. Only?! Ha! Still worth a visit!
1815 Mountain View Church Road
Blue Ridge, VA 24064
Now that you know where to pick your real pumpkins, what is your plan? A few jack o'lanterns? Pumpkin pie? Maybe make curried pumpkin stew? Really, the options are endless! Have you been to any of these places? If so, I would love to hear about it in the comments!