July 4th is upon us and we are so excited! My husband and I are inviting a few of our closest friends over for a BBQ cookout and swimming party for July 4th, and I know it's going to be a lot of fun! 🙂

Speaking of July 4th, I'm so delighted to have received supplies for entertaining from Staples that included cups, plates, bowls, napkins and compostable cutlery. What perfect timing for our July 4th cookout!
These new products are from their new Sustainable Earth by Staples line made for the office and home. These products are high quality and eco-preferable and are all made with renewable resources, recycled materials and/or compostable materials. So when you use these products, you can be proud knowing that you are contributing to help preserve the environment!

Need to clean up after the cookout? The Sustainable Earth by Staples line also offers eco-preferable cleaning products such as disinfecting wipes and all-purpose cleaner, as well as office supplies and office break room products.
And how cute is this? Staples put together this fun patriotic image to wish you a Happy Independence Day and a fun-filled Summer!

Can you tell? The image is of the U.S. flag using two of Staples' best-selling products to help you organize your life – the classy red leather customizable ARC notebook system (for organizing records, receipts, documents, etcetera and even great as a daily planner/journaling) and blue One-Touch Stapler (I love that they are well-built, jam-resistant and are very handy for sending packages to my jewelry customers!).
Also, since I received more than what I need of the Sustainable Earth by Staples paper plates and cups, I'm going to use them to make these cool July 4th crafts with my kids. I mean, how adorable are these crafts??? 🙂

Duct Tape and Paper Plate Uncle Sam Hat, how to's via Armelle
On behalf of Hip Mama's Place and Staples, Happy July 4th! 🙂
*Hip Mama's Place Disclosure: "My reviews and opinions are 100% my own. Staples sent me promotional products necessary to facilitate my review".


Don't miss out on the latest fab deals, cool freebies, fun giveaways, delicious recipes, DIY inspirations and more! Subscribe to the Hip Mama's Place email newsletter, Hip Mama's Place feed reader, or simply "Like" Hip Mama's Place on Facebook and/or follow Hip Mama's Place on Twitter!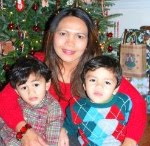 About the Author: Jocelyn Cañasa-Brown is a working mom of two boys and is a recognized blogger and mom influencer in the Washington, DC area. In her spare time, she designs and creates her own handmade jewelry, maintains her jewelry store on Etsy and is an active moms group organizer and leader both online and offline. Hip Mama's Place was nominated for Parents 2011 Best All-Around Mom Blog and named one of the Highest Rated Blogs and Sites on Nickelodeon ParentsConnect for the Washington, DC area. Follow Jocelyn on Twitter, Facebook and Pinterest.