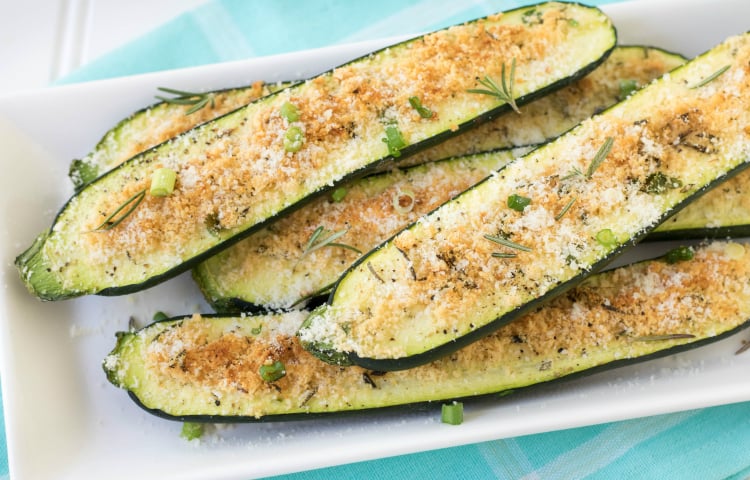 These delicious Baked Parmesan Zucchini Bites are great as a healthy snack and as a side dish!
I am always on the hunt for new, healthy recipes. Sure, there are a lot of great, nutritious recipes out there but how many of them actually taste good? And how many of those healthy recipes will my family truly enjoy? It can be quite a challenge finding something that is nourishing but also delicious! This is especially true when it comes to vegetable recipes. While I would gladly crunch into a bag of raw carrots, not everyone in my house freely enjoys veggies like I do! So, searching for a tasty, healthy vegetable recipe is an on going quest.
One vegetable recipe that I can always depend on is my baked parmesan zucchini bites recipe. It is one that I have made time and time again and my husband and kids still ask for it all the time. Of course, I am happy to make it if it means everyone will eat their greens for the day! I have even made this recipe as a zucchini snack and it was gobbled right up! Luckily, these zucchini bites are pretty easy to make so I can put together the whole recipe in just a few minutes. Vegetable recipes that are fast and simple are even better!
To make the baked parmesan zucchini bites, you start by mixing grated parmesan cheese, fresh chopped rosemary, salt and pepper in a small bowl. I like to grate my own parmesan because I think it has a richer flavor but feel free to use the pre grated cheese. It will save you even more time in the kitchen when the cheese is already shredded for you! You can also add any of your favorite herbs to the parmesan cheese mix, giving the zucchini snack your own, personal twist. A little dried basil, a tiny bit of dried sage or even some cayenne pepper would all be great!
Cut each zucchini in half lengthwise and place them cut side up on a lined baking sheet. Drizzle the zucchini halves with olive oil and then spread the parmesan mix over each zucchini slice. Use the back of a spoon or your hands to gently pat the parmesan cheese onto the zucchini, making sure the topping sticks well. Cover the zucchini loosely with foil and you are ready to bake!
Bake the parmesan zucchini halves in the oven for about 20 minutes then remove the layer of foil and broil the veggies for about 5 minutes. The cheese will begin to bubble and turn brown, indicating that the zucchini is ready to eat! You can garnish the zucchini with a little fresh parsley or just serve them straight out of the oven. Place one zucchini half on everyone's plate, giving each person their own parmesan zucchini boat. You can also chop the parmesan zucchini into bite sized pieces for a zucchini snack. No matter how you serve it, parmesan zucchini is sure to be a winner in your house.
It isn't always easy to find easy, flavorful vegetable recipes. My parmesan zucchini is one of the best I have ever had and really one of the only ways I can get everyone in my family to enjoy zucchini. I hope that it is also a big hit in your house too! Give it a try and let me know what you think. If you have any other amazing, secret veggie recipes, send them my way. We mom's need to stick together in the quest for the perfect, family-approved veggies!
Baked Parmesan Zucchini Bites
Print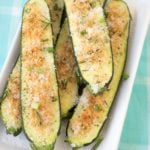 Baked Parmesan Zucchini Bites Recipe
---
Author:

Prep Time:

10 minutes

Cook Time:

25 minutes

Total Time:

35 minutes

Yield:

3

1

x
Description
These delicious Parmesan Zucchini bites are great as a healthy snack that also doubles as a side dish! You can also use other herbs such as oregano, basil, and thyme to suit your taste!
---
4

zucchini, quartered lengthwise

1/2 cup

grated Parmesan cheese

2 tbsp

parsley, chopped

1

spring rosemary, chopped

2 tbsp

olive oil
kosher salt and pepper, to taste
---
Instructions
Preheat oven to 375.
In a small bowl, combine Parmesan, parsley, rosemary, salt and pepper, to taste.
Line the lengthwise zucchinis on a baking dish and drizzle with olive oil.
Spread the parmesan mixture on top of each sliced zucchini. Pat mixture on to make sure it sticks.
Cover with foil and bake for 20 minutes. Remove foil and broil for about 4-5 minutes or until crisp and the cheese browns a little bit.
Serve immediately, garnished with parsley, if desired.
LOVE THIS RECIPE? PIN IT HERE!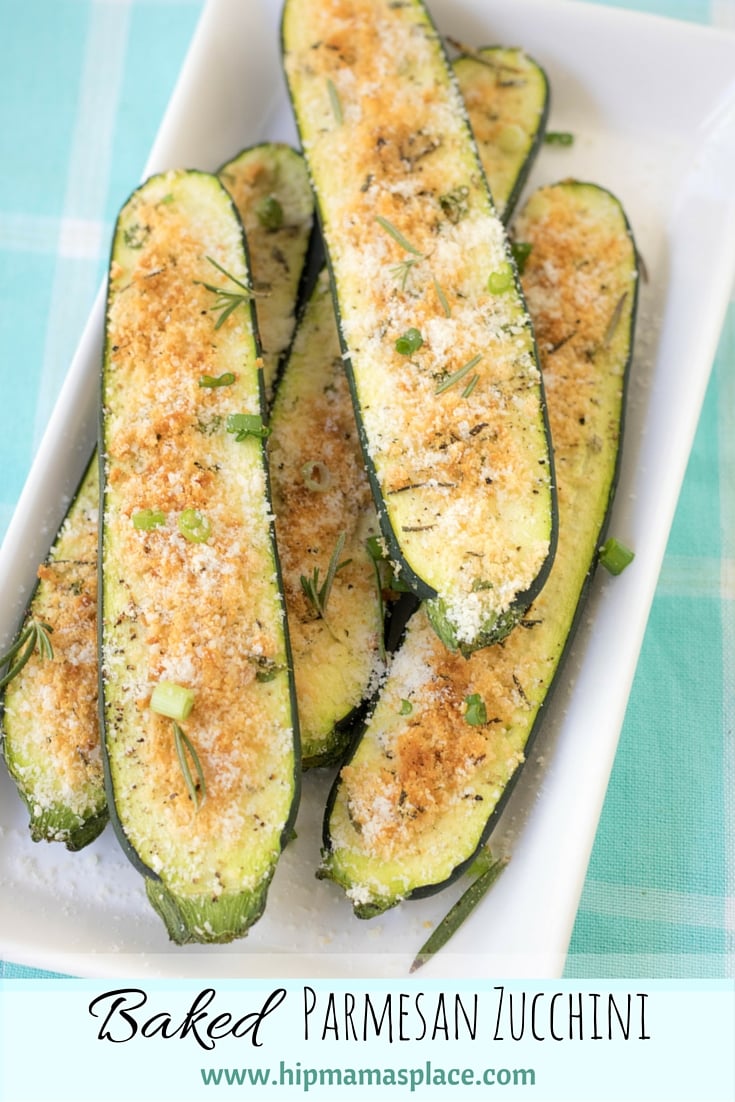 You Might Also Like…