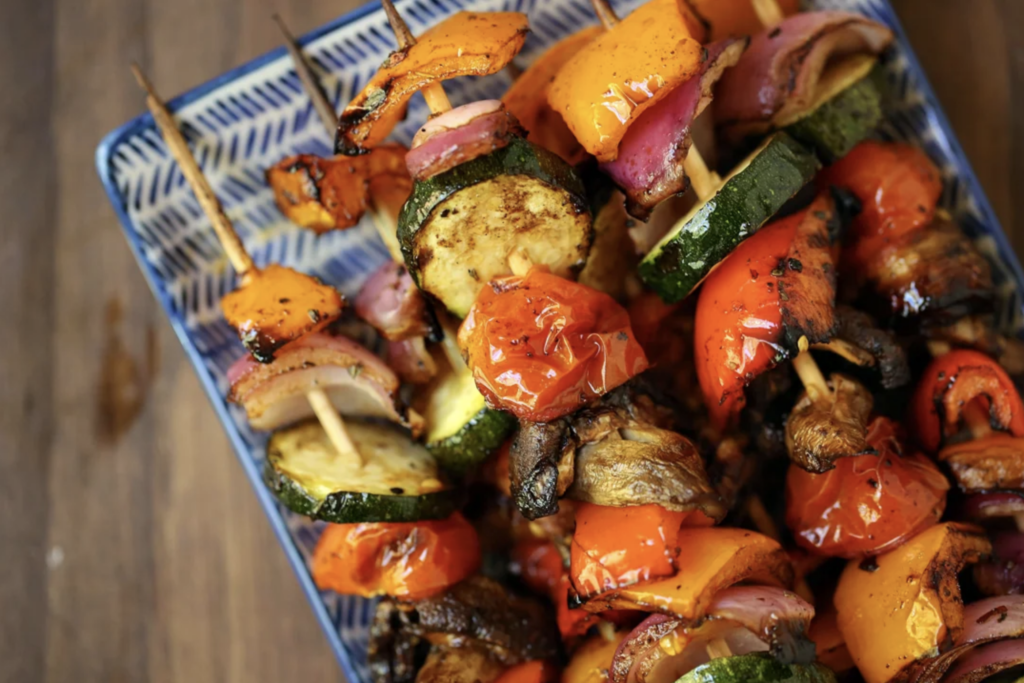 Easy, yummy and healthy Balsamic Grilled Veggie Kebabs: a medley of fresh vegetables skewered and marinated in balsamic vinaigrette is perfect as a summertime side dish or as a meal in itself!
Summer is here and you know what that means: it's time to fire up the grill! Yes, and since summer is a high time for parties and get-togethers, I thought it would be a great time to feature one of our family's favorite "summer to fall" side dish: Balsamic Grilled Veggie Kebabs!
You know, I was at the produce section at my local grocery store the other day and I got excited at all the rainbow of vibrantly-colored fruits and vegetables .. almost like they're speaking to me and begging me to use them in my recipes. So, here I am with my new, colorful summer veggie recipe! 🙂
The saying "eat your colors" is super easy with these mouth-watering, flavorful veggie kebabs! Now, if only all veggie dishes are made delicious and easy to make like these, I might just turn into a vegetarian! Just kidding.




Now, tell me you're not drooling while you're looking at these veggie kebabs… because I won't believe you. 😉 I know.. I know what you think. When you think of kebabs, you think juicy steaks, chicken or shrimp. But no, this one doesn't involve any meat.
You, guys! These marinated veggie kebabs are so delicious and totally uncomplicated. The tang and burst of flavor in these kebabs are amazing! We usually eat these with other grilled fare, like homemade burgers, barbecue chicken, steak or hotdogs. If you're vegan or even if you just want to go meatless, you can just eat them as your main meal. It's simple, yet very satisfying.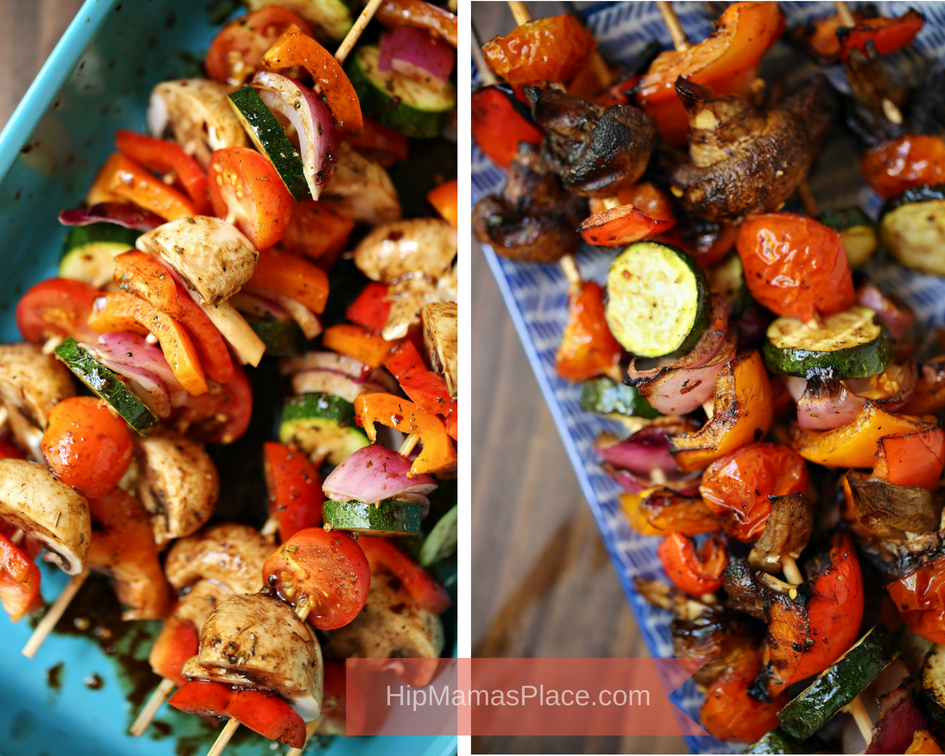 What makes these grilled veggie kebabs so appetizing is the tangy glaze — a mix of balsamic vinegar, mustard, lemon juice and garlic that has been brushed onto the skewered vegetables before they're tossed on the grill. Now, one thing you can't skip as a last step when making this recipe is to brush or spoon some of the marinade glaze on the veggie kebabs just before serving. This really brings in the seasoning throughout the vegetables.
These grilled veggie kebabs are really fun and tasty. To help them cook well, I recommend the following:
Pick firm vegetables, avoiding ones that get soggy when cooked (like eggplant and plantains)
Cut vegetables similar sizes, except if you choose potato, make sure they will cook evenly next to a bell pepper, for example. Bell peppers will be thinner to make layers, while potato has to be thick enough to not fall off the skewer when turned.
Add fruit if you'd like: amazingly, pineapple is tasty, and the balsamic vinegar gives it a nice zing!
Turn the skewers slowly when roasting. Don't over roast the vegetables!



Also, by having this vegetarian option at get togethers and parties, I know that I'm including everyone! I've heard many people feel left out when there wasn't food to eat for their dietary restrictions. Plus, it is an easy and fun way to help your kids eat their vegetables. Just a note, take away the spears from the adults if they start making them into swords, haa! Not that I've experienced that in person! 🙂 For younger kids, you can opt for reusable skewers that aren't wooden.
The fun part of celebrating is the people and good food. Let's make your next party or get-together one full of color vegetables like those in this veggie skewer recipe.
What are your next party plans? Something low key or something more festive? Either way, these grilled veggie kebabs will sure to please!
Print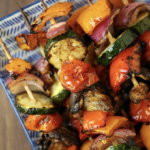 Balsamic Grilled Veggie Kebabs
---
2

medium zucchini, cut in 1/2 inch rounds

2

medium red, yellow, orange, green bell peppers, cut in chunks

1

medium red onion, cut in chunks

4

cherry tomatoes, cut in halves

8

–

16

oz fresh whole mushrooms (white button, or crimini), cut in halves
skewers
FOR THE MARINADE:

1/4 cup

balsamic vinegar

1/4 cup

extra-virgin olive oil

1 tablespoon

finely chopped parsley

1 tablespoon

fresh juice from 1 lemon

2 teaspoons

freshly minced garlic (about

2

medium cloves)

2 teaspoons

DIjon mustard

2 teaspoons

finely chopped thyme
Kosher salt and freshly ground black pepper
---
Instructions
Soak the wooden skewers in water for 15 minutes.
Whisk all marinade ingredients in a large bowl. Toss all cut up veggies in the marinade and marinate for about 45 minutes to an hour.
Preheat the grill on medium heat and lightly oil the grate.
Remove vegetables from marinade, shaking off excess.
Grill vegetables on preheated grill until tender, 10 to 15 minutes, brushing vegetables with marinade.
Transfer cooked vegetables to a platter and serve with any remaining marinade.