This post was written by me on behalf of Stonyfield® Organic YoKids®. All views and text are mine.
As an autumn-loving family, we love spending time together and eat outside in this colorful season. Besides having cooler temperatures and fewer bugs, autumn is the perfect time to head outside to enjoy a picnic- while enjoying the gorgeous colors of the season!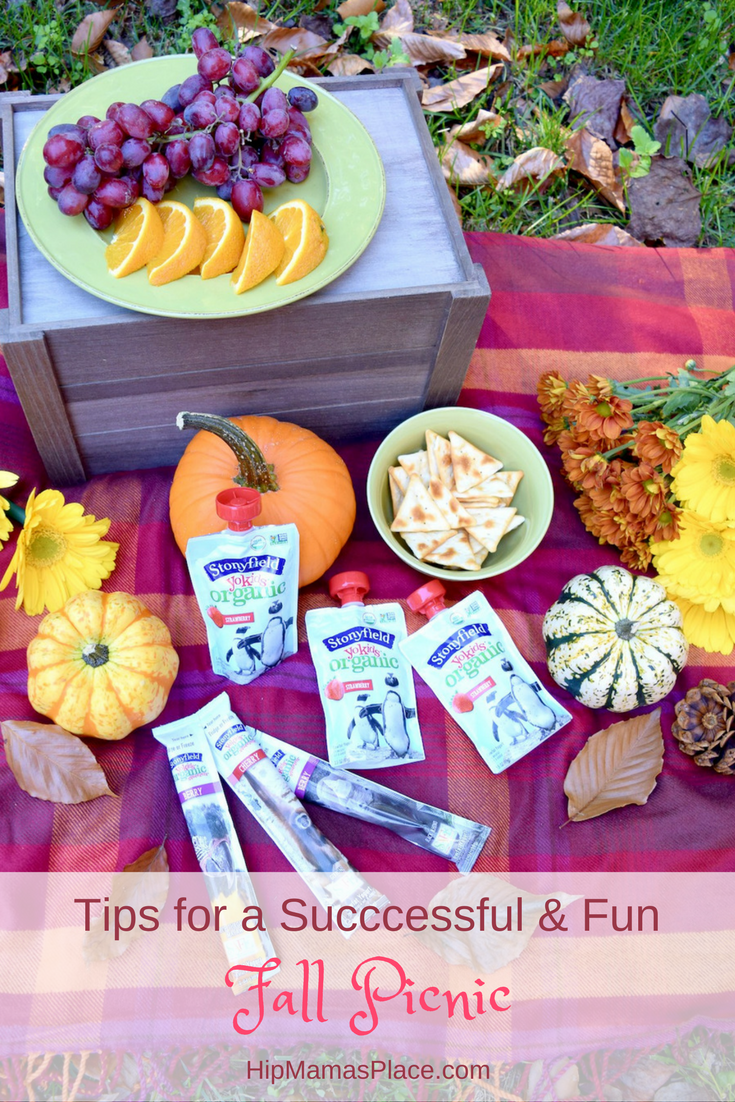 And because I really love going out on a picnic with my family, I usually tie in a picnic when we do our fall activities such as visiting the pumpkin patch, picking apples or when going on a family road trip or for a short hike at a local park.
So today, I thought I'd share with you some of my own tips for a successful, safe and fun fall picnic with your family!
1. When looking for a good place to have a picnic, look for a dry, flat and grassy ground area where you can scatter a few blankets to sit on comfortably and set up your picnic food.
2. Food safety is a priority, so choose foods that are durable and won't become soggy. If some food items need to be served cold, place them in a cooler with ice and separate them from room temperature items. If you don't have a cooler, I would recommend investing in one! They're great and you can use them all year round for any occasion.
My kids do love these convenient and delicious Stonyfield® Organic YoKids® yogurts so on our recent fall picnic, we brought these portable, grab-and- go snacks that are easy to pack on trips as well. What I love about Stonyfield® Organic YoKids® yogurts is that they are low-fat, organic, and Non GMO Project Verified, which means that their yogurt products are made without the use of toxic persistent pesticides, artificial hormones, antibiotics and GMOs. They don't contain high fructose corn syrup and have 25-40% less sugar than the leading kids yogurt. I happened to find out this applies to other YoKids® organic yogurt in cups, smoothies, tubes, and Squeezers (pouches) as well.
I feel good giving my kids Stonyfield® Organic YoKids® yogurts because not only do they enjoy these yogurts, I love that their bodies are being replenished with wholesome, certified organic snacks. Whether it's back to school, camp, or going on a fall road trip or picnic, I make sure we have a bunch of Stonyfield® Organic YoKids® yogurts in the cooler!
3. For a nice touch to your picnic, bring fresh flowers, candles, and flat wooden cutting boards or boxes to use as flat, steady surfaces for placing food and drinks or to keep them from tipping over on the grass.
4. Toss blankets and floor pillows on the ground to create nesting spots.
5. Bring trash bags, paper towels and a few moist towelettes for cleaning everything up when your picnic is over and then dispose garbage properly.
This is a sponsored post written by me on behalf of Stonyfield® Organic YoKids®.
You Might Also Like…