As we head into the busy and sometimes frantic Fall season, there is no better way to ease the stress of what to make for dinner on busy weeknights than these delicious and easy dinner recipes!
Not only can you plan ahead and take the pressure off of your hectic schedule, but the whole family will love these amazing meals. Check them out!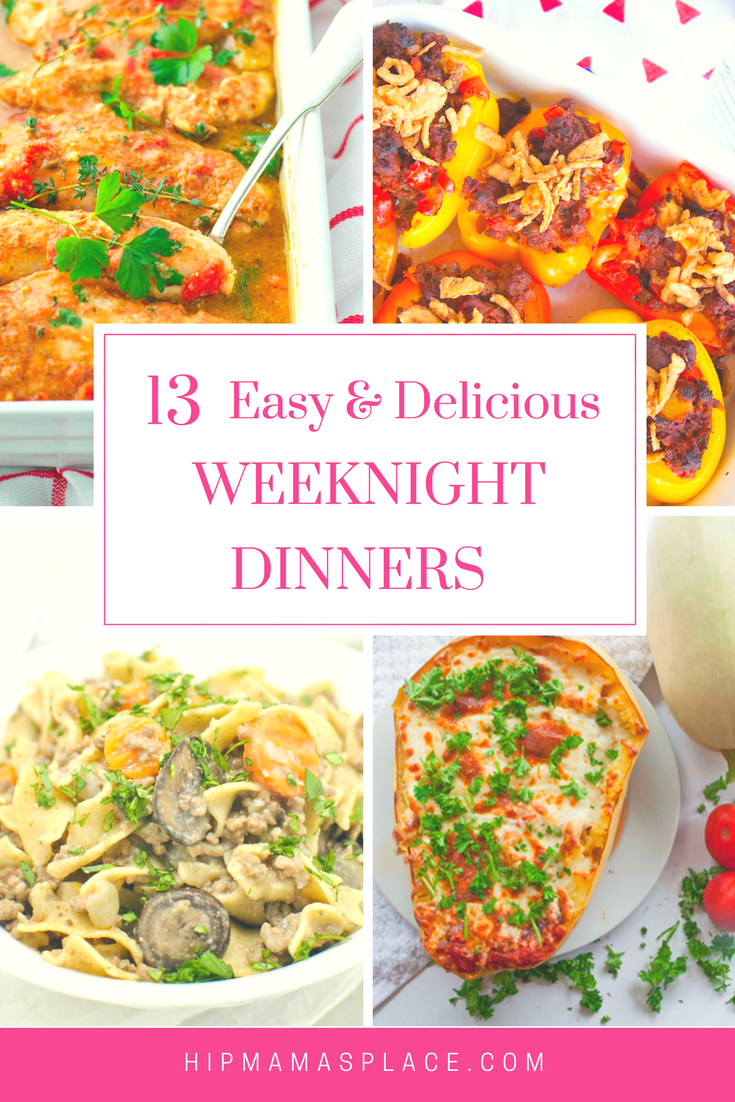 Baked Ravioli is one of the most versatile ways to make a homemade meal in just minutes. I love that I can use any kind of ravioli such as the cheese ravioli in this recipe or I can get a little more creative and use a meat and cheese variety.
After working all day, who wants to actually "work" at dinner time? This Italian Baked Chicken recipe is one of my favorites because it's just a one pan dish! I love how I can put all the ingredients in one baking dish and in about 40 minutes I have an easy Italian chicken meal that is juicy and delicious in it's garlic sauce.
Now that Fall is upon us, it's the perfect time to buy a yummy spaghetti squash and whip up one of the best fall bakes you will find. I love this Baked Spaghetti Squash recipe because I can mix up the ingredients and add any leftover vegetables that I have in the fridge.
Now when I am feeling like I need to change it up a little, I love this Sloppy Joe Style Stuffed Peppers for dinner. My kids love this one too because it reminds them of one of their favorite sandwich nights.



When I want to go a little healthier one of my favorites that I love is Lean Ground Beef Stroganoff. I love how I can substitute nonfat greek yogurt instead of using sour cream and use whole wheat egg noodles.
A family favorite, my own Oven-Baked Curry Chicken Legs recipe is super easy to make! You don't have to spend hours in the kitchen to prepare and bake these moist, herbed curried chicken. We love these so much I make extras for left-overs too!
When I know I have a super busy day ahead, this One Pot Sweet Potato Bacon and Sage Pasta dish is on the menu. I love that I can prep ahead of time and then throw everything in the same pot and have a delicious dinner and an easy clean up!
Rice Bowls are easy and fun and that's why I love this Red Kale and Sweet Potato Rice Bowls with BBQ Chicken in particular. Not only is it tasty, but the nutritional value is outstanding. I really love the BBQ flavor with the sweet potatoes and my kids do too!



There aren't many kids who don't love chicken nuggets, so why not try something a little different and make your own fish nuggets with this Panko Crusted Tilapia Nuggets with Dipping Sauce recipe? I am thrilled with the way these turn out so crispy and my kids love the dipping sauce.
Tater Tot Casserole is one my go-to quick weeknight dinners. Mainly because my kids can help me make it and they love it so much. And when I add some extra cheese, they love it even more.
We always love having a make your own pizza night, so why not try something different and make your own Personal-Sized Quiches. I love these and when I start getting all the ingredients out, my family gets excited to experiment with all the fixings.
So many chicken, so many recipes. For a delicious treat that is so satisfying, I simply love this Ginger Honey Glazed Chicken. What I like best about this one is it is also economical because I can use chicken thighs, but I only need 5 ingredients!
If you love cooking, but don't have all the time in the world (and who really does?) these easy weeknight dinners should do the trick. When I think of all the long days ahead this Fall, I am not so stressed out knowing I have some great meals to make quickly that my whole family enjoys. I am sure many of these will make it on your weekly rotation as they are certainly on mine!
Which of these easy dinner recipes would you like to try to make next? Tell me in the comments!
You Will Also Like…