I was recently chosen by Mom Central as a YourSphere Test Drive Mom– along with other 50+ moms- to test out the new virtual playground for kids created for kids and teens ages 8 to 18 called YourSphere.com.
With all the popularity of "stranger-danger" sites like Facebook and MySpace, it's great to know that there is an alternative site for kids like YourSphere.com where they can have fun, express themselves and get creative in an entertaining yet, safe and healthy online environment.
Yoursphere.com: What is it and how does it work?
Yoursphere.com is a kid-friendly site that offers kids and tweens a safe way to explore the wonders of the internet, while housed in a safe, supportive, and entertaining environment. A virtual playground where kids can be themselves, without the pressure and influence of growing up too fast or the risks of privacy invasion they might experience through other social networks.
Here is YourSphere Mom Founder and President, Mary Kay Hoal with her 15-year old daughter Madison, on kids' safety online. Watch this video and get a good overview on YourSphere as well.
As a parent who's always on the lookout for kids' safety and the dangers on the internet, what I instantly liked about YourSphere.com is that it asks for the kid's registration to be verified by a parent before he/she can use the site. This is to ensure that the identity of registrants are legit and help maintain the safety of the Yoursphere community. And here's one most interesting thing I found out about YourSphere.com: if you're a registered sex offender, you are not allowed access to the site at all. Period.
So when I had my step-son Jordan (who's 12) register for his account, I had to verify his identity with a few security questions. Now, I think that's important.
At YourSphere.com, kids can create their own profile, start a blog, share pictures, or meet up with friends while playing hundreds of free age-appropriate interactive games in the "Our World" section of the site. There are common "spheres" (interests) such as sports, music, fashion, gaming, academics, performing arts where they can have discussions on these topics. Jordan loves soccer so he's in that section of YourSphere all the time. Honestly, it's becoming one of his favorite online sites now when he wants to have fun! 🙂
Signing Up on YourSphere.com:
Yoursphere is completely FREE to use. So if you want to go ahead test the site out yourself, have your kid sign up by using this code: YSMC-0048. Please mention "Hip Mama's Place" as your referrer.



*Hip Mama's Place Disclosure: "I wrote this review while participating in the Yoursphere Test Drive program by Mom Central on behalf of Yoursphere. I received a free lifetime Gold membership on Yoursphere.com, Yoursphere t-shirts, and a $50 American Express gift card to facilitate my review."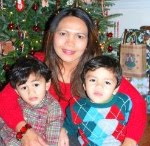 About the Author: Jocelyn Duncan is a working mom of two boys and is a recognized blogger and mom influencer in the Washington, DC area. In her spare time, she designs and creates her own handmade jewelry, maintains her jewelry store on Etsy and is an active moms group organizer and leader both online and offline. Follow Jocelyn on Twitter and/or Facebook.