If you're looking for ideas for Valentines' Day on a budget, read on. There are ways to celebrate and have a great Valentine's Day without spending your last dollar!
Valentine's Day is fast approaching and so are the inevitable anxieties of trying to find the right way to celebrate your love without breaking the bank. Read on for some great and affordable Valentine's Day ideas!
1. Make a love jar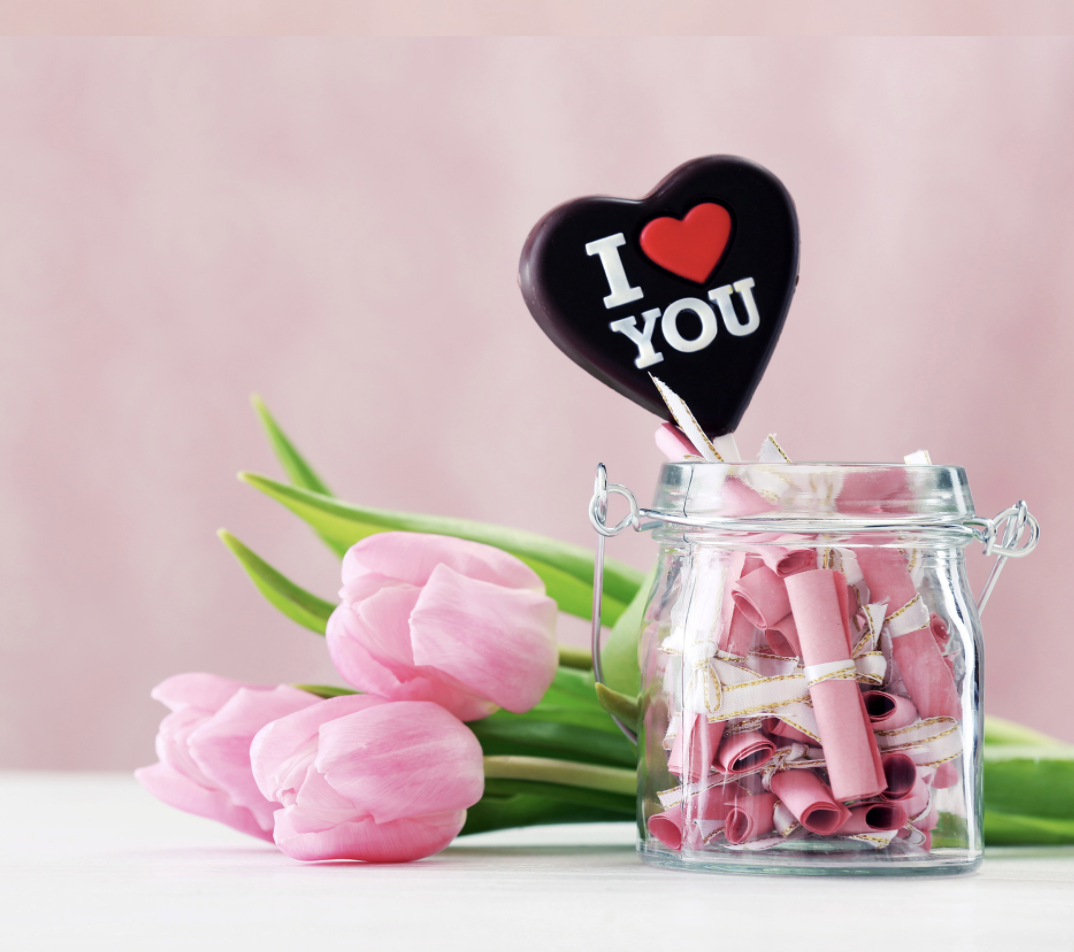 There are surely hundreds of reasons why you love your significant other, right? Maybe it's the way they make you feel like you're floating on a cloud when you're together. Maybe it's how they always know the right words to cheer you up when you've had a bad day. Whatever the reasons, try this tip for a fun and romantic way to share the love. First, find a simple mason jar with a lid (if you don't have one, check out Goodwill or another thrift store for plenty of options). Then, using a blank sheet of paper (you can choose if you want to use something fancier, but printer paper will do just fine!), write out 50-100 of the reasons why you love your beau. Carefully cut each of these out, and use them to fill your mason jar. Now, simply decorate your jar as much or as little as you prefer and voila – a romantic and affordable gift that your partner is sure to love as much as they love you!
2. Cook together for the ultimate night in
Another Valentines' Day on a budget idea: instead of spending hundreds of dollars on a couple of plates of mediocre food that you have to enjoy in a room with 50+ other couples, save money and have a romantic Valentine's night in! For much less than the cost of a meal out (especially on this notoriously over-priced holiday), you and your partner can enjoy a fabulous, delicious home cooked meal. Simply head to the local grocery store and pick up a nice steak, some seafood, or whatever suits your style. You can choose to surprise your love with a ready-to-eat meal when they get home or cook together for some extra-sweet bonding time. Dress up in some sexy lingerie if that's your thing, throw in some champagne and strawberries and have the night of your lives without spending too much! Need recipe inspiration? Just browse through some of my easy recipes here on Hip Mama's Place! 🙂
3. Surprise your partner with candy and flowers
Why over complicate things? Especially if you haven't been together for a long time, it can sometimes be better to keep things simple. Instead of spending hundreds on an extravagant night out or an expensive gift like jewelry – stop by your love's workplace (or home) with a bouquet of flowers and some nice chocolates or candies. Your partner is sure to appreciate this sweet gesture on the most romantic day of the year. Make sure to include an admiring note to let them know how much you care! If you're looking for something cute and affordable to gift your man this Valentine's Day, how about a manly gift basket? Go check it out.
4. Bake and decorate heart-shaped cookies together
If you want to find an activity that provides some intimate bonding time in the kitchen with your partner but you don't feel confident preparing and cooking a whole meal, try this fun activity: bake heart-shaped cookies together instead. Check out the dollar store or Goodwill to find some affordable heart-shaped cookie cutters. You can make this as involved or easy as you'd like. Either whip up some dough from scratch or buy some pre-made dough at the store – either way you are sure to enjoy this sweet treat. Together with your beau, use the cookie cutters to cut out some Valentine's Day-themed shapes and then pop them in the oven. Once they are done, let them cool completely before adding icing, heart-shaped sprinkles, and whatever else your heart desires. Be prepared to get a little messy, but that is part of the fun! Try my Red Velvet Crinkle Cookies or my Valentine's Day Chocolate-Covered Pretzels recipes — both are yummy and are perfect for this Valentine's Day idea!
5. Get creative – write or make a beautiful gift to show your love
If you don't want to (or can't) spend any money this Valentine's Day – this one is perfect for you. However you prefer to get creative, use your skills to share the love with your partner. Write a poem expressing how much they mean to you, or wax poetic about their beauty and good qualities. Write a short story about the first time you saw your love, or your favorite day spent together. If you're more of a visual artist, try painting or sketching an image of your partner, your favorite date spot, or the two of you sharing a kiss. If you prefer something more hands-on, grab some clay and shape it into something that fits the Valentine's Day theme. Whatever you choose to create, your partner will be delighted to know that you took the time to make something romantic and thoughtful especially for them. What more could you ask for on Valentine's Day?
So what do you think about these Valentine's Day on a budget ideas? Do you have other ideas for an affordable Valentine's Day? I'd love it if you can share in the comments!
Whether you choose to stay in, go out, create or buy your loved one a present, remember that the thought you put into making them happy will be the real gift. You don't have to spend a ton of money to show your love and affection, or to let your partner know that you care. Let your heart lead the way this Valentine's Day… and enjoy!
This is a collaborative post and may contain affiliate links. Please see our Disclosure Policy for more details.
LOVE THIS POST? PIN IT HERE!
You Might Also Like…