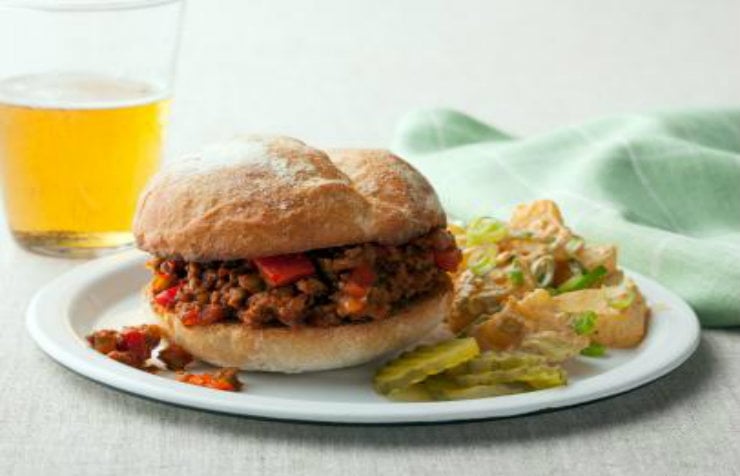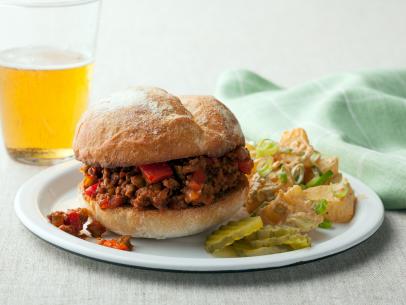 Love sloppy joe's? I do! And do you know that today, March 18th, is National Sloppy Joe Day? To celebrate, I've gathered up some fun facts and a simple 30-minute yummy sloppy joe recipe by celebrity chef Rachael Ray. Plus, later today, you're all invited to participate in a Twitter Party hosted by Hunt's Manwich for fun chats about sloppy joe's and other Manwich recipes. You'll also get a chance to win some cool prizes with your participation!
*FUN FACTS:
A sloppy joe is a sandwich, originating in the United States, consisting of ground beef, onions, tomato sauce or ketchup, Worcestershire sauce, and other seasonings, served on a hamburger bun. Other variations to the sloppy joe recipe exist in other culinary traditions and includes using ground turkey, stewed pork, lamb and textured vegetable protein to substitute ground beef. (Source: Wikipedia)
Sloppy Joe's was a bar in Havana in the 30's owned by a guy named José García. The bar got its name because his place was always a mess, and the ropa vieja sandwich served there came to be known as a sloppy Joe. (Source: NYTimes.com)
Sloppy Joe's is also a name of a famous bar/restaurant in Key West, Florida (which I can proudly say that I've been to during my visit in the Key West back in 2004. Wow, time flies!). The restaurant menu includes American Caribbean with bar favorites such as burgers, sandwiches and salads. If you want to have fun in the Key West, this bar/restaurant is a total must-visit offering generous drinks, live music and dancing! (Source: SloppyJoes.com)
*VIDEO RECIPE:
I love this video recipe by one of my favorite chefs, Rachael Ray. Here, she shows us step by step, how to make the famous sloppy joe's that I know everyone will love! There are other recipes that incorporate the flavor of sloppy joe's too, and I like Rachael Ray's 11 New Ways To Eat Sloppy Joe's.
*TWITTER PARTY:
Also, to celebrate #NationalSloppyJoeDay, Manwich, along with other bloggers, will be hosting a Twitter Party later today Wednesday, March 18th at 7:00 p.m. CT (8:00 p.m. ET). Join in the Twitter chat celebrating National Sloppy Joe Day as well as sharing delicious, Hunt's Manwich-inspired recipes! And who knows, you might get lucky and be one of five lucky winners to receive some cool prizes! More details below..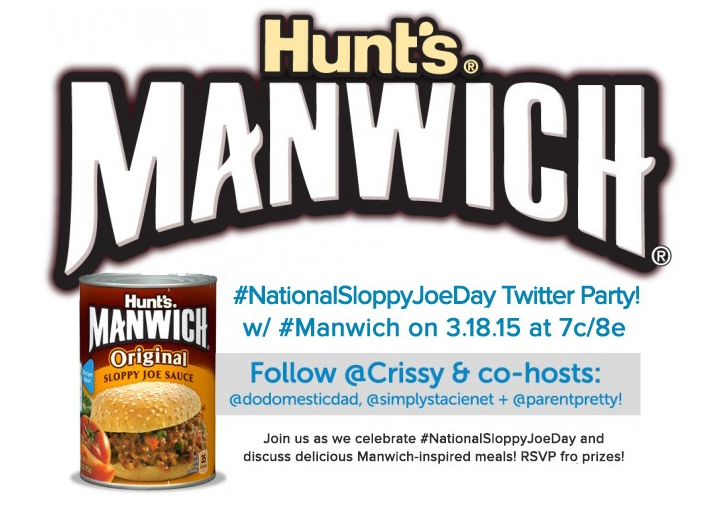 #MANWICH TWITTER PARTY DETAILS
Date: Wednesday, March 18th 2015
Time: 7:00 p.m. CT / 8:00 p.m. ET
Host: @Crissy
Co-Hosts: @dodomesticdad, @SimplyStacienet and @ParentPretty
Hashtag: #NationalSloppyJoeDay
Prizes: Five (5) winners will receive a prize pack including: $30 visa gift card, sauce pan, electric can opener, branded Manwich apron, branded Manwich pot holder, branded Manwich spoon and 3 Cans of Manwich (bold, original, thick and chunky)!