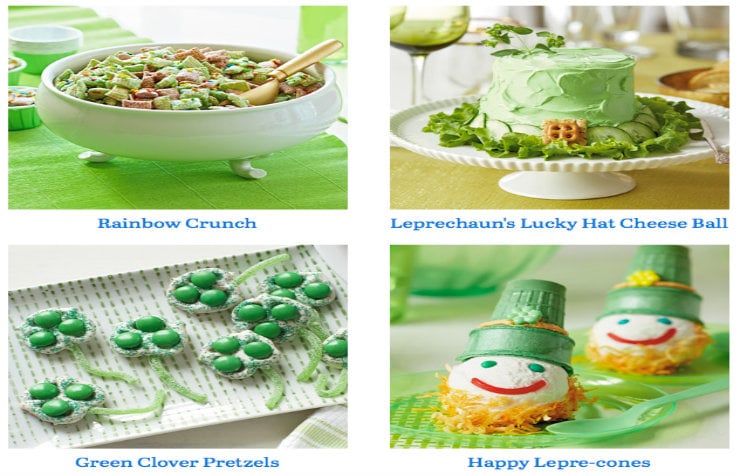 St. Patrick's Day is tomorrow, Tuesday, March 17th. Get into the shamrock spirit with these delightful yet, easy and fun to make recipes, courtesy of Hallmark! There is no doubt that my whole family will devour any of these yummy food any day! 🙂
Full recipes are available here: Rainbow Crunch, Leprechaun's Lucky Hat Cheeseball, Green Clover Pretzels and Happy Lepre-cones (omg, there are just sooo adorable!!!)
A few fun facts about St. Patrick's holiday:
Patrick used the shamrock to explain the Trinity, and has been associated with him and the Irish since that day. (Source: Catholic.org)

St. Patrick's Day is always celebrated on March 17.
The first parade held to honor St. Patrick's Day took place not in Ireland but in the United States on March 17, 1762.
For even more 'green' fun, Hallmark has some really cute and free St. Patrick's coloring pages and free St. Patrick's printable games and activities like word searches, a "seeing green" eye trick and more!
HAPPY ST. PATRICK'S DAY!

🙂