I love lumpia – Filipino-style egg rolls – that my mother used to make all the time growing up in the Philippines.
Well, if you've had lumpia before (always served at Filipino parties!) and love it, here's a great Filipino Lumpia recipe you can use from the adorable Mya at PBS Parents. Have your sweet-and-sour sauce ready! 🙂
*Mya is a full-time kid and proud of it. Her job is sharing fun educational tricks, cute crafts, songs and surprises that kids and parents will enjoy. Learn more about Mya at: www.fulltimekid.com
Don't miss out on the latest fab deals, cool freebies, high value coupons, fun giveaways, sweepstakes and more! Subscribe to the Hip Mama's Place email newsletter, Hip Mama's Place feed reader, or simply "Like" Hip Mama's Place on Facebook and/or follow Hip Mama's Place on Twitter!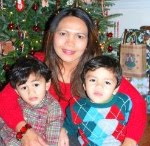 About the Author: Jocelyn Cañasa-Brown is a working mom of two boys and is a recognized blogger and mom influencer in the Washington, DC area. In her spare time, she designs and creates her own handmade jewelry, maintains her jewelry store on Etsy and is an active moms group organizer and leader both online and offline. Hip Mama's Place was nominated for Parents 2011 Best All-Around Mom Blog and named one of the Highest Rated Blogs and Sites on Nickelodeon ParentsConnect for the Washington, DC area. Follow Jocelyn on Twitter, Facebook and Pinterest.