Request your free Home Made Simple coupon booklet from P&G brands today- with great value coupons worth over $35 for brands like Swiffer, Cascade, Dawn, Febreze, Mr. Clean and more!


Just register to receive your P&G coupon booklet. Allow 6 weeks for delivery.
This is a great way to start your coupon gathering for this year! I have started gathering mine and it's really fun! 🙂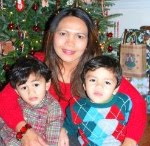 About the Author: Jocelyn Cañasa-Brown is a working mom of two boys and is a recognized blogger and mom influencer in the Washington, DC area. In her spare time, she designs and creates her own handmade jewelry, maintains her jewelry store on Artfire and is an active moms group organizer and leader both online and offline. Hip Mama's Place was nominated for Parents 2011 Best All-Around Mom Blog and named one of the Highest Rated Blogs and Sites on Nickelodeon ParentsConnect for the Washington, DC area. Follow Jocelyn on Twitter and/or Facebook.