This Pumpkin Spice Sugar Scrub is yummy and perfect for your skin especially in the colder season.. and also makes a wonderful, personalized DIY gift!
Many people are finding the benefits of simplicity. There are books on being okay with less and of course blogs which help you simplify your life. The in-between, of course, works well for many people.
I know one thing: I take pride in being able to make things at home, including some of my skincare. I love the fact that I know exactly which ingredients are in my skincare recipes, while also loving the idea that I'm able to share them with my readers on Hip Mama's Place.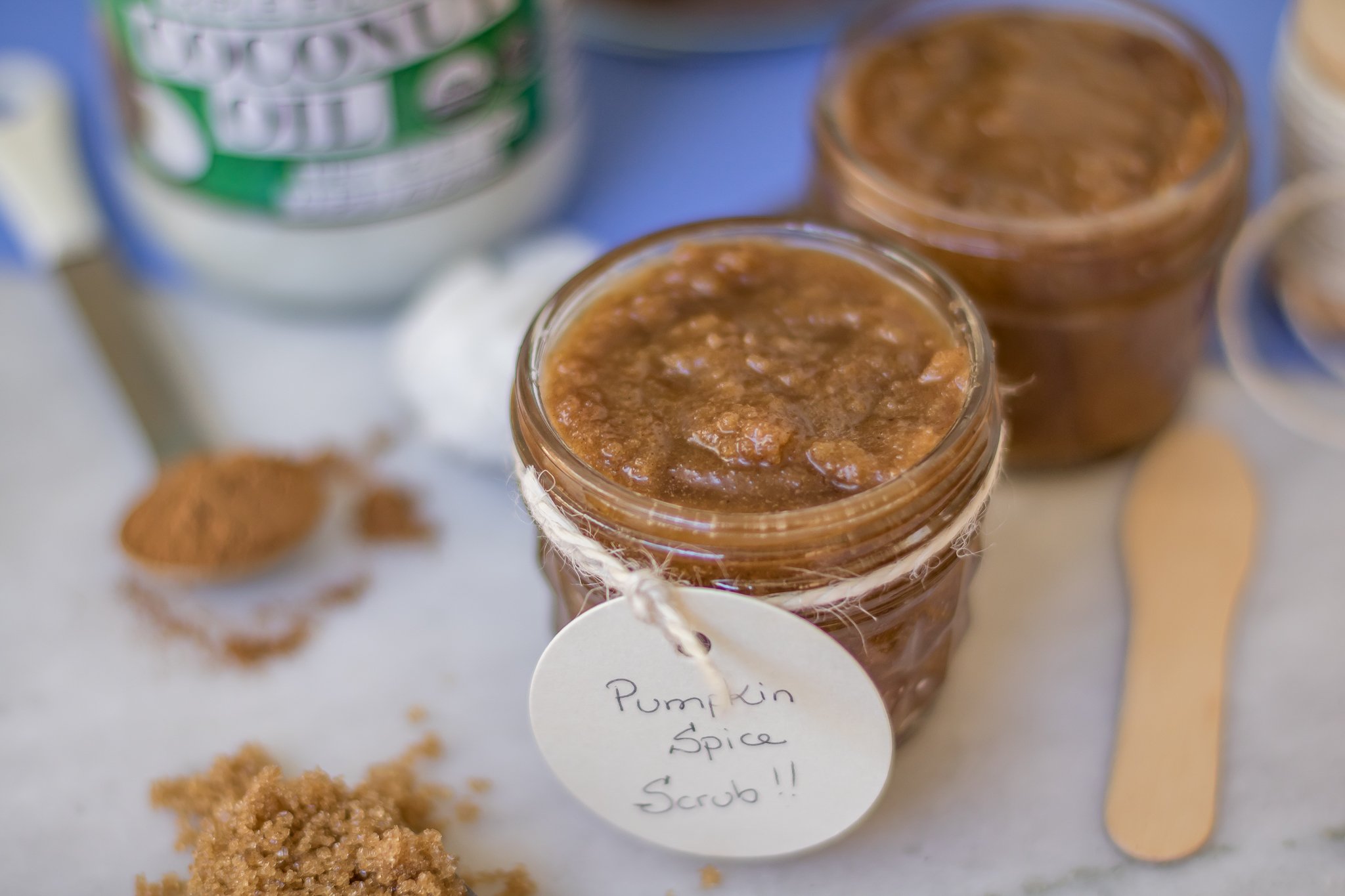 This Pumpkin Spice Sugar Scrub is a new item I've started making at home. It's yummy on my skin, and it also makes a wonderful gift!
INGREDIENTS IN DIY PUMPKIN SPICE SUGAR SCRUB
So… before I go on, let's take a minute to talk about the main ingredients in these 'naturally wonderful for your skin' pumpkin spice sugar scrub recipe!
Coconut oil is used in many cultures as a natural moisturizer. Its benefits include being a natural antibacterial and anti-fungal agent. So using it on your skin is great! Plus, it is an excellent moisturizer that can better penetrate hair as well.
Not required, but choosing an organic, unrefined oil may be best as it has many additional benefits. Look for cold-pressed oil, or raw, which means it hasn't been overheated (though coconut oil can withstand higher heats than many oils.). This helps to keep the naturally occurring phytonutrients and polyphenols.
The pumpkin spice makes it smell great while keeping you full of the warmth we find in our favorite comfort foods this time of year. Without having to eat it of course! While everything in this scrub is edible, I don't recommend eating it. The brown sugar is used in this pumpkin spice scrub because it can work as a great exfoliant.
Exfoliants help to turn over old skin cells so the new ones emerge and help to keep your skin vibrant. When the brown sugar removes excess dead skin cells, it can help to:
remove whiteheads and blackheads.
removes excess sebum from the pores on your skin.
Keeping your skin ready for the winter is not vain – it actually is needed! With the heaters running, the humidity in homes drop, so keeping your skin moisturized and removing dead skin cells will help you keep a natural glow, that isn't just the wind burning your face!
Pumpkin Spice Sugar Scrub DIY
Ingredients
1 cup brown sugar
2 Tbsp pumpkin spice
1 tsp cinnamon
1/3 cup coconut oil, melted
1/2 tsp vanilla extract
HOW TO MAKE PUMPKIN SPICE SUGAR SCRUB DIY
So easy, my friends! Simply mix all the ingredients in a bowl until well combined and scoop them into mason jars with lids.
I personally like using a tbsp scoop on a bath mitt to scrub my feet… keeps them baby soft! 🙂
You can also package this in a Mason jar
, include cute ribbon and you have the perfect homemade holiday presents ready to go!
Cool tip: These will make great holiday gifts! Get bulk Mason jars
, inexpensive holiday ribbons and ingredients and you'll make 24 of these for just under $4 each!
So, what do you think of this pumpkin spice sugar scrub recipe? Will you be making them for yourself soon? Tell me about it in the comments!
MORE DIY SKINCARE RECIPES TO TRY!
LOVE THIS SKINCARE RECIPE? PIN HERE FOR LATER!
You Might Also Like…