This summer has been really full for my kids so far, when it comes to fun activities to do and places to go! But after seeing this awesome deal, now I'm thinking, "wait, how about the Newseum"? I've been wanting to check out this cool, interactive place for my kids since last year. So let's see what happens.
If you and your kids are up to it, The Newseum in Washington D.C. has again opened their doors for free to kids 18 and under with a paying adult (offer good for up to six kids per adult admission, senior admission or Newseum membership) with the Newseum's Summer Fun Deal! This free offer is valid all of July and August, and Labor Day weekend through September 3, 2012. With this free deal, the regular $12.95 admission price for each kid is waived!
The Newseum is open from 9 a.m. to 5 p.m. daily and is closed on Thanksgiving, Christmas and New Year's Day. Admission prices: $21.95 for adults, $17.95 for seniors age 65+ and $12.95 for youth 7 to 18 (resumes on September 4, 2012 when the summer fun deal is over).
For more ideas on fun and free things to do with your family this summer, check out the "Popular Posts" section on the right hand side bar of our blog. Enjoy your summer! 🙂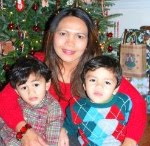 About the Author: Jocelyn Cañasa-Brown is a working mom of two boys and is a recognized blogger and mom influencer in the Washington, DC area. In her spare time, she designs and creates her own handmade jewelry, maintains her jewelry store on Etsy and is an active moms group organizer and leader both online and offline. Hip Mama's Place was nominated for Parents 2011 Best All-Around Mom Blog and named one of the Highest Rated Blogs and Sites on Nickelodeon ParentsConnect for the Washington, DC area. Follow Jocelyn on Twitter and/or Facebook.