As a busy mom, I'm always on the lookout for meal ideas that are quick and easy to prepare, yet still offer important daily nutrients my family and I need. I'm not huge on preparing big breakfasts and especially on hurried mornings, I just like to grab my favorite granola bar or have a quick bowl of cereal or oatmeal before I head out the door.
For my cereal, I just love any flavor of Fiber One® and I'm happy to share that they've recently launched the all new Fiber One® Protein- a granola cereal that offers a wholesome combination of protein and fiber in one box! There are two flavors available– Maple Brown Sugar and Cranberry Almond and both of these flavors are definitely a must try! I am always looking to increase my fiber intake as part of a healthier diet that I started the first day of the year, and these cereals are definitely something that I can add to my morning breakfast routine to help me with that goal!
What's not to love? Each serving of Fiber One Protein cereal has 10 grams of protein when served with milk, as well as 20 percent of the daily value of fiber. I definitely love that!
So, here's a breakdown of what each flavor of Fiber One® Protein offers:
Maple Brown Sugar

combines the taste of maple brown sugar with delicious sweetened granola and crunchy pecans.
Cranberry Almond is a delightfully tasty mix of crunchy almonds, sweetened cranberry pieces and sweetened granola.
Fiber One Protein is now available at major grocery stores nationwide, at a suggested retail price of $4.29. Visit FiberOne.com for more information about Fiber One Protein and other Fiber One products.
So, on non-hurried days, I do like to jazz up our family meals and try new recipes. Like, here's this recipe for No-Bake Chewy Fiber One® Protein Cookies that's super easy and looks really delicious! Want to try making these yummy cookies too? All you need is 30 minutes from start to finish! And you can even make an extra batch to store and eat in the next few days- perfect for those grab and go mornings! Just go here for the full recipe.

*Hip Mama's Place Disclosure: "My reviews and opinions are 100% my own. Fiber One sent me products to help facilitate my review".


Don't miss out on the latest fab deals, cool freebies, fun giveaways, delicious recipes, DIY inspirations and more! Subscribe to the Hip Mama's Place email newsletter, Hip Mama's Place feed reader, or simply "Like" Hip Mama's Place on Facebook and/or follow Hip Mama's Place on Twitter!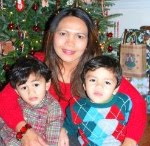 About the Author: Jocelyn Cañasa-Brown is a working mom of two boys and is a recognized blogger and mom influencer in the Washington, DC area. In her spare time, she designs and creates her own handmade jewelry, maintains her jewelry store on Etsy and is an active moms group organizer and leader both online and offline. Hip Mama's Place was nominated for Parents 2011 Best All-Around Mom Blog and named one of the Highest Rated Blogs and Sites on Nickelodeon ParentsConnect for the Washington, DC area. Follow Jocelyn on Twitter, Facebook and Pinterest.