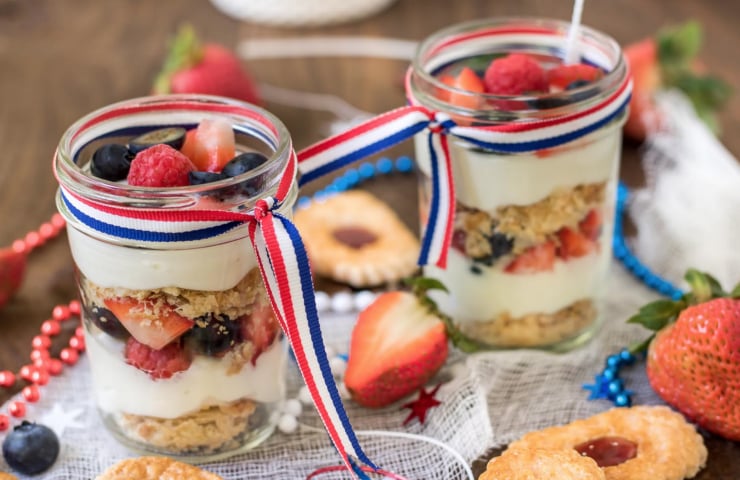 This post was sponsored by Bahlsen Cookies. All opinions are my own.
Looking for a lighter breakfast option for the summer? Then, you'll love these breakfast parfaits to-go made with simple ingredients: old-fashioned oats, Greek yogurt, mixed fruit and berries and crumbled Bahlsen Deloba cookies! And since July 4th is coming up, I made the parfaits themed for this special holiday! 🙂
These delicious parfaits are very easy to make and you can make them ahead for the next day's breakfast or snack. You can even swap the ingredients to suit your taste!
Add almonds, cereal flakes, granola, raisins and even dried mixed fruits — the possibilities are really endless! The addition of Bahlsen Deloba cookies make these parfaits even more delicious!
[ultimate-recipe id="17731″ template="default"]
A tasty treat or snack: Bahlsen cookies!
Do you ever have those moments when you are craving for an easy, tasty treat? Or you have had a really hectic day and you just want to enjoy a peaceful moment to yourself and indulge in some delicious cookies?
For those moments, I love Bahlsen cookies! They're a tasty treat perfect for company – or just to keep to yourself! And I love that these cookies are made with the finest, high quality, all natural ingredients: no hydrogenated oils, zero trans fats, no added preservatives, and no artificial flavors or colors! There are flavors to appeal to many different tastes – blueberry, red currant, puff pastry and chocolate.
Try their scrumptious Blueberry Delobas, Waffelettens and Waffle Minis today! Visit the Bahlsen USA page online to learn more about all the tasty sweet treats they offer or where to buy them. You might even and find a new delicious recipe while on it!