I found this really neat, fun and inexpensive Christmas craft idea from MarthaStewart.com that I did with my kids a few weekends ago: glittering up some dollar store plastic deer as cute table decorations! They look soooo adorable I thought I'd share!


My boys had real fun making these cuties!


When we were done, we added the glittered deers to our little Christmas village that we set up below the fireplace… they look soooo gorgeous I can't stop admiring my kids' work! 🙂
Tools and Materials:
Plastic deer, from a craft or toy store

Small paintbrush

White glue

Powder glitter

Bowl
Glittered Deer How-To:
1. Hold a toy deer by one leg; use a paintbrush to coat head, body, and other three legs with a thin, even layer of white glue.

2. Spoon glitter onto deer; gently shake excess into bowl. Let dry.

3. Repeat process on last leg; touch up bare spots by dabbing them with glue and spooning on more glitter.
If you can't find plastic deer toys at the dollar store, try your local Michael's and Jo-Ann's craft stores too. I couldn't find them at my local craft stores so I went to Etsy and got them at $5 for 6 pieces. I love this Christmas craft idea!
Enjoy crafting with your kids! 🙂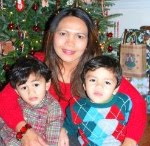 About the Author: Jocelyn Cañasa-Brown is a working mom of two boys and is a recognized blogger and mom influencer in the Washington, DC area. In her spare time, she designs and creates her own handmade jewelry, maintains her jewelry store on Artfire and is an active moms group organizer and leader both online and offline. Hip Mama's Place was nominated for Parents 2011 Best All-Around Mom Blog and named one of the Highest Rated Blogs and Sites on Nickelodeon ParentsConnect for the Washington, DC area. Follow Jocelyn on Twitter and/or Facebook.