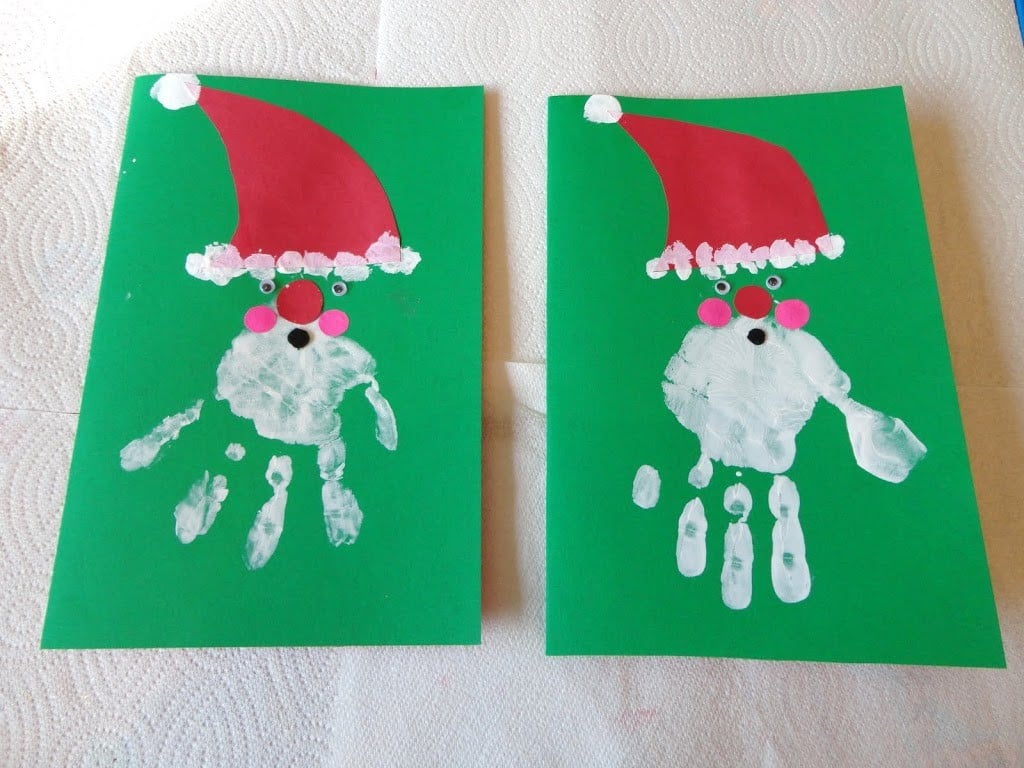 I was looking for great Christmas greeting ideas to give my kids' teachers this year and found this super cute, easy to make yet, really unique greeting card from Disney's FamilyFun.com that my kids can make: handprint Santa greeting card!
I love this Christmas craft idea for kids I just had to share! Aren't these too adorable?!! 🙂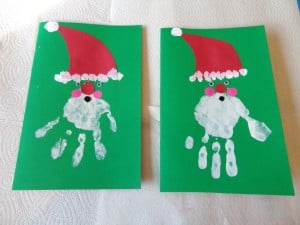 So yesterday, I had my little boys Gabriel and Jaden make theirs (with a little help from mommy!) and they turn out so nice! This is a perfect way to put their personal touch to the greeting cards- with their own hand prints! Now, I just need to make envelopes and they're ready to be stashed in my kids' teachers' gift bags! I'm sure they will be so delighted to get these super cute, handmade Christmas cards!


What you need and how to make the Handprint Santa Greeting Card:
Materials
Red craft paper

Glue stick

Plain notecard or card stock

Tempera paints

Paper plates

Googly eyes



Instructions
Cut Santa-hat shapes (minus the pom-poms and white trim) from the craft paper, then glue one onto each card. Glue a pair of googly eyes a fingertip's width below each hat.
Pour white tempera paint onto one paper plate, and a dollop each of red, black, and pink (mix some red and white) onto another. Stamp white handprint beards, then use fingertips to stamp the trim on the hats, and a nose, mouth, and cheeks on each face.
*A little variation: if you don't want your kids to get too messy with tempera paints, you can use small paintbrushes to make the Santa's beard, pom-poms and white trim on Santa's hat like we did. Enjoy crafting with your kids! 🙂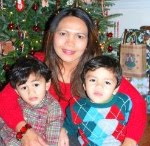 About the Author: Jocelyn Cañasa-Brown is a working mom of two boys and is a recognized blogger and mom influencer in the Washington, DC area. In her spare time, she designs and creates her own handmade jewelry, maintains her jewelry store on Artfire and is an active moms group organizer and leader both online and offline. Hip Mama's Place was nominated for Parents 2011 Best All-Around Mom Blog and named one of the Highest Rated Blogs and Sites on Nickelodeon ParentsConnect for the Washington, DC area. Follow Jocelyn on Twitter and/or Facebook.