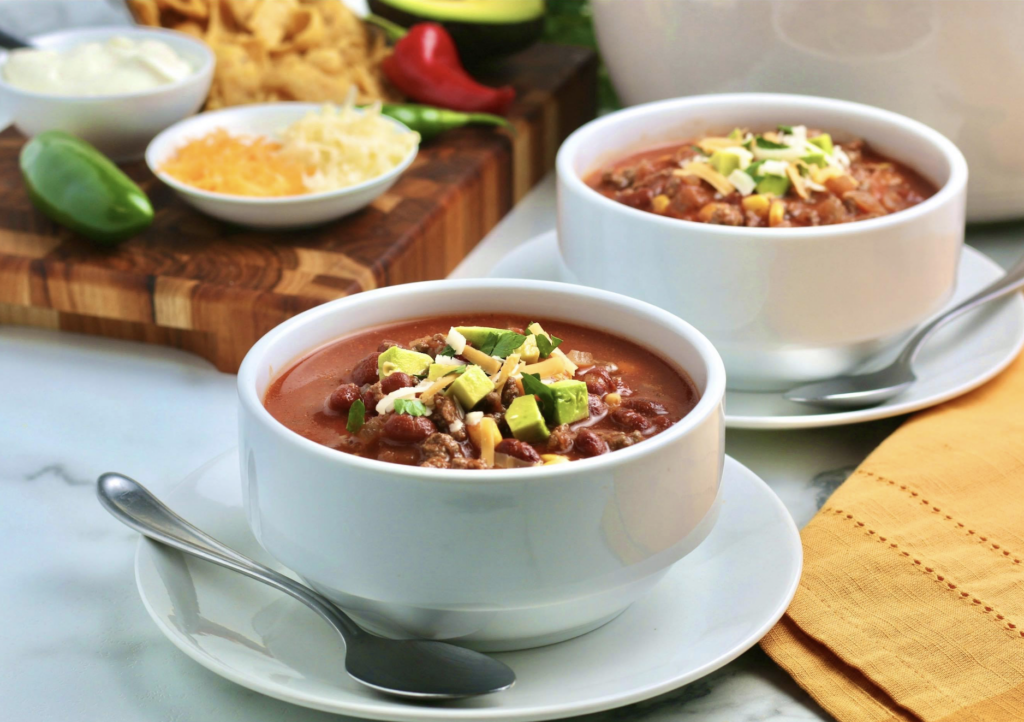 This taco soup recipe is delicious, hearty and filling – perfect for the cool Fall and winter weather! I guarantee, once you try this recipe, you'll agree that this is the best easy taco soup recipe you'll ever make!
Soup and fall go hand in hand. The second that cold weather sets in, I automatically crave a bowl of warm soup. It is just such a cozy and comforting food that goes so well with this time of year. I am always looking for new soup recipes and ideas especially since I really do make soup so frequently- I need to switch it up!
The other day I was thinking about making soup but then I remembered it was Tuesday- Taco Tuesday to be specific. I like making tacos on Tuesday not only because it is just fun to say, but I also like having at least one day a week when I don't have to think about what to make for dinner. It's Tuesday? It's tacos. Easy enough.
But what about when I really want a delicious fall soup but it is also our household traditional taco night? Make homemade taco soup of course! That's right, tacos as soup! It's actually a thing! And, it is really amazing. All the flavors that you love in tacos are cooked and served in a big, hearty bowl of soup that will not only change your taco Tuesday, but also help you celebrate the fall season. This soup is exactly what I needed.
My taco soup recipe is extremely easy to make (just another reason to love it!). You need many of the same ingredients that you use for tacos plus a few more "soupy" ingredients:
ground beef
onion
tomato juice
sugar
corn
taco seasoning
canned chili beans
Those main ingredients will meld into a perfect, zesty soup, however, you may want to add a few more taco-touches. I serve my homemade taco soup with broken pieces of tortilla chips to add a little crunch, a little saltiness and a little more of that taco taste my family loves. Grated cheese sprinkled over the soup is also a must. The cheese melts into the soup and not only adds flavor but also a tasty, gooey-ness that only cheese can make.
Sliced jalapenos, avocado and sour cream are also always up for grabs when I serve my taco soup recipe. I put a little bowl of each on the table and let my family garb whatever they'd like. This soup is just as customizable as tacos! It ideal to serve for a big group since everyone may have a different idea on how to make the perfect taco, or the perfect bowl of easy taco soup!
There are two ways to make this taco soup recipe and both are pretty simple so you can choose which method you want to use. You can opt to make the whole soup on the stovetop, cooking the soup in about 30 minutes. Or, you can use your slow cooker and let the soup develop a rich flavor over 2-3 hours. Both methods work wonderfully and I have made the soup with great success both ways. Slow cooker for when I want to just throw ingredients in a bowl and go, stovetop for when I will be in the kitchen a while and available to stir the soup more often.
No matter which cooking method you choose, the recipe starts off by browning the ground beef. Browning the meat will add a lot of flavor to the soup since browned meat is actually "caramelized". This gives the salty beef a little natural sweetness. The beef is then put into a large Dutch oven or into the crockpot. All of the other soup ingredients are tossed in and mixed together. That's it! Your soup is ready to cook. I told you it was easy!
After the soup has had time to simmer, it is ready to pour into bowls and serve with your favorite taco toppings. Any soup let overs can be stores in the fridge for about a week or frozen to enjoy within 2 months. I highly recommend making a big batch of this soup and freezing some so you can quickly enjoy it all fall.
Taco soup really is a perfect way to enjoy taco night but also get that warm fall bowl of soup you are probably craving. I know that this cold weather makes me want soup every day! Give this tasty, taco soup recipe a try and let me know what you think. Your taco nights at home may never be the same!
Enjoy!
Print
Easy Taco Soup
---
Prep Time:

5 minutes

Cook Time:

25 minutes

Total Time:

30 minutes

Yield:

4

-

6

servings

1

x
1

pound lean ground beef

1

small onion, chopped

1

can (48 oz) tomato juice

1/3 cup

sugar, or a little less depending on taste

1 cup

frozen corn

1

package taco seasoning or

2 tablespoons

1

can (16 oz) chili beans
*For serving options:
tortilla chips
corn chips
sour cream
grated cheese
avocado, diced
jalapenos, sliced
---
Instructions
In a large skillet, cook ground beef and onion, drain if necessary
While beef is cooking, add all ingredients to dutch oven or crockpot
Add beef and onion to pot and stir well
Cook on stovetop for 15-30 minutes; or cook in a slow cooker 4 hours on low or 2 hours on high
Serve with toppings of your choice.
Enjoy!
You'll Also Like…