Looking for a recipe for delicious homemade apple cider? Look no further! This hot apple cider recipe is super-easy to make in the Crock-Pot, Instant Pot or on the stovetop. Apples, oranges, warming spices, water and a sweetener of your choice are all that you need to make this Fall favorite comforting drink!
How is it October already? I feel like we were just celebrating the Fourth of July and the start of summer! Now, the weather is turning colder and the leaves are starting to change color…where did the time go! I guess I should embrace the seasonal shift and pull out my favorite fall recipes to get me in the Fall-mood. Good thing some of my absolute favorite recipes are fall themed!
Every year, when that cold weather starts to creep in, I know that it is time to make my homemade apple cider. It is the perfect way to celebrate apple season and warm up those chilly nights. There is nothing quite as delicious and cozy as enjoying a mug of hot apple cider while watching the fall leaves blowing on the trees.
Apple cider is also perfect for morning, afternoon or to sip on after dinner- it is a drink that has no limits! Are you feeling like you need a cup of cider to welcome October too? Then grab your apples and a big pot then get ready to make this delicious fall treat.
HOW TO MAKE HOMEMADE APPLE CIDER
Making fresh, homemade apple cider is actually very easy. It takes seconds to put together but then needs to simmer for several hours in order to bring out the flavors of the ingredients. However, these hours of simmering will not be wasted! During that time, the apple cider will fill your house with the most amazing, wonderful scent that you will feel like you are standing in the middle of an apple orchard. You can forget about lighting any candles or spraying any air freshener- the aroma of warm apple cider will make your house smell amazing! You may even want to make this easy apple cider recipe just so that your home smells fall-perfect! 🙂
So what exactly goes into apple cider? I start with fresh apples, just picked form a local orchard is best! I like to use a variety of apples to give the cider some depth. Hard, sweet apples that you tend to use for cooking are ideal. Granny Smith, Honeycrisp and Gala apples are all fantastic and easily found in grocery stores, in case you're not anywhere near an orchard. The apple simply need to be washed and cut in quarters then tossed into the pot. No peeling or core removal is needed!
Two oranges go into the pot as well, giving the cider a slight acidity and bright taste. Apples and oranges are a match made in fall heaven! Speaking of fall, you definitely need some classic fall seasonings to round out the cider. Cloves, cinnamon sticks, allspice and nutmeg are the perfect mix and the ingredients that are going to really bring your cider from apple juice level to actual hot apple cider. If you do not have cinnamon sticks, you can use about 1 tsp of ground cinnamon in its place. However, the cider won't be as crystal clear when it's ready to drink – there will be some cinnamon specks in every dup (no big deal though!). Add the water to your big pot and your cider is ready to simmer!
Can't you just imagine the smell now? Aren't you starting to crave a big mug of simmering hot apple cider? I know I am!
I guess we all have to accept that summer really is over. No more beaches, no more days by the pool, no more lazy summer mornings without school…Rather than being sad about summer ending, let's celebrate fall. So let's welcome October with a big mug of delicious hot apple cider. One sip of this easy apple cider recipe and you'll realize that fall is really great and worth celebrating!
Happy October! 🙂
Print
Homemade Apple Cider
---
Prep Time:

15 minutes

Cook Time:

3 hours

Total Time:

3 hours 15 minutes
10

–

12

medium apples assorted such as Granny Smith, Honeycrisp, Gala or

2

oranges, peeled and sectioned

1 tablespoon

whole cloves

4

cinnamon sticks

1 teaspoon

allspice

1

whole nutmeg
Water, about 16-20 cups

½

to

1

cup brown sugar, depending on taste
---
Instructions
Clean and cut apples and oranges
Add to large stockpot
Add seasonings
Cover with water
Heat over high heat until simmering
Continue to simmer about 2 hours or until apples are very soft
Mash apples and oranges with a potato masher or large wooden spoon against the side of the pot
Cover and simmer for about 1 more hour
Carefully strain solids from cider using a cheesecloth or fine mesh strainer, pressing solids against the strainer to release the juices
Discard the solids
Add brown sugar to taste
Serve warm, room temperature or chilled with apple slices and cinnamon stick, if desired.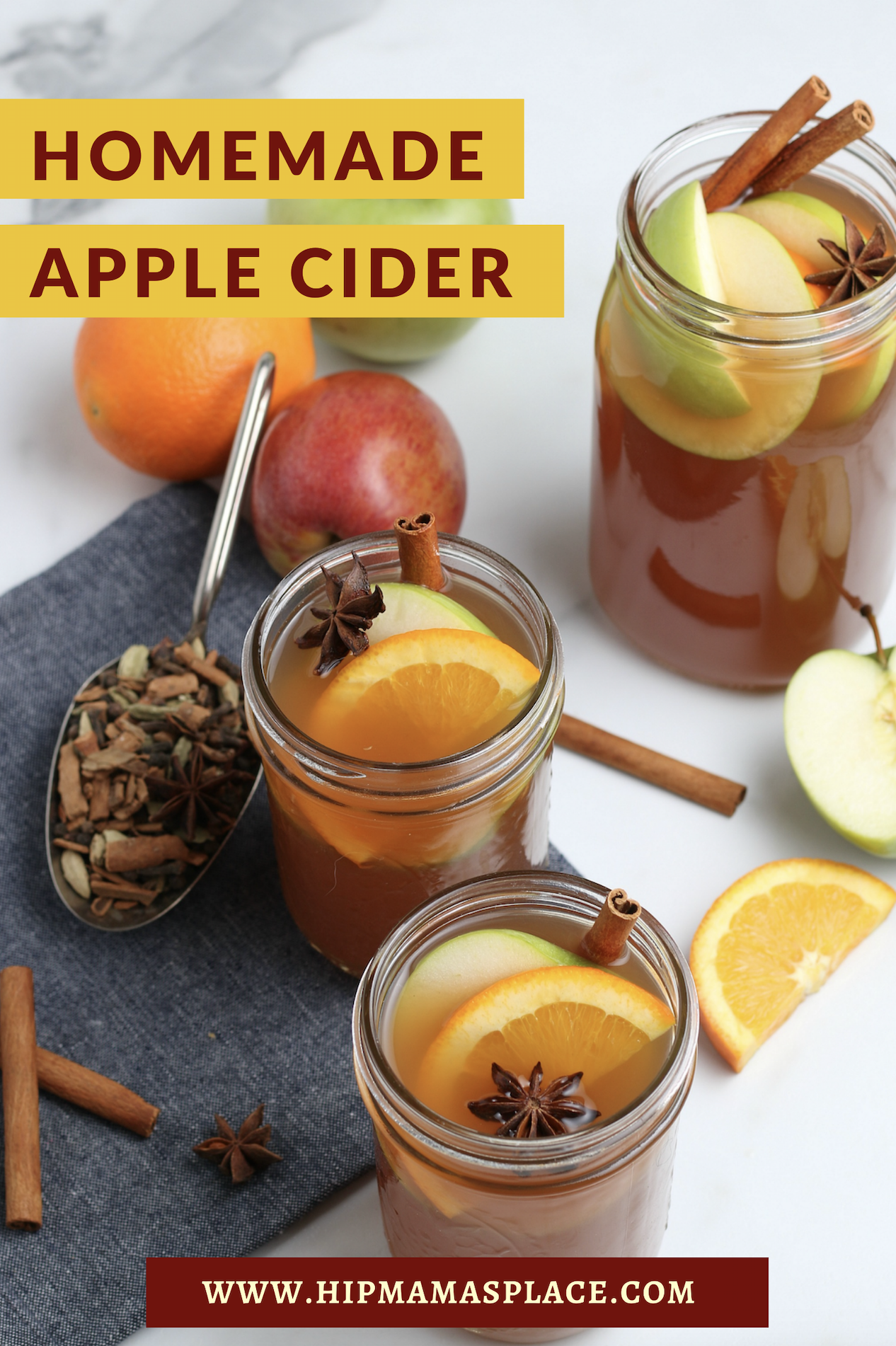 You Might Also Like…